Highs, lows and squeaky-bum moments – a story of lockdown
It is fair to say the past few months have been a whirlwind for everyone. Just about every business and every individual has been affected in some way. Way back in March, I decided to keep a diary of what was happening and I am so glad I did, as it's now July. What an unbelievable few months we've had.
This is my look back at lockdown, and an honest reflection about running a business through a global pandemic.  The highs, the lows, the squeaky-bum moments, and the euphoria of successes in the face of adversity.
When it all began
It was Wednesday the 18th March when we decided we would go to fully remote working as an agency. As we all packed up our laptops at the end of that Wednesday afternoon and said, 'speak on Zoom tomorrow', little did we know that would become the new morning for months.
Five days later on March 23rd 2020 Boris Johnson announced a full UK lockdown and everything changed. Crazy really, and I for one felt like I was living in a Hollywood film of sorts, as I sat in my bedroom and watched as we as individuals and business owners were being told much of our liberty was being taken away.
Hey-ho, it needed to happen, and we all adjusted to the 'new normal' fairly quickly.
What I started to do from late March was to record the going's on within our agency from my perspective as a business owner, as I knew I would have some big decisions to make in the weeks and months ahead.
This was completely unchartered waters and it needed to be noted.
Why now?
Selfishly, this was my first thought. The Evergreen Agency had been on a wild ride in the 12 months leading up to lockdown. As we looked to the Spring/summer of 2020, we had some very exciting things lined up.
I personally had speaking gigs overseas and across the UK. As an agency, we had lined up some very exciting new prospects for clients. We stood a fairly good chance of winning or at least being short-listed for some awards that would recognise the growth we were seeing.
All of this was cancelled or written off, almost overnight. I felt like I had the rug pulled from under my feet, and it was disheartening. Now I know, my concerns are nothing compared to those that restaurants, pubs, travel companies, hospitality/leisure sector businesses, and the thousands of other small businesses across the UK that lost all their income overnight.
But, like every business owner,  your first concern is how this whole situation was going to affect yourself.
However, those "nice to have's" were quickly forgotten as I realised, I needed to really think about how this would impact my business. Our revenues had been increasing month-on-month, year-on-year – what would happen now?
In late March, I posted this image with an update entitled 'This is my best "hmm, what to do face…". My post went on to talk about my thoughts on what would happen in the weeks and months ahead.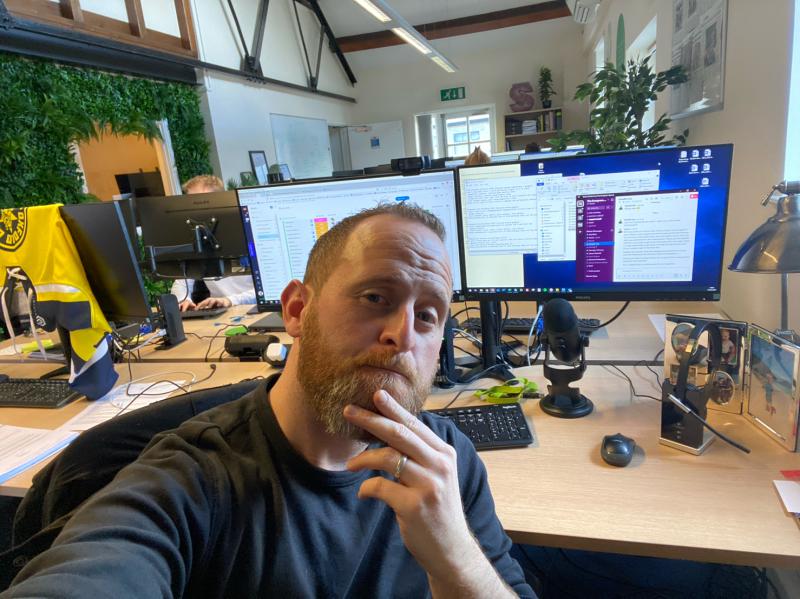 Much like every business owner, I had some serious questions to ask myself, things like:
Are we going to be okay through Covid-19?
Will we have to furlough the team?
Which of our clients are at risk and likely to pause/stop their campaigns?
How much revenue do we have outstanding (I need to chase as cash is king at times like these)?
How do I need to adjust my business plan?
Do I stop my recruitment plans (we had 5 vacancies out at the time)?
What do I say to my team?
How do I reassure our clients?
My head was filled with so many questions – needless to say, I definitely had some sleepless nights through late March and early April.
This is a test of my resolve
This is the conclusion I very quickly came to. I was not going to let this pandemic beat me or my business, no bloody way. I published a video that echoed this sentiment and highlighted what I was already seeing and how I was feeling about things on LinkedIn, which you can watch here.
My video and posted ended with this message: Good luck to you, we'll come through this even stronger!
That is genuinely how I felt at the end of March. I most certainly did not have it all figured out, but I had made some particularly important decisions that I would hold dear over the next few months when things got tough.
I am a very decisive person and knew my team, my clients, and everyone who relies on me would be looking for strong leadership and for me to have a 'plan'. Here are the key decisions I made at this point.
***********************
Business plan notes from weekend of 28-29th March:
I am not going to furlough anyone – The team need job security right now
We will support our clients as much as possible and double-down on their marketing as needed now more than ever
I will continue to recruit as we need to build our team to ensure we are as well-positioned as possible coming out of this
I will take the financial 'hit' for as long as the company can sustain the inevitable loses of revenue
I will explore financing options to give the agency a buffer
I will not adjust my business plan/forecast as that would be admitting defeat
I will ensure we provide even more support to our Charities as I knew they were going to be hit really hard from this
I will remain a beacon of positivity in everything I do, family, colleagues, clients and on social media
Short term pain, long term gain!!
***********************
Remote working? It won't last… (so we thought)
I love this picture; we all look so miserable. This is our first remote-working selfie. This was day one with the team working from home. Little did we know at this point it would become the new normal for the upcoming months.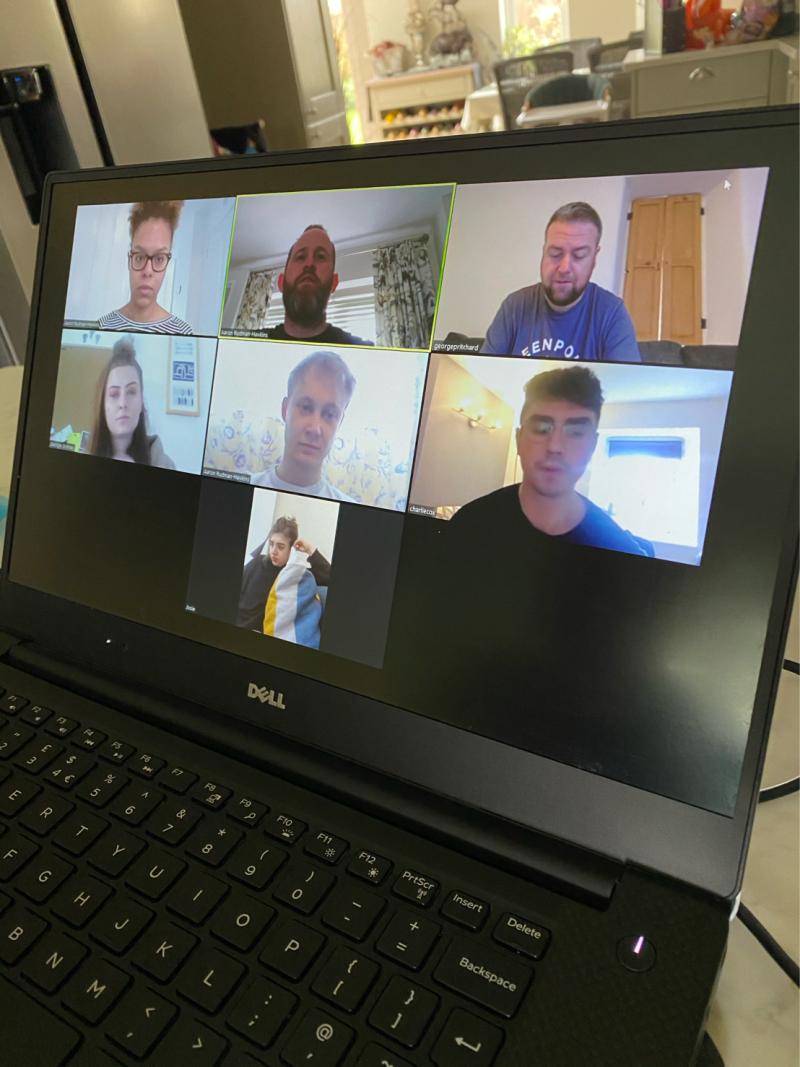 I am very aware of just how lucky we are in that as a business we could very easily adapt to life working from home. For us to do our jobs, we only need a laptop and an internet connection really. Compared to most, we're extremely fortunate and both I and all of my team know that.
So with daily briefings from the government of the unfolding tragedy all around us, we got to work and took it one day at a time.
As I predicted we had clients on the phone asking to pause their campaigns. We came to some arrangements for clients as I really did not want to leave any client in the lurch at this most difficult time.
We need to show our clients our true colours
At times like these, I believe it is about how you treat people. A business and the individuals within it can really show their true colours when times get hard, and I wanted to use this as an opportunity to show our SEO and PPC clients we had their back and would support them no matter what. We did this and did this very well, which I am extremely proud of.
What surprised me most during these first few days and weeks is how some of the clients we had earmarked as "likely to want to pause/stop" did not.
In fact, they wanted to press on more than ever.
They had taken the decision that now was the time to really focus 'on' their business and it's marketing.
This was not just one or two clients either but many. They all loved working with Evergreen and the consensus from many was "we want to do everything we can to ensure we come out of this strong".
From my perspective, this was not only a relief, but it was also a huge compliment – many would think 'marketing' would be the first thing to go when times get hard – not for our clients 😊.
The best possible example I can give for this is from one of our clients, Tom at The Cocktail Service. They released a statement outlining how their business was going to have to adapt significantly (they do cocktail events so lost hundreds of bookings almost overnight).
This statement outlined what they were doing, how they were reacting and reinforcing that their marketing and business were not stopping but instead having to pivot and double-down. I commented as you can see as it just showed a superb approach to business and marketing.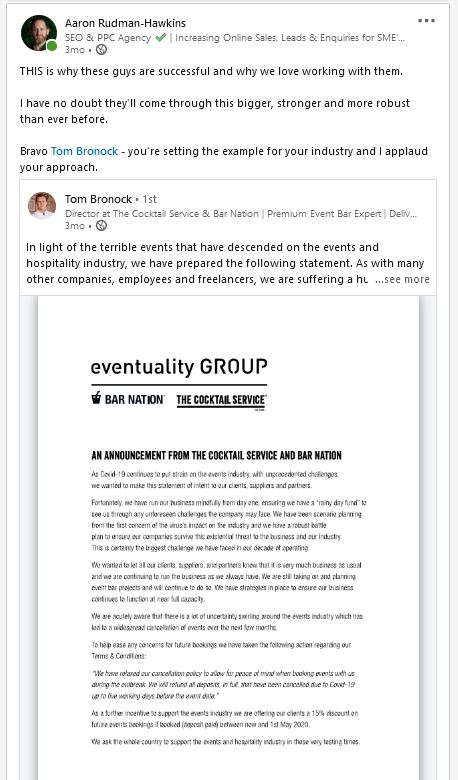 It's funny how the whole of the UK (all of the world, really) adjusted to working from home. Zoom calls very quickly become the new normal and a staple of everyone's days. I set myself up at our breakfast bar convinced this working from home lark wouldn't last more than a few weeks.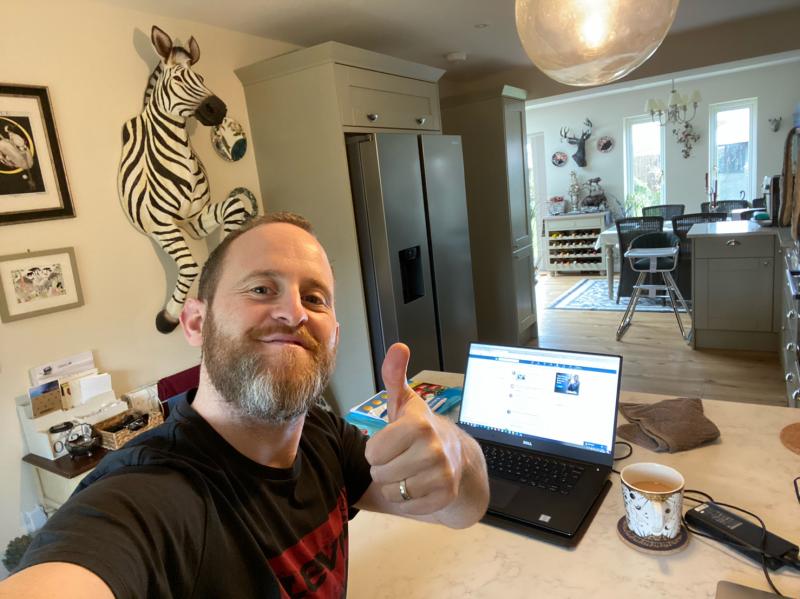 There is an irony in the above photo and me having to work from our breakfast bar while my two-year-old runs around causing chaos in our house.
In the previous couple years my wife and I had some building work done, we converted our loft into an office for us to work. We had this home office all kitted out for a good 18 months before deciding to convert it into a playroom.
We literally removed everything from the home office in February this year and I remember saying to my wife "It's okay, we don't need the home office, I have my main office" – oh if only I knew!
Of course, we did consider changing it back, but any parent will know, that was never really an option. Can you imagine telling your 2 year old "sorry, we've got to pack up your room full of toys so daddy can work" – no chance, Henry comes first and daddy will just get a bad back working on a breakfast bar stool for months.
Here is said playroom. Henry loves it and spends hours playing with the mountain of toys in there.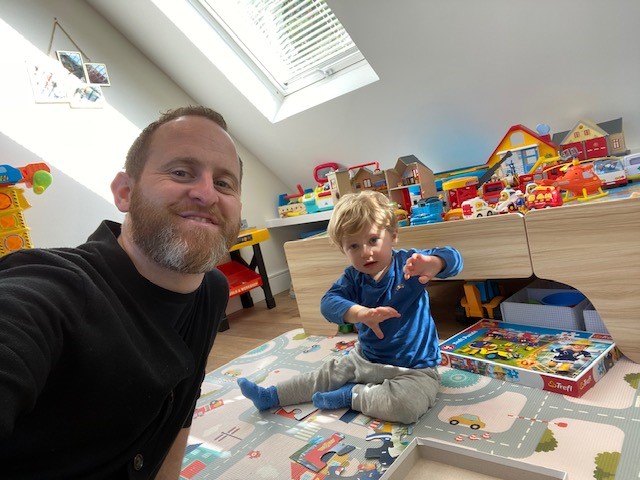 I am sure every parent will be able to relate to this next photo. This is what my daily reality of running a business looked like over the next few months while in lockdown and you know what I loved every minute of it.
Between Zoom calls with clients, working with my team and supporting our clients, I'd regularly be delivered food parcels by Henry – I should add, they had to sit right now to my laptop, I was given very strict instructions from my 2 year old.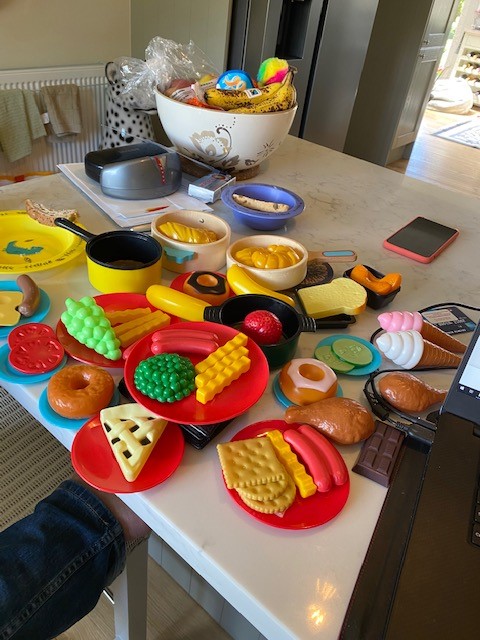 As we pushed on through April, we continued to interview applicants remotely, we continued to support our clients and drive them forward despite the economic turmoil happening around us and I have to say my team adapted to working remotely really well. I was (and still am) so impressed with each and every one of them.
We introduced "Zoom drinks" on a Friday like so many other businesses did, and Josie our content strategist took over the role of Quiz Master – fantastic job she did as well.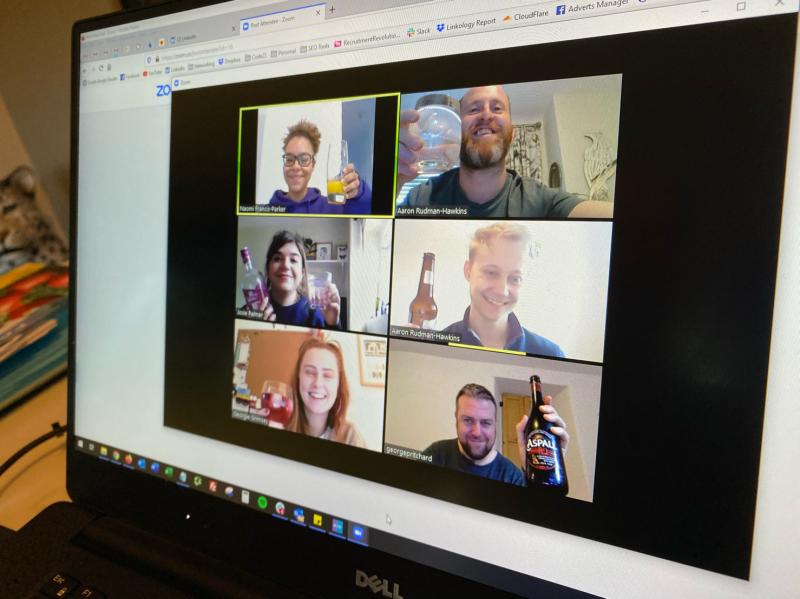 Let's use this time wisely
George (my Head of SEO and right hand man) and I were having conversations on an almost daily basis at this point about how we use the time wisely and how we can improve our agency processes, systems and ways of working.
Being remote gave us both more time to think independently and I have to say it worked a treat. Both of us would get on a Zoom call with loads of ideas for how we could improve ways of working, communication among the team, even team structure and so day by day we started to overhaul things.
The Evergreen Agency has always been a very fast-paced business, our rate of growth in recent years is proof of that and during this period of lockdown we took that approach to a whole new level.
Whole team restructure
Lockdown helped confirm to George and me an issue that we know we had and that was how the team collaborated. When we were a 4-5-person agency things were simpler. Everyone knew what everyone else was doing without much effort.
As we had grown, we realised this needed to change and more clarity around roles and departments was needed. We decided to completely restructure how the team was set up.
As the team structure evolved and things started to fall into place, so too did they for our clients that were adapting really well and achieving some incredible results.
I published a blog post talking about how businesses cannot just survive but thrive in lockdown – have a read.
Some of our client stats during the peak of the pandemic, which goes to show it wasn't all doom and gloom for all businesses.
600% increase in enquiries (over 450 leads in a 30 day period for a professional services clients)
£70k week-on-week increase in eCommerce sales for another client
PPC costs for small businesses dropped as many 'big' players pulled their marketing budgets
Do the opposite to everyone else and it'll take you far…
As we headed towards the end of April I published a post on LinkedIn, which went nuts. It was titled: Do the opposite to everyone else and it'll take you far…
In the post, I shared insights into how I was approaching things in lockdown (kind of like what I'm sharing with you in this post). I spoke of how I had:
Given one of my team a pay rise and promotion
Reiterated that no one will be furloughed
Recruited a new full-time team member (Holly)
Won several new SEO and PPC accounts
My overriding sentiment was that your ability to not just survive, but thrive was in how you reacted and your mentality. Keep that glass half full regardless of what is being thrown at you.
I had made a point of being super-positive in all my social media, while many were writing negative posts, painting a picture of disaster, which may be true – but personally, I feel you've got to at least try and look for the positives in any situation.
The post clearly resonated as it got hundreds of links, dozens of comments and reached more than 10,000 people in 72 hours. Madness!
Let's make the most of this family time
I was acutely aware that one of the big wins that had come from lockdown was how much time we would all get to spend with our families. It was great to be able to see and hear my little lad running around on a daily basis – something I don't normally get to see outside of our "Daddy Tuesday's".
In early May, as the sun was shining I decided to shave my head (my hair was getting out of control and no chance of seeing a barber) and I bought Henry a bouncy castle, which I have to confess I love playing on.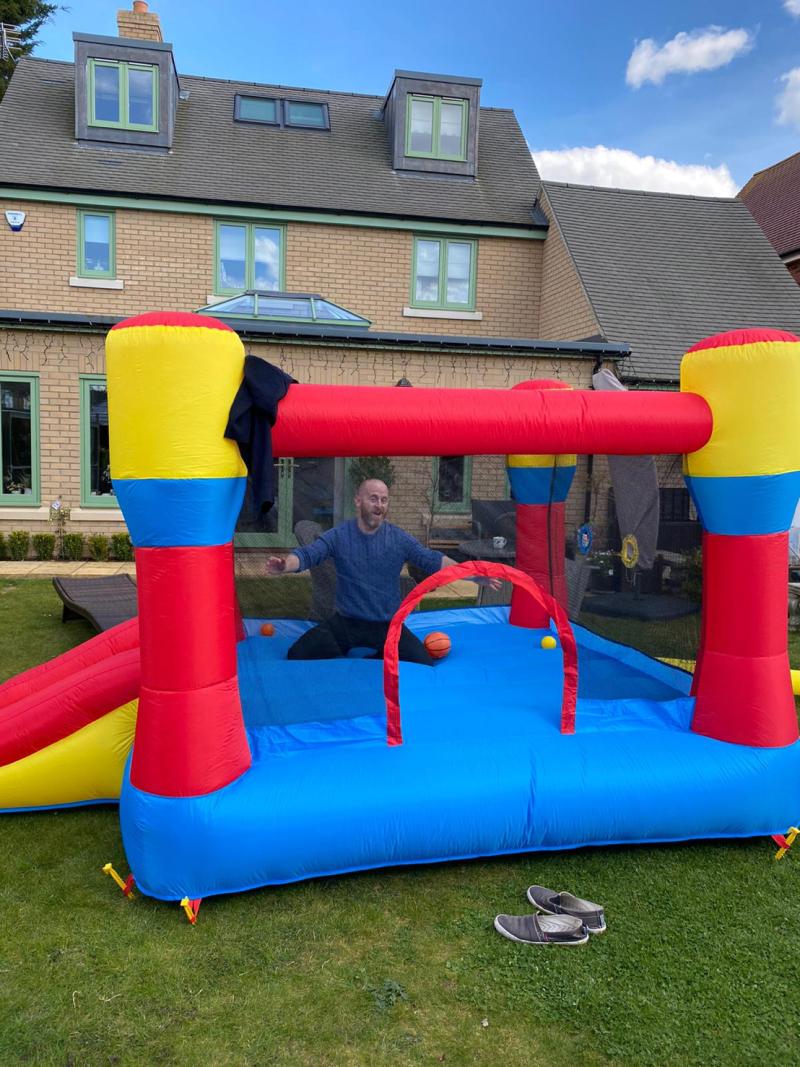 Naomi the senior strategist
Naomi was my second team member after George and it's safe to say she is an absolute gem – everyone at Evergreen loves Naomi and since joining us as an Exec, she had excelled with everything thrown at her during the past 12 months of growth.
A year spent asking questions, reading, learning, testing, and experimenting and she had propelled her career forward 2-3 years at least. Naomi is an incredibly talented woman and so I was delighted to be able to give her a promotion and make her our agency's second most senior team member after George.
While in lockdown she took the lead on our client's SEO strategies. Her ideas, vision, and ability to see the 'whole picture' was something only George and I had ever been able to do for Evergreen. Now Naomi was completely on our wavelength and so she became the 3rd cog in our management wheel.
Update: She continues to excel in her new role and both George and I are just blown away! – Keep up the great work Naomi.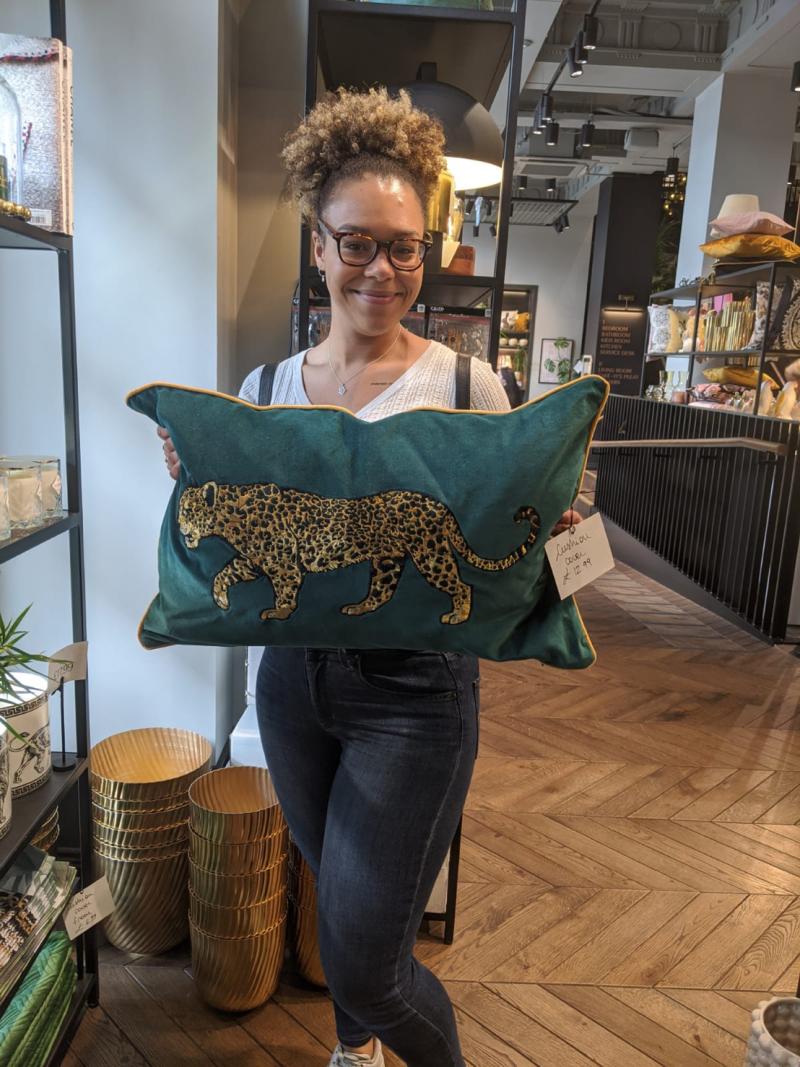 Enter Holly
Arguably one of the most amazing things we did in lockdown was to recruit, hire, and onboard new people entirely remotely. The first of these was Holly who joined us as our Digital PR Strategist.
Holly joined us with lots of experience, a great track record and endless ideas. It was odd onboarding her into the Evergreen world without meeting her but needs most. To Holly's credit, she took to remote working like a duck to water. We got her laptop shipped out to her and by lunchtime day one she was already in the thick of things, sending PR pitches, contacting journalists and getting our clients in front of key journalists in their industries – amazing stuff.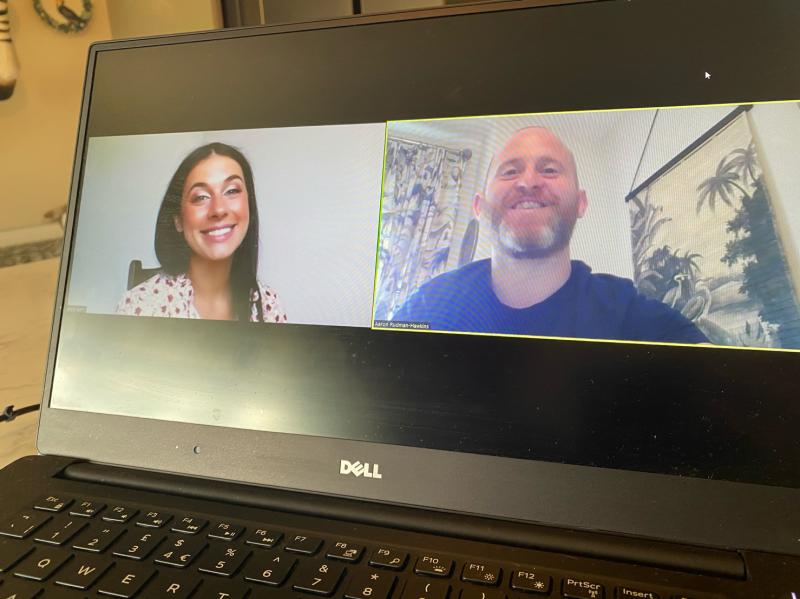 After her first month at Evergreen, Holly wrote a post about her 'virtual journey', it's a great read so do check it out.
As I write this, Holly has been with us for 3 months and only in the office the past couple of weeks. It was lovely to finally meet someone that you've been working with for months – an example of the strange times we're living in.
Recognition and relaxation
I've always tried to place a lot of emphasis on team culture. I want my team to love their jobs and our agency and that is more difficult to do when everyone is remote and no one can leave the house.
I started to think about what could I do to put a smile on their faces and came up with a few ideas.
We were being spoilt with fantastic weather throughout April and May so I introduce 'Sunshine Breaks' of 2 hours once a week on the nicest day weather-wise. These were little bonus breaks so the team could take a couple of hours away from their laptops and just go relax. As you can see, they all definitely made the most of it.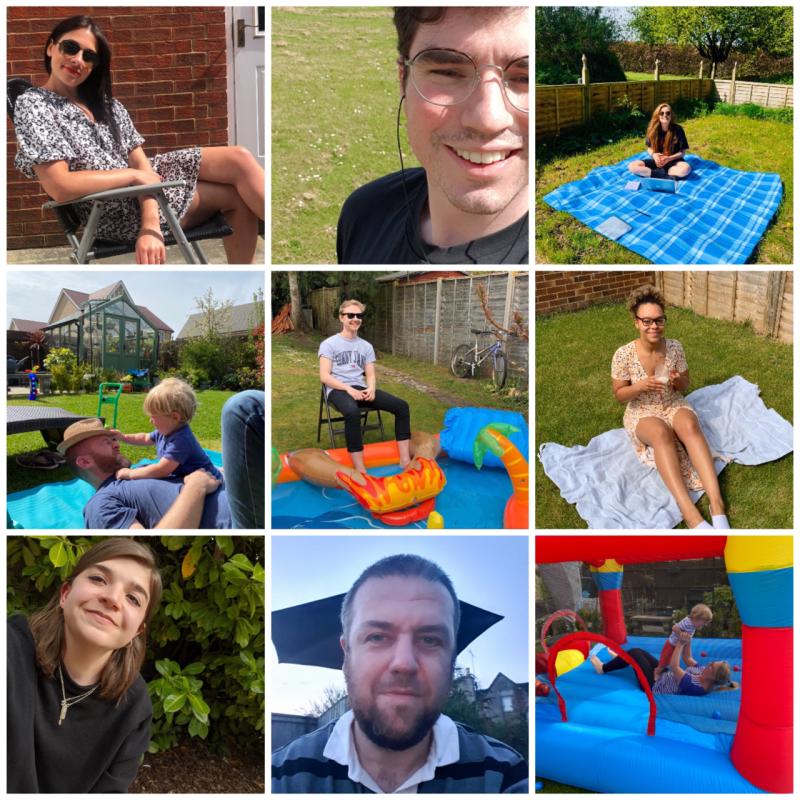 If sunshine breaks were not enough, I decided to treat them all and arranged for a box of luxury cakes to be sent by courier to all of their houses. What was great about these cakes is the company I ordered from Positive Bakes, they donate the same as what you order to the NHS staff. A lovely idea and I was so pleased to be able to support that initiative. Their cakes are delicious if you want to do the same for your team – highly recommended.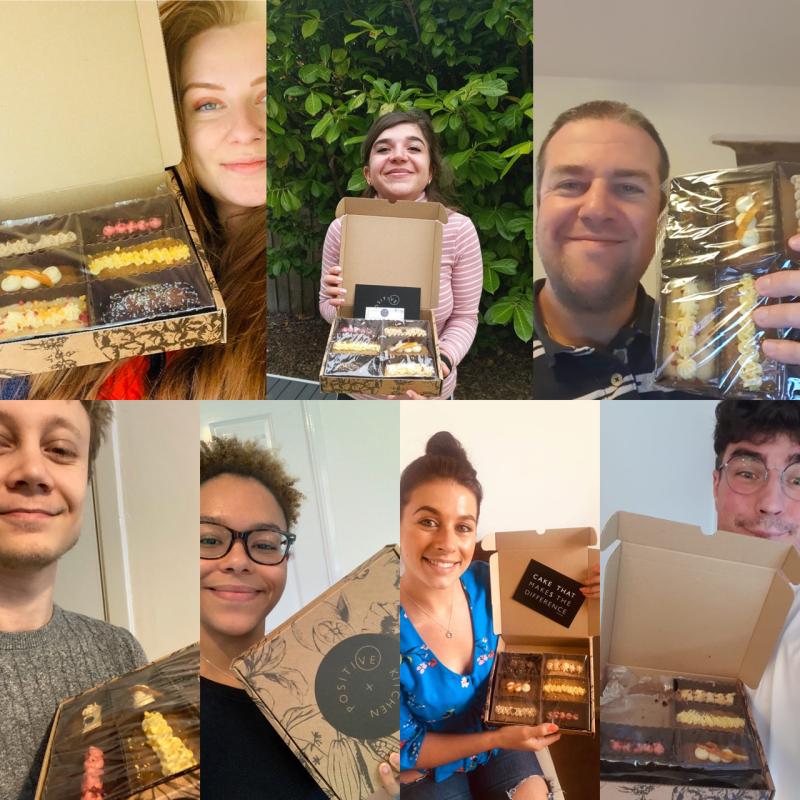 The team went behind my back and posted a lovely update on our company LinkedIn page here.
Launching our Charity Activity Guide
If we thought businesses were hard hit, spare a thought for Charities as they have been impacted worse than most. A majority of Charities are not publicly funded and so relay on donations and activities to raise and those all-important funds for their fantastic work.
When COVID hit, much of that activity has to stop or be put on hold. Many of the activities we had been playing to collaborate on with Charities was stopped overnight.
At The Evergreen Agency, we agreed to support a dozen Charities in 2020 by sharing our agency's expertise, time and resource to help each of them improve their website and gain greater visibility online.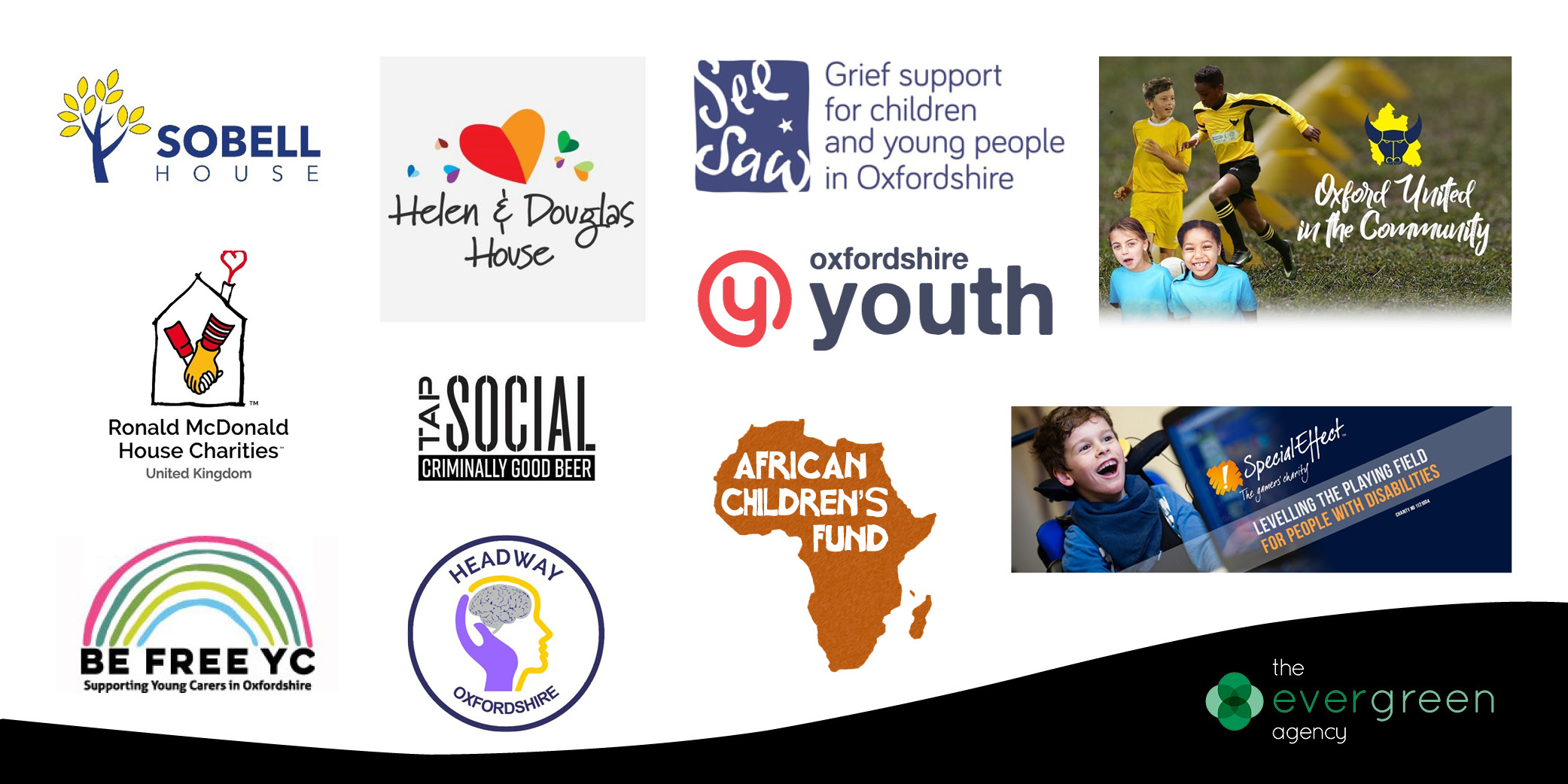 Here is a post I wrote on our blog about the Charity initiative launching in January this year.
Throughout the first few weeks of lockdown, we have kept in touch with all of our charities and our team continued to support them as best we could.
During our ideation sessions for charities, we had an idea as we knew the charities were having to adapt and change their activities. We thought it might be useful to consolidate everything together into one action-packed Charity Activity Guide that outlined all the fantastic activities and initiatives these charities were running (lots of home-based stuff for example).
We published our guide on the 19th May and it is a comprehensive round-up of all the ways an individual or business can get involved and support charities from across Oxfordshire and further afield.
Launching our video review initiative
As you can probably tell from this post and timeline of events, it was nonstop, and we were pressing on with lots of ideas – always putting the focus on helping people at the forefront of our minds.
We knew lots of businesses needed help with their website to perform better. Many smaller businesses would be unsure how and where to turn so we wanted to help.
Now let me be clear, we do not work with hardly any small businesses or start-ups as investment level often does not allow –  but this initiative was not about winning new business. 
It was about helping people!
I cleared my schedule over a 3-week period and opened my diary to any small business that needed help. I posted about it on LinkedIn here and wrote a post on our blog about the launch.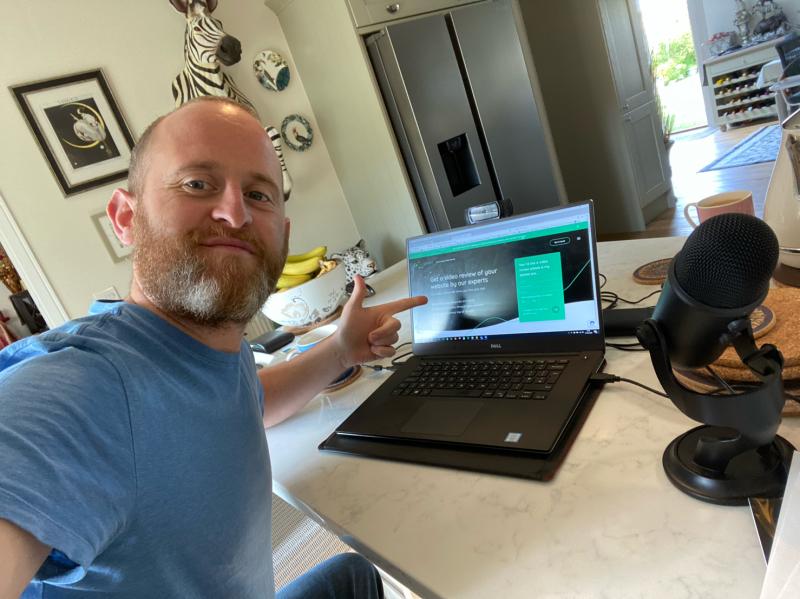 We had incredible uptake on the initiative, and I ended up dedicating more than 80 hours over a 3 week period to providing tips and ideas for small businesses for free.
After the first 2 weeks, I was 67 business reviews deep into this initiative I put together a little review case study on what I was seeing, which you can see here from our blog. It's called: What I learned from reviewing 67 business websites in 2 weeks.
Our clients remained our primary focus
With so much going on, from new members joining and structural changes to the team set up through to the charity work and video review initiatives, we always remembered that ultimately it's our SEO and PPC clients that our paying the bills and enabling our team to do what they love.
I have always known that great customer service is key to any business' success and longevity. We place a massive amount of time, energy, and resource on maintaining excellent client relationships. I think this shows in how well we retained our clients during this unprecedented time.
On one of my LinkedIn posts, we had a client comment and it was so lovely I wanted to share it in this post as it speaks to the way we maintain and build great client relationships.

Our positivity in everything we do and our relentless focus on delivering great results for our clients has meant that despite an impending economic recession, the likes of which we haven't seen in our lifetimes (according to the media) – The Evergreen Agency is actually winning new business on an almost weekly basis.
During lockdown, we have welcomed clients in the following industries
Construction
Healthcare
Engineering
Professional services
Home improvements
Hospitality and leisure
Marketing agencies
Technology companies
And the list goes on…
There's no secret formula!
We do not have a magic secret for how we've been able to keep on growing through this pandemic, but what I think part of the reason we've done well is by staying focused and true to what we do best – increasing visibility of businesses online and ultimately delivering them more enquiries, leads and sales.
Here is just one example of a fantastic start achieved while in lockdown. Users to this client's website up 48% to over 600,000 monthly visits to their website. Huge growth right there.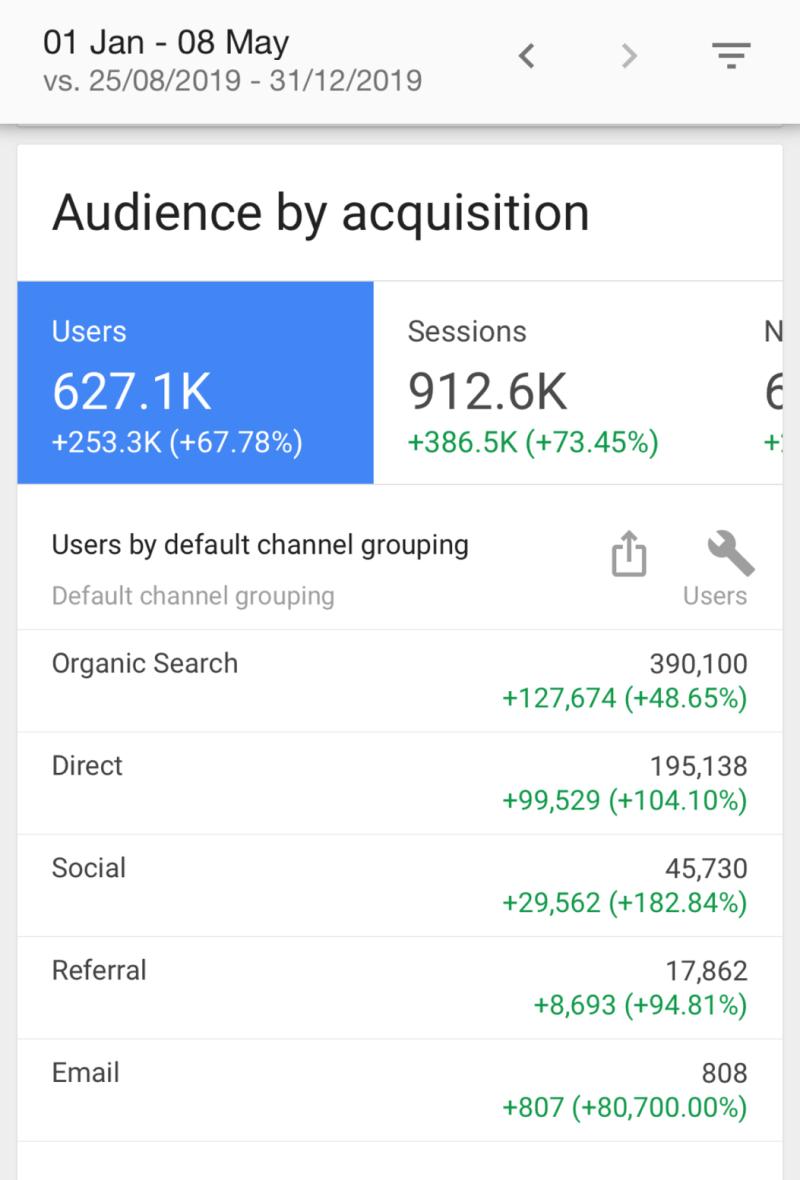 People love positive people – this is anything new to me and it's obvious right. No one wants to be around someone negative with a glass-half-empty attitude. I've always known that and so continued to ensure my LinkedIn post for example was a beacon of positivity and encouragement for others to join in with.
I posted in early June about how our agency was changing in lockdown and how it would look when we would return to the office.
The post received lots of engagement and it confirmed to me what I was doing was the right thing, bringing smiles and energy to others in any way I could. Here is the post.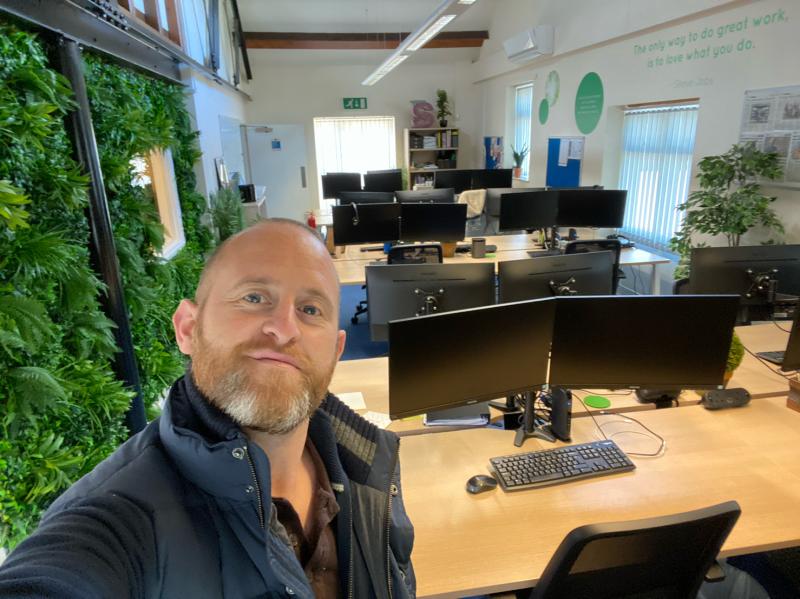 As June progressed, I made the decision to return to the office by myself. It was a little odd to be back after weeks away, but also really nice. I had loved working from home, but you cannot beat the peace and quiet of an office by yourself to focus the mind and all you to get stuff done.
Over the next few weeks, we further streamlined our processes, we continued to promote our Charity Guide and I was even asked to speak on BBC Radio Oxford and Jack FM about the initiative and how it was helping Oxfordshire Charities to pivot and adjust their offering owing to Covid-19.
What do people say about us?
Any business is only as good as what people are saying about them, that is my motto and so I decided to count up how many reviews, testimonials and case studies we had and share with potential clients and business alike as that can give buying-confidence at a time when getting the right SEO partner has never been more important.
As an agency we have:
24 x 5* Google Reviews
20+ Client testimonials on our website
9 x Case Studies on our website
6 x Video testimonials on our website
18 x LinkedIn Recommendations
To learn more and hear for yourself what our clients say, see our Case Studies.
The great results keep coming
One of the biggest improvements we have made during lockdown is in Digital PR. With bringing Holly into the agency and owing to some other team structure changes, we had really improved the output in this department. We were getting lots of great features on an almost daily basis for clients and our SEO clients were thrilled with the results.
Here are some of the coverage achieved during recent weeks;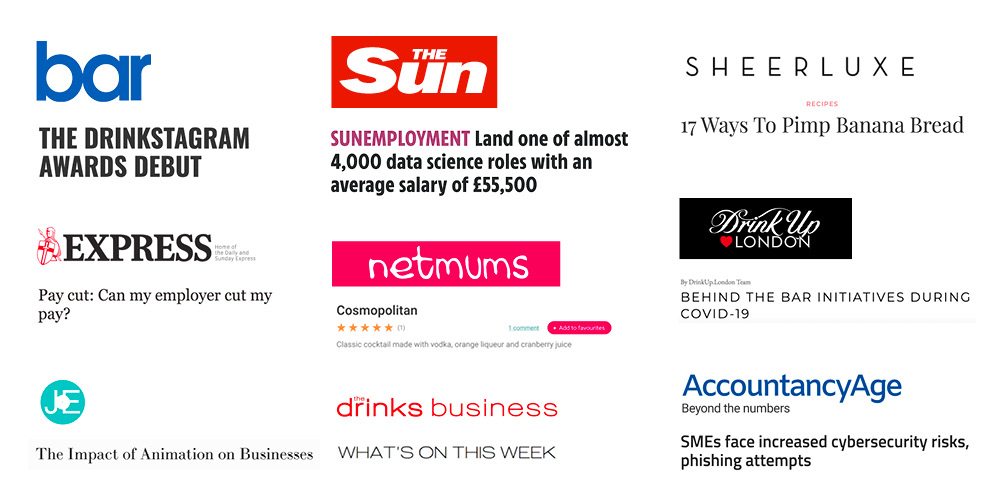 And then in the past month, here are just a few of the great features gained for clients. Increasing numbers of household names among the publications, but arguably more valuable from a client's perspective are the industry-titles that they know their customers read and engage with.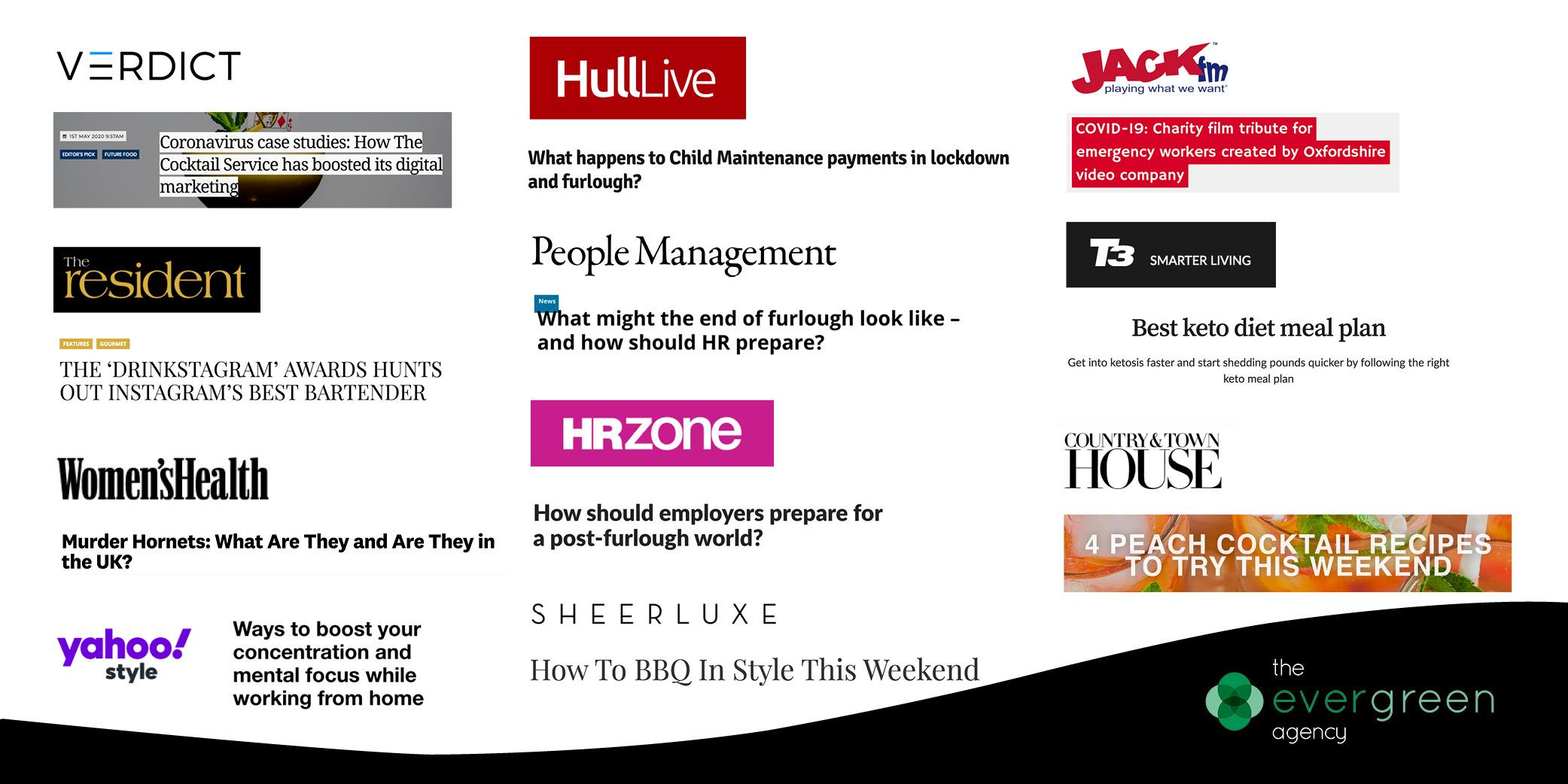 Our best month ever for winning new business
May 2020 was our best month for winning new business. Quite incredibly, when you think the whole of the UK was in lockdown and I'm convinced this happened because of how we positioned our agency during this unprecedented time.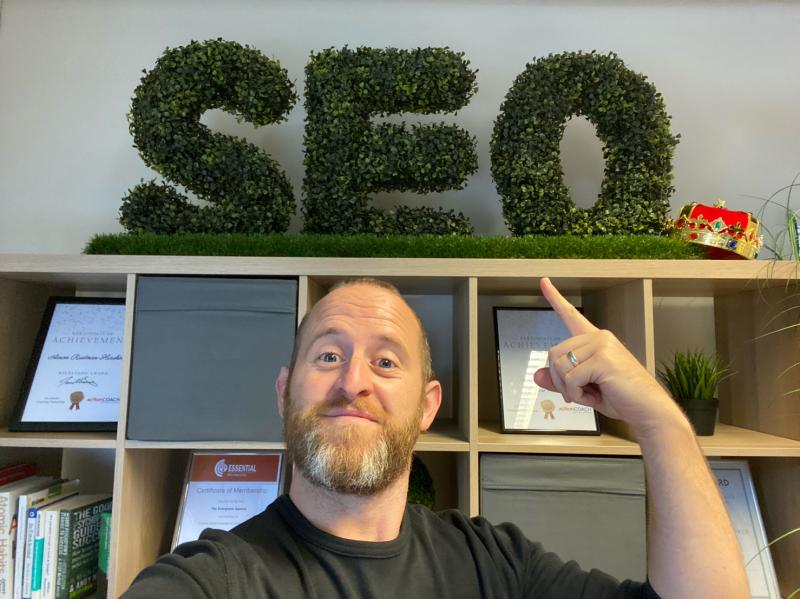 Mindset is such an important thing in business, and I have made a point throughout lockdown to be positive, upbeat and, keep the team working and keep pushing forward despite the economic uncertainty all around me.
Firstly, I haven't:
🛑 I have not been drawn into the 'doom and gloom' that is being peddled by the media
🛑 I have not changed the focus for my #business one bit. No furloughing the team, no rash decisions or reducing my ambitions despite recent going's on
🛑 I have not tried to "hard sell" our services
Meanwhile, I have…
✅ I have remained a beacon of positivity throughout "lockdown" and maintained my optimism on social media as well as with my family, team, clients, and agency partners
✅ I have worked over 100 hours for free in May for the video reviews I offered to any #business to help them improve their website
✅ I have focused almost entirely on business development to ensure our operation is as slick as possible
✅ I have kept active, consistently talking, connecting and #networking
It is all about your attitude and mindset 💪
I published a post on LinkedIn echoing this sentiment and it reached many thousands of people so it clearly struck a chord with lots of people, which was great to see as I know I'm not the only one and lots of business owners were determined to get through this time and come out of it stronger and more robust.
Enter yet another new team member Ray
On June 15th Ray joined The Evergreen Agency, he started work from his home office having applied for the role, interviewed and secured the job all entirely remotely.
We really liked Ray the moment we interviewed him. He had no experience to speak of having applied for our Junior SEO role but that didn't matter, it's all about a person's desire to learn and be the best. Ray is one of the most switched on guys I have met for a long time.
Ray impressed us before he even got the job. During his interview process I wanted to check that SEO really was for him (it's quite a technical job that requires a certain mindset and so not for everyone. Whenever anyone applies for a role with our agency and they do not have experience, I always make a point in doing my utmost to ensure they apply knowing what to expect).
After my first conversation with Ray I told him to go and watch our SEO video training course on our website, it's over 12 hours and it would teach him a heck of a lot and really show him what SEO was all about.
To my astonishment, he came back to me less than a week later and told me he had watched the entire course, he had written up a load of questions for me on the course and put together a conclusion of his learnings – love that!
We gave him more reading materials, offered him the job, and told him to swot up while he served his notice at his current role.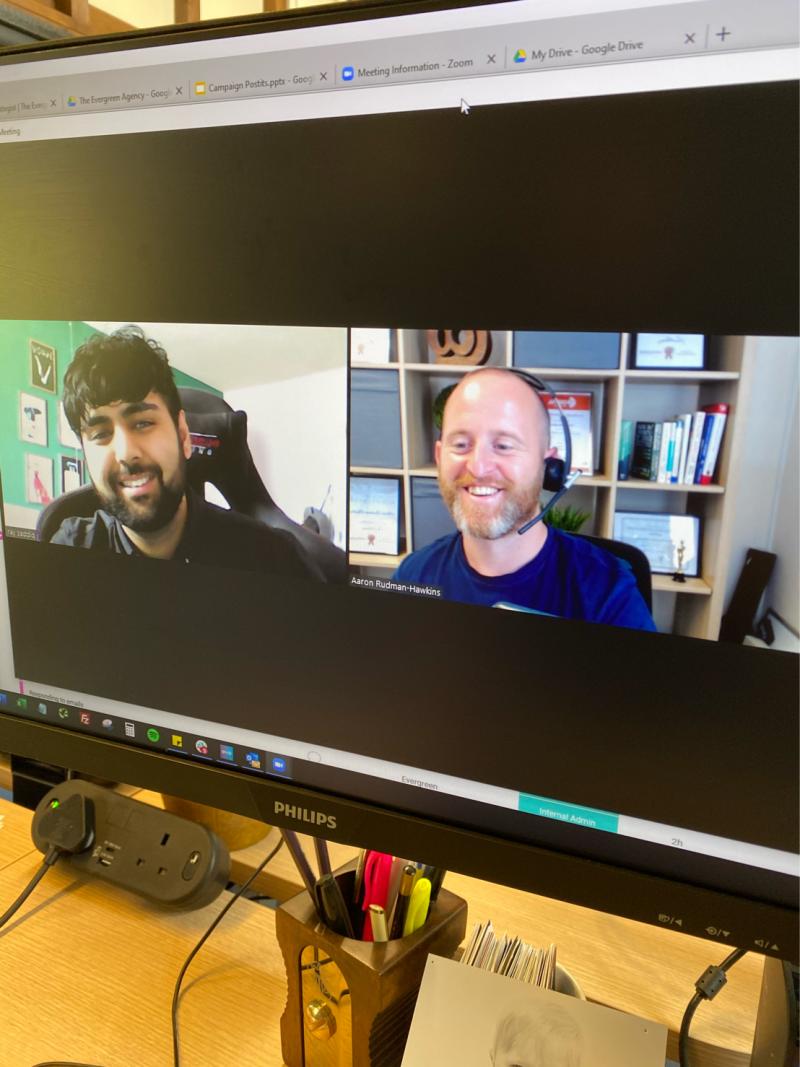 Skip to today and he has joined us and we know Ray is going to do amazing things at Evergreen. A big welcome my friend, delighted to have you on the team.
Networking, networking, networking
One thing I have always seen the importance of and valued very highly is in networking. While we've all been in lockdown, networking has moved online for us all. I'm part of several fantastic networking groups and while it's been a transition to having everything via Zoom, I have tried my best to participate, get involved and bring a smile to everyone's face that I see/speak to online.
Here is one such networking event I did with Open Doorz. I got everyone to give their best 'jazz-hands' for a fantastic selfie – you have got to have a bit of fun when you're networking after all.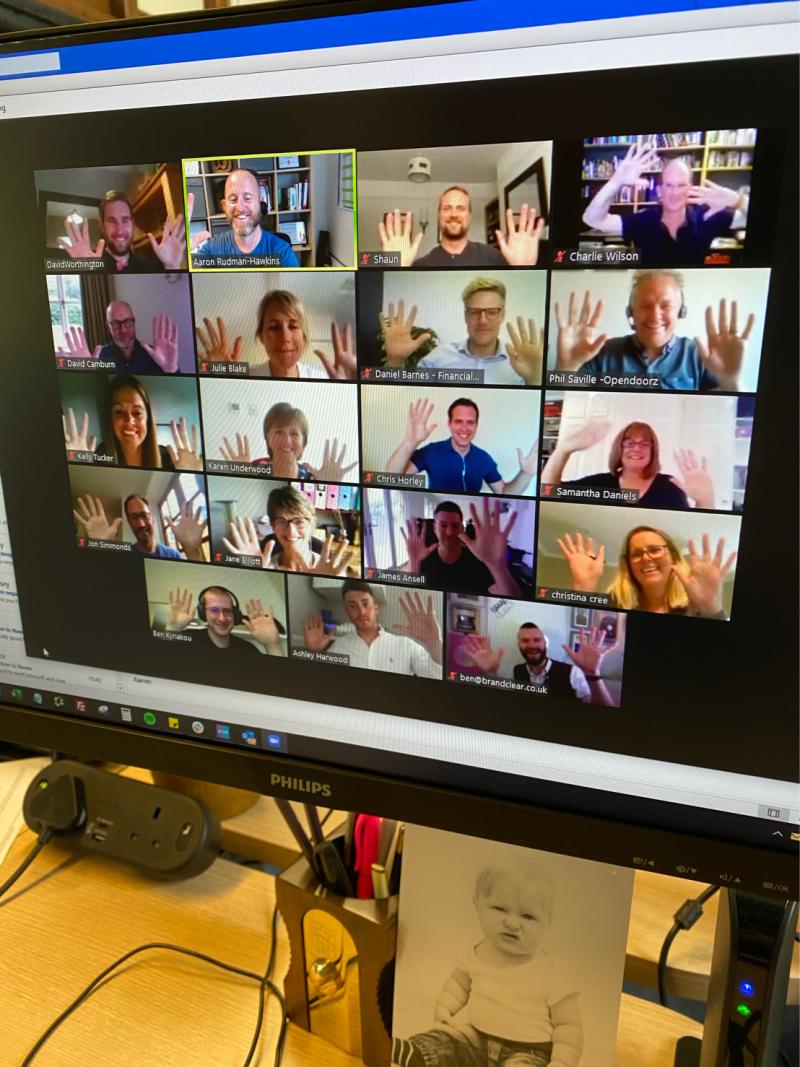 Great SEO has 4 essential cogs
If you follow our agency or me personally, you will know I post a lot about SEO and I often make a point about explaining SEO in plain-English. There is a perception that SEO is "smoke and mirrors". It really does not have to be.
For us, SEO has 4 essential cogs and they are:
A clear strategy (plan) and roadmap for where you want to take your business
Excellent website technical performance as Google is ultimately a machine
Value-led content marketing so your website is interpreted as an information resource
Expert digital PR so you get your brand/business in front of your target customers
Naturally, there is more to it than the above, but as it's core every part of SEO will fit into one of the above 4 'cogs' and as such, The Evergreen Agency has four departments. We have;
SEO Strategists – responsible for the overall direction of your SEO campaign, focused on your end goals and working in partnership with you to make things happen
Technical team – our resident 'SEO geeks' who look after all things technical around your website and online performance and visibility.
Content Marketing team – this department work with you and guide you in turning your website from just a 'shop window' into an 'information resource' that search engines such as Google will love and therefore rank very highly in the search results.
Digital PR team – This team is the largely within our agency and are responsible for securing coverage, brand mentions and links. All the important elements needed to put your business in front of your target customers.
The below is from a planning session the team and I had where we filled the big whiteboard in our office with a plan for a client over the next few months. This specific picture was taken because it was the first white-board session we had together in the office for months.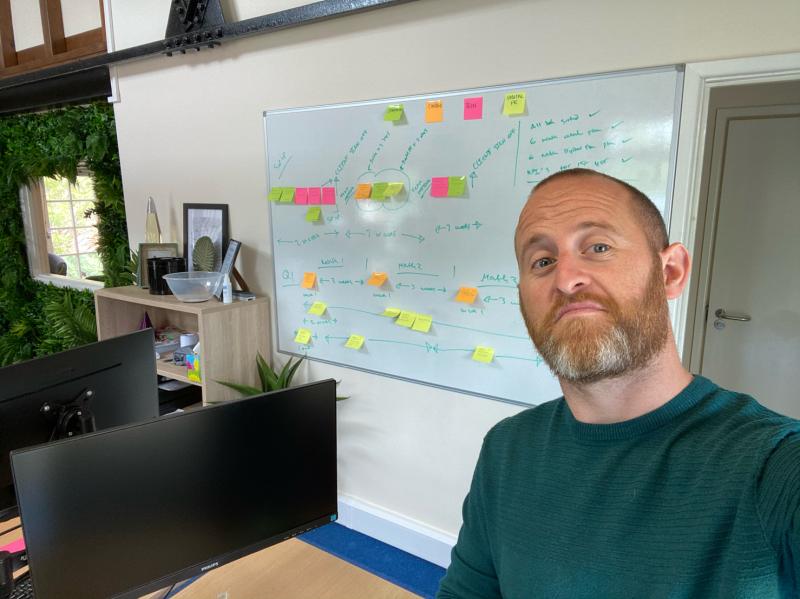 Interviewing Rand Fishkin
In late June I had the honour and privilege of speaking to Rand Fishkin. Rand is a true icon of the SEO industry. Having founded Moz.com back in the early 2000's. He is for me one of the 'godfathers of SEO' and genuinely taught me a vast amount about SEO via his blog and videos in my earlier career.
In the past year, he has launched SparkToro a new software product for the SEO and digital marketing industry. I reached out to have a chat and see if he would be interested in me interviewing him. To my astonishment, he said yes, and we spent well over an hour having a geek-off about all thing's SEO – it was great fun.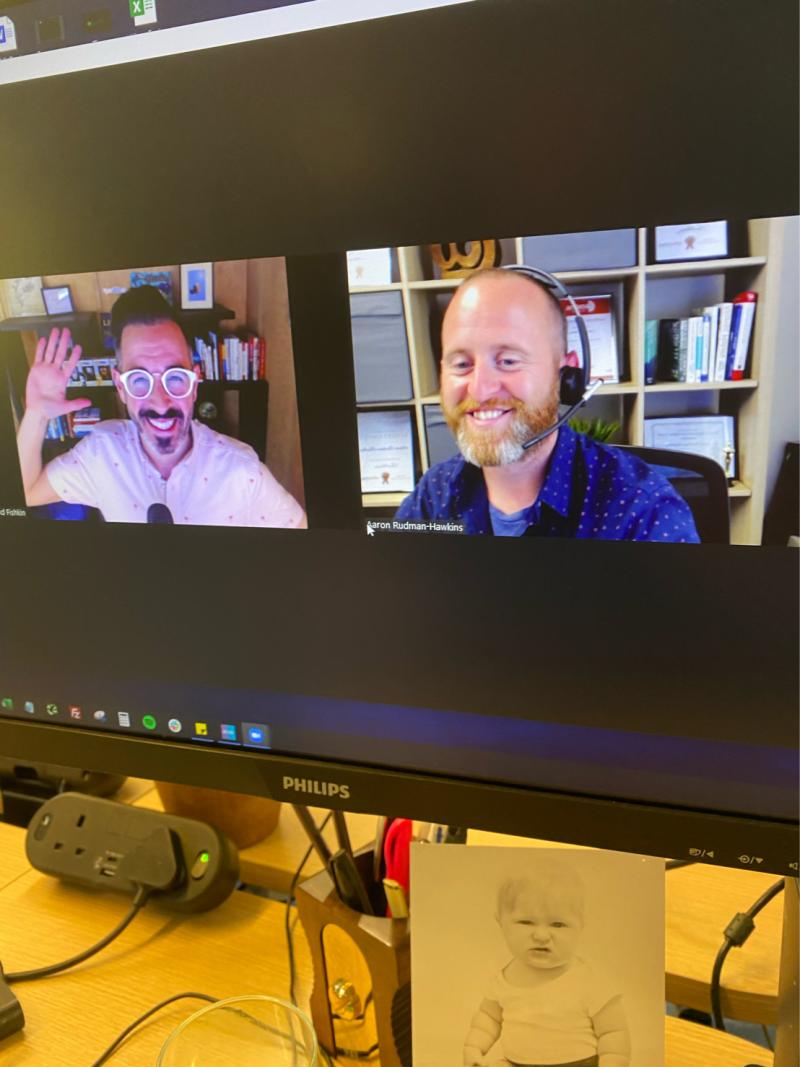 You can read my post and watch the recording here.
Enter Fran our new PR & Marketing Consultant
We seem to be hiring every month at the moment and late June, early July was no exception. I was thrilled to bring Fran onto The Evergreen Agency team. Fran brings bags of experience in digital PR and marketing.
Best of all on her first day – which was in the office amazingly – she brought cupcakes for the team and they were on-brand.
Needless to say, all of the team really liked Fran straight away and she is now helping me and the wider team on a wealth of marketing and PR related activities across our agency and clients.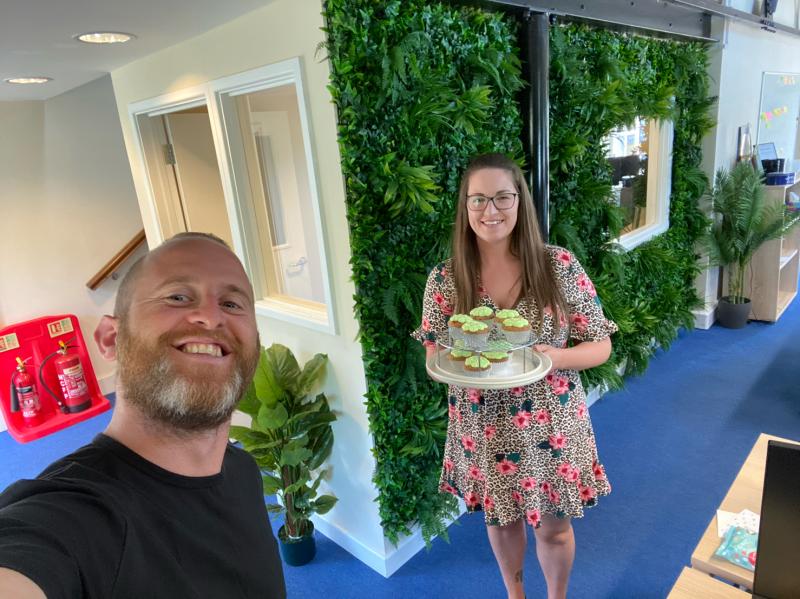 1 year in the office
They say time flies when you're having fun and so we must really love being at Evergreen and in our office as we just celebrated one year in our beautiful offices and wow the time has flown by.
We got the keys July 1st last year and it's been a wild ride ever since. The team has more than doubled in the past 12 months and we have some very exciting development plans in the pipeline so watch this space…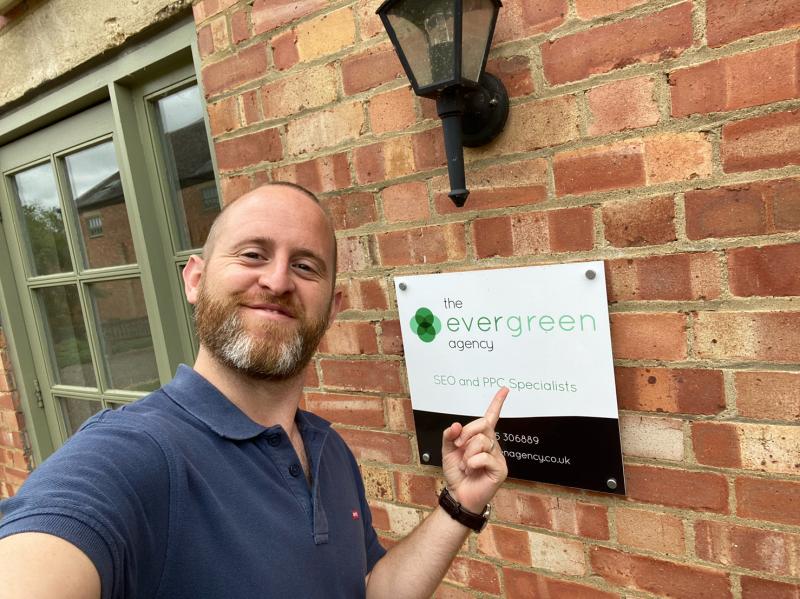 I shared this team shot (2/3 of the team in this one as the others weren't in) of us all having a little celebratory drink for our 1 year in the office. I'm blessed to have such an incredible team and cannot wait to find who else we bring into The Evergreen Agency in the months ahead.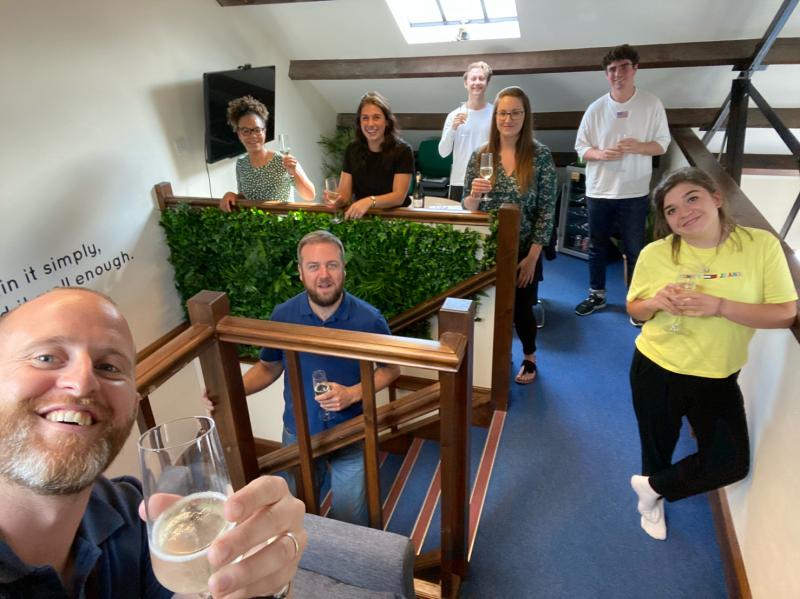 I published a post thanking my team for the past 12 months, check it out.
A few days after the above photo, we welcomed Ray into the office for the first time and it just so happened to coincide with his birthday so he got the full Evergreen birthday treatment of cake and candles, presents, and even a sing-a-long. What a first day eh!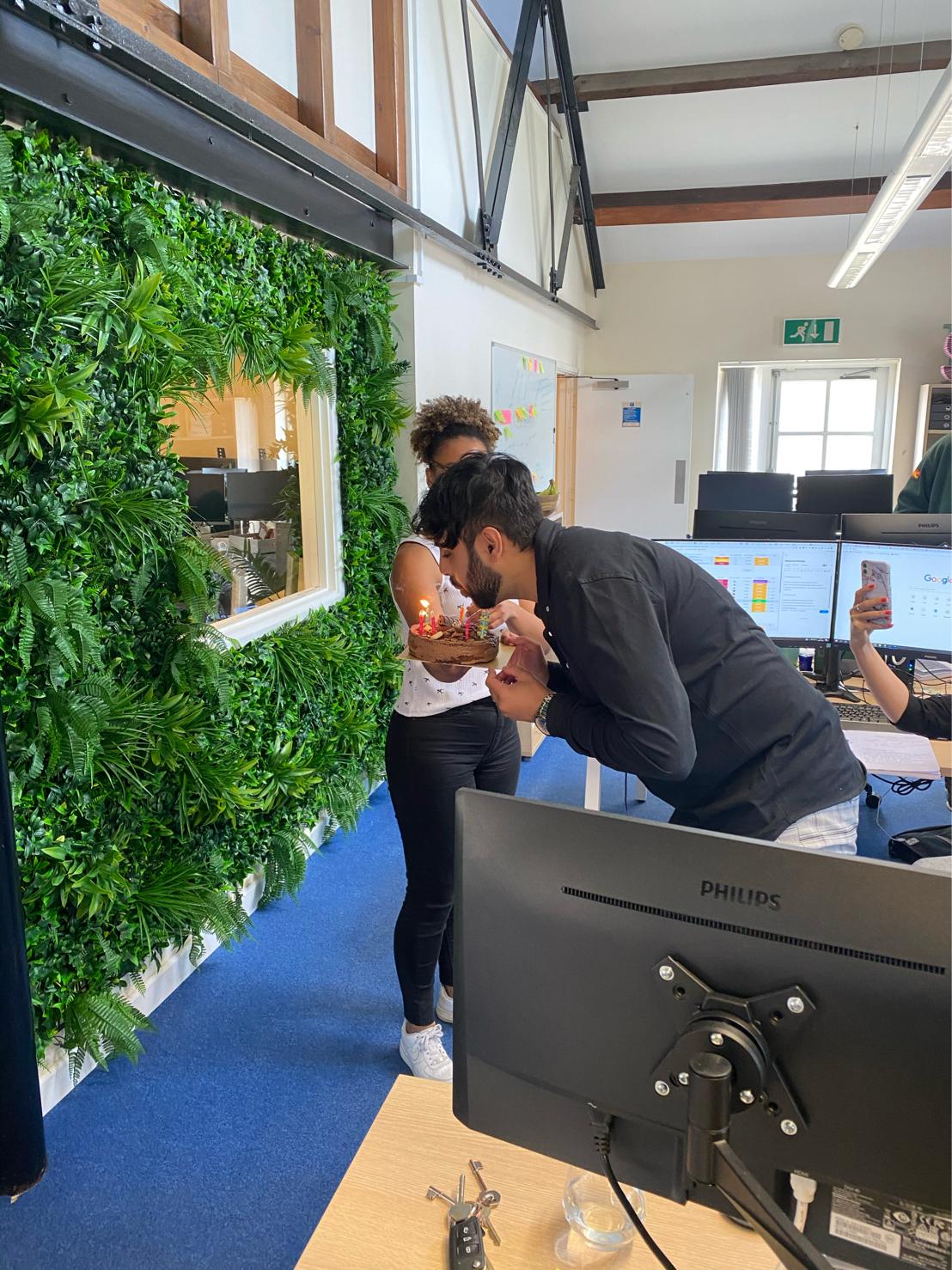 So, there you have it. That is the story of our agency in lockdown. It's been an unbelievable few months with some real highs and lows (definitely more highs). A few squeaky-bum moments for sure, but throughout I have tried my best to remain positive, upbeat, and push on while giving my team the full support and security they needed at this time.
I have kept a relaxed return-to-office policy throughout, which remains in place today and will going forward. The team's happiness and comfort is of the utmost importance to me.
As I say to all of the team regularly – "you look after our clients and I'll look after you all".
So where are we right now?
Well, we're currently recruiting two more full-time people for our digital PR team, vacancies here.
We have taken on a wide and exciting variety of new clients, here are just a few of the businesses that can now call The Evergreen Agency their digital marketing partner.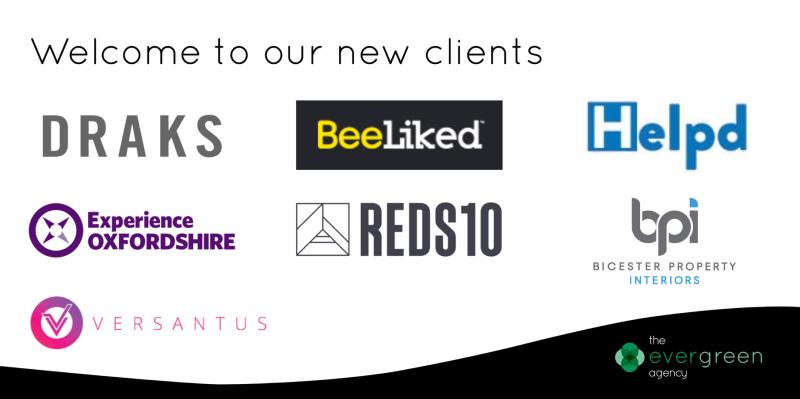 See my recent LinkedIn post where I shared insights what we're doing for these new clients and how we're supporting them.
It's been one heck of a few months and I am really pleased I kept a record of everything that happened in lockdown as so much happens on a daily basis at our agency that you can easily get lost in everything. As I reflect back and hover my mouse cursor over the 'publish' button I can honestly say we have made the best of a bad situation and I know this whole experience will make us as individuals and as a business that much stronger.
If you've read all the way to the bottom of this post, then I applaud your efforts as this is over 6,000 words – thank you for reading and do connect with me and say hello on LinkedIn if you haven't already.