Promotion alert! Meet our new Content Marketing Manager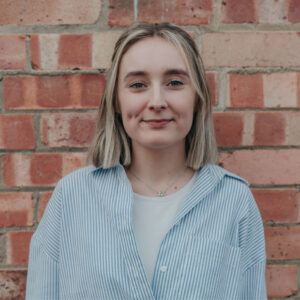 Amber Williams
Amber Williams is a passionate marketer who works to spotlight and shout about our expert Evergreen team. With a knack for organisation, Amber spins many plates to make sure Evergreen remains top of mind for those looking to grow their brand online.
Read Amber 's bio here
That's right! In June, we had a very important promotion take place within our content marketing team.
Josie Palmer has been promoted to Content Marketing Manager, after joining the Evergreen team in 2019 as an SEO Content Executive.
The moment Josie sent over her CV, we knew we'd found a goodun. The moment she came in for her interview at our offices, we sensed we'd found another Evergreen team member.
If you've ever met Josie, you know she comes with bags of enthusiasm for her work and an infectious laugh that you can't help but join in with.
Since her first day at Evergreen this hasn't changed in the slightest. In fact, this enthusiasm has only grown since joining Evergreen.
Josie has become an integral part of our team producing some outstanding content for our clients and just being an overall writing whizz.
Aside from her writing skills, Josie brings an incredible optimism and energy to the office each and every day. Never without a smile on her face, Josie is the first to strike up a chat with those around her, and the first to celebrate the work of others within the office.
"Josie is the content queen, she has transformed our content offering for our clients through amazing, innovative ideas and always taking the time to understand each client's brand, tone of voice and messaging to ensure that all content we put out there is 100% reflective of a client's business. She's a real gem and I'm very proud to work beside her each day."
Naomi – Head of SEO
"Josie is one of our longest serving team members and is one of the rocks of Evergreen, incredibly hard working, smart, proactive and a fantastic copywriter – Josie has almost single-handedly built our content marketing offering over the past 3 years"
Aaron – Managing Director / Head of Paid Media
As Josie's journey with Evergreen has developed, she's been promoted from SEO Content Executive to Senior Content Strategist, previous to this most recent promotion.
The Senior Content Strategist role led to Josie's first opportunity to line manage after the agency hired our new Content Marketing Executive Victoria back in January 2022. It was no surprise to us when Josie took to this new responsibility like a pro.
Not only is she now producing true Evergreen Content day in and day out for our clients, she also manages others, providing guidance and support when needed.
Josie is a complete natural at what she does. It felt like the perfect time for her to take the next step in her content marketing career, as our brand new Content Marketing Manager!
We know that this is the perfect next step for Josie and we also know that there is nobody more suited to the role than her. As a writer, as a colleague and as a manager, Josie is an Evergreen team member down to her very core and we are so incredibly grateful to have her within the agency.
Thank you Josie, for all your incredible work and dedication to the agency. You truly are a star! 💚
___
👋 We are Evergreen and we grow ecommerce brands.
👉 See our ecommerce case studies.
👉 Discover our story.
👉 Subscribe to our YouTube channel.
👉 Join our weekly newsletter for digital marketing that cut through the noise.