Brighton SEO 2020 – our recap & key takeaways
With our favourite search event moving online for 2020, we made the most of the knowledge and expertise available to us, and team Evergreen attended a total of 20 talks! Here's everything you need to know from our favourite talks from the two-day event's best SEO, digital PR, content and all rounder talks summarised and condensed by our team…
How to build links to product pages without looking like a spammer

Speaker:
Laura Slingo
Evergreen attendee:
Holly Barry
Talk link
Conducted by Laura Slingo, Senior Campaign Manager at Seeker Digital, this talk aimed to help link builders understand the type of websites to avoid when link building and why, as well as a step by step process on how to conduct a link building strategy, getting into the nitty gritty data of backlink audits and link deficit analysis. Laura's top tips are:  
Link building shouldn't look like link building – it should be

adding value

and a link's purpose in life is to be clicked so make it look as organic as possible 

Check what your link building velocity should be by doing a backlink acquisition audit as building too many links to a product page could be flagged to Google for all the wrong reasons

Check your prospect's backlinks and keywords (quality check) to see whether they are a site you should be link building to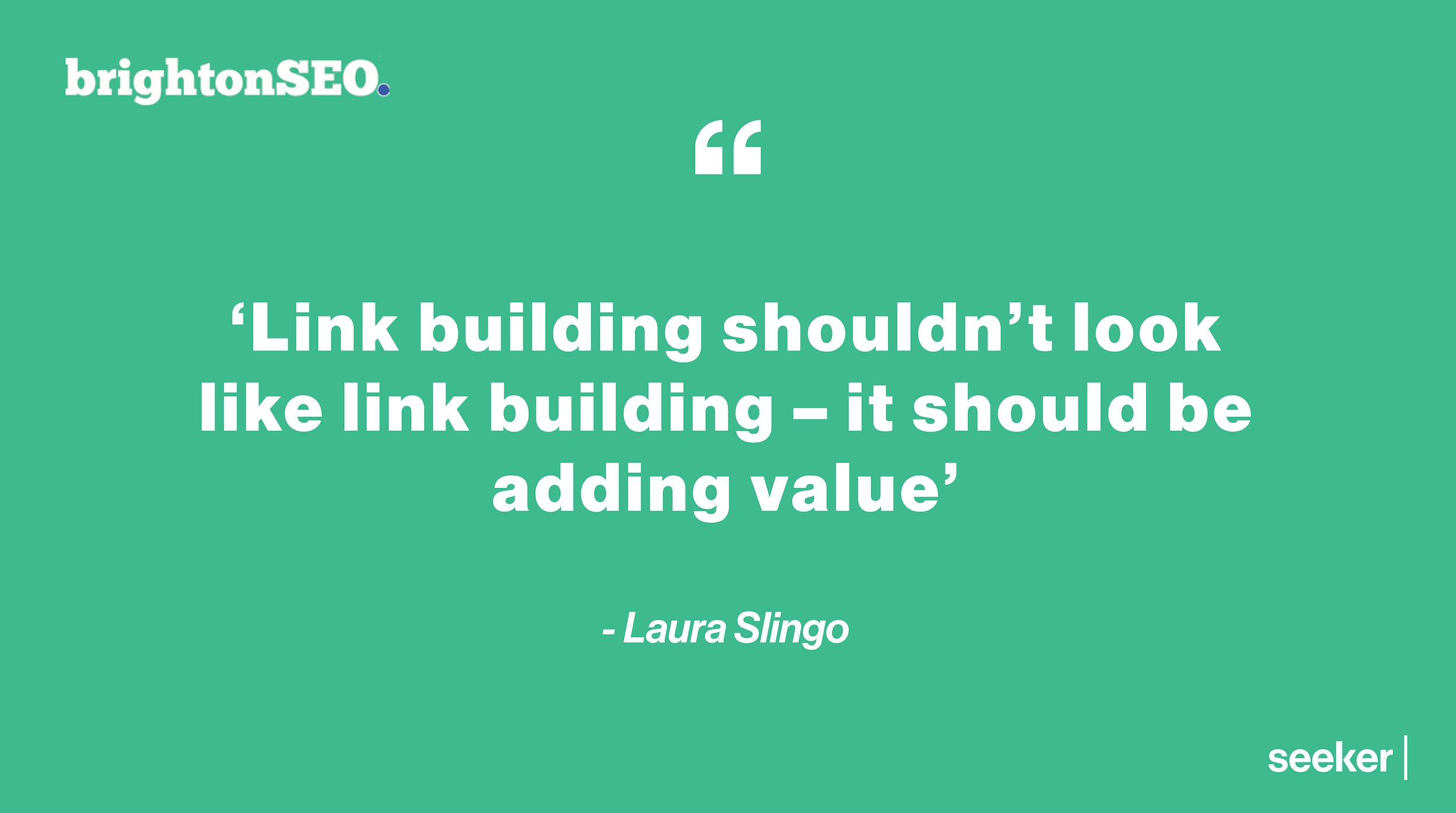 The future of digital PR: Are hero campaigns a thing of the past?

Speaker:
Jane Hunt

Evergreen attendee:
Fran Griffin

Talk link
Jane, co-founder of JBH provided a solid talk and thought-provoking slides on the current state of digital PR and theorised on the future. I'm very much with Jane that the all-singing, all-dancing hero campaigns have a place, but for the majority of clients, relevant and quality links that come from reactive PR, can be much more effective for SEO purposes! That's how we have found the most value for our clients' links over the past few months at Evergreen too. Here's the key takeaways from Jane's talk:
The solution to PR and link building during covid was being reactive. Journalists told us they wanted content that provided escapism or were informative; brands that adapted were most successful

Take cues from the news cycle and plan for the immediate future, not so far in advance. This is no longer as easy to do in today's media climate!

The key word is agility: be reactive and jump quickly. Think "today", tomorrow is too late 

The industry has too much reliance on design, assets and good content – a really good story doesn't always need that
Deconstructing award-winning campaigns

Speaker:
Mark Johnstone
Evergreen attendee:
Ray Saddiq
Mark, a creative content consultant looked at deconstructing popular campaigns from agencies across the country for numerous clients. My main takeaways were:
Never just accept the campaign was successful because it had a high reach; look deeper into the details

There is often a balance of luck and strategy in each campaign 

There needs to be a huge emphasis on organic growth on any campaign 
How to build a scalable content production system

Speaker:
Gareth Simpson

Evergreen attendee:
Josie Palmer

Talk link
Seeker's managing director Gareth, helped me to understand the importance of freeing up creatives to do what they're good at: content creation! Some key takeaways and points:
You can benefit as a company by shortening the administrative time and streamlining processes, so that writers and strategists are free to do what they do best

In a nutshell, your standard operating procedures need to be on point and internal organisation is key.
How to maximise your site's crawl efficiency

Speaker:
Miracle Inameti-Archibong

Evergreen attendee:
Charlie Cox
Erudite's head of SEO, Miracle, hands down delivered the best talk of Brighton SEO for me, this took the audience through a step by step process on how to optimise crawl budget.
Quality content really plays a part in a search engine's ability to crawl the site properly 

Any stale pieces of content should be optimised if possible

Wasted pages need to be removed otherwise it just takes up crawl budget
Creating actionable topic clusters that generate traffic and conversions

Speaker:
Maret Reutelingsperger

Evergreen attendee:
Josie Palmer
Maret's great talk focused on the importance of understanding your topic and capitalising on various subtopics in a way that weaves a web of content that is not only original, but filters through consumers needs and wants in a formulaic way. For example, it will likely have various strands depending on user intent and the buyer journey (Awareness, Consideration and Decision). 
Collectively, doing this will create an internal linking infrastructure which ensures your website is an authoritative business in the field, providing content users both want and need.
Time saving tips for Google Data Studio

Speaker:
Greg Gifford

Evergreen attendee:
Naomi Francis-Parker
A super engaging talk, and Greg was very relatable as someone who has worked in an agency and understood the pain points and nuances of client reporting. The tips were all really easy to implement and he answered all the questions that I didn't even know I had! The takeaways from this will 100% elevate our reporting and get our clients excited about the nerdy data that us SEOs love. Here they are:
Naming convention for all data to make it clear to ALL USERS, this will help us scale up and will save us time in the long run

We can customise a template instead of creating one from scratch and apply the same theme for all, will save us having to tweak each individual element

Grid size should always be 10 and then snap page to grid

For reports: label data with questions, this will make the data immediately more relatable to clients who won't always be familiar with SEO lingo. Our questions should hopefully match what they're already asking in their head, so this will help us build a stronger relationship with the client, as we're demonstrating that we know them and their campaign inside out

You can apply a filter (in our case, organic) at page level!

You can add links to other sources of information such as videos, perfect for video explainers for each element i.e. what is organic traffic? what are impressions? This will increase engagement massively and remove any knowledge gaps between us and the client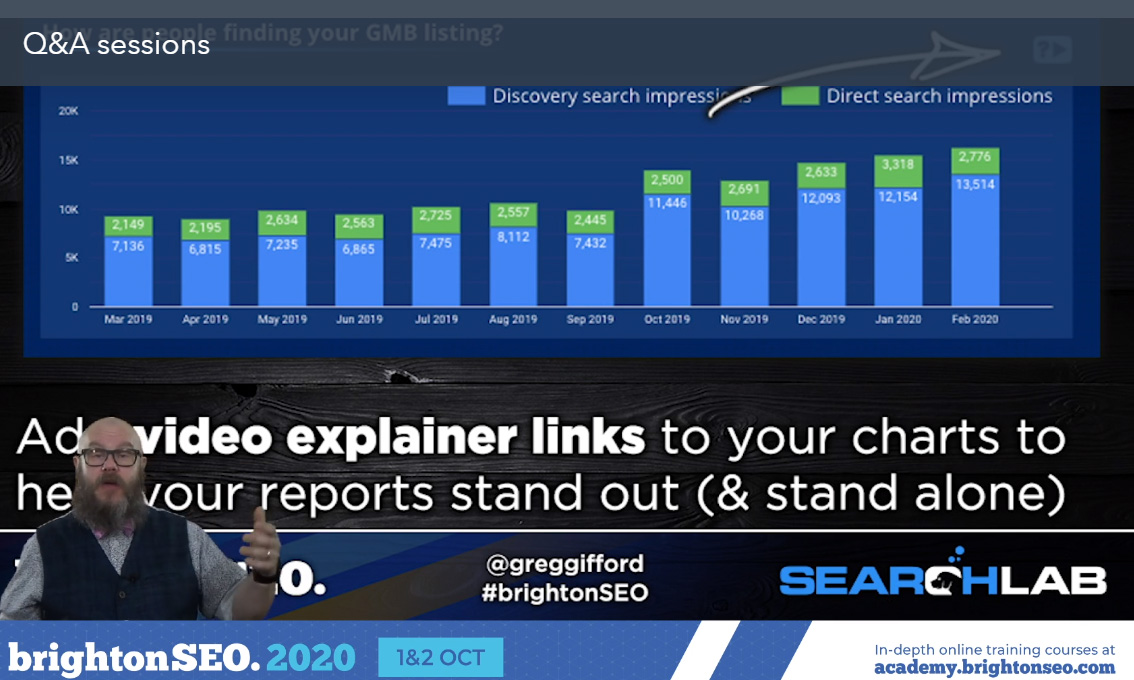 An airtight keyword research strategy to beat any SEO competitor

Speaker:
Rumble Romagnoli

Evergreen attendee:
Ray Saddiq
and
Charlie Cox
The strategy discussed within this talk explains "the keyword gap fear". the fear of missing an essential keyword or "buying term" when presenting to a client. The strategy explains how to avoid missing any keywords out. My main takeaways from this talk were:
Understand your consumers

Know the competition better than they know themselves

Be ready immediately to adapt 

Rumble provided another way on how to analyse a client's keyword list and steal competitor terms using the relevance method i.e. defend your current rankings, expand your current keyword list and steal the terms your competitors are ranking for that you're not
Content audits: how to use search intent to identify a goldmine of existing content opportunities

Speaker:
Paul Wilkinson

Evergreen attendee:
Ray Saddiq
This talk from Seeker's Senior Client Manager Paul, discussed the importance of improving your content and conducting regular audits to find opportunities. The key learnings for anyone unable to attend were:
Drop / merge "dead weight" content on your site

Look for opportunities to add content (look for missing gaps)

Content audits should be a regular thing for your clients' websites
An SEO's guide to website migrations

Speaker:
Faye Watt

Evergreen attendee:
Charlie Cox

Talk link
This talk by Seeker's SEO Manager Faye was eye-opening. As a specialist SEO agency, we don't usually get too involved with website migrations. Dev companies our clients use usually handle most of the migrations, but as I've become more specialist in tech, I think it's really important to understand the full process and there's a lot that was covered in this talk that I've never really considered.
I've now put together a full migration template off the back of this talk, ensuring we're properly organised when it comes to launching a new site for a client, so thank you Faye!
People are predictable – using consumer psychology to improve your marketing strategy

Speaker:
Andi Jarvis

Evergreen attendee:
Ray Saddiq
Eximo's strategy director, Andi, explained how "people are predictable". Discussing how we need to remember this but also shape our content and product pages to match this. My key points I learnt were:
People's attention spans are surprisingly less than 8 seconds! And the goldfish's memory being 3 seconds is actually a myth?!

More information at different intervals makes different parts of our brain engaged 

FAB (Features, Advantages, Benefits) should always be applied to all product pages but is recommended to be applied as "BAF" to have better success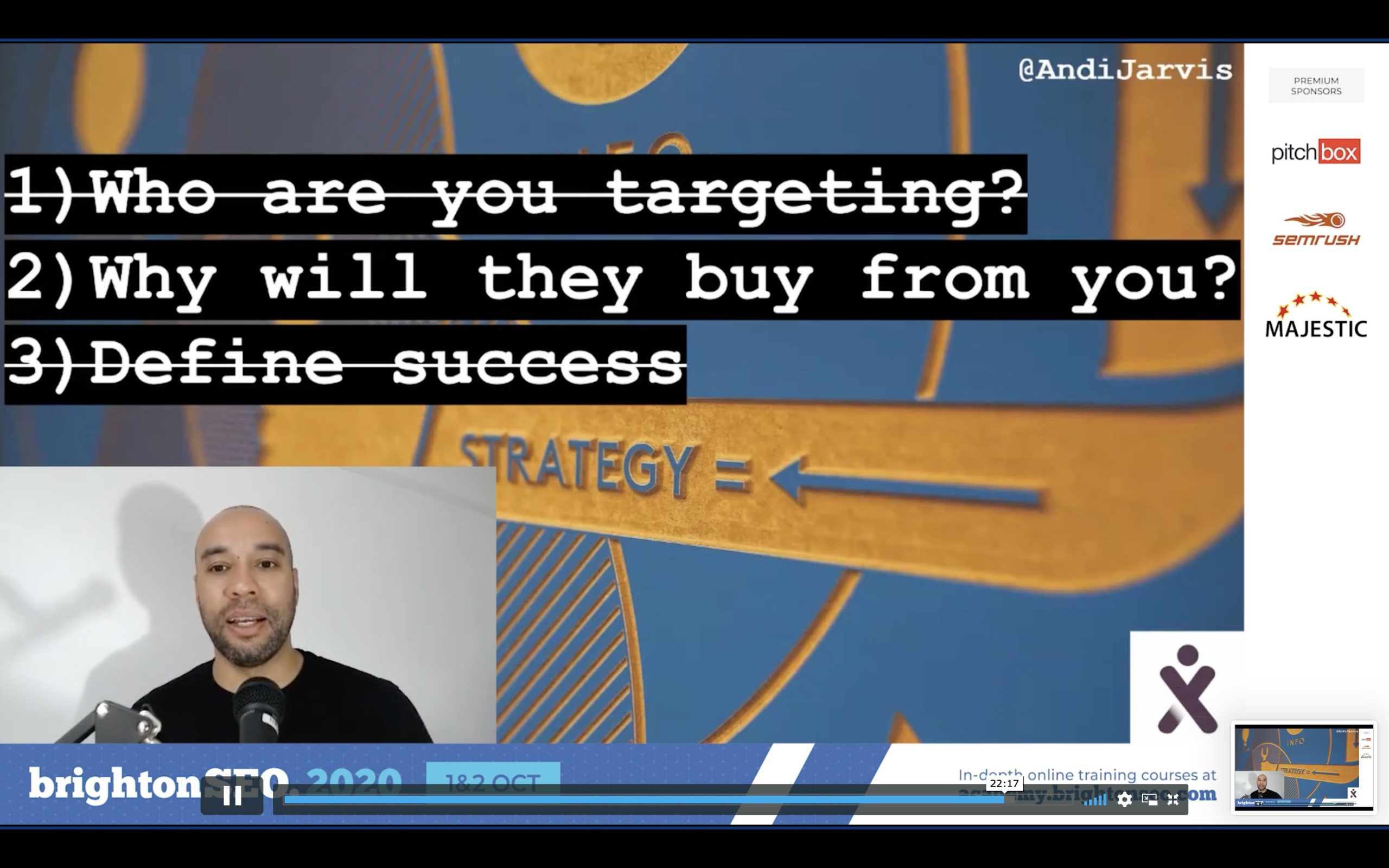 Automating optimisation for featured snippets in SERPs on a large scale

Speaker:
Polly Pospelova

Evergreen attendee:
Charlie Cox

Talk link
It was good to get some approaches on how to structure content for featured snippets and what to look for when optimising for featured snippets; this is especially useful for larger size clients, and perhaps anyone working in-house.
Hacking content keyword research

Speaker:
Judith Lewis

Evergreen attendee:
Josie Palmer

Talk link
Collectively this great talk from Decabbit's founder Judith, reminded me of the importance of aligning with your industry and helped me to understand the importance of user intent in search, and think of the bigger picture; which is how we can help this business and industry do better, by always fulfilling the need of our clients in terms of content. 
Always strive to be helping the business in anyway you can, and make sure the keywords you use and the search terms are how their actual clients are searching – what you may believe to be the right keywords may in fact be completely different to customer behaviour and true queries, so always consider the persona of the client in question. 

Always think about how the topic you're writing about is giving people what they need. If it isn't helping people, then it won't have the impact to push a business forward. Address the business niche, and then address the needs of the niche in the keyword research you do.
Introduction to Google Analytics

Speaker:
Charlotte Upfold
Evergreen attendee:
Ray Saddiq
This talk was a great introduction to GA, discussing some great beginner's tips. I've recently begun my career in digital marketing and found X's talk invaluable. The talk offered lots of practical how-to's and walkthroughs, but some of the key points were:
Set filters across every account level

Add Google's API to Google sheets

ALWAYS use annotations 
Challenges of running a digital PR team and how to overcome them

Speaker:
Aoife O'Connor

Evergreen attendee:
Holly Barry
This talk by Aira's Digital PR Team Lead, Aoife, aimed to help 'Heads Of', 'Managers' and 'Senior Team Members' recognise when their team require support, how to help their teams develop and overcome professional hurdles and what you can do to help 
Be seen to show that asking for help isn't a weakness. When creating a team culture it is important to show that this is ok 

Jumping in as the manager to try and fix things isn't always the answer. It doesn't help your team grow and learn. Instead, ask thought provoking and constructive questions: "what do you think?", "What would you do". It helps your team solve future challenges on their own

Keeping morale up within your team is really important. If a campaign falls flat – which happens – bring in a fresh pair of eyes such as someone who has an interest on the topic. Analyse the success and feedback