Brighton SEO 2021 – our recap, highlights and our MD's Brighton debut!
We were delighted to hear that September's Brighton SEO was taking place in person again since the pandemic, so rather than one or two going, we decided to send the whole team on a trip! It was a great few days of learning, socialising and networking with the SEO industry.
And what a better reason than ever to all go… as our MD Aaron also had his Brighton debut and delivered his own talk on his journey from a freelancer to building our wonderful agency. It was a big moment!
Key takeaways from the talks
The team have shared key findings from some of their favourite talks below. Here's everything you need to know from some of the main SEO, Digital PR, content, and PPC talks that took place over the two-day event:
5 steps to executing a successful digital PR campaign
Speaker: Tom Mansell
Evergreen attendee: Amber Buonsenso
Director of organic performance at Cloud, Tom Mansell shared his knowledge and experience on executing a successful digital PR campaign through 5 effective steps, touching on how to incorporate other teams in your campaign, using an asset to maximise the amount of coverage your campaign receives and much more. Here are Tom's 5 steps: 
Align your internal teams
A crucial step Tom highlighted, explaining the importance of including the relevant teams in your campaign at the right time. An example is that brand teams are often brought into the campaign too late which can slow down the process and cause issues along the line that could've been avoided.
Make sure your idea will land 
It is important to consider whether your idea will gain coverage from the relevant media titles you're aiming for, otherwise, you will be wasting valuable time. Does your audience care about the idea you're selling? Is your story newsworthy?
Bring the idea to life
Once you've got the go-ahead, this is the time to get the design team in and get creative!
Get it picked up 
This is the time to grab the attention of your audience, your pitch needs to be carefully crafted, media list targeting the right journalists and publications and this is the time to promote any linkable assets that back up the campaign.
Measure the success 
This step allows you to sit down with the team and determine the success of your campaign, the next steps and key findings you can take into consideration for future campaigns.
Privacy In Advertising – What questions that the C-Suite should be asking (and how we're addressing them)
Speaker: Eb Adeyeri
Evergreen Attendee: Stan Welman-Williams
Eb Adeyeri discusses the debate around privacy that is at the forefront of a lot of marketers minds. Now that a lot of well-known tech platforms are offering privacy as a core feature, Eb looks at what this means for marketers who rely heavily on data. How do we move forward in this new world and not go back to the 'spray and pray' approach of a bygone era?
Key Takeaways:
Enhanced privacy isn't something to be wary of and offers us a chance to market in a more personable way
1st party data is going to be a key component of marketing going forward
We still have so much data we can utilise rather than the 'spray and pray' methods of the past.
How to optimize SEO landing pages for search intent
Speaker: Clarissa Filius
Evergreen attendee: Josie Palmer
This talk brought a different outlook and approach as to how to best optimize landing pages. It largely focused on the importance of understanding user intent.
Some key takeaways:
Get to the core of what your user is asking  before you begin
Informational or investigational searches rarely mean users are ready to buy
In a nutshell…. User intent is at the core of everything you do. Pay attention to it and understand and investigate the search query in order to tap into the potential opportunities.
Leveraging AI & ML to Automate the Repetitive Tasks​
Speaker: Sabrina Bandel
Evergreen Attendee: Sean Cousins
It was so interesting to hear about automating metadata and keyword categorization; with AI and machine learning being something I want to learn about and use for SEO in the future, it was great to see how these processes are used in SEO today.
Keyword research 101
Speaker: Paige Hobart
Evergreen Attendee: Ray Saddiq
I have recently developed further into my role at The Evergreen Agency as an SEO Executive and as a result, have had the opportunity to complete more detailed keyword research. Therefore this talk was great! I have highlighted some things below I took away from the talk.
Really make use of the tools Google provides you with such as GSC and keyword planner
Don't waste your time on vanity keywords and don't bulk import keywords from tools, cherry-pick your keywords.
Monitor, refine and understand the future state of these keywords
Our team's first Brighton SEO
For some of the team, this was their first in-person Brighton SEO, and they have shared their experiences on their first time at the event:
"It was great to finally attend an in-person event after months of virtual talks via zoom! The atmosphere was amazing and it was lovely to see so many friendly faces and enthusiasm in one building! The talks I attended were really insightful and I came away with a lot of knowledge and ideas to implement in my role."  – Amber Buonsenso
​"I had an amazing time at my first 'real life' Brighton SEO (as opposed to virtual ones that I viewed in lockdown!). It was great to listen to talks that relate to my personal everyday role, as well as listening to a few that I want to learn about in the future from experts in their fields."  – Sean Cousins
"Last year unfortunately I couldn't attend Brighton SEO in person, so this was my first time ever actually attending and experiencing the energy at Brighton non-virtually. An absolutely insane experience. Being able to meet with the industry's best and others very early in their careers just like myself, was a great mix. The knowledge being shared at this event was immense and all talks were great!" – Ray Saddiq
Aaron's talk at Brighton SEO
And the real best talk of the event (yes, we are biased!) was from our MD Aaron as he made his Brighton debut on a talk about "From freelancer to MD, how to build a digital marketing agency – An honest journey".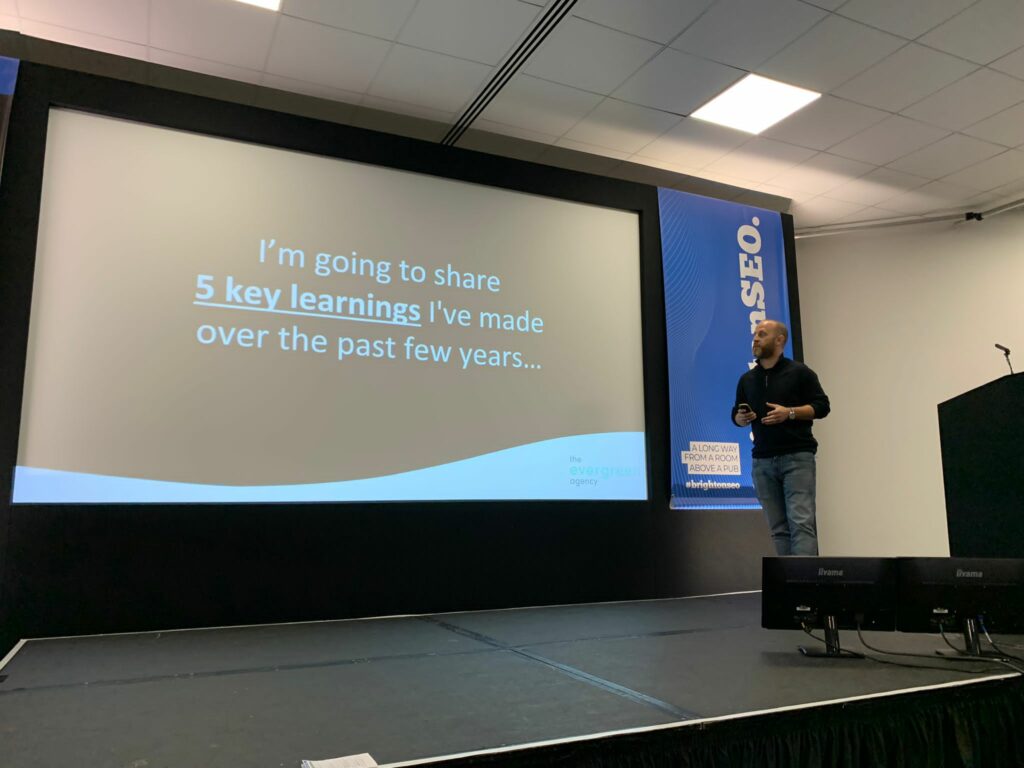 Talking openly and transparently on what it is like to run an agency to a room of 350+ people, Aaron held the stage.
You can watch the full talk here: https://www.youtube.com/watch?v=9RuMq1fCatY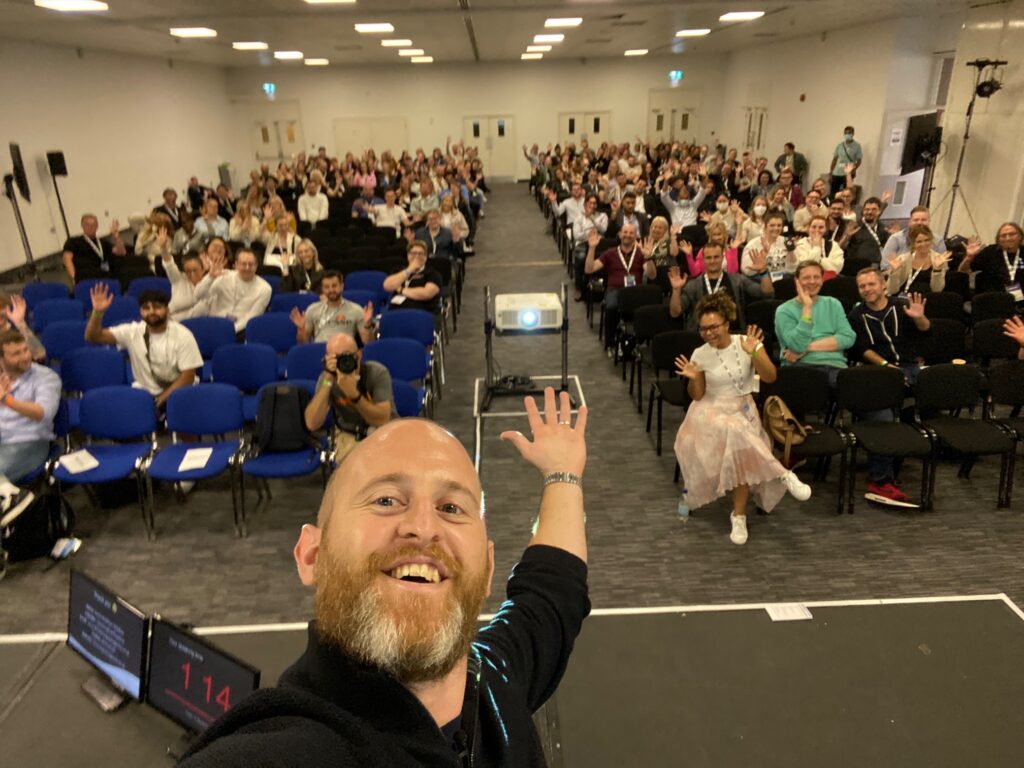 Brighton, it's been a pleasure as always – see you in 2022!