Building Topical Authority with Content Clusters
If you want to rank prominently in the SERPS (search results pages), you need to demonstrate that you deserve to be there and to do that you need to build topical authority through your content.
Your SEO strategy has many components, and content marketing is a key aspect you need to consider, and plan.
A content cluster is simply…. your ability to create the best-on-the-web content that showcases your expertise, knowledge and experience on a topic and earn relevant (relevancy is the key here) links that act as validation of your authority and expertise.
So, what exactly are content clusters?
Content on two or more pages that together seek to cover a topic area and help improve the visibility for a service or product page (typically). Content clusters generally focus around one hero/pillar page, which defines a specific topic and refers back to the primary page. 
These content clusters take many forms and often have a mixture of commercial and information led content, which combined aims to provide as much detail as possible on a specific topic.
Content clusters leverage the power of internal linking and are often closely related to a website's services or products to demonstrate expertise and authority on those topic areas.
Example: a law firm might create content clusters around each area of law in which they operate, for example, family law services, commercial law, employment law etc, each could have a cluster of commercial and information led content that is focused around and internally linking to the pillar page – which is often an in-depth informational resource. This pillar page in turn links to the service/product page, which increases the brand's visibility in the search results.
A content cluster is simply a way to demonstrate to users and search engines alike that you are an expert on this topic, you have experience, knowledge and can demonstrate that through the information you provide on a page.
Why do you need content clusters?
Every content cluster starts with a primary page, it is often a service or product page and is the page you would ideally like to rank at the top of the search engine results in its own right, as it is the page that most prominently highlights what you do (your service or product for sale) and has the highest likelihood of leading to a sale or enquiry. 
The reality is, rarely will your service or product page alone be able to rank highly without the support of a content cluster.
Without content clusters it is easy to create lots of content, none of which relate back to each other or more importantly, back to the primary page you want to boost. We often find that websites create content based on a vague idea or because of a specific keyword they want to target. When this is done on scale, you then end up with a mass amount of random content, with no authority and in most cases not related to the core subject you should be focusing on. 
Here's what your content looks like without content clusters.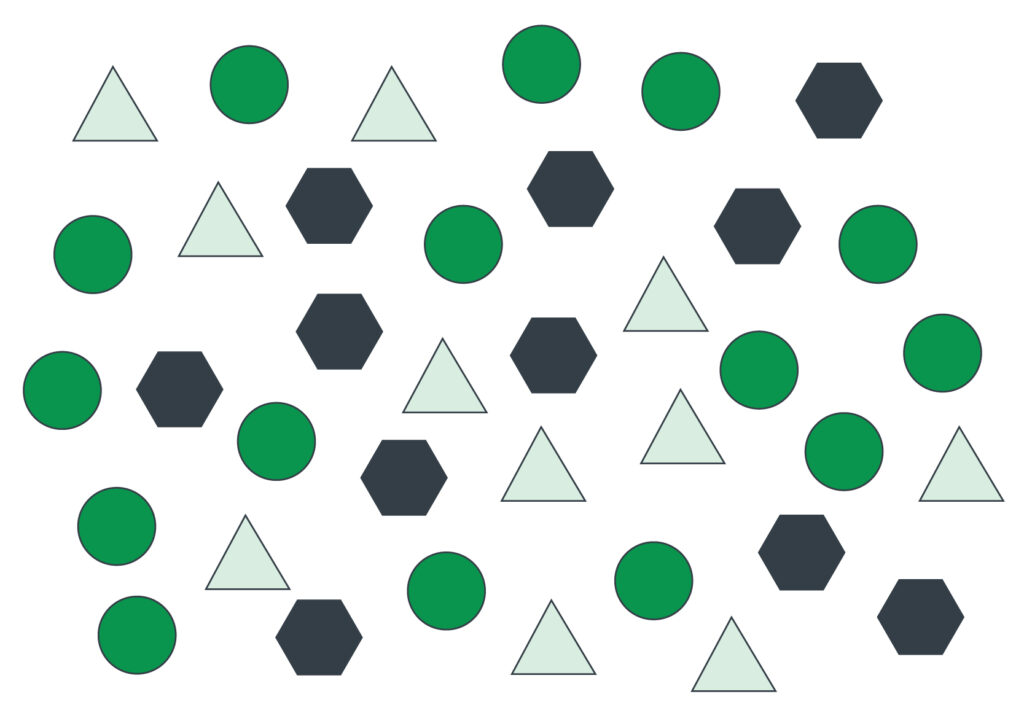 What does a content cluster look like?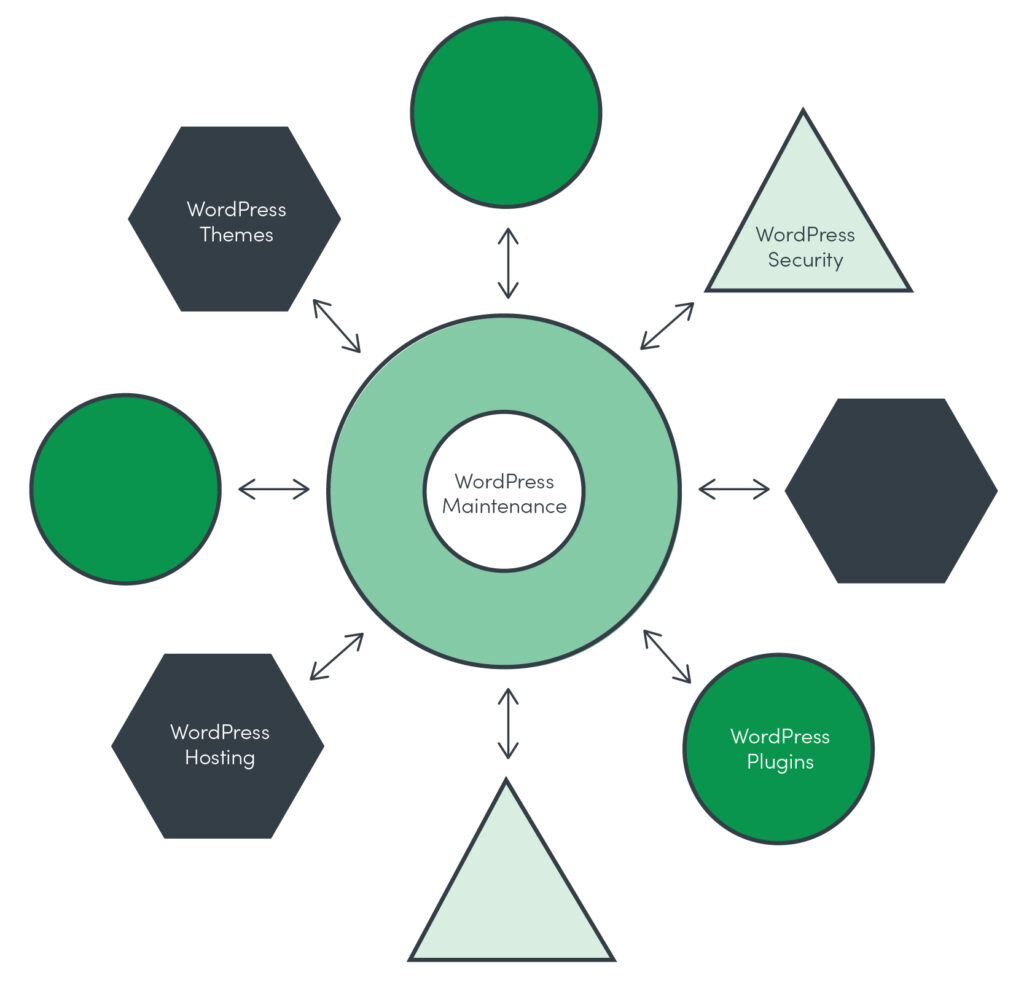 When considering content clusters, you need to establish the purpose of each content piece within your cluster. Different content serves different purposes, for example, some content within a cluster will be written with the purpose of increasing your website's visibility (the pillar page and supporting pieces) while other content will be written with the purpose of attracting links.
The ideal scenario of course is that your content both ranks well and attracts links, but often that is not the case.
When we are planning content clusters, we look for three specific content purposes that support our topic/primary page, they are:
 

Content to rank (hero/pillar page)
 

Content to promote/gain links
 

Content to support topic relevance
I'll explain each in a little more detail below.
Content to rank (hero/pillar page)
Think of your pillar page as the hero of your content cluster, it is the page that provides the best-on-the-web content for that topic, often (but not always) extensive in length and providing lots of depth and information that surpasses what is already visible in the search results.
Your content to rank is the most important part of your content cluster, it is the 'hero' of your cluster and forms the base on which any supporting pages are created and linked to.
You will often find pillar pages are long-form informational content, they are creative, kept up to date and provide a great deal of value and insight…after all Google wants to provide its users with the best, most useful information so it's common sense really.
The pillar page will nearly always link to the primary page and often have a clear CTA (call to action) as well as refer to the additional supporting content pieces part of its content cluster.
It is important to identify which page within your content cluster is the one you will position as the pillar page and create a page that is good enough to outperform the competition (having reviewed what is already ranking).
How do you choose your pillar page?
The best way to start is to do some research, so log in to your favourite keyword research tool and start looking for suitable pillar page ideas for your content clusters.
It may be that you already have an existing piece of content that is perfect to use as your pillar page. This may involve some tweaking/upgrading, but it's important to know what content you already have before you build more. 
Content to promote/gain links
At least one content piece within your content cluster must be for promotional purposes. You'll find this will almost always be information led in some way as this content piece needs to provide value and add something as it will be 'pitched' in some way.
You may be planning a digital PR campaign, or possibly you are looking to do some niche link building and outreach. Regardless, this content is created specifically for the purpose of gaining links. It sits within the content cluster and internally links to the 'content to rank/pillar' page.
Content to support topic relevance
This is content built around and in support of your pillar page, it further demonstrates your expertise on a particular topic and allows you to expand the topic area or move deeper into a specific topic area.
The pillar pages are often broad in covering a topic and while in depth, these additional supporting content pieces can help ensure your pillar page does not end up 10,000s of words long covering countless sub-topics in great detail.
There is no right or wrong when it comes to how many supporting content pieces your content cluster needs, your decision should be led by the data and research you do.
Ultimately you can (if you need to) create supporting relevant content in as many areas under that topic as you wish to demonstrate your expertise and authority in that area.
All supporting pages should take their lead and be linked to and from the pillar page, which in turn is linking to the primary page (service or product page).
Why are internal links important in content clusters?
Once you've identified your content clusters you'll often find that you have existing pieces of content on your website that are relevant. To integrate these pieces of content you need to use internal links. 
This shows Google how your pieces of content relate to each other within that topic. 
When using internal links it's important to remember the following:
Have you included links to point your audience back to the primary focus page?

Do your internal links help your users?
When deciding which links to add to a piece of content it can sometimes seem more complicated than is. It is, however, really simple. If, when reading through your content, you have other information available on your website that is relevant, and can further help the user, then link to it!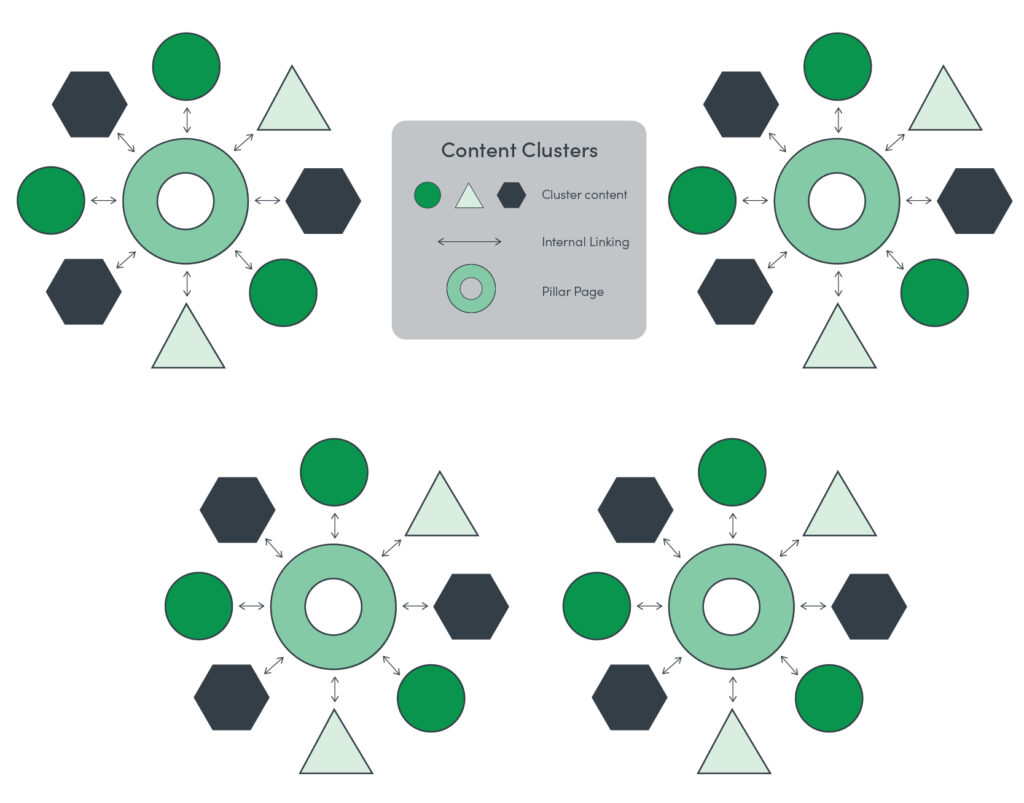 Maintaining your content clusters with internal links
Once you've created your content clusters and added internal links from each of those pieces of content, you may think 'job done'. Wrong! 
Content on a website is ever-growing and should always be seen as a live document, needing to be updated regularly. 
If you add a new piece of content that's relevant to an existing content cluster, you need to go back and ensure that internal links are added to existing pieces of content, to help direct users (and Google) to the new piece. 
What are the benefits of content clusters?
 

Gain top rankings for competitive, high-volume keywords
 

Rank for entire topics – often hundreds of keywords for a single content cluster
 

Position your brand or business as experts in your field and raise your brand awareness
 

Increase the direct and referral traffic (as well as organic traffic) to your website
 

Improved likelihood of acquiring links, PR, brand mentions and features naturally
How to plan a content cluster in 6 simple steps
So now that you've got what, why, and when… here's the how. 
 

Research and plan your topic content clusters
 

Analyse what is already performing well and establish its strengths and weaknesses
 

Create and publish a more informative, more up to date and more expansive resource that you are confident is better than what is currently ranked No.1
 

Ensure you correctly optimise the page(s) and add internal links to your money pages
 

Promote your content and gain links from niche relevant publications, blogs and websites
 

Track, review, refine and repeat
In conclusion
A good content cluster will have three core components that support your service or product/category page. A page to rank (pillar page), a page to promote and at least one page to support the pillar page. Simple, yet so often misunderstood or overlooked.
Now go and have fun with content clusters.