My first year at The Evergreen Agency
Hi, I'm Naomi, Senior SEO Strategist, and I've just celebrated my one year anniversary at The Evergreen Agency! A year sounds like a long time, but trust me, at Evergreen, a year goes by in the blink of an eye.
You Always 'fall' into the Jobs you Love
I'm always asked how I got into SEO and it makes me laugh because honestly, I don't really know. I studied English Literature at uni with the dream of becoming a high-end fashion journalist, so I went off to London to study at Condé Nast College of Fashion & Design, convinced that my dream job was on its way. Obviously, not the case. I got my diploma from Condé Nast and along the way, I realised that, as well as writing, I also really loved digital marketing. I started to look for jobs that allowed me to do both, taking me further away from journalism altogether.
Fast forward a few years with a few random, vaguely marketing related jobs under my belt, and I still hadn't found my 'thing'. I was on the hunt for something that would kick-start my career. I naively searched for 'digital marketing' jobs, which is hilarious because it's probably the most umbrella term you could possibly use. Nevertheless, I came across a vacancy for a  'Junior SEO Executive' – Now, I'll be honest, I knew what SEO was but did I have any idea about the industry? No. Was I that qualified to apply for the job? Not really. Did I apply anyway because I liked the idea of free coffee on a Wednesday? Yes. Only joking about that last one…
All jokes aside, it actually was the job description that appealed to me. There was an emphasis on mentoring and training that would be provided to 'fulfil your potential', which I know is what so many companies say and it's a trick I'd fallen for before, but this felt a little more genuine than the rest. I applied anyway, fully expecting my application to get lost in the virtual pile of hundreds of better-qualified, highly experienced applicants. It's safe to say I didn't for one second get my hopes up.
An Unexpected Interview
The next day, I get an email from Aaron asking to have a chat. I was quite literally shocked but I obviously replied immediately, only to find myself the following day sitting in my car talking to probably the most enthusiastic person ever about how much potential there would be to grow if I worked for this company. I won't bore you with my entire interview process, but here are some highlights:
Responding to Aaron's first email calling him Adam (rule one of making the best first impression: get your potential boss' name wrong).
Bringing a notepad to my interview without a pen, and then trying to subtly ask a barista at the coffee shop you're in if you can borrow hers.
Expecting only one person in your second interview and walking in to find three people – all of whom are 100% aware that you are so inexperienced in SEO.
Leaving the interview and again having to subtly return the pen to the barista.
Somehow, I got the job and a month later I met Aaron on my first ready to learn about SEO and promotion. I should mention that my job at this point was solely to focus on the promotion of our clients, and my job now is to oversee the strategy for all of our clients – that mentoring and training line was genuine!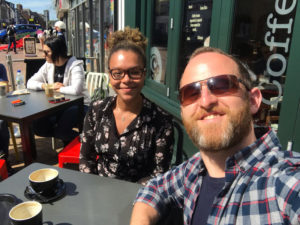 In the first six months of my job, we went from a team of five to a team of seven, and in that time I went from only focusing on promoting our clients to managing my own set of clients (overseen by Aaron and George, our Head of SEO, of course, let's not get ahead of ourselves). We also moved into our new office during that time which led to my promotion to IKEA furniture building extraordinaire. Joking. I did get a real promotion though, to SEO Executive, which basically meant that I hadn't ruined anything yet and I was probably doing ok.
The Human Sponge
I spent 90% of my spare time reading about SEO and asking ten-thousand questions, I was literally like a 5-year old asking 'why' at every given opportunity. A 'human sponge' as Aaron likes to call it. I know that sounds very annoying, and it probably (definitely) was, but I wouldn't be where I am today without doing it. Disclaimer: I still ask ten-thousand questions and encourage everyone to do the same.
This whole time I just wanted to be as knowledgeable as possible and Aaron and George, being the SEO gurus that they are, were there every step of the way supporting me and teaching me how to be good at SEO. It's wild to think that I nearly didn't apply for this job because I didn't think I'd get it and I didn't want to waste anyone's time. I believed in the sentiment that Aaron conveyed when he told me that The Evergreen Agency looks after their team and I'm so grateful I did.
The six months to follow were even more of a whirlwind. We went from a team of seven to a team of ten, we got a coffee machine for the office (obviously the highlight of this entire post), started sponsoring our local ice hockey team where we now have regular Sunday team nights out, and we launched a charity initiative to support the local charities doing their bit to help those in need. As you can tell, it's not exactly a boring job.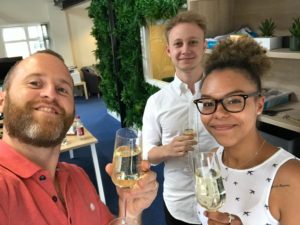 The Best Year (Honestly)
All of this may have happened over a year, but it feels like only yesterday I was meeting Aaron, barista's pen in hand, eager to learn with no idea what I was actually doing (I'm probably allowed to admit that now). The agency has transformed since I started and I'm so grateful I was able to witness it.
My one year work anniversary really forced me to look back at the past 365 days and realise just how much has happened in my career and in the agency as a whole, all thanks to my desire to learn and the team's willingness to work together to be the best we can be.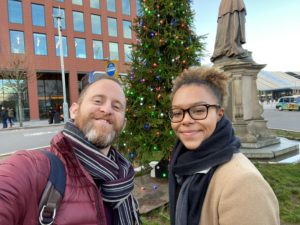 There isn't really a point to this story, other than to say that there's always an opportunity to fulfil your potential, even if you don't know that potential exists yet. As long as you have the right people around you and someone to believe in you, some really great things can happen.
Here's to one incredible year at The Evergreen Agency and many years like it to come.