Getting started in technical SEO
Hi there, I'm Carl and I'm the Senior SEO Analyst at The Evergreen Agency. For short, I'm the 'tech guy' at the agency.
My role covers all things technical SEO, and to most people outside of the agency (and inside), it's a little bit of a mystery. For that very reason, I thought it would be a great idea to share with you all my own experience of getting into the field of technical SEO, to hopefully help people understand it a little bit more.
Trust me, I wasn't always in the SEO industry,  so I know how complicated it can look to people that aren't familiar with the basics. In fact, I spent over 20 years of my earlier life working on construction and railway sites. I worked in all kinds of weather (the majority being rain) and was covered in mud from head to toe most days!
It wasn't until later on in life that I discovered the opportunity to make money online.
Yep, you read that right, back then those scammy banner ads did actually work. They led me down a path that took me out of the railway life and into the SEO field. Granted, a few years ago SEO was a little more straightforward and effortless. All it took was good on-page SEO, a little keyword stuffing, invisible forum links, and a few comment links here and there, and BOOM!  You'd get decent rankings.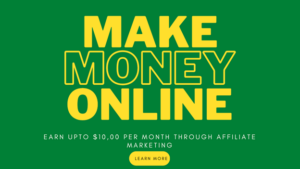 Fast forward six years, and it isn't that easy…
After using the above tactics to rank a few websites, all I could think of was SEO. So I decided to take the leap. I left my career in construction and went to work for an SEO agency as a trainee technical SEO executive.
It was there that I made my very first mistake.
At this point, all I'd read about was on-page SEO and old link building tactics. So when the SEO manager asked me to crawl a website and check the canonical tags, I very quickly realised that there was a lot more to learn about SEO than I had initially thought. (I may have also considered a very quick return to the railway out of blind panic!)
Luckily, I didn't give in to this urge to flee and I've ended up learning a wealth of SEO knowledge that has led me to the role I have now. I thought it would be good to go through some of the basic areas that got me to where I am today, in order to achieve two things:
Help others understand what the role of a 'tech guy' actually entails and the work I carry out for clients
Help those who are interested in starting their SEO journey, know the best areas and resources to get them going
So what is technical SEO?
SEO can be split into three main areas:
The first area is on-page SEO which, roughly speaking, involves the optimisation of header tags (H1s, H2s etc.) and content.
The second area is off-page SEO which covers comment links… I'm definitely joking! Off-page SEO typically covers link building and outreach to other webmasters.
Then we have Technical SEO. I like to think of this as the backend optimisation of a website aka. the stuff you don't see. This involves analysing a website's structure, page speed, status codes, crawlability and robots.txt settings, among many other things.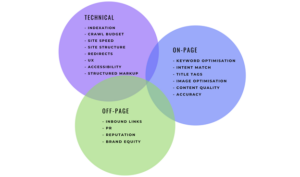 I'm seeing technical SEO become more and more critical to an SEO strategy. It's almost similar to the foundations of a house (website). The outside may look nice, and the decor looks pretty, but what about the foundations, electrics and plumbing? These all need to be at their strongest and most secure in order to build the best house, and it's the exact same for a website.
Where to start with learning technical SEO?
As technical SEO has become more popular, so have online resources. If I could start all over again I would've definitely learnt this skill a little differently using these resources, rather than doing it in my own unusual way of back to front.
So here's my list and resources to get started on an exciting part of SEO:
Learn the basics of building a website
I kick myself so much at this step as I only started learning code over twelve months ago but, knowing the basics of HTML, CSS and JavaScript will help you understand how a website is structured and functions.
There are so many rabbit holes you can go down but always try to learn the basics before jumping into the more advanced stuff like APIs and backend stuff.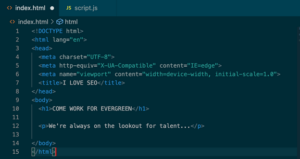 I highly recommend learning this over at Code Academy or Udemy.
Once you have this knowledge and a good foundation in place, communicating with clients and their web development team becomes a hell of a lot easier. It also allows you to build a basic website of your own and break stuff without getting sacked!
Learn chrome developer tools
So, now you have new-found knowledge of building a website, you're best off learning how to use Chrome Developer Tools. It comes with every browser, and it's FREE! Open it up on a popular website, by right-clicking on a website page and selecting inspect, and look into the website's HTML, CSS and Javascript files.
This will open your eyes to how established websites are built and structured. You haven't got to dive too deeply into this, but understand the basics of the tool, as it will come in useful when doing technical checks on websites.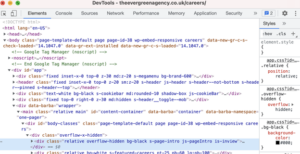 A good resource on this can be found on Search engine land.
Learn how search engines work
My day to day role as an SEO analyst involves crawling client websites, so it's crucial to understand how search engines crawl, index and rank websites. I could branch off and go down many rabbit holes here, but I recommend watching Google's four-minute video explaining how search engines work.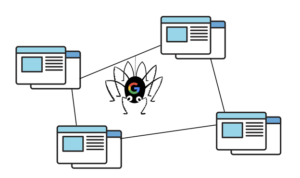 Then when you're ready, Moz has a guide that goes into much greater detail on how search engines operate.
Now for the fun SEO stuff! I won't go too deep into this, else the post will reach a few thousand words.
Learn XML/HTML sitemaps
An XML or even an HTML sitemap is important to a website, as it should contain all of the essential pages of that website. This helps Google and other search engines to understand the website's structure.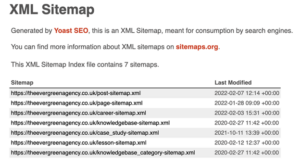 There are instances where pages are buried deep inside of a large website and on the odd occasion, they may get missed. It may even be that a website page hasn't been internally linked to and then gets missed completely, meaning you won't be able to find them within the index. So, it's crucial that a website has a file that lets search engines find these pages.
Take a look at ours to understand what an XML sitemap looks like.
Get to know structured data
Also known as schema markup, this can enhance a listing in Google search whilst boosting click-through rates, and also helps Google understand the context of a webpage.
For example, I'm sure you've searched for a pair of Nike shoes and seen star reviews and price ranges visible in the results? Well, those reviews and that price range are a result of structured data that has been added to a site page using schema (essentially, code).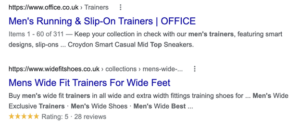 This shows Google what the context of your webpage is and the information you want to be included in a listing when people search for relevant keywords. So when people search for trainers, you want the reviews and pricing to show on the results page along with the product.
Here is another great resource by Mangools that I'd recommend for this topic.
Learn your status codes
We have all been to a website, clicked on a link, and redirected to a page that says, "OOPS!! PAGE NOT FOUND".
It is also known as a 404 error, a broken link. Too many of these on your website and search engines may start distrusting the website. Not only that, but your users will start getting a bad user experience. So learning status codes helps you understand what pages are working (200 status code), need to be removed, redirected (3xx status codes) and so on.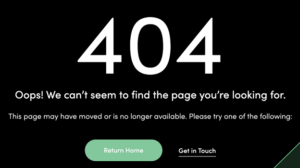 I highly recommend reading Moz's guide on HTTP status codes:
The joys of canonical tags
This one took me a while to wrap my head around, but I will try to explain it in the best way possible.
You go to bed one night, wake up the next day, and notice that somebody is next to you. To your surprise, it is the exact clone of you. They have the same hair, eyes, nose and mouth. Your partner then walks in and is either happy or confused. I'll leave that to you. But either way, they can't tell the difference between the real one and the duplicate.
The clone puts on a hat to identify themselves as the copy. In our case, the hat represents the 'canonical tag'. In most cases, you will find that websites have duplicate pages. You will see these instances on eCommerce websites and their filters.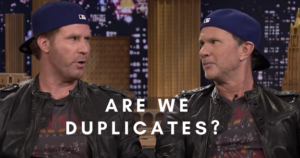 Each filter contains the same content and some products. Unfortunately, search engines like Google will crawl and index these pages, meaning many unnecessary pages are found in the search results. In addition, the main page is struggling to rank because it will be competing against the filter pages.
So we need to put a canonical tag (hat) on filter pages to tell search engines that they are a clone/copy of the main page and to index the main page instead. Deep Crawl has written a deeper guide into canonical tags and highlights the importance of having these on your website.
Tell search engines what not to crawl using robots.txt
Finally, I recommend that you learn about robots.txt files. This tells search engines and other bots what should and shouldn't be crawled. These could be important files or sensitive pages that you don't want to be found in Google. You can even stop certain bots from crawling the website using this.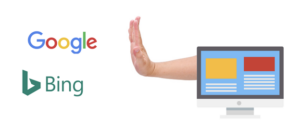 It can also be really useful for helping crawlability across eCommerce websites. You want to make sure that the pages being crawled by search engines are ones that provide value to users and are relevant/useful for keyword searches. Most eCommerce sites have numerous filters for product pages and you want to avoid most of them being crawled to allow for the more valuable pages to be found.
For more information on this, definitely check out Moz's post on Robots.txt.
Well, there you have it. Hopefully, I've managed to reveal a little bit more about the mysterious role of the agency 'tech guy' and even better if I've managed to help someone get a head start on their technical SEO career.
The biggest thing to take away from this post is that regardless of age or where you are in your career right now, if technical SEO is something you're interested in and if it's something you're willing to read up on, there is nothing stopping you from making it your next career move.
You've got the resources, you've got the advice, now go make it happen!
Oh and while you're here, sign up to The Evergreen Way if you want to make sure you don't miss out on any more valuable 'tech guy' wisdom.