Happy birthday Aaron! Time for a Facebook stalk
Over the weekend, we had a very special birthday in the Evergreen Team…
The man himself, Mr Aaron Rudman-Hawkins!
At the ripe old age of 38, Aaron has managed to achieve many amazing things over the years. One of the more obvious achievements being the growth of this fantastic, digital marketing agency; with the help of his fabulous wife and fellow director Harriet of course. 😉
Now, as a team, we all love to hear about the stories of growing the agency and how things got started. We love a good throwback and it's always interesting to see how things have changed between then and now.
So with it being Aaron's birthday, and wanting to reminisce about the good old days, we thought it was only right to do a teeny, tiny deep-dive into the depths of Aaron's Facebook profile.
Let's just say we found some absolute gold, so without further ado, we give you…
Aaron through the years!
After scrolling and scrolling, we finally made our way back to where it all began for Aaron and Harriet.
Just look at them! Two blonde bombshells, with a tan to be jealous of and their whole lives ahead of them…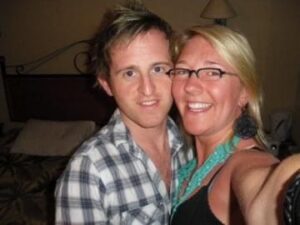 As you can see, Aaron has always had a preference for the finer things in life. Here he is, enjoying a nice cold beverage in the gardens of his manor house…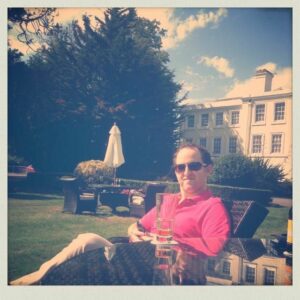 Only joking! Although he really does love a statement piece, as seen from his iconic pink shirt 😂
Speaking of making a statement!  Aaron has always been a very serious businessman with many important responsibilities and ambitious goals.
It wasn't difficult to see that this man was going places…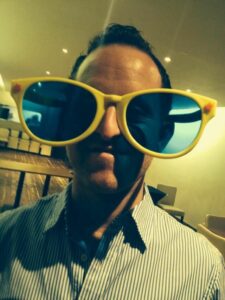 Lord Sugar, eat your heart out!
Moving on and here we have a wild Aaron, in his very first natural habitat of 'The Wimpys Office'.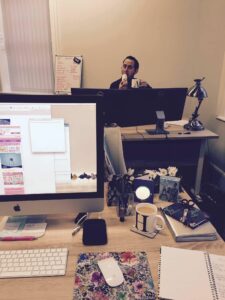 His survival was dependent on the essentials of iced buns and cups of tea. He wasn't naturally a nocturnal animal, but he was known to spend many a late night in this space.
It also seems that Aaron has a few hidden talents outside of the office that he's failed to mention. 🤔
Here he is about to register for his position in the Winter Olympics. Unfortunately after scouring the web for footage of these talents we came up empty handed. Although, we've been told it is similar to watching a gazelle in the snow. Gracious and elegant.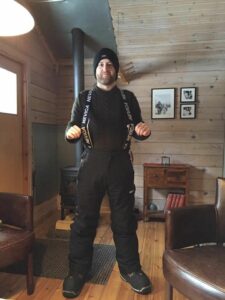 We had hoped, at this point in our research, that the long blonde hair would've made a comeback to the timeline of Aaron. Alas, we were beginning to accept that the hair-do would forever be left behind in 2010.
Not to worry, there was plenty more content for us to enjoy. Take this lovely photo for example, here we have Aaron enjoying a nice glass of bubbly… or two.
Nothing wrong with being double-parked!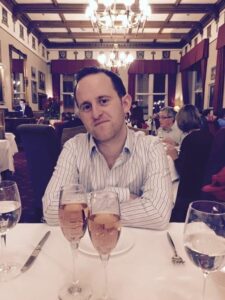 In 2017, Aaron and Harriet introduced their newest business partner to the world…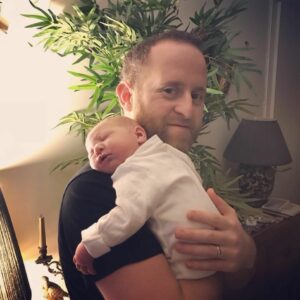 Here we have Aaron and the newest recruit having their first board of directors meeting. Looks like all that business talk was very tiring work!
It was a risky move bringing on such a young director, but it was just what Aaron and the agency needed to flourish.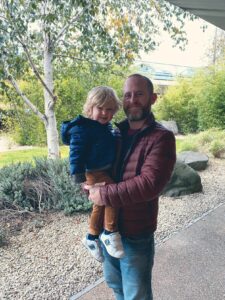 Here's another shot of one of their frequent business meetings. Always grafting hard and brainstorming new ideas. What a dream team! Or should we say green team?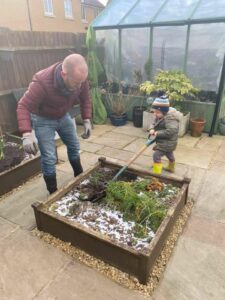 We thought we'd round off our Facebook deep dive with a final shot of the pair that started it all.
We might not have seen a comeback of Aaron's long blonde hair, and they may be slightly less tanned than they once were, but these two are still the same grinning pair as they once were.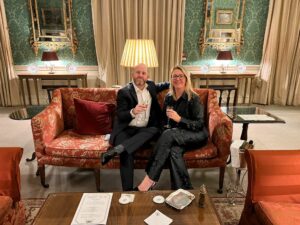 They work hard, they get the job done and they have fun whilst they're doing it.
We think that's enough stalking for now, so from everyone at The Evergreen Agency…
Happy Birthday Aaron!
Keep providing the quality content, and we'll make sure to do another Facebook deep dive next year 😉
If you want to hear more from The Evergreen Agency and all that goes on behind the scenes, sign up to The Evergreen way newsletter here!