How to know if your business is being impacted by coronavirus – 5 simple steps to find out
We're in unchartered territory, of that there is no doubt. With every passing day, it seems another country announces it is shutting its borders, closing its shops and halting all events and large-scale gatherings.
While the media is focused on the latest death toll and number of cases confirmed, there are 10,000s of businesses across the UK that are naturally very concerned on the impact this is already having and will continue to have on their businesses.
The travel, hospitality, leisure and events industries have been hit particularly hard to date, and this will likely get worse over the coming weeks, with more severe restrictions expected to come into place.
It's a very worrying time for business owners and that uncertainty leads to rash decisions, knee-jerk reactions and worry.
But wait, stop… Rather than blindly panicking and assuming the worst, why don't you let your data tell you what impact the Coronavirus is having on your business, and will likely have in the next few months?
If you know where to look, you can remove much of the guesswork and fear-factor from your business. Instead, you can base your decisions on real-live data and statistics.
I'm talking, of course, about your Google Analytics and other data. You can discover a great deal about what impact the Coronavirus is having by simply reviewing your data and knowing how to dissect it.
Knowledge is power
We have 5 simple steps that you can take today to see what impact the Coronavirus is having on your business and will likely have in the coming days and weeks.
Step 1: Closely monitor your Google Analytics traffic
Look for unusual activity by comparing the past 7 days / 14 days and so on with the previous period.
Look at a longer period of data to see if you're experiencing any reductions in overall numbers.
If you are, delve into the "traffic types" to see where this reduction is coming from. Is it from organic (Google) traffic, from social media or somewhere else?
Set up daily or weekly email alerts from within Google Analytics that show you the traffic you're getting so you can monitor any changes that might indicate changing consumer behaviour going forward.
Step 2: Check your online sales/enquiries/leads + set up email alerts
The best indicator of how the Coronavirus is impacting your business is in how it's impacting your sales/enquires and leads. Review these in the "conversions" section of Google Analytics.
Compare date ranges, of recent days to longer periods. Are there any noticeable changes/reductions in conversions being registered through your website?
Compare the past month against the same period last year to get an understanding of how the business is performing year-on-year.
Set up daily email alerts for the number of conversions, be that sales, enquiries or leads so you know how your business is performing online on a day-to-day basis.
Step 3: Set up Google Trends
Google Trends is a very powerful way to measure search behaviours online. If we take the Coronavirus as an example, see the below chart showing UK searches in Google that relate to the virus so far in 2020.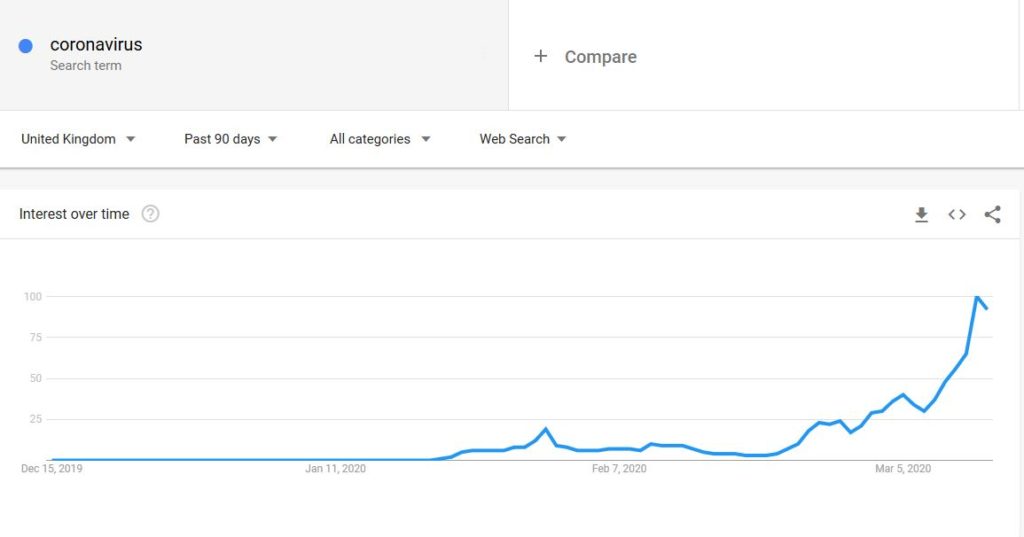 You can use this technology to your advantage to monitor searches for your products or services – even your own brand name if you're a company of a certain size.
Input the terms related to your business (generally products or services) that you're worried about and set the parameters to 7 days and see the results – any noticeable changes?
Change the time frame to hours and check again to see any distinct changes in search behaviour?
You can bookmark the page and revisit as often as you like to see how search trends are evolving/changing daily.
Step 4: Set up Google Search Console
The Google Search Console is a free tool, much like Google Analytics and is something we ensure all our clients have set up and working correctly.
If you haven't got this set up, then do it now and once verified, view the "performance" section. Viewing the most recent 7 days (and then 28 etc) as well as comparing date ranges will give you another view of how search behaviours may be changing in your industry.
There is even now the option to view your data for "most recent day" i.e. today so you can see exactly what people are searching and how many times they are clicking into your website.
Step 5: If you're running Ad campaigns, check your numbers (closely)
If you're running any kind of ad campaign, be that through Google or another solution. Be sure to check your data, specifically your Avg. CPC (cost-per-click).
Compare the numbers you've been getting to days and weeks past. Has your Avg. CPC increased significantly? If so, it may be an indicator that your competitors are doubling down their marketing efforts or more competitors are turning online due to reduced foot fall on the high street and in town centres – as one example.
Review all the key data columns such as daily spend, clicks-per-day, cost-per-impressions and most importantly the cost-per-conversion or equivalent.
If you're spending significantly more to achieve the same customer value, you may need to reconsider your paid campaigns or at least monitor more closely.
Those are just five quick and easy steps you can take to ensure you understand how the Coronavirus may be impacting your business.
These are uncertain times for businesses. We all need to have the greatest possible understanding of our numbers, so we hope these tips and suggestions come in handy, and help give you some peace of mind that (hopefully) things aren't as bad as you maybe thought.
If the numbers aren't looking great, then at least now you'll know and can plan accordingly.
Either way, there is no reason to guess or assume the worst. So long as you have these basic tools in place and things set up correctly (if you don't then you should consider working with an SEO agency that provide a thorough, reliable and trustworthy service), you will be able to establish very quickly how your business is performing day to day while UK businesses manoeuvre through this virus.
Whatever your data is showing you, rest assured you will come through this. Us Brits are made of tough stuff.
Good luck to you!