Launching our SEO charity initiative
On Wednesday 23rd January, we invited a bunch of Oxfordshire's fantastic charities to our offices for the big reveal of our SEO charity initiative. We're going to support these charities with our time, expertise and resources to help them gain greater visibility online.
A great morning that started with a presentation was followed by a detailed Q&A. We saw those in attendance having those infamous "lightbulb" moments as we explained that, in fact, SEO isn't a dark art, nor is it super-complicated.
SEO is, in fact, quite simple to understand at its core. It isn't rocket science, it's simply the practice of increasing brand awareness so you reach the top of Google's search results. Achieving this inevitably generates increased brand awareness, which for charities, means:
More support
More donations
More sponsorship
Everyone left with a spring in their step and a smile on their face.
But how did the idea come about in the first place?
Well, let's rewind for a moment
Back in December (2019), I put out this video onto social media, asking for charities to get in touch if they were interested in being a part of our SEO initiative for 2020.
We had over 40 charities reach out for the 12 spots available. It was overwhelming and humbling to know so many charities wanted our expertise and help.
After much deliberation, the team and I choose our charities for 2020 (not an easy choice) and we updated everyone before Christmas, advising we would be in touch in early January about a launch event where we would share our master plan.
Today (23rd Jan) was launch day. The picture at the top of this post shows everyone who came down to our offices, met our team and got the inside scoop on how to win as a charity with SEO.
Our team have worked incredibly hard on compiling a wide variety of resources, data and content for our chosen charities. We compiled much of this into an SEO Charity guide, which we gave to everyone this morning. The SEO Charity Guide is a 16-page guide that shows a charity how to improve their website from A-Z.
I must give full credit to Naomi, Josie and Harriet, who together researched, wrote and designed this amazing guide, that is jam-packed with fantastic information for our charities to use and learn from.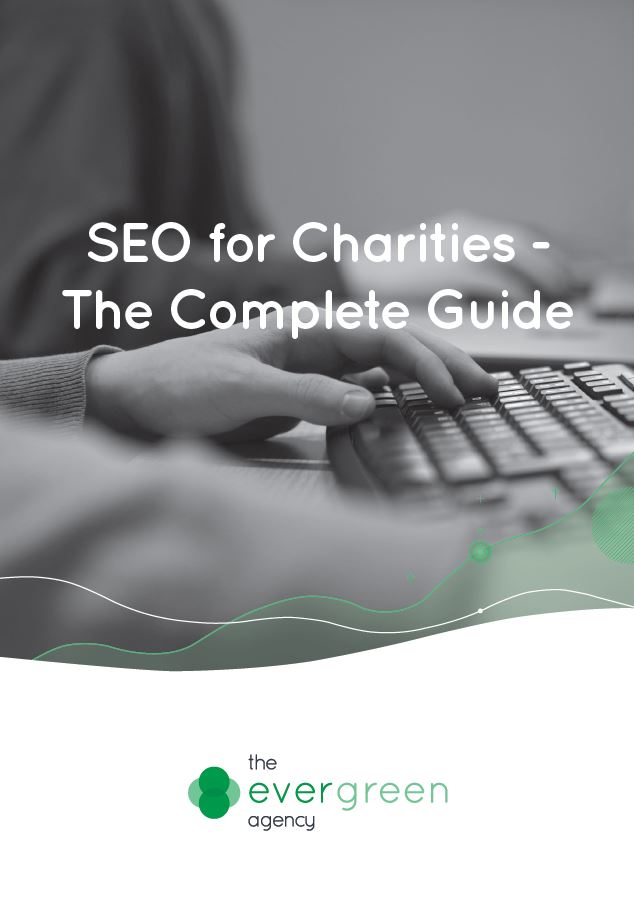 In addition to the SEO Charity guide, we put together a presentation on the key principles for successful Charity SEO, which was very well received with lots of questions being asked (I have to say I'm in my element when people are quizzing me on SEO).
While working our way through the mountain of croissants and pastries we brought in, we shared ideas, asked questions and got practical scenarios and specific problems from those in the room – it was fantastic.
So, you may be wondering how did this come about in the first place?
We've been helping a couple of charities with some of their SEO needs for a few months, and other charities had been asking for advice/tips, so we thought we would see if there was an interest…
We initially thought maybe we should have a "charity of the year".
That idea quickly blossomed into 12 charities for the year (in my head anyway) … I recall the conversation going something like this when I pitched the idea to my wife/fellow director.
Aaron: "Harriet, you know I said I want to have a charity of the year?"
Harriet: "Yes"
Aaron: "Well, what about a charity a month?"
Harriet: "Are you mad?"
Aaron: "You know I am…but in the best way"
Harriet: "Can't you just have one charity like every other business?"
Aaron: "Evergreen isn't like any other business, if we're going to do something, we have to do it big"
Harriet: "Well it is very YOU!"
Aaron: "Let's make it happen"
Aaron: "Oh and I want to kick this off now – I'm going to record a video and put it out on LinkedIn first thing in the morning"
Harriet: "Of course you are…"
Aaron: "I've also decided I want to do a presentation for everyone in January, create an all-encompassing SEO guide for charities and have a Facebook community group so we can support these charities and businesses alike"
Harriet: "Your head is like a pinball machine; I can't keep up"
Aaron: "I've got to keep you on your toes… that's what you love about being my wife and fellow director right?"
Harriet: [she had left the room to make a cup of tea, so we'll never know…]
Over the Christmas break, I was busy scribbling down ideas for how we could have maximum impact on these charities and help them. By the time the team reconvened in January, I was able to issue a full brief to Naomi, Josie, and Harriet who then teamed up and brought the idea to life.
So, who are the charities we're supporting?
Everyone of the charities above are a fantastic cause that rightly deserves our SEO support and expertise. We know we can have a far greater impact on these charities by sharing our expertise than simply donating or raising money.
Increased visibility in Google is arguably invaluable for a charity, and so that is why we're doing this.
As lunchtime approached, we were wrapping up our onboarding session, having covered a lot of ground. We equipped everyone with the following as they left:
NB: For any business reading this, please do use our training materials above, request to join our Facebook group and get in touch with us. We'd love to hear from you.
Now the real work begins
We're going to schedule in our teams support/expertise over the next 12 months to ensure one charity per month gets our dedicated time and expertise, and in the meantime, everyone has a wealth of materials and support (via a direct email to our team, the Facebook group and the guide/resources we have online). This means they can press ahead and start transforming their charity website and increasing visibility.
I posted on LinkedIn after the charity launch, and you can see the fantastic feedback we got immediately from the charities in the comments – lovely sentiments.
This is a very exciting venture and one we're delighted to be going on with our charities.
Here is to a fantastic year ahead and to the success of all charities in 2020.