Our clients are going to have a great summer and here's why
It's nearly the end of June, the sun is shining, and lockdown is slowly coming to an end. There is a definite optimism in the air and more smiling faces as you walk down the street or go to the shop and it is wonderful to see.
We've been back in the office on a rota system (no more than half the team in on any one day to ensure we maintain social distancing) for a couple of weeks now and everyone is loving being back together.
Our team is now plus three from when we entered lockdown, all recruited during lockdown. It's been lovely to finally meet some of our new team members in the person (one still hasn't ventured in as living with someone that is shielding).
There definitely seems to be a rejuvenated energy among businesses. After the worry of recent weeks, businesses now appear to be firmly looking forward and focused on getting their business back on its feet and recoup for lost time.
Our phones have been ringing, enquiries coming in almost daily from businesses wanting to improve their visibility online, and we've signed several new clients in June, with more scheduled to start in July.
As we're approaching the end of Q2, I have taken a look at all of our client's data personally. I like to do this as often as I can – the team manage all the data and monitor the numbers on a daily basis, but I like to spot check.
How do I judge if the progress we're making is good enough for our clients?
One of the many great assets we have for our SEO clients are our custom dashboards, built for every client. We tailor these to show each client specifically what they are most interested in.
For some clients, it's all about the enquiries/leads, and for others, it's all about the eCommerce sales. For some, it's brand awareness within a certain radius – it varies client to client.
The first place I go is to their dashboard to look at how the numbers are stacking up week on week and month to month, vs the KPI targets set per client.
Beyond this, I always like to have a look at Google Search Console as this data is fantastic for showing how "visible" a client is. We want to see upwards trends across the board, and the drill down into the specific keywords and pages to see what additional work is needed.
I'm always encouraged when I see our graphs moving in the right direction –  this tells me our clients' businesses are pressing forward, they are becoming more visible and gaining brand awareness for their products and services.
Here are a couple of examples of clients' data with an explanation of what we're seeing.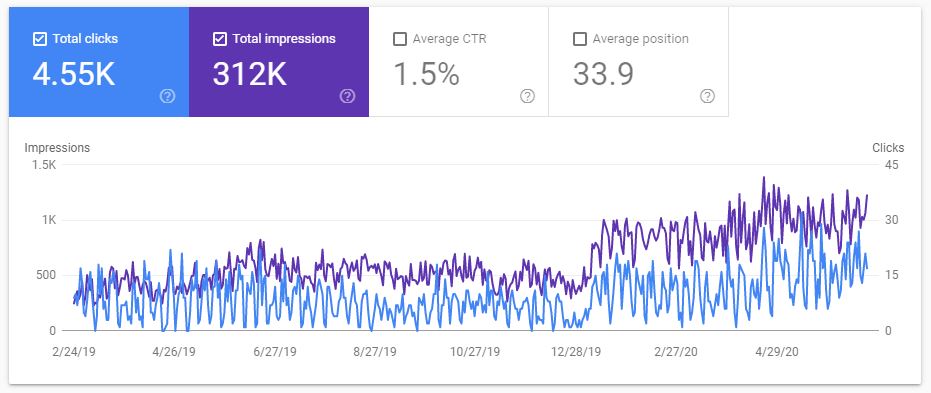 This first example is a client that we have worked with for over 12 months now. We've turned their website into an 'information resource' for Google and the increase in visibility is clear for you to see.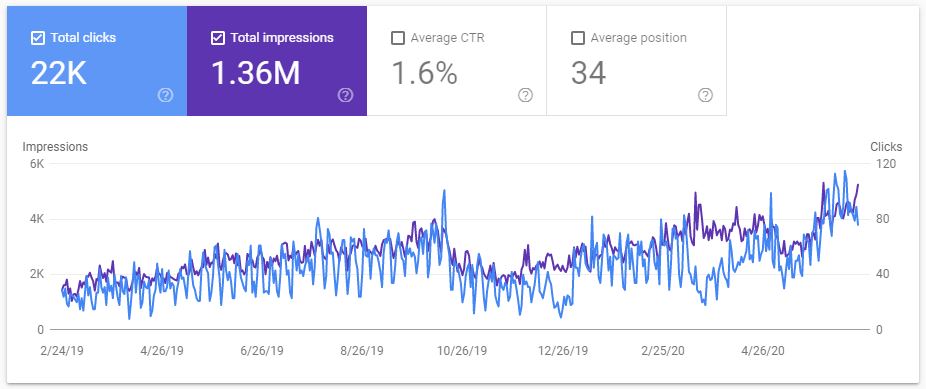 Another example and the above graph shows a client's visibility increasing over a period. The purple line showing the "impressions" i.e. how many times this client's website has appeared in the search results. The blue line shows the clicks to their website and you'll notice this fluctuates, this is because this client's business is seasonal and so it's higher over the summer period.
If you look at the far right-hand side you'll see the clicks/impressions for 2020 are higher than at any stage and this is because we're just entering the summer season. This client is on for a very successful summer period, even compared to last year.
Increased enquiries, leads and sales don't come until you're on page one
The above title isn't technically true, but it's a good rule of thumb to be aware of. This is also why you'll often hear SEO agencies say "it takes time to get results.".
Let me explain why this is, through the use of graphs containing some of our client's data.
Imagine that, right now, your website ranks on page 10 of Google (on average) for a bunch of key phrases you want to be found for.
The job of an SEO is to increase your visibility.
What happens when a good SEO gets to work? Well, Google takes note of:
The technical improvements
The content marketing efforts
The increased PR & 'noise' created around your brand
Google then starts moving you up the search results.
Say in the first quarter your average position goes from page 10 to page seven. That's good progress, right? Your business may have overtaken anywhere from 20-30 other businesses in the search results… We'd be happy with that progress after 2-3 months.
However…
As you the client, are you seeing any more phone calls or enquiries coming in right now? No!
Why?
Because no one goes to page seven of Google.
And there is the issue…
As SEO's, we have to work extremely hard and put in consistent effort over many months until you move from page 7 through, 6, 5, 4, 3, 2 and then finally onto page 1.
Suddenly, things go nuts – your phone is ringing every day, the enquiries are coming in, and you realise the SEO was right all along.
Your SEO agency will have known this was coming all along as we can see the data building. We can see the increase in visibility (impressions – the purple line), building month on month. It just needs the average position to get into the teens or higher before the client sees much of the benefit.
Okay, that makes sense… so how long does that take to get to page one?
That is the impossible question to answer with an exact timeline. The truth? It varies client to client and industry to industry. As a rule of thumb, we say to clients after 6-7 months you should be able to see demonstratable shifts in visibility, and be well on the way to where you want to be, but of course, a lot varies on your business, your competition, and the wider industry.
So, is that persistence and continued effort worth it?
Here are some of our clients that have done exactly that over the past year and are now seeing that huge increase in clicks as they are getting ever-closer to having key products/services averaging on page one of Google.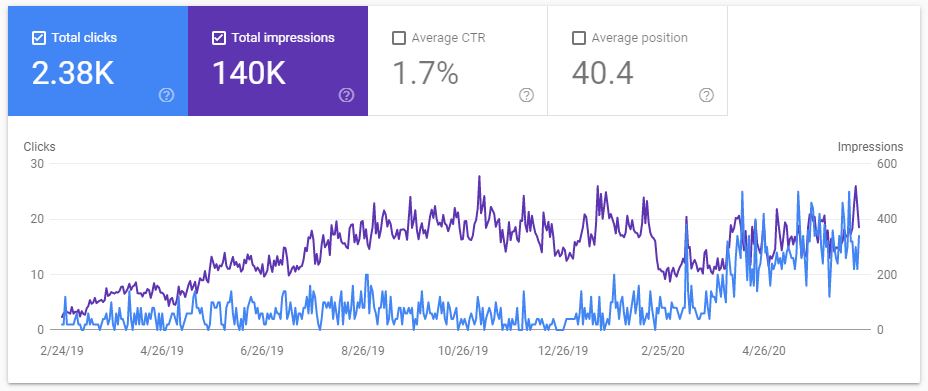 The client has several products, but we have focused on one and have done lots of content marketing and promotion around this specifically and now you can see the blue line (clicks) increase since May as the average position for that product and it's key phrases is now on Google's first page. The client has already reported back a significant increase in enquiries for their product (their website isn't eCommerce as they are bespoke products made to order).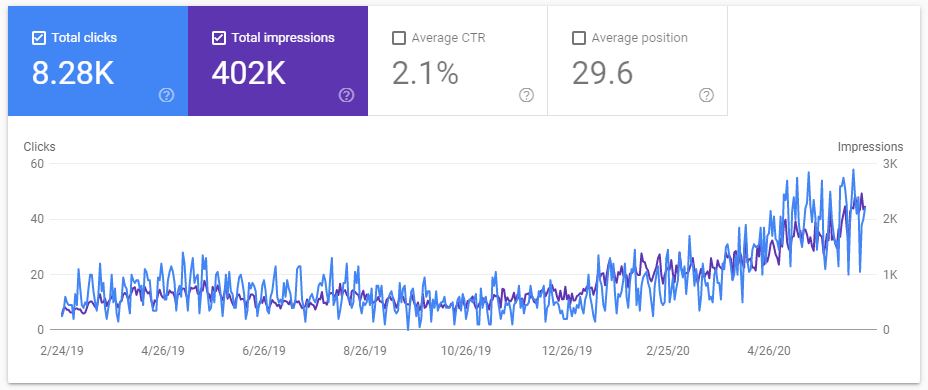 Notice the purple line shot up and the blue line is showing significantly more clicks to this business website. Momentum builds, slowly at first but as you progress the rate of growth increases and this client is going to have a fantastic second half of 2020.
React and you'll often get long-term benefits
A totally different example now from another client that is again going to have a fantastic summer and second half of 2020. This client worked with us before and during the pandemic and reacted very quickly to our recommendations.
In Q1 we saw a huge temporarily increase as you can see from the graph below, however, because we created some fantastic content that attracted high rankings and lots of exposure, which results in links, brand mentions etc.
Look at the purple and blue lines before and after that spike. There is a noticeable difference in visibility for this client's website.
One 3-month campaign has made this website a more authoritative and visible business moving forward. This is a fantastic result and means everything we do for this client moving forward will produce twice the results it would have been.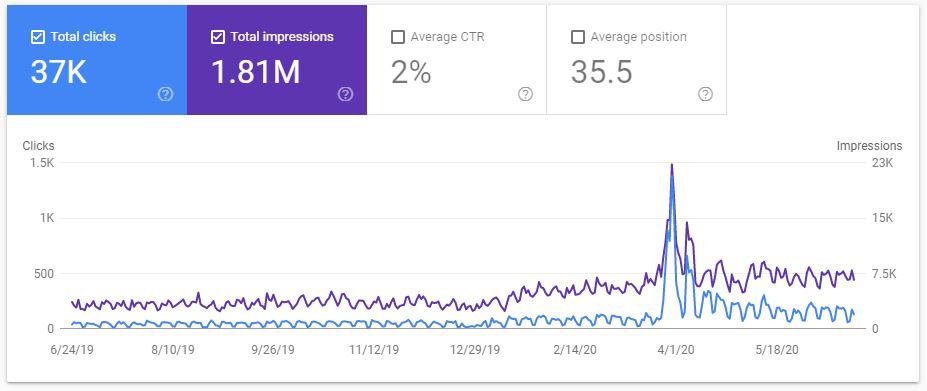 Those are just a handful of examples from those I've reviewed. Many of the clients that have recently joined us say in the past few months, their data is still flat but building slowly.
Here are a couple of examples as I don't try and sugar-coat the data I share. Not all of our clients are flying high at the very top of Google right now…. But they will!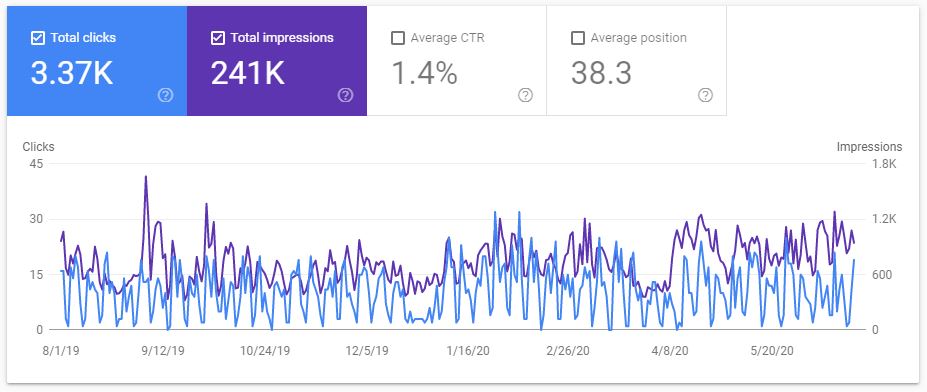 This data is from a client we've been working with for 3-4 months now, they've recently launched their new website and the data has remained static (for any technical person reading this post, you'll know that is a win in itself as often new site launches cause havoc – not with Evergreen, ever, as we're technical experts first and foremost).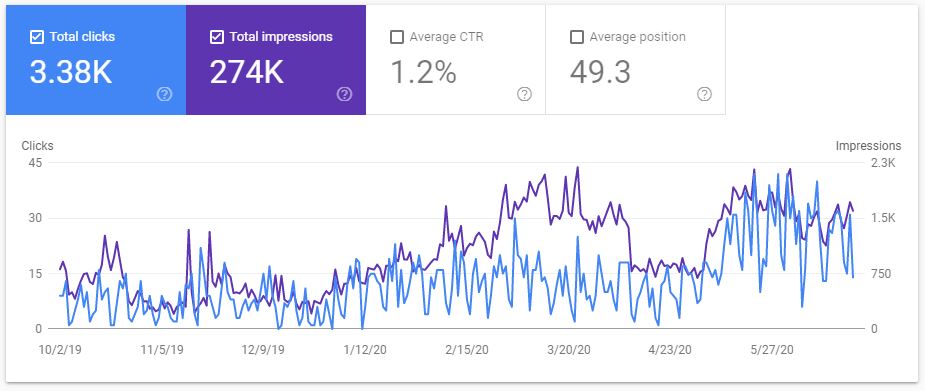 Here is another fairly new client example, you can just start to see the data building can't you? I know I can. It's too early to get excited about this and the visibility is still jumping around as we adjust their website, double-down on content production and begin ramping up their digital PR.
So, there you have it, many of our clients are going to have a fantastic summer and second half of 2020 and those that aren't there yet. Well, they will continue to work with us and get our support, guidance and reassurance that we'll get there with hard work and persistence.
If you want to see your business graphs showing progress like this, get in touch and request a quote from our team.