Proof that SEO is now more important than ever…
I read a great article on the BBC a few days ago about how everything has changed in a month. It has been an unbelievable few weeks. Straight out of a Hollywood blockbuster, in some respects.
However, one thing has remained consistent throughout the past few weeks. This is something that will remain so during the entirety of this pandemic – and that is our absolute focus on still delivering great SEO and PPC for our clients.
I'm writing this article and sharing some insights into what we're doing, and the impact it is having. When things are uncertain, it's important that you try and remain calm, and carry on as best you can with "business as usual". Namely, focusing on what you can control – like still doing a great job, and working hard within your remit to do so.
As an SEO and PPC agency, we're fortunate in that we can all work remotely with relative ease. We all have laptops, meaning that with internet connection, comms tools such as Zoom and our suite of agency tools, we're good to go.
We have been working from home while following government guidelines to practise 'social distancing' for more than two weeks. I write this from home, and the team and I speak every weekday morning to start the day. With each day comes a new driven focus on delivering the best possible results for our SEO and PPC clients.
Business as usual
Early into this pandemic, the team and I sat down and went through all of our clients to identify those we thought most at risk and any that could potentially benefit as a result of this.
We had a split, as you might expect. Some, we anticipated would be severely impacted, and others would be unaffected, with some potentially seeing increased demand.
We arranged conference calls with every one of our clients to discuss how the ongoing 'lockdown' was impacting their business and to identify any ways in which we could better support their businesses through these next few weeks.
Every one of those conference calls were invaluable. They gave us more clarity and insight into the day-to-day of that business's operations, what impact they were seeing to their profitability, and even their team set up.
By being honest, transparent and coming into those calls with a genuine desire to help however we could, we identified a host of things we could do for them all. From explainer videos on how to install/set up to Zoom, to how and where to find specific information in Google Analytics.
We have found ourselves being business advisors/support, as well as SEO and PPC experts!
Look, listen, learn… and help
The team and I knew there would be lots of 'opportunities' in this pandemic. Now, I say opportunities loosely, as no one wants to directly capitalise from such a terrible situation, but it is true in as much as some businesses will struggle, others will grow – significantly.
By monitoring Google Trends and keeping a very close eye on search behaviours & your client's data you can react in the right way – help as appropriate,  and drive increased sales, enquiries and leads while other businesses have lost focus.
I have kept my SEO and PPC team laser-focused on working with their clients – this involves speaking to them daily to look, learn and listen to what is happening. This helps to identify how our clients can potentially help the public with questions, concerns or issues they are having.
Over the past couple of weeks, we have worked with our clients to help them produce all kinds of highly relevant and useful resources based around changing search behaviours.
A couple of real-life client examples
One of our clients is an employment law firm, so they are perfectly placed to advise on what this pandemic means for both employers and employees. Now you might think, okay great, their phones will ring off the hook instantly, but that is not the case.
They would need to educate the public and had the expertise to do so. We instructed this client to put pen to paper, and share invaluable insights and expert advice at this crucial team for employers and employees alike.
There are now a wealth of fantastic resources freely available on their website, one such example is here: https://www.klglaw.co.uk/coronavirus-legal-guidance-for-employers.html
The result of providing useful, educational content in a timely fashion? Over 850 new potential customers to the website in the space of less than 7 days.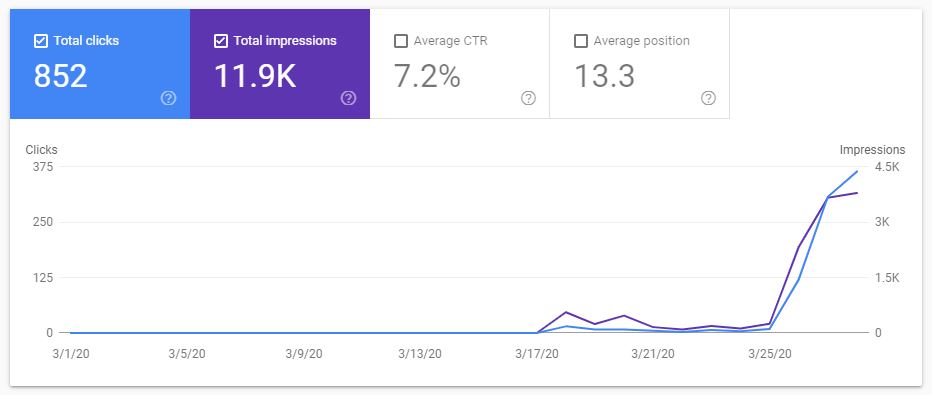 The knock-on impact to the client's business in terms of enquiries/leads? A 600% increase in enquiries.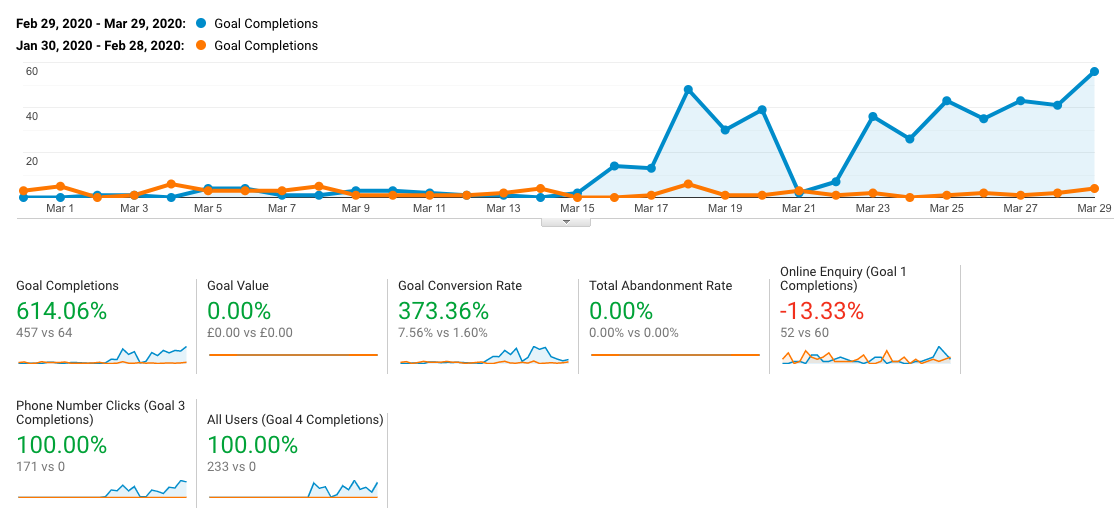 Another client example now
This client isn't in an industry that is in any way directly related to the pandemic, but we did identify a partially related sub-topic will fell into the client's area of expertise. It was a hunch at best, by the team, but none the less we worked with the client to produce a fantastic piece of content earlier this month (March) and got it live ASAP.
Here is the impact so far over recent weeks, having now "upgraded" this piece of content on the client's website.

We're up to over 22,000 page visits a day so far and still growing.
A third and final example now, this one is eCommerce. Again not in any way directly related, but by ensuring the website was well indexed and well-optimised and making a few tweaks to the UX (user experience) with some slightly different messaging, we have seen a significant increase in sales to the client's website over recent weeks.

We have secured a wrath of fantastic features in the media and on high authority websites and most impressive of all, we've seen some huge spikes in traffic, visibility, enquiries/leads and sales across many of our clients.
Lots of the businesses we work with are going from strength to strength during this crisis and the links, features, brand mentions and content they are producing now will stand them in good stead and help their SEO efforts for years to come.
It goes to prove that SEO is more important than ever. If you approach it in the right way and focus your efforts on how you can help people, you won't go far wrong.
That is what we're doing, that is how we approach every client. Every day we ask ourselves, "how can our client help their target customer and deserve to rank highly on Google?"
These are just a few examples of how our clients are working harder than ever to ensure their businesses now only survive but thrive during this period of uncertainty.
So, what can you do?
Ask yourself how can your business help people? What expertise can you share with the world? Just make sure you're doing all you can with your website and if you get stuck, need some ideas or want better results from your SEO, then get in touch with our team.
PS – If your current SEO agency haven't been working very closely with you & you feel you've been left in the dark and are not being supported, then maybe it's time to change over to Evergreen?