SEO vs Digital PR: can the two work together?
For any SME or corporate business, achieving positive exposure for your organisation will play an important and fundamental part in your business model. In fact, it will pretty much make up the framework from which you grow and build your business. After all, how can you work on your CRM, brand identity, commercial success and client base, if you are struggling to engage and connect with potential customers in the first place?
As SMEs and corporations constantly search for new ways to improve and maintain this positive exposure, two main consistent players in the field are SEO and Digital PR. Although you will very likely be familiar with the two, understanding and finding a way to bring them together, may just give you the advantage you need to get ahead in the game and score big, this year and beyond. It can be exhausting keeping up with the latest trends, top 10 tips and essential guides on how to improve your outreach and client base. However, when armed with an inherent understanding of how you can utilise SEO and Digital PR, and get the two biggest players in the field working together, these trends won't seem so daunting.
Hold up…
Now, this won't come without implications. What are the pros and cons of integrating the two? Will it be truly beneficial, or will it merely hinder two players that work far better when left alone? Not to worry, we're going to talk you through these questions right here.
Essentially SEO and Digital PR work under the same ethos, and, to a point, have the same goal. You're looking for exposure from the two. But it's how this is achieved where the differences between the two become clear. This is where it can be tricky for the two to work in tandem.
We'll take a closer look at them both to help you can decide for yourself whether it will be worth pep-talking these two players into working the field at the same time, in a way that benefits not only you but the customer. Don't forget, though, that this will have to all be done in a way that doesn't compromise your business model, brand, core values and reputation.
Peas in a pod?
Fusing together two proven practices would be a logical decision if the two are so similar that many get them confused anyway. Both use backlinks, guest blogs, and social media. It can't be denied that, regardless of a PR approach or SEO approach, every piece of content a company shares works with the aim of triggering a positive response.
It's a matter of speed
The fable of the tortoise and the hare taught us that slow and steady wins the race. Inbound marketing techniques, as are followed by SEO practices, take time to implement effectively. It takes time to see results, as you are essentially casting a net of links and keyword optimised content into a deep pond, slowly but surely gathering authority with Google as you increase your reputation as a trusted front-runner in your sector through a high ranking.
The effectiveness of your link building strategy, PPC advertising campaigns, and authoritative content will collectively garner results over time. This is because you will retain interest from an audience or readership who like what they see and keep coming back. SEO works by organically building your authority online, with no dirty tricks along the way. They are coming to you, and the quality of the content you provide is what will make or break a sale.
The work here is all done methodically, through building a relationship with a client based on trust and, eventually, reputation. As your reach expands over time, you get more traffic to your site, and Google takes a shine to you.
SEO – A slow burner
Now, SEO campaigns will not be successful overnight. They will need to be nurtured, worked on, and tweaked here and there, as you realise what it is that makes your company stand out from the rest, and what it is you offer customers that others don't. You are building a rapport, working on your appeal and increasing your online visibility in the most organic way possible. There is a real subtlety to SEO.
Digital PR – It packs a punch
Digital PR, meanwhile, goes about building this rapport in a completely different way. A digital PR campaign, at its core, will continuously seek to promote your business while actively convincing and persuading your readership to respond in some way. Digital PR works quickly to build a narrative or see your customers follow a story that is relevant, will interest them, and encourage them to interact with your business.
This is achieved through direct, reactive engagement with customers, through any digital means necessary. This could involve an online survey, a conversation on social media, a relevant hashtag, a speedy response to a story going around, or a shining review from a top blogger in the sector. Digital PR works to build credibility, just as SEO stands to do, but does so through implementing more outbound marketing techniques. That is to say, a PR campaign looks for an immediate response.
For a good example of reactive content, and how social media is at the forefront of direct engagement with customers, take a look at Kurt Wagner's take on Instagram stories, and how it has tapped into the psyches of users to provide customers and businesses alike with a perfect platform to connect with each other.
Below is an example of two organisations, Minimalist Baker and National Geographic, using their Instagram stories to connect to their followers and boost traffic. From a PR perspective, stories can be used to post polls or reactive content relating to a relevant trending story for immediate engagement and response.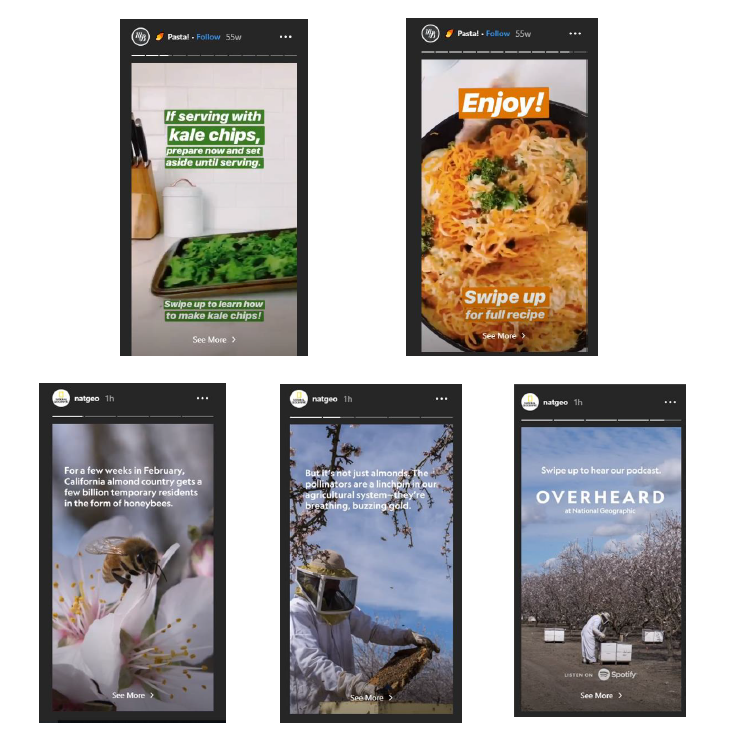 A digital PR campaign will post content that is relevant now and sees you engage with clients directly with a benefit of exposure. Whether it's a press release on a relevant local online publication, a raving review from an influencer in the right sector, or a reactive social media post referring to the trending topic of the day, it differs greatly from SEO as it is direct, punchy, and responsive.
Now, in the PR world, good publicity is free. That means the clever elves working hard to bolster your company have to be speedy and respond to trends, topics and stories, fast.
A good PR team will be constantly looking for new ways your company can be the name on people's lips, without paying a penny for advertising. This'll often mean capitalising on trends, which as well all know, come and go like ships in the night these days.
It's not all doom and gloom, though. There is no denying that trends can come and go, fast. News stories that keep people talking one day, can be forgotten about the next. However, good publicity can stick, too. Just look at a few of these memorable PR stunts that will have you thinking 'fair play'.
How the two can work together
As many strategies of Digital PR and SEO mirror one another, it can't be denied that there are benefits to using the two in tandem. Yes, PR is earned content, however, if your company produce a piece of reactive content, who's to say it can't be SEO optimised?
If you produce a response to a news story, relevant campaign, or trending topic that directly affects your customers, it would make sense to implement SEO tactics as well when it comes to sharing this content. The content you share may take on one of the following formats:
A Twitter poll
A Facebook post
Responding to comments online
An Instagram story or regular post
A Press Release
A useful infographic shared on various platforms
A review or mention from a blogger/ influencer
A mention from a trusted source
How SEO can fit in
SEO is a process of slowly but surely increasing your authoritative ranking on Google by expanding your digital footprint. You might be asking yourself, 'what better way to do this than with good PR'? Yes, social media is integral to a strong SEO campaign, as, with hashtags, networking, client engagement and relevant posting, you can build a following and increase traffic to your website. In these terms, digital PR is your best friend and should be capitalised on whenever possible, and, when used right, can channel leads to your website.
Say there was a funny news story trending that was relevant to your product or service. Here is where SEO and PR can gel, as you can capitalise on this trend, post content, and trigger a response, all at the same time. Digital PR is your friend here as it is the helping hand you need to bring you and your clients together. You are linked by the story; the trend, the ship in the night. Who knows where this can lead to? So, to make this work in your favour, be sure to:
Keyword optimise your press releases, where possible
Choose guest blog sites with high DA scores
Keep the content engaging and informative, as well as reactive
Encourage responses that lead to site visits & increased web traffic
Build authority with surveys and polls that can be quoted by other authoritative websites
When it may work against you
When a company is trying to weave a web and leave a digital footprint, trends can be a problem. This is where SEO and Digital PR can clash. Building a digital footprint doesn't come easy, and unlike a social media trend, it won't disappear overnight. Rather, it's something to be worked on, preferably by a dedicated team with a passion for SEO who know what they're doing. The SEO experts at any company will know the areas to polish to build an effective SEO campaign. Some questions you'll need to ask yourself:
Have I found authoritative influencers to promote my product?
Do the publishing sites for my guest articles have a high DA?
Are the keywords I'm using optimised for search engines?
Has my local SEO campaign been given the time, research and resources it needs?
These are the kind of questions that can't be answered with a single press release, unfortunately. Earned publicity can work in your favour, most certainly. We aren't telling you that it's a bad idea to get involved with a local charity and find an authoritative local news site to mention post a press release about it. Nor are we telling you that conducting a survey or poll via Instagram or Facebook is a pointless exercise. These are great little nuggets that can build a buzz around your company, and can help direct traffic and channel leads. This is what great PR is all about. However, as this is all content that works from a reactive standpoint, it is important to consider your SEO campaign in the long run.
What does this mean?
In a perfect world, you could save time and money by allocating the same budget for both your SEO and Digital PR campaigns. After all, a press release with some brand mentions and an Instagram post that brings in all the likes will, naturally, increase traction for your site.
But be wary – failing to have an SEO campaign that considers evergreen content that lays a trail can seriously backfire. New customers will look at your social media pages and check out your blog long before deciding to purchase from you. They will be looking for ways to determine how you stand out from your competitors. If your content is tired, with a few press releases posted on relevant but low authority sites, and your Instagram is outdated, they will look elsewhere. They won't know about that brilliant poll the PR team conducted that saw more users visit your site, because it concerned matters from yesterday. These customers will be looking for a website with standing, that can be trusted, and has authority over others.
This is achieved through:
Proven positive UX
Strong social media content
A fast-loading, mobile-friendly website
Domain authoritative backlinks
A site that scores highly with SERPs
Useful infographics or video content
Final thoughts
A brilliant digital PR campaign working alongside SEO can do wonders for your company, but it's all about balance. Give each strategy room to breathe, so they can standalone, and in doing so, you will enable them to work together brilliantly as and when possible. Build a strong SEO campaign, and any digital PR you can capitalise on will naturally weave its way into the bigger picture of who you are, and what you do. Know the right techniques for each and respect their differences as big players in the field. Understand this, and you can bring the two together, so they work amicably with an end goal in sight.
Still need answers? Understanding the intricacies of building an SEO campaign can be a lot to take in, especially if you're new to the game and don't know where to start. If you've found this post helpful and want to know more about building a successful SEO campaign with evergreen content that delivers, reach out to us! Leave a comment, get involved, or give us a call today and see how we can help you.