Taking pride in our January wins
We've somehow now stepped into February and it's safe to say The Evergreen Agency absolutely SMASHED the first month of 2022.
We welcomed a new team member, launched The Evergreen Way, won new clients, and got stuck into the work our clients needed to start out strong this year.
We've decided that 2022 is the year for shouting about your successes and taking pride in what you've achieved. With that in mind, from the almighty cheers to the small but significant wins, let's take a look at some of the amazing Evergreen wins for January:
Digital PR:
For our digital PR team, January is all about preparation. Getting those first quarter campaigns put together and ready for release. Sadly we can't go into too much detail with these, we wouldn't want to spoil the surprise now would we? All you need to know is that the team is putting 110% into making sure these campaigns achieve the link targets our clients need, to start 2022 off in the right way.
Speaking of links, for the campaigns we've already launched, our team members are killing it 💪. Our PR queen Amber has gained numerous links through reactive pitching and it's safe to say our clients are loving it…

On the other side of the team, our PR legend Sean has been gaining links left, right and centre for one of our manufacturing clients. Those Q1 targets are nearly complete and we've barely put our feet into February!
Whatever these guys are doing, it's definitely working and we wouldn't expect anything less from the dynamic duo.
PPC:
Moving on to PPC, let's give a HUGE round of applause to our fantastic PPC manager Stan, who has managed to win us not one, but two brilliant clients for 2022!
Through the creation of some excellent PPC strategies and some very effective pitching, Stan has managed to not only gain the agency two brand new clients, who we are extremely excited to get started with, but also provided two businesses with flawless PPC strategies which will aid them in their growth and development plans for 2022. What would we do without him?!
We can't wait to see how these strategies are put into action over the next few months and don't worry, we'll make sure to keep you updated on these results.
SEO & Content:
Well where do we start?! Our SEO team worked their absolute socks off last month in order to achieve some pretty incredible results for our clients. In fact, there were so many wins for the department that our very own SEO manager Naomi, kindly wrote an entire blog post dedicated to the work of her and the team. To learn more on all of these amazing January highlights check out the blog post!
Well I don't know about you but I'd say that was a pretty good start to the year.
But that's not all we've done as an agency…
If all of that amazing department work wasn't enough, we've introduced some great new initiatives into the office that have been fundamental to not only the wellbeing of our team but also the success of the agency.
Strategy day
Now this has been a major game changer for the agency in regards to work quality and skills development.
It's effectively a day each week where we are able to put down tools, sit back from our work and put our creative hats on for the next quarterly strategies. Alongside this, it's an opportunity to listen to that one business podcast you've been meaning to try, or attend that new webinar you're interested in.
Our MD Aaron previously did a blog post on this so definitely check it out if you want to learn more. So far, we've had three strategy days take place and each one has received a great response from the team.
"As PPC is very data and number focused I find myself always looking at things at a micro level. Strategy day has allowed me to take a step back, look at the macro level and formulate ideas and strategies that I wouldn't normally" – Stanley, PPC manager
We cannot wait to see the impact these have on the team's work. We'll keep you posted, but to make sure you don't miss out on any updates,  sign up  to our weekly newsletter!
Staff Enrichment
One of the biggest priorities we have as an agency is the wellbeing of our team, and for 2022, the agency is aiming to over deliver when it comes to this.
We recently had a questionnaire sent out to each team member so that we could really gauge the kind of perks and benefits that are valued most. Not only do we now have a better understanding of what matters most to our team, but we can also get cracking on being an agency that they can be proud to work for.
Starting with training! Our team placed training as one of the most important elements of a workplace, and their wish was our command. We lined up a variety of training sessions for the team to take part in, with the goal of helping them to develop confidence both inside and outside of the workplace.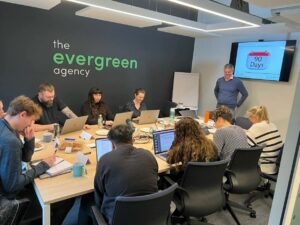 So far we've covered areas such as goal setting, time management and even a session on financial management. We're learning lots and figuring out what areas we'd like to look at next.
Now that's just about it for the month of January. As you can tell it's been a busy one!
We'll make sure to keep you updated on any new developments within the agency and if you want to hear more, then sign up to The Evergreen Way newsletter.