The Evergreen Way: January performance report
As part of The Evergreen Way daily posts and weekly newsletter marketing campaign that we launched in January, we are going to share all the figures, the statistics, and the data with you so you can see how things are going.
We appreciate agencies are typically incredibly guarded about their marketing efforts and how what they are doing, how they are doing it and most crucially how well they are performing, well, Evergreen is a bit different and so we're going to share it all with you…
How many subscribers signed up each month?
How has The Evergreen Way impacted our traffic and visibility?
How many leads has it generated for our agency each month?
What financial impact has it made to our agency?
How many email opens and clicks are we getting?
What feedback are we getting?
What is working and what's not working?
What is most popular?
How are we doing it?
We're going to share it all with you in our monthly performance report for The Evergreen Way.
You can skip straight to the numbers if you really want to.
Launch day
We officially launched The Evergreen Way on Monday 10th January. We had initially wanted to launch the first week of the new year but decided against it as we knew it wouldn't get the traction it deserved as everyone would be getting back into the swing of things after the festive break.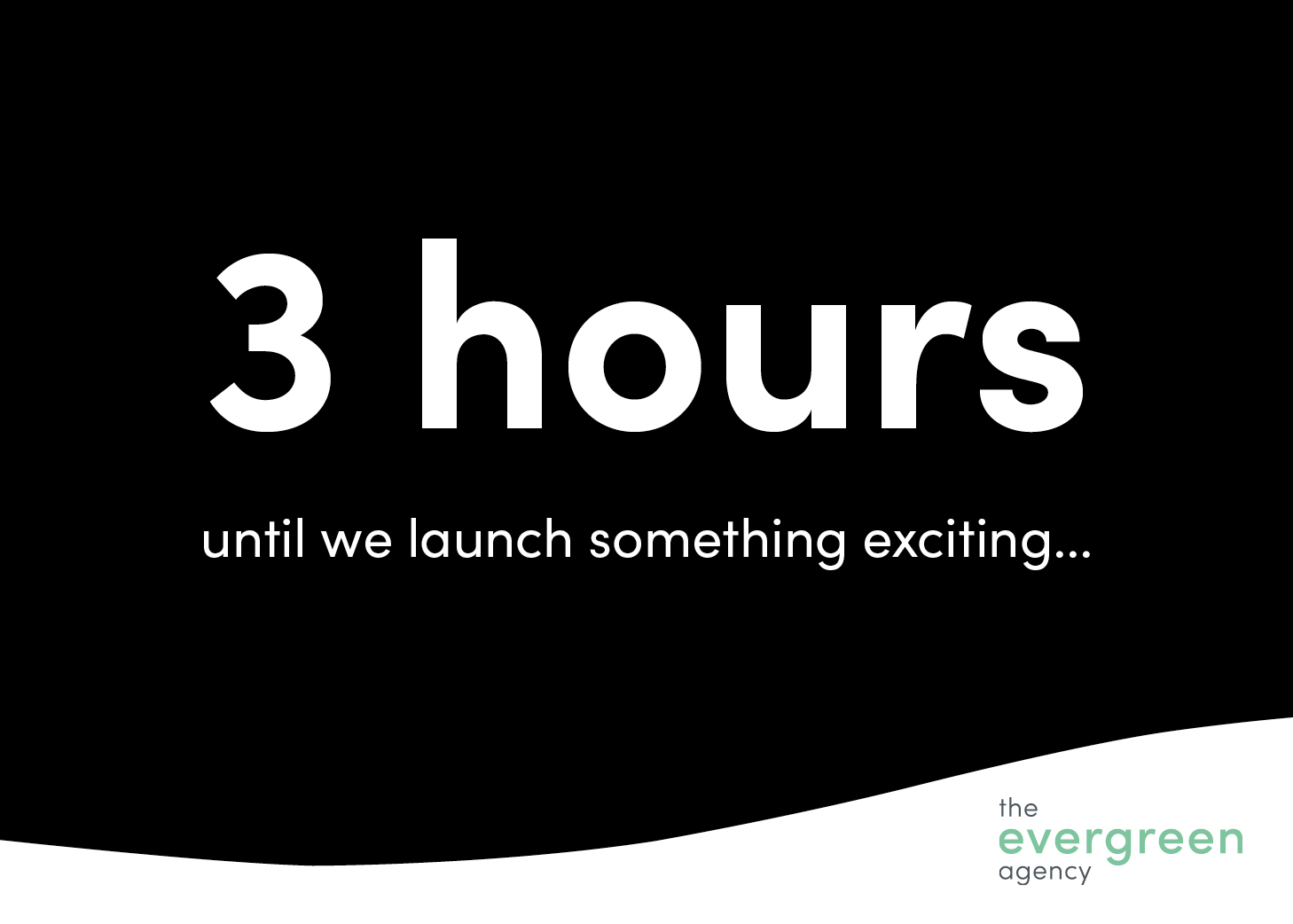 On the first Monday, I did a series of three countdown posts on LinkedIn before revealing our new marketing initiative just after lunch. The post received a lot of traction and we ended up driving 189 people to the website in that single day (a record for our agency website – the honest reality is most agency websites get very little traffic to their own sites, which is kind of ironic really, but true).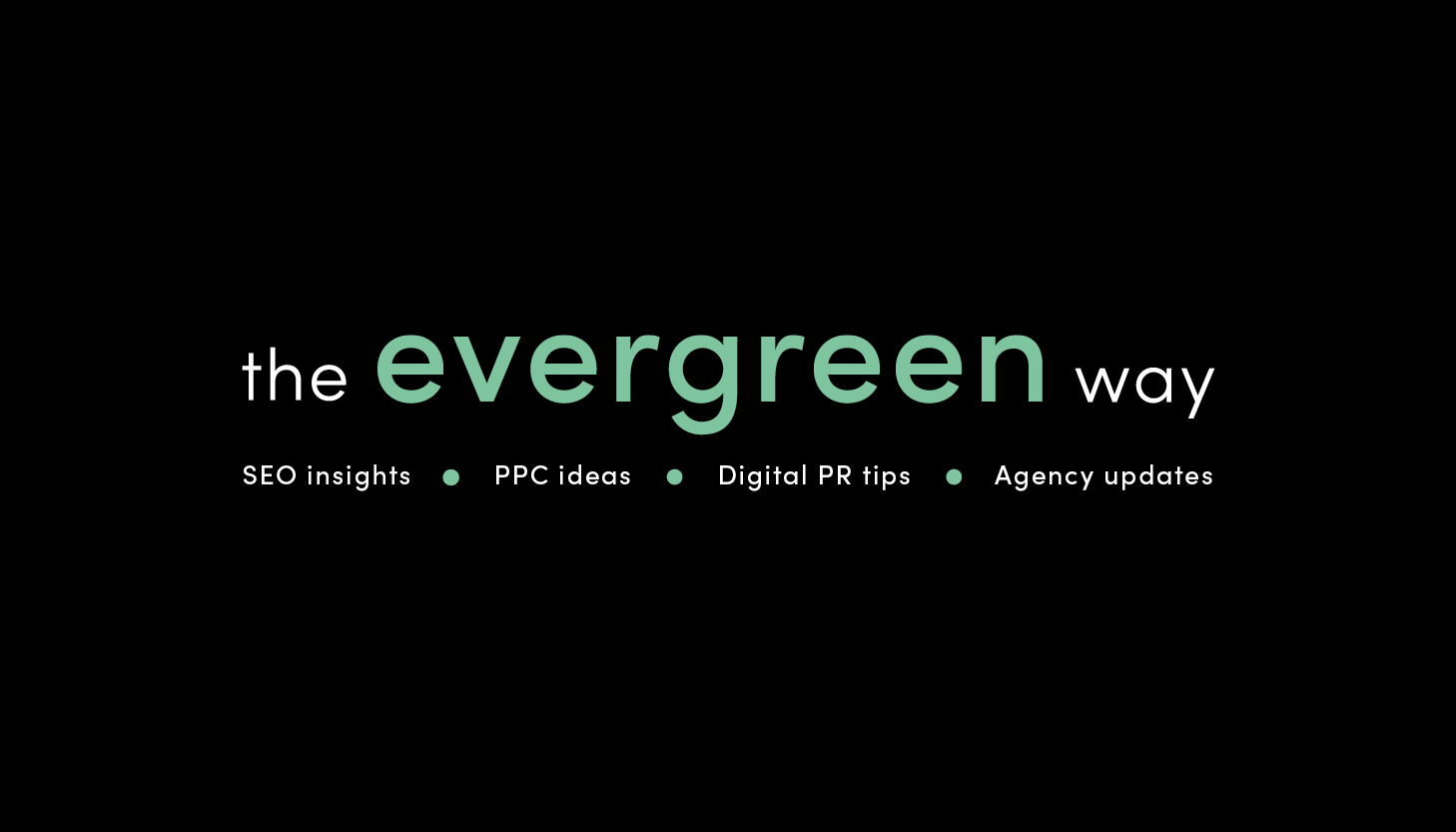 First week
Between Monday 10th January and Sunday 16th January, we drove a total of 732 users to our website, a 118% increase on the same period last year with the only difference being The Evergreen Way marketing campaign. 😀

*The blue lines show January 2022, the orange is January 2021.

We initially set a target of 25 sign-ups in the first week as we are not putting any marketing spend towards this campaign at all. We want to grow this from the ground up entirely organically and show it can be achieved.
The reality was we surpassed 50+ sign-ups within the first 24 hours, it was a fantastic start and the whole team were delighted.
Getting the team involved
We had a whole list of reasons why we wanted to launch The Evergreen Way for 2022, and one of the reasons near the top of that list was that it would give our team a platform on which to share their expertise, experiment and learn new skills and techniques (plus, it's always good to practice your copywriting skills and put your knowledge down on paper).
Our first week back after the festive break, I briefed the team on our master plan for The Evergreen Way (I'd refined and detailed the exact plan for how I wanted it over the Christmas break – because I never truly switch off from Evergreen).
In typical Evergreen fashion, the team embraced it as I knew they would, all volunteering ideas for posts and things they'd love to share. Our Marketing Assistant Amber quickly put together a project management board for the team to brain dump their ideas, and hey-presto we had weeks worth of expertise we could share.
"We need to share a bit of everything that makes Evergreen tick"
We knew from the outset that if we were to build out a content marketing strategy that incorporated email marketing, we would need to do it in our own 'evergreen way'.
We have been keeping an eye on many other agencies, news outlets and businesses alike to see how they approach their content and email marketing and often it's very generic, very stale and quite dull to be honest. It often lacks personality and so we knew if we were going to do this well, we'd have to do it in our own way.
Over the past few years, I have very successfully built a following on LinkedIn by sharing insights into both the agency and my personal journey. We knew we needed to keep that element as it's a part of our Evergreen DNA, but we wanted to provide more value. We wanted to share the vast amount of collective expertise we're sitting on here in this agency and so, quite simply, we looked around the team at the expertise we have and decided we would share the following:
Agency updates
SEO insights
PPC ideas
Digital PR tips
Business learnings
Five elements and five days of the week – perfect!
It's quite an undertaking to go from nothing to five posts per day, but we're never ones to shy away from a challenge and so we approached it head-on. January has been a fantastic first month for us to learn and gain momentum.
Looking back at January
In the first month, we've shared all sorts of insights across SEO, content marketing, digital PR and PPC as well as agency and business updates.
Looking at just the first three weeks, you can see the length and breadth of knowledge shared from across the team:
Week 1:
Week 2:
Week 3:
Each Friday lunchtime, we compile everything together into a lovely little email newsletter and send it to our subscribers for them to cherry-pick the topics they are most interested in reading and learning from. The data and insights gathered already have been fascinating, but more on that later.
Here is what our newsletter looks like – what a thing of beauty, eh? 💚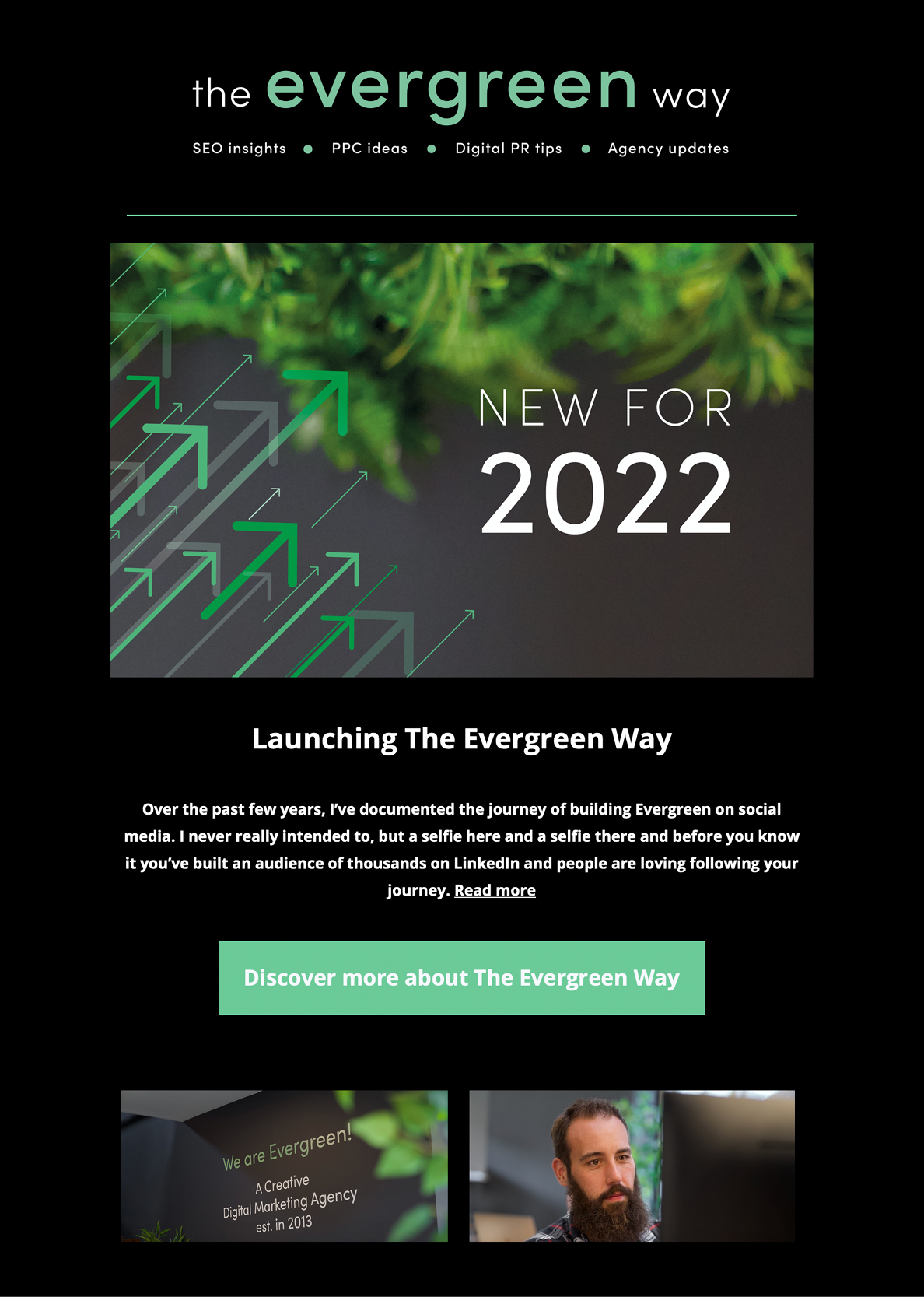 I know why you're here really…
I know business owners and marketers are a nosey bunch and that the real reason you've clicked on this post is to have a snoop at our numbers to see how things are going, and it's precisely why I've decided to be a completely open book and share this stuff with you, as I too am a marketer and I love this stuff.
Since launching The Evergreen Way on January 10th, the overall numbers to our website have been higher every single day (apart from the 31st for some reason), which is a testament to the simple fact that if you share value consistently with your content marketing you will garner more eyeballs on your website and you don't have to spend a penny on marketing spend.

The overall traffic numbers for January year-on-year show an impressive 86% increase in users to our website with everything else being equal apart from the introduction of The Evergreen Way.

In January we had 109 people sign-up to The Evergreen Way – that is 109 new potential prospects and people we can now communicate and share our insights and expertise with, and bring on our Evergreen journey – we're really chuffed with that as it's more than double the month one target we set of 50! 😀
Side note: We did have an existing email list of circa 350+ people, so The Evergreen Way sign-ups have been added to the overall list, which we're now sending our newsletter out to on a weekly basis.
Let's talk numbers
Breakdown of the email newsletters in January
| | | | | |
| --- | --- | --- | --- | --- |
| | Week 1 | Week 2 | Week 3 | Week 4 |
| Sent to | N/A | 484 | 481 | 482 |
| Unique opens | N/A | 191 / 39.46% | 176 / 36.59% | 149 / 30.91% |
| Clicks | N/A | 83 | 63 | 60 |
| Unsubscribes | N/A | 7 | 9 | 3 |
How things are going overall
| | | | | | | |
| --- | --- | --- | --- | --- | --- | --- |
| | Jan | Feb | Mar | Apr | May | Jun |
| Traffic '22 | 2,237 | | | | | |
| Traffic '21 | 1,197 | | | | | |
| % change | 86.88% | | | | | |
| New sign-ups | 123 | | | | | |
Wrapping up
In conclusion for wrapping up our launch month, we feel it's been a resounding success and the team and I are delighted. Yes, we could accelerate the growth of this campaign by putting some marketing spend behind it, but we'd rather do things the 'evergreen way' i.e. organically and through a consistent approach of adding value.
From a standing start to an 86% increase in website visitors and 109 new email sign-ups – what a result 🔥
I wonder how much further we'll be able to take things in February? Stay tuned and we'll keep you updated every month with how things progress.
Oh, and if you're not already, sign up for The Evergreen Way and join us on this journey.