The future of DPR in the Metaverse
As one of the fastest moving (and growing) industries in the marketing realm of the last half-decade, Digital PR has an ever-growing presence in the arsenal of methods available to businesses in 2022.
Just five years ago, the landscape of digital PR was vastly different to the current state.
This has no doubt been influenced by the pandemic, which is a comment applicable to all industries that have had to make the switch, or the push, towards digital occupancy. If this rate of change is paralleled in the next five years, then the future of promotion via digital channels is sure to differ hugely from what it is now.
A factor that many of us had seen coming, in the long run, is virtual reality.
With online gaming and immersive experiences being developed, more and more time will be spent in virtual reality, augmented reality and the metaverse. However, it was only recently that the announcement from Meta really shook things up; the immediate potential of a fully functional virtual space has suddenly become (not a pun) a reality.
In this blog, we will be looking at how businesses could potentially implement digital PR strategies into these new forms of reality, along with new technologies to accompany these immersive spaces.
Augmented reality
Let's start with a technology that is in use today, and is widely popular.
Augmented reality allows users to view the real world with digital enhancements and additions. A well-known example of this is 'Pokemon GO': The user can view the real world through the eyes of the camera lens, as well as having various Pokemon pop up ready for capture.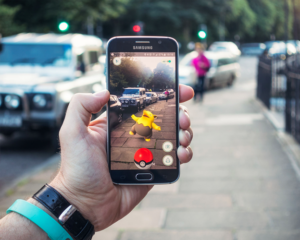 Aside from the games, how can marketers make businesses present when their product or service could be of use to someone using augmented reality?
Imagine that you have to fit a new set of curtains (and are a complete novice to the curtain-fitting world). Instead of having to work out all of the measurements, and which type of curtains to get, you would simply face your camera towards the window that you would like the curtains fitted in.
The camera would then show the window with the curtains added in, with different options available from brands that had 'programmed' their curtains into the augmented reality app. When you've found a pair of curtains that you would like, simply order straight away from the software.
This would also be available via virtual reality goggles so that you could see the curtains through headwear equipment as opposed to a phone.
But why stop there? 
If you are looking to have a total redesign of your home, you would be able to see your flat with digital replicas of interior decor. If a product that you represent had been included in a well-respected publication's 'top 10 cosy chairs of 2042', you would be able to add this tag to the chair for viewers to recognise.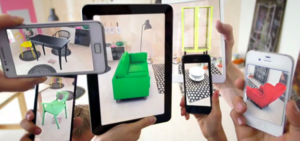 If the viewer then wanted to explore other options that had been included in the top 10 cosy chairs of 2042', you would be able to read the article through the goggles and find more incredibly cosy chairs for your flat.
The Metaverse
A few of the same principles from augmented reality marketing can be applied to the metaverse, but with a few key differences.
In some senses, it could be interesting and unique to return to the methods of marketing and advertising previous to the invention of digital computers. Think of flyers, posters and radio (even door to door salespeople).
However, due to the data collection being far more active in the metaverse, the adverts would be far more highly targeted.
If you were to deliver a flyer through the door of someone's meta property (there would be a clear opt-in if you wanted flyers or not in the metaverse, a meta equivalent of the 'no unsolicited mail' sticker on the door), then you would be able to target users via many sets of information, not just the physical address, as is the case with real-world properties.
Imagine you are relaxing in your meta-property, and a flyer came through your door advertising pizza. (The pizza shop has targeted you because of your real-world physical location being in close proximity to their real-world shop, as well as your previous interest in pizza).
This example also includes where things can crossover slightly between augmented reality and the metaverse, as a true meta-action would have no effect on the outside world.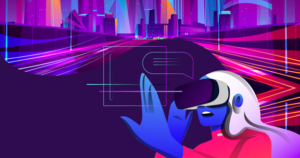 You would be able to call and order from this pizza shop in the metaverse. The real-world pizza shop would be able to process your order and deliver it to your real-world location.
However, there would be no need to ever leave the metaverse.
When the delivery person arrives, they would be able to hand the pizza to you with your goggles still on, and the delivery person would appear as an entity in your meta property.
You would take the pizza, and it would be translated into a meta-pizza with the same appearance as the real-world pizza, allowing you to fully experience eating in the metaverse.
From the Meta PR Perspective
With all of these potential uses of varied realities, the role of PR will surely change:
Instead of sending physical samples to publications, you would send the digital replicas, as that is what will be included in the guides they produce.
This will be far more cost-effective, faster and better environmentally as (aside from the carbon outputted from the digital processes enabling the transaction of data) there would be no noticeable carbon footprint of sending a digital sample.
Journalists would be able to set up a sample room, where PRs could send their samples digitally.
This would enable the journalist to have a much clearer picture of which samples they want to include in their guide, as well as make it less stressful as they won't have to be scrolling through endless pitches.
For awareness days, there could be meta-physical events where publications and journalists would be able to show their material.
For example, National walk your dog day is coming up on February 22nd (as can be found along with our other favourite awareness days for February). So if a publication was looking to publish a few articles on this day in 2022, in 2042 they will be having a virtual fair where people could turn up and experience all that the publication has to offer.
Think of a stall with…
The top 10 dog leads (all sent to the journalists' sample room by dog lead company PR's)
A map of the top 10 places to walk your dog in the UK (the data collected by a walking boots company in order to promote their new range)
A representative from a national chain of veterinary clinics explaining how often to walk your dog, and why it's good for their health.
The Future of Digital PR
If there is one thing certain about the future of digital marketing, it is that uncertainty is certain.
Marketing depends just as much on the people who work within the industry as the technologies that marketers are dependent on.
It's hugely important to keep fingers on the pulse and to capitalise on trends before they have even happened. By becoming early adopters of technology, it is easier to gain a huge share of the market and to become a household name, even before the technology reaches its full potential.
Although at Evergreen we haven't started promoting our clients in the metaverse or via augmented reality (yet), we are constantly investing time into analysing and predicting trends that will maximise online visibility for the businesses that we work with.
If you want to learn more about Digital PR and our other digital marketing services, sign up to The Evergreen Way!