The impact and importance of great SEO in full view
What a month we've all had. This marks my fourth post since being in "lockdown". I'm writing this from my kitchen breakfast bar, which has turned into my home office in recent weeks.
There is an irony in having to work from my kitchen –  for years, I had a full office set up, with a big desk, dual screens and all the gadgets on hand. Last year when we moved into our offices in Stratton Audley I found I wasn't using our home office.
We kept the home office for several months, but it was becoming a shrine of sorts that was never used. My wife and I made the decision to change it into a playroom for our little boy. What was once the Evergreen HQ is now filled with Fireman Sam toys, train sets and toy cars.
There is absolutely no chance of me getting that room back and so I'll continue to squeeze myself onto the end of the breakfast bar in our kitchen, while my little lad has a huge playroom for all his toys – the things you do as a parent eh?!
Anyway, I digress.
Let us look at the impact and importance of great SEO…
So, over the past month or so, our entire way of life has changed. We're now effectively stuck in our homes every day with minimal contact with others outside of Zoom calls.
After the initial 'panic', we're seeing online search behaviours change massively. People are adapting to life at home and spending far more time online searching for things they might otherwise have gone out and about for. This includes simple shops that would usually mean heading to the local high street, as well as researching for services they need in towns and cities.
What I am going to share in this post is some statistics from our clients – the positive and the negative, as we're seeing some massive shifts across the board in a wide and diverse range of industries.
It is important to note that what we're seeing here has a direct correlation to, often, months of hard SEO work. It is true that search behaviours have changed, but our clients are only seeing these increases in enquiries, leads and sales because they are visible.
Let me explain what I mean:
If your business is positioned on page 3 or 4 of Google for your product/service terms, and search behaviours change, with more people look for your products or services overnight, you are still far beyond those top results.
What do you think happens?
Nothing!
And this is because the average user does not go beyond page one of Google search.
If, however:
You have been doing SEO properly for months, sometimes years
You have positioned your business very well, with high rankings for your products/services
You have been growing already
Well, when something out of the ordinary happens –  like this pandemic – and search behaviours change very rapidly. Your business is already ranking well, you are already there, ready and waiting for that influx of new customers.
That is what we have seen.
These vastly increased numbers are not a fluke, as you will be able to see by the sheer volume of examples I am going to share.
This is a representation of our consistent approach and ability to get our clients to the top of the search engines to increase their enquiries, leads and sales.
Will these increased numbers last at this level? We don't know, is the honest answer, but the underlying most important fact to remember is your visibility is key.
If you're visible online, then whether 10 people are looking for your products/services, or 10,000 people, they will find you and you will receive those enquiries, leads and sales. This is what great SEO is, and highlights its importance and the impact it can have on any business.
If you are a regular reader of my posts (and LinkedIn updates), you'll know that I reiterate the point that SEO is a long-term business strategy, and when done right, it can be transformative for a business regardless of your industry, product or service.
These examples I am about to share are a mix of different industries. I will say – as an agency, we have an excellent track record at delivering excellent results in the following industries:
Solicitors/law firms
Catering/events companies
Food/beverage companies
Hospitality/leisure
eCommerce
This isn't to say we don't get excellent results in many other industries because of course we do, but these are some of the industries where we have vast experience, expertise and connections that ensure transformative results for our clients in those sectors. See our Case Studies for more.
Let's look at some of our client data from the past month and delve into what is happening.
First up is a client in the food and beverage industry that has been a huge increase of more than 200% in those requesting more information and wanting to buy from our client. The conversion rate on the website has doubled from an already very respectable 8% to now more than 17%.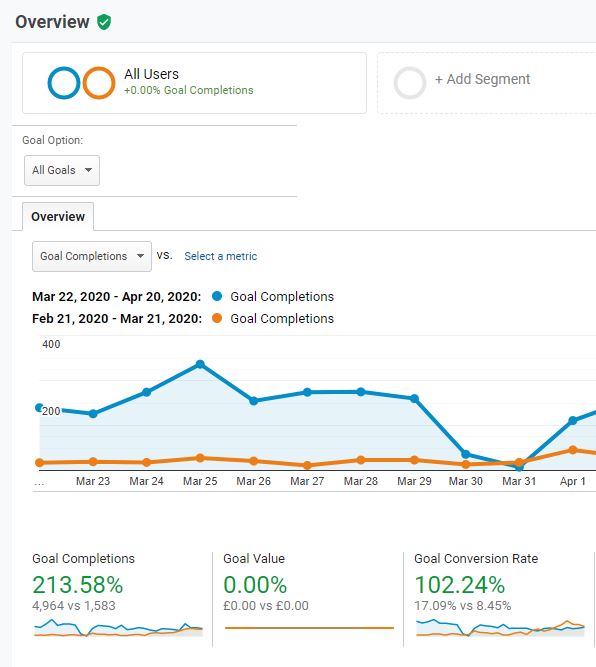 Next up is one of several eCommerce revenue stats I'm going to share, anonymously obviously.
In the past month, we've seen a huge increase in sales up 114% to almost £1.2 million in the past month.
The conversion rate and many other "buying" metrics have also increased significantly, as customers are unable to get out to the shops.
They are opting to buy online, and this is only possible because of how visible the brand is.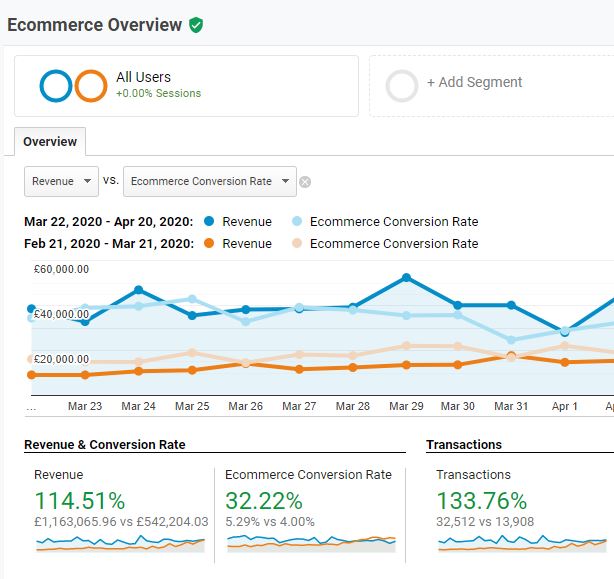 Another eCommerce client now, this one is in the technology space and with more time at home, we're seeing a big increase in sales, up some 28% to just shy of £500,000 in the past 30 days.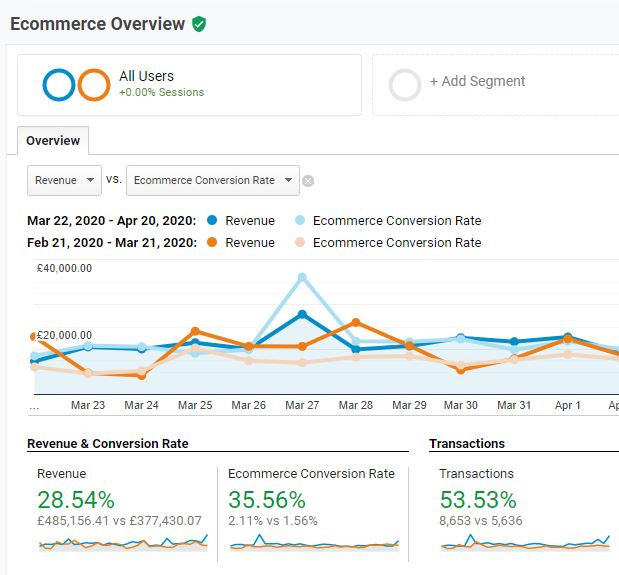 One of the things I am most proud of from my SEO and PPC team is how quickly we have adapted to changing search behaviours.
For one of our law firm clients, we identified a need emerging from changing search behaviours and working with the client, quickly put together some excellent resources.
The subsequent uplift in their enquiries over the past month speaks for itself. We have seen a massive 700% increase in enquiries (to give some context here, the previous month's number of 183 enquiries was 4 x what they were getting before they started working with our agency).
The website as a whole is now converting visitors into leads at over 10%.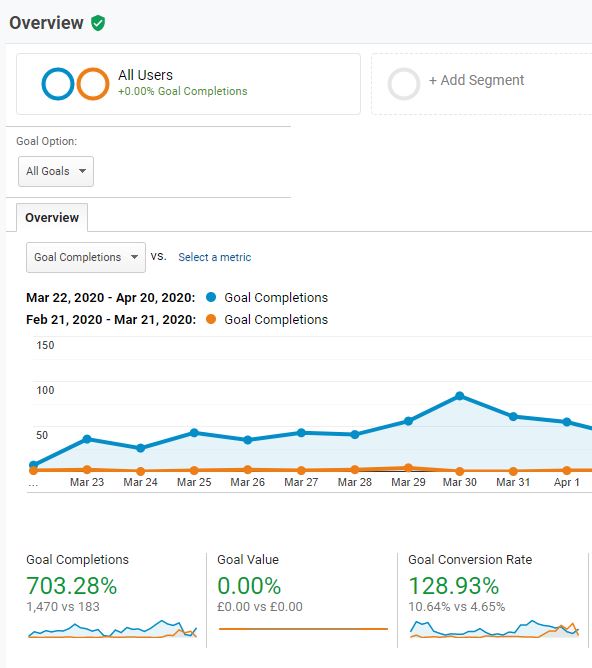 Let's look at another eCommerce client now, their revenues are also up more than 220% to over £1.25 million. This was achieved in part of addressing some "bottlenecks" our technical team spotted when more users were going onto the website.
A few other changes and some additional content have helped this business to have a very successful spring period as we enter their busy time over the summer.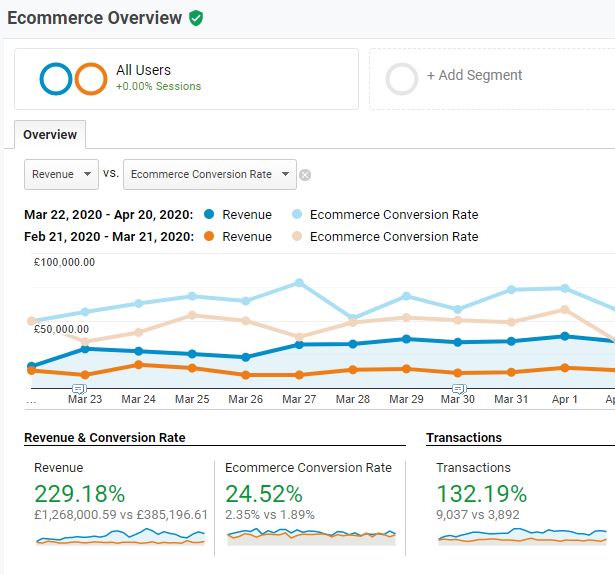 One of our SEO clients operates an online subscription business. High volume and margins on a low price point. As with so many of our clients, they too have seen big improvements in the past month.
Registrations have increased by more than 30% in the past month from 108,000 to more than 142,000.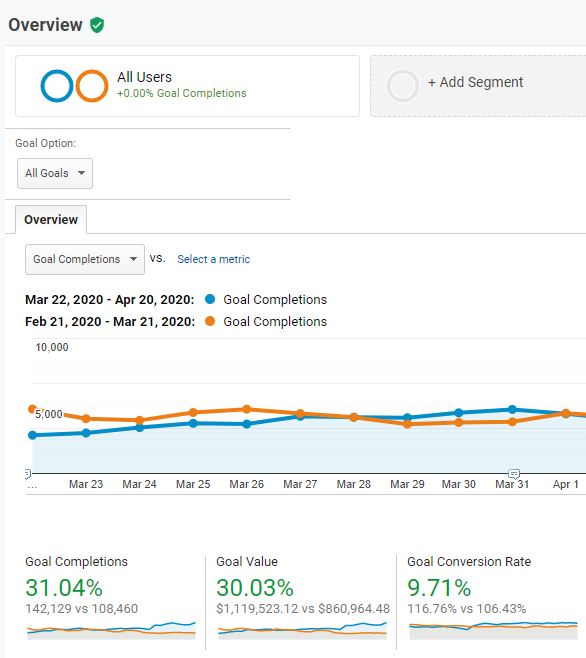 Another professional services company we work with have also seen a big increase in enquiries/leads and this is one I'm particularly proud of as when they came to us for help at the start of last year, their website was delivering no results at all.
The team have worked incredibly hard here covering all areas of SEO from strategy and technical through to a complete overhaul of their content marketing and promotional/digital PR campaign.
In recent months we had already seen great improvements from no enquiries to several hundred a month. In the past month, those numbers have jumped 156% to more than 1,200 and the client is absolutely thrilled.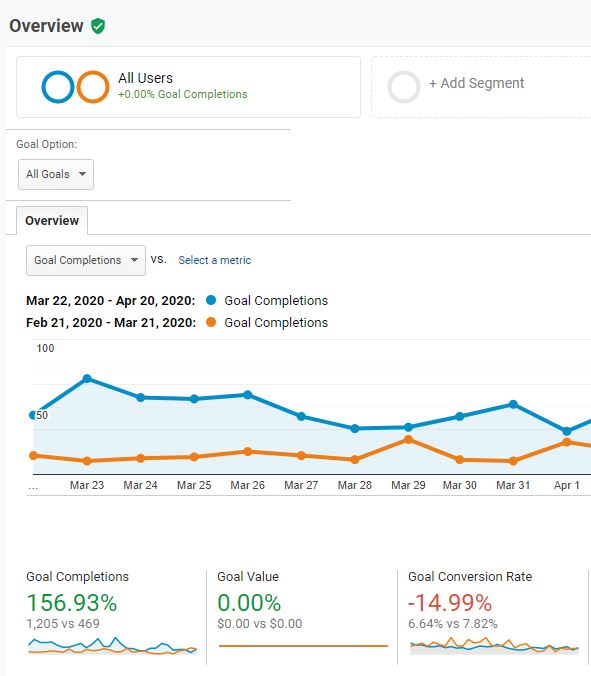 Now, it would be unrealistic and unfair of me to post just the great results without sharing the other side of the coin.
Not all of our SEO and PPC clients are seeing such positive changes.
We are recording some really painful figures for several of our clients and while there is no getting away from it being a hard time, it is very important to remember that these businesses still have their visibility on Google.
That hasn't changed, only search behaviours have changed and once things settle or get back to a "new normal" customers booking theatre shows, making meal reservations and booked days out will return and their enquiries, leads and sales will pick back up because they are easily found on Google.
Below shows a huge decrease in bookings of more than 80% for one of our clients over the past month. We know this is temporary as they have been forced to shut by the Government.
Does that mean our SEO work stops? No.
Does it mean we give it and admit defeat? Absolutely not.
We're still supporting this fantastic business and pushing on with their visibility, focusing on late 2020 and into 2021 and ensuring this business is as visible as possible once the "lockdown" eases. I take my hat off to this client and their superb attitude to what is a very hard time for their business.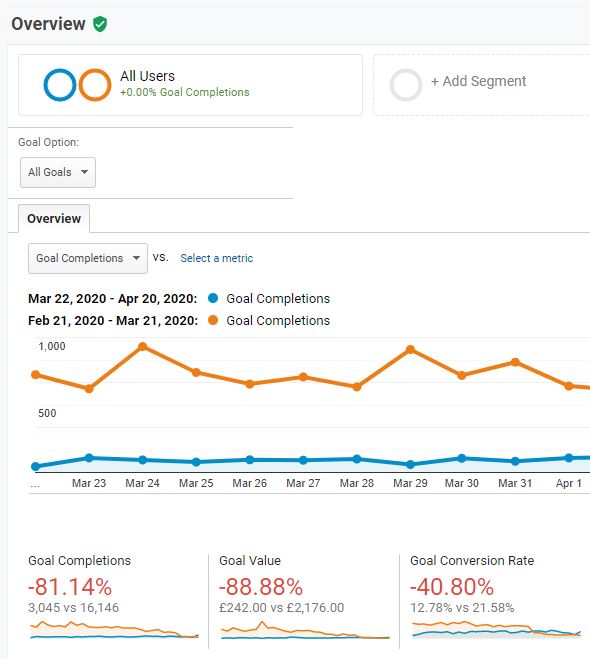 Lastly is another SEO and PPC client of ours, that have seen their enquiries decline by almost half in the past month. I know for a fact they have lost millions in revenue over the past few weeks in cancelled events and bookings.
Yet despite this they persist, they are focusing with our team on driving their business out of this with increased visibility as they know that the events will return at some point and they will likely see an increased surge in bookings, so long as they are visible across all nuances of their business.
This is our mission and focus both now, and over the coming weeks, regardless of the negative numbers we're seeing currently, SEO is and always will be a long-term marketing strategy.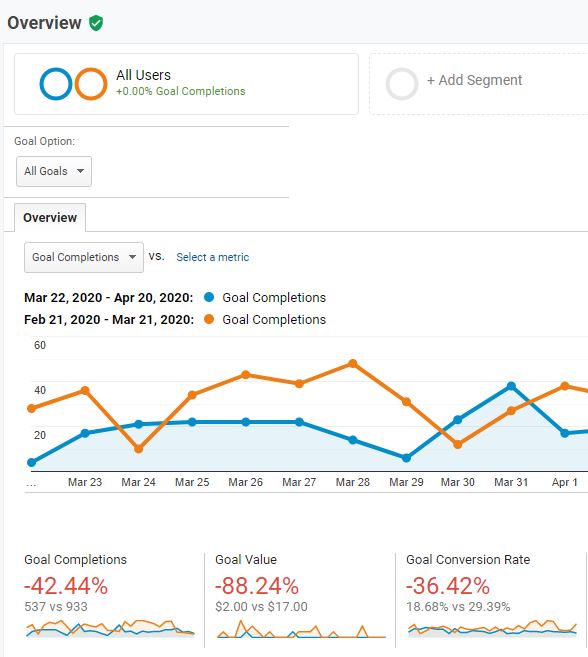 These insights into our client statistics have hopefully given you food for thought. They have been shared with an aim of helping others understand the extremely important roles that SEO and PPC play in a business' ability to grow and thrive, regardless of what is happening in the world.
We are a partner with our clients and we care so much about their businesses as if each were our own.
We get to know our clients, we work closely with their teams and together we transform and grow their businesses.
If you would like to discuss how The Evergreen Agency may be able to help you and your business then get in touch.