The month of productivity and positivity: Our SEO highlights from January 2022
We're nearly approaching the end of January which is wild really isn't it? January is the month of new hopes and possibilities, of trying to remember what happened before Christmas whilst looking to the year ahead.
January is also the month we're all saying positive mantras like "this will be our best year yet" and "here's to a cracking/great/epic/legendary [year]" 😉 as you urge the motivation to seep into every corner of your working day.
It's an interesting month that feels like a fresh start and a justification for all the busyness and madness that comes with December. It's a real "we got this" month (in my opinion) and that's exactly how I'm feeling as I look at some of the brilliant results we got in January that made the run-up to Christmas 100% worth it.
A new featured snippet for our rooflight client
When we first started working with The Rooflight Company, their blog was non-existent and their site mainly ranked for branded keywords. One of our goals was to build out their blog and get them ranking for more informational queries to improve their visibility for non-branded terms.
The content and SEO team worked together with the client to bring some valuable, informational resources online that aligned with their business goals whilst also educating their customers on the ins and outs of rooflight windows. We noticed an opportunity around rooflight loft conversions that few competitors had harnessed and so, naturally, we jumped straight on it.
We worked with the client to produce an all-encompassing guide that covered the topic from top to bottom, and we were delighted to find out that it now has the featured snippet for its primary keyword. The client is over the moon and so are we!

Top 3 map pack rankings for our sports therapy client
Like many industries, the physical therapy industry was hit massively during the pandemic and saw many businesses double-down on their digital marketing to prepare for when the country finally opened up. Ultra Sports Clinic was one such business that came to us early last year looking for us to boost their local visibility for their London clinics.
We did a lot of work optimising their Google Business Profiles, local landing pages and citations for consistency. We also worked with the client to give their homepage an overhaul, added local schema which was missing and ensured that everything was set up and optimised to give them the best possible chance of ranking successfully in Google Maps.
All of this (and more) resulted in the client climbing the rankings for all three of their clinics and this month saw them finally ranking in the top 3!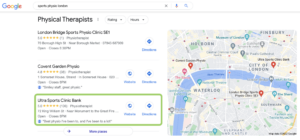 A pivot in focus and improved local rankings for our family law client
One of the things that we're most proud of at The Evergreen Agency is that our strategic approach to each client, regardless of industry or budget, is completely tailored to their business needs. For me personally, this means that I'm always looking at the bigger picture and assessing whether the direction and strategy for a client is working, or whether it needs updating based on the evolving needs of their business.
This is something that we encountered last year with Hawkins Family Law, solicitors based in Milton Keynes, Watford and Bicester who had seen significant growth in the 12 months prior and needed a change in tack to ensure continued growth for the next 12 months. Never ones to shy away from change, we overhauled the entire website and shifted the focus much more prominently towards divorce, their most valuable service.
We had an all hands on deck approach, with the SEO, digital PR and content teams all pulling together to ensure this focus was consistent across the board and it's safe to say it paid off! At the back end of last year, we saw local rankings for divorce terms improve significantly and this month saw the Watford branch now ranking second in the map pack.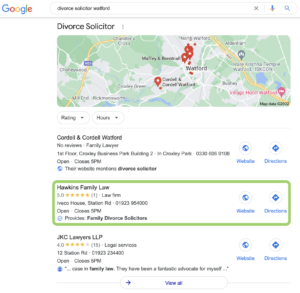 A new best on the web guide published for our live-in care client
We all know that the key to a good content marketing strategy is valuable, informative content that answers users' questions and equips them with everything they need to make an informed decision about a given topic or service. These types of 'best on the web' guides are produced every day by our content team but it never stops us from getting excited every time a new piece is published, and we were over the moon to see another seriously great piece of content go live this month on The Live In Care Company.
We've worked with this client from day one and one of our goals was to increase the visibility of their blog. One thing that we realised quickly was that whilst the blog was doing well, there was no standout piece that really knocked our socks off. So, we worked with the client and their web developers to create a truly epic guide that covered everything there is to know about live-in care, complete with creative assets, videos and a bespoke page design that brings it all to life. It really is amazing, and yes, I may be slightly biased so check it out yourself.

New grant initiative securing links for our manufacturing client
It's no secret that getting coverage isn't easy and it can be really gutting when a campaign or piece of outreach doesn't land the way you'd hoped. But, when it does land, it can be the best feeling in the world and this is exactly how our digital PR team have been feeling this past month following the successful launch of the under 30s manufacturing grant by Get It Made.
This client is in the manufacturing space offering CNC machining which, as you can tell, is pretty niche. We love a good challenge and spent a good deal of time last year thinking of ways we could increase engagement to secure some coverage and links to build the site's authority. Our digital PR team worked closely with the client and together they came up with the under 30s manufacturing grant to support startups. The grant has so far received coverage from top industry sites like Medical Plastic News and Med-Tech Innovation, and the links keep rolling in!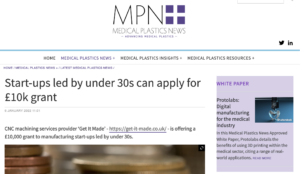 These are just some of the great results we've seen in January and I'm really excited to see February bring more of the same. Here's to a cracking/solid/epic/legendary 2022 😉.
For more insights into what we get up to at The Evergreen Agency, sign up for our newsletter and join The Evergreen Way community.