The role of an SEO manager in 2022
It's a running joke that in SEO there are 10,000 different job titles that cover a myriad of roles and responsibilities which can vary depending on the business or agency you work for. However, there is one role that is generally the same across the board and that is the role of SEO manager.
An SEO manager is responsible for a number of things but above all else, they're the one who devises and implements the digital strategy for a business that will ensure its online growth and success. This means, naturally, they wear many hats on any given day:
The Content Marketing Hat – Figuring out what content a website needs to support the business' goals and strategy, and then creating a plan to implement it.
The Technical Hat – Audits, conversion rate optimisation, site speed, all the real technical stuff that underpins everything. Essentially making sure the foundations of a website are solid and fixing them when they aren't.
The Account Manager Hat – Actually communicating with the client/business and making sure they're clear and happy with the work being done. They make sure the client feels the love.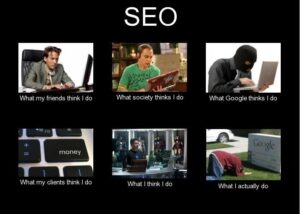 An SEO manager is all of these things (and more), but the role of an SEO manager? That's something else…
I could sit here and tell you what I do each day but you could just go on Google and find any SEO manager job description. What I actually want to tell you is how SEO managers add value to an agency/business and how, in 2022, SEO managers need to be more than just the person who creates the digital strategy, they need to be a partner, an advisor and a hypeman (or woman) all in one.
Here are five things I think an SEO manager needs to be in 2022:
1. Someone who is flexible in their approach to SEO
The primary role of an SEO manager is to devise and implement the online strategy for a business. Yes, we work to the almighty algorithm and yes there are things we must do to ensure online success, but the key thing to remember is that all this work is for the benefit of a business, and that business is run by humans whose customers are also humans.
Humans are complicated and so are businesses. Any SEO manager can put together a strategy that is technically spot-on, full of recommendations that will ensure your website is perfect, squeaky clean and ticks every SEO box on the magical SEO checklist.
The reality, however, is that digital strategies are full of compromise because businesses, like humans, require a tailored approach.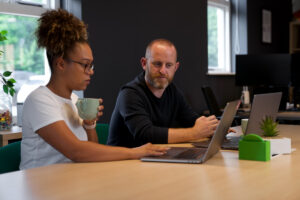 That's not to say that we should ignore best practices and just do whatever we fancy, we just need to approach SEO in a way that takes into account a business' goals, resources, limitations, online performance and industry, and then put all of these considerations into a strategy that is genuinely going to make a difference to growth.
If there are things a website absolutely needs but there isn't the resource to fulfil it, then we need to be honest and have a conversation about it, not just fold our arms and say "well, that's what you need so you should probs figure it out 🤷‍♀️".
2. An advisor when things don't go to plan
This is an obvious one because SEO managers are problem solvers by their very nature, but following on from the previous point, an SEO manager needs to be able to assess a client's needs, the reality of the situation and figure out a solution to make it work.
There are always going to be elements outside your control like their content writer being sick, their web dev quitting, or a pandemic that brings their whole industry to a standstill. In situations like these, we can't just sit back and accept progress won't happen and point the finger of blame, we need to help find a solution that benefits all.
Ok, so maybe the solution means that progress might slow down due to mitigating circumstances, but that's better than progress stopping altogether. It's better than a client leaving because you said "that's not my problem" and left them to figure it out on their own.
We're partners at the end of the day, we're an extension of a business' team, and so we need to be able to step in and help when things don't go to plan, even if it's just to offer some advice.
3. A conductor for the various disciplines of SEO
A wise person once told me that a good SEO manager is like the conductor of an orchestra. They set the rhythm, the pace, the tone and are essentially the messenger for the composer (the composer being the business).
The musicians all know what they're doing and they can play the music well, but the conductor keeps it all together and makes sure that they stay on track.
That's basically what an SEO manager does, they create the vision of where a website needs to go and the steps needed to get there, but it's also their job to communicate this to the rest of the team and keep the momentum going.
We can't just create a strategy and let it play out, hoping everything works great of its own accord, it's our job to make sure that all the teams are aligned and know what they're aiming towards because this will ensure success.
Otherwise, a strategy is just words on a page waiting for someone to implement it, just like an orchestra is a group of musicians waiting for someone to guide them through the score.
4. A hypeman (or woman) for the business
What's the point of trying to market a client's business if you're not going to hype them up on their wins?
Marketing is a results-driven industry, we all know that, and while it may seem immodest to shout about your wins, it's worth remembering that telling the world about the great results you're getting for a business benefits your client in more ways than one.
It gets their name out there as a successful business in their industry and extends their reach to your network which might lead to an enquiry later down the line. This is especially true for SMEs who need all the support they can get as they're not relying on big corporate budgets and huge marketing spend; they'll appreciate the shout out more than you think.
It also shows the client that you're invested in their business and actually care about their success. This goes back to the idea that you're part of a partnership and part of their team, all working towards the shared goal of success.
5. Someone who understands that they're the SEO expert and not the business expert
No one knows a client's business or industry better than the client. Just as we live and breathe SEO every day, the client lives and breathes their product/service, which might sound obvious but it's an important fact that is frequently overlooked.
This can often result in making decisions or recommendations that aren't reflective of how a client's business works, and you run the risk of a client leaving because they feel you don't understand their business.
A perfect example of this is content – We write content for the vast majority of our clients across all sorts of industries, everything from manufacturing to organic wine, and whilst the content we put out is well-researched, informative and valuable, none of it is written in silo. All of our content marketing plans are put together in collaboration with our clients.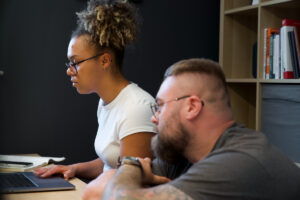 This is because it's impossible to become an expert in every single industry we write about, and why should we be when we speak to the experts every single day? Experts who have years of experience and knowledge and are willing to share their knowledge with us if we just ask for it.
It all comes down to trust and respect for a client's expertise, and not being afraid to ask for more information to produce something that hits the nail on the head every time.
A final note…
All of the above really just comes down to the one key thing: partnership.
The role of an SEO manager in 2022 is to simply be a partner of the business they work with, to have their back, be honest with them and trust them in the same way they trust you to deliver great results.
If you treat each client's business as if it were your own, you're guaranteed to have a happy client with a website that performs well and consistently delivers. Everybody wins.
For more SEO insights and to keep up to date with the agency and the team, sign up to The Evergreen Way and never miss another update!