UK Search Trends Quiz – how many can you guess correctly?
The first UK wide lockdown came into force on March 23rd – here we are on the cusp of October and we're about to enter a new lockdown of sorts. It's a very hard time for many individuals and businesses alike and so we wanted to try and make you smile amongst all the doom and gloom…
We decided to try and lift the mood a little by bringing you a Search Trends quiz – it's quite comical how user-behaviour has changed this year and the mad things people have gone online and searched for in recent months…
The Evergreen Agency decided to have a little fun and delve into the data with some very interesting results. Enjoy! 🙂
Loading…
The graphs speak for themselves and in many cases are quite amusing, so settle in and get scrolling to discover some of the top search trends in lockdown.
NB: All data has been taken from Google Trends, and shows UK search results. 
Panic buying
As the reality of the virus and lockdown started to hit, some of the UK started 'panic buying'. Photos of empty supermarket shelves hit social media, and news reports showed how people's behaviour turned to panic and uncertainty, stocking up on goods.
The search trends showcased this too, as people headed online for some of the most sought after items. Check out the below.
Toilet paper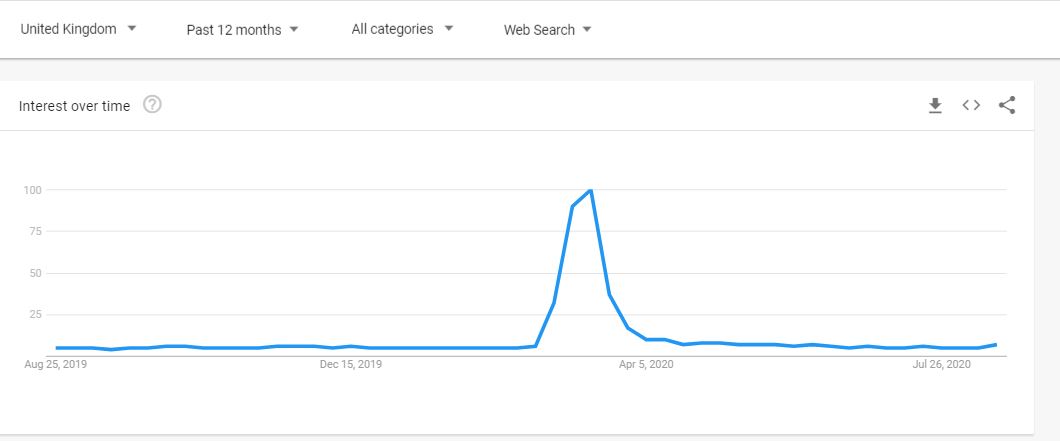 Buy pasta online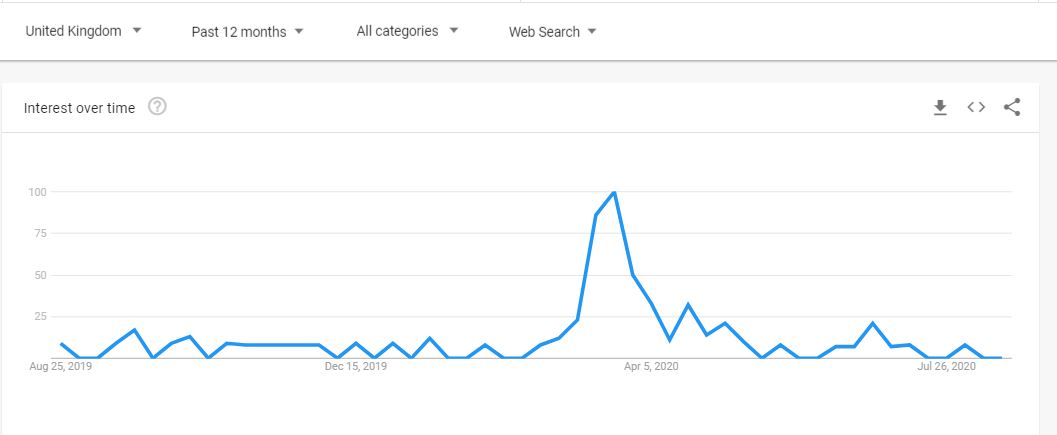 Health and Beauty
With salons, hairdressers and spas closed, self-care saw a boost like never before. As the weeks went by, there were some interesting search trends that swept the nation as people were left to do it themselves!
Check out these search results ….
With people stuck indoors, spa treatments took a big turn for the worst.
Spa Treatments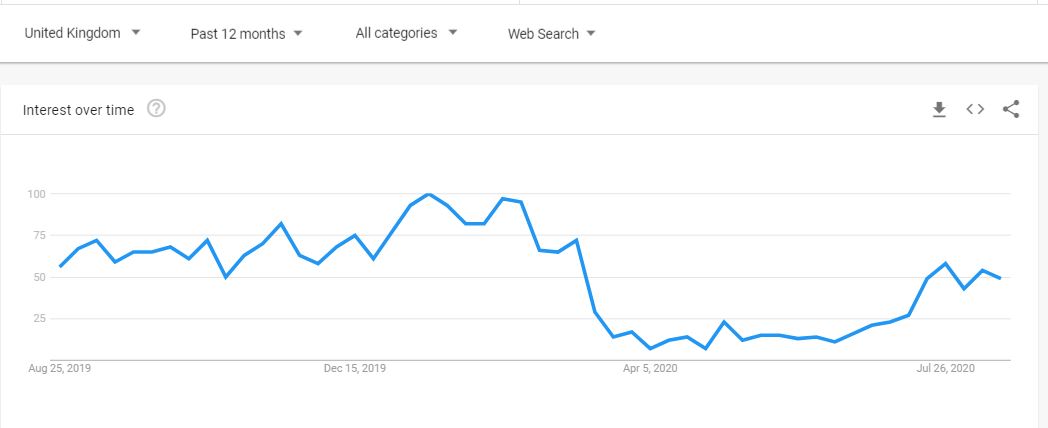 But people got creative! Just look at the search results for 'at home nail kit'...
At Home Nail Kit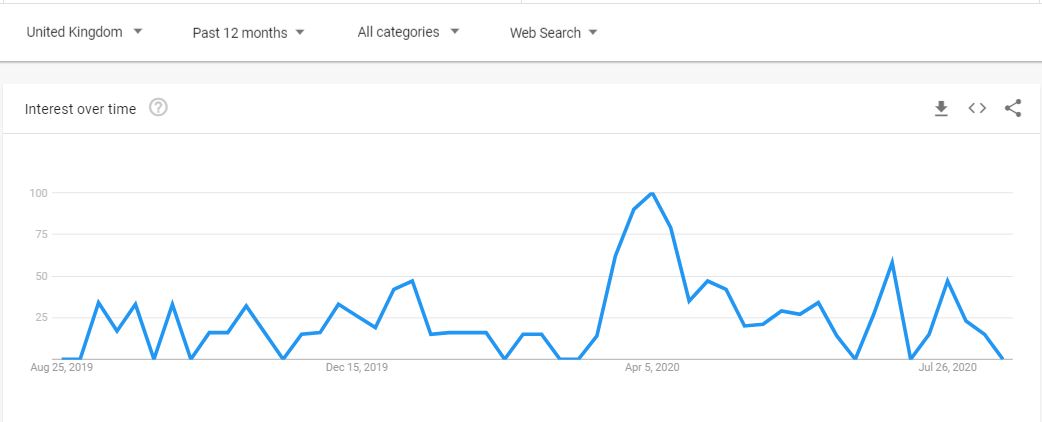 The best thing about this graph? How the searches saw peaks as announcements changed!
One of the biggest lockdown trends? Taming your locks!
'How to cut your own hair' saw a massive boom in searches, a phrase that previously saw very little data.
How to Cut Your Own Hair

Fitness Trends
PureGym saw a massive decrease in searches as gyms shut their doors.
PureGym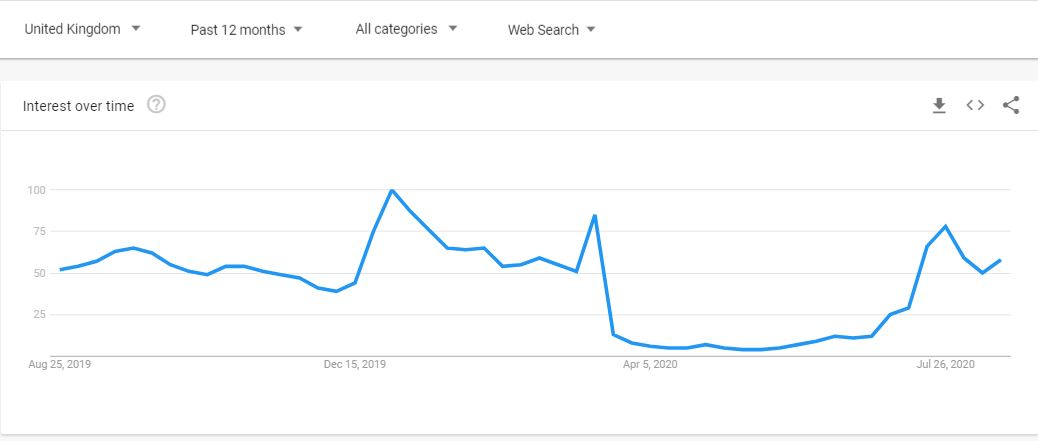 But as one door closed, several others opened! Below are the search results for dumbells, as people changed habits and worked out from home.
Dumbells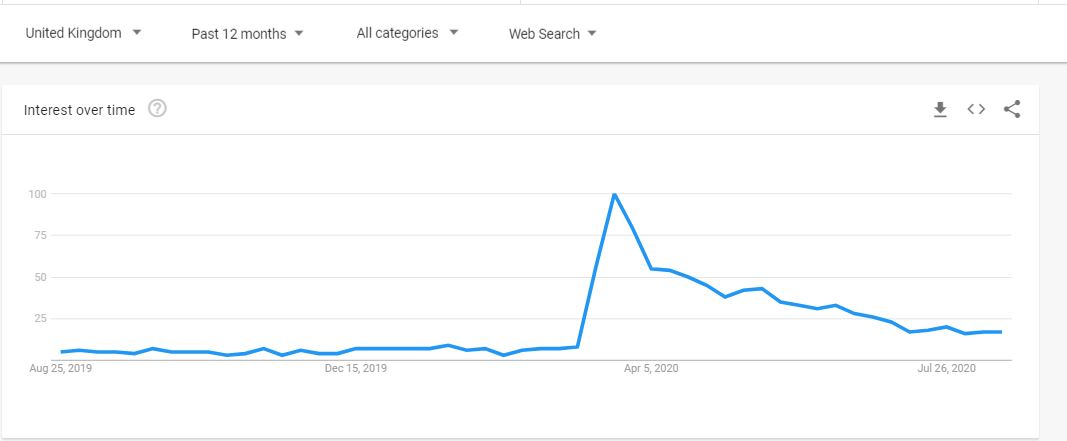 That wasn't the only popular search trend. Joe Wicks, a titan of home workouts, saw a massive boom in searches as he set up a daily PE lesson on Youtube to keep children entertained while ensuring they got their daily exercise in.
Joe Wicks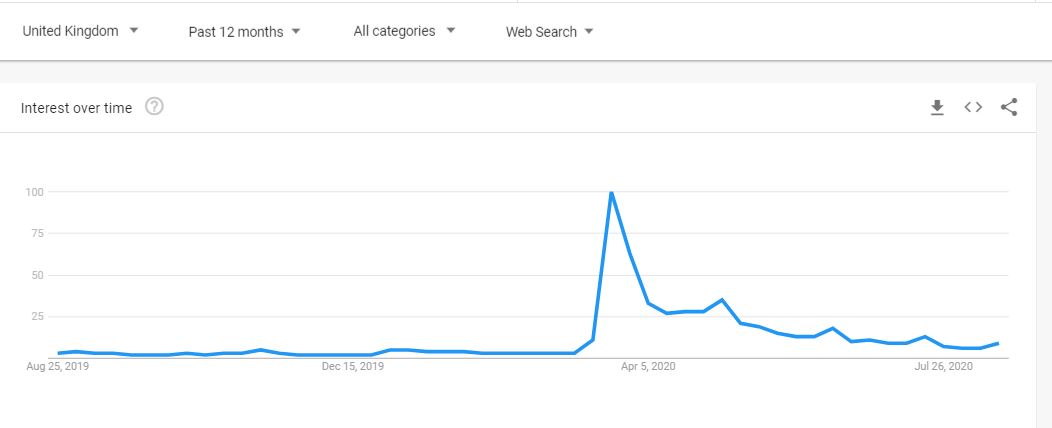 Getting busy in the kitchen
With restaurants, schools, bars and pubs closed, people were at home cooking three meals a day. This saw some search trends appear, whether to get us through lockdown or keep up with the baking trends sweeping the nation!
Just check out the graph for Banana Bread!
Banana bread

Another popular search? Wine delivery.
Wine Delivery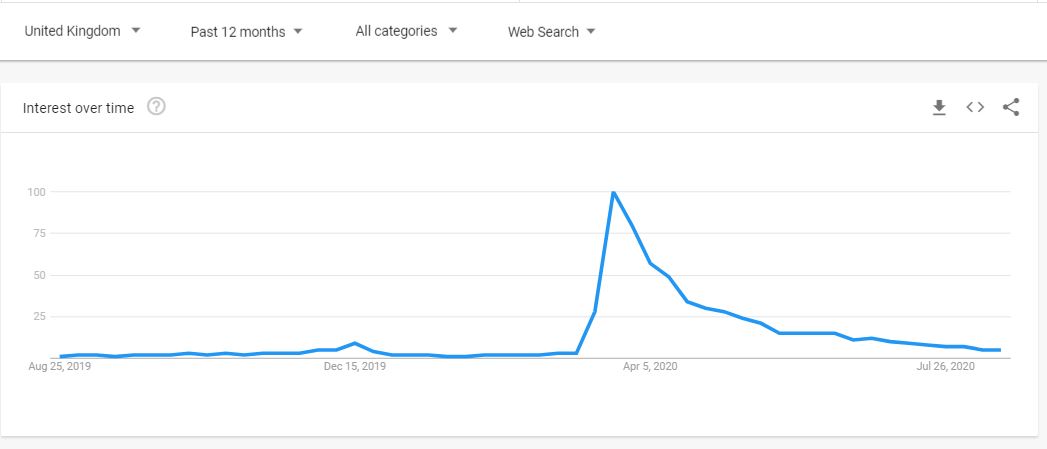 Outdoor DIY
With nowhere to go but your garden, if you were fortunate enough to have one, lockdown restrictions eased, allowing us to meet outside with friends. People headed online to transform their garden into the perfect socialising space, as shown by these results!
Here we can see a huge peak in searches for 'firepit'.
Firepit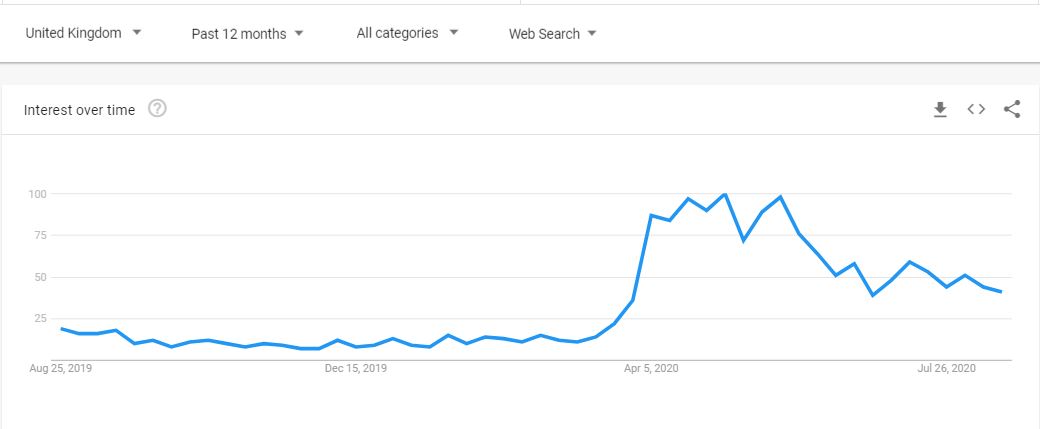 And this staggering result below is for vegetable seeds! People turned their hands to gardening with more time on their hands than before.
Vegetable Seeds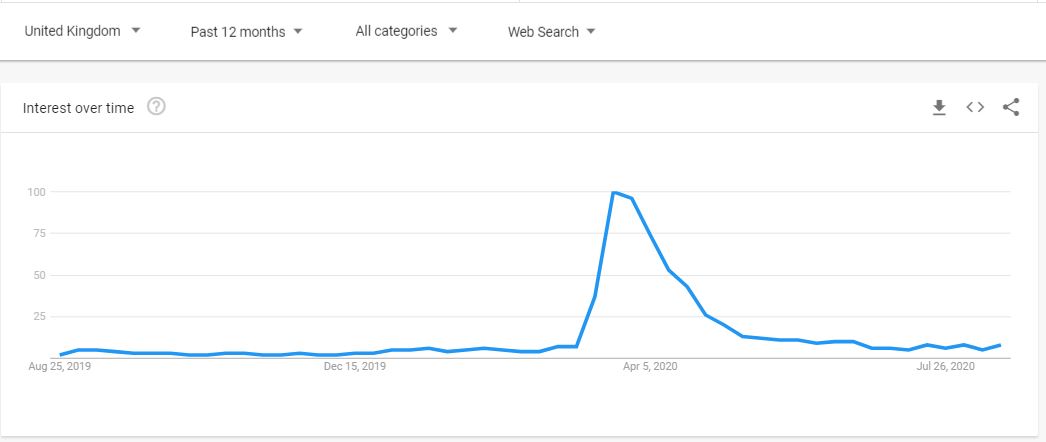 Travel trends
There were some predictable shifts in results for travel-related searches, with holiday plans scuppered and plans cancelled.
This interesting graph below shows search data for 'Airbnb'. Notice the steep decline before it slowly and surely began to gain more traction.
Airbnb

Another fascinating result – UK Staycation; an incredibly popular search trend as the UK shifted their travel plans to staying at home rather than going abroad.
UK Staycation

Working from home
This graph below for 'office chairs' shows a shift in habits as people got comfy in their spare room, kitchen or living room! Home offices were getting a spruce up.

Meanwhile, as Zoom dominated the market, it's not surprising that people got Googling to make sure they were using it right…
'How to Use Zoom' shot up in the searches, as did the popularity of the videocalling platform.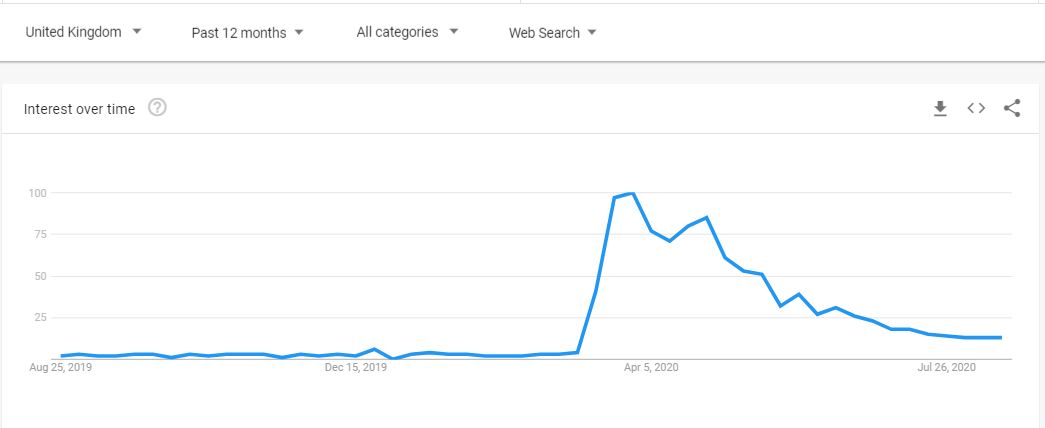 This blogpost just gives us an insight into UK search behaviour; it turns out we all have more in common than we thought!