Launching our video review initiative for businesses
In the past week, we launched a new initiative, with one aim. To help businesses overcome recent times, and push on, by ensuring their websites are in great shape to attract sales, enquiries and leads.
Since we went live with this initiative a few days ago, we've had dozens of businesses apply for a video review. At the last count, on day 5 the waiting list stood at some 50+ businesses. The numbers are quite incredible and show our idea was a good one, with lots of businesses reaching out for our help and expertise.
We've now started to send the video reviews out, and are getting some lovely feedback. See this, from one such business owner who thanked me via a lovely LinkedIn post.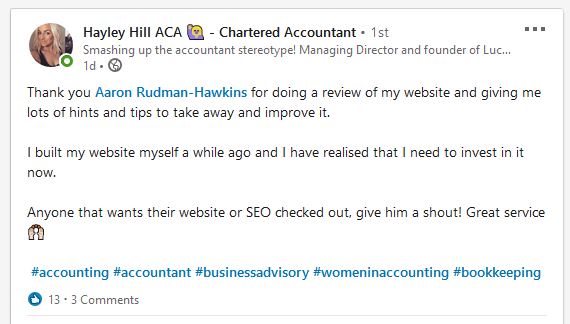 A few people have asked where the idea came from as they thought it was a fantastic initiative – little did they know, I have been doing videos like these for years.
Let me explain…
For years, I have made short videos and uploaded them to YouTube as "unlisted" so they cannot be found by the general public, but are viewable by those with the link. The videos I have made have been for clients, for team members and for prospects we have been talking to.
The response has always been very positive. People love the fact they can see and hear me, and that I can share my screen. This allows me to demonstrate and show them exactly what I'm referring to, making far more impact than an email alone could ever do.
The creation of short videos is just something I have done for years, for me it's no more complicated or time-consuming than it is to write an email. I have my YouTube account set up as a tab and my screen-capture software ready to go at a click so I can quickly have an idea and within seconds be on film recording all sorts – my team often get the brunt of these as I have a reputation for having all sorts of ideas and the recording it before firing off an email with the link, often very late at night.
Here's an idea…..why don't we offer video reviews?
Soon into "lockdown", I was speaking to my team and together we were looking at ways we could help businesses – outside of our clients. I've always been a firm believer in helping people as much as possible and with this pandemic throwing much of "normality" out the window and a vastly increased time being spent online, we knew our expertise was in great demand.
The phone has been ringing, new clients are wanting to partner up with us and so, as a business it's been full steam ahead in many respects. That said, it's not been all sunshine and rainbows, but I'll leave that for another post (that I'm working on and will publish soon, so keep an eye out for it).
All that said, I wanted to help more than just those we are working with so I started racking my brains for options. I considered doing a "daily video update", another idea was to run monthly webinars.
Then one day, right as I was in the thick of planning how the above options and ideas might look, what I might cover, how I would publicise etc. I stopped in my tracks and thought… "am I over-complicating this?".
What businesses have loved from me for years is just a little bit of my time. No gimmicks, nothing too complicated, just a 1-2-1 bit of advice and some suggestions they can act upon and improve their online business. "I should just stay offering these video reviews to anyone who needs one", I thought. So that is what I decided to do.
I called time on the other ideas for now with immediate effect (much to the amusement of one colleague who had been helping me, I think her reaction was along the lines of "your head is such a pinball machine of ideas" and she isn't far wrong, to be fair!
Within 72 hours I had the page created on our website, the email sequence that requests the access we need for these videos set up, and the first post out on LinkedIn. A whirlwind as ever.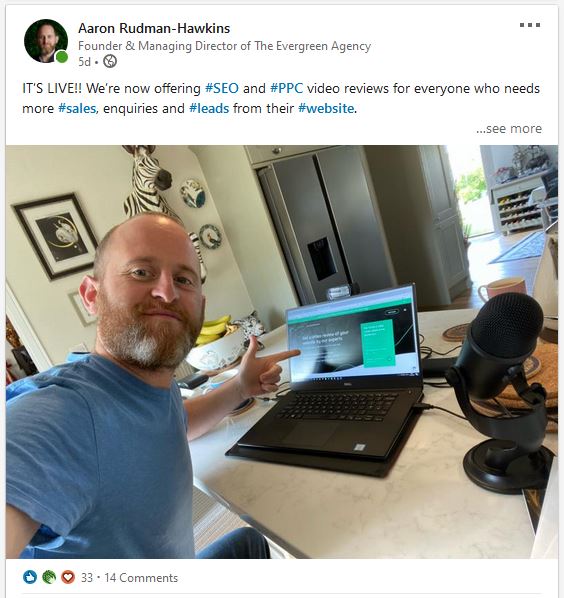 "We've had how many requests today?"
To date we have not done any "advertising" of this video review initiative. The only publicising I have done is by way of 3 LinkedIn posts (to date). The first was on Monday 27th April.
A quick LinkedIn post from my phone and it was back to the days work. Later that afternoon my colleague Georgie who has been helping me on this initiative and some other bits (she was the one saying about my head being a pinball machine) messaged me to say we'd already had 20+ businesses request a video. Blimey!
Over the past week, that number has risen to well over 50 businesses and is climbing daily and all we've done is share it on social media and send to our very modest email list.
The back and forth on emails have already led to me helping businesses in all manner of ways in the past few days, which is great (and something I am always happy to do).
I've given advice on all sorts, including:
Recording videos showing businesses how to grant access into Analytics and Search Console
Giving advice on web design/development agencies
Options for good social media management
N.B. A note on Search Console – lots of people don't know how to do this – if you don't, here is the video I created to show them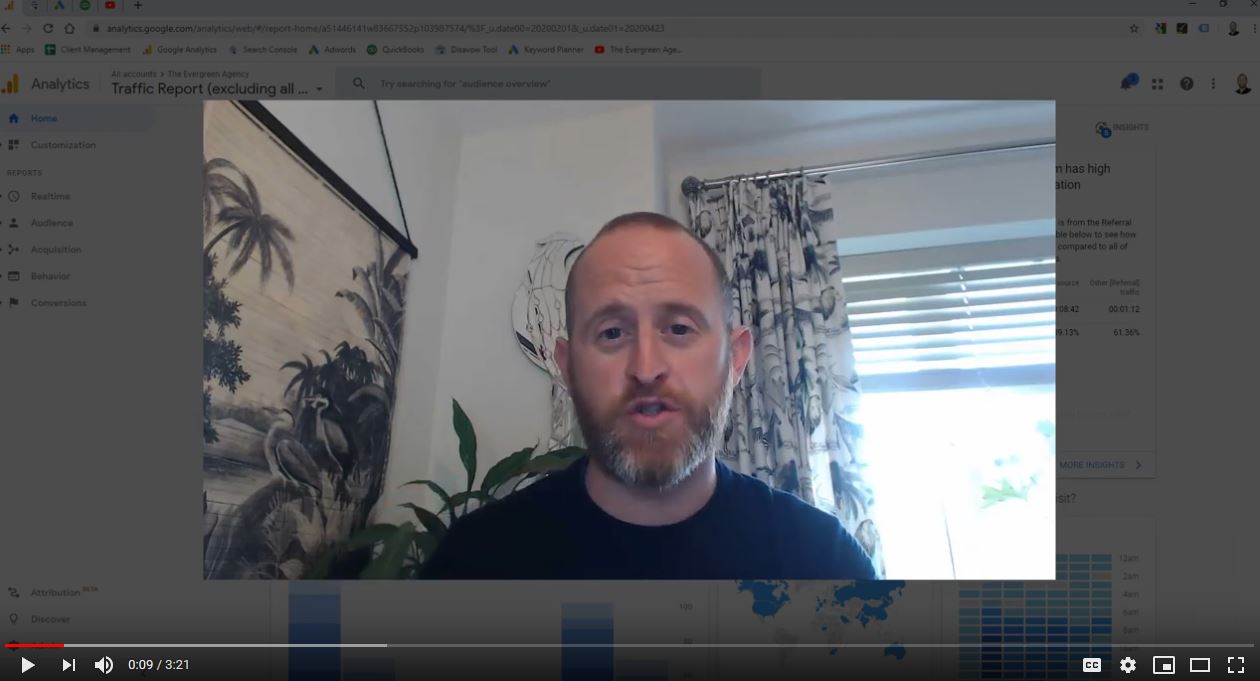 People need our expertise, so we are always happy to help
As a business we're very busy, we're growing and successful, but I never forget that which got me to where I am, which was my willingness to go above and beyond for those who needed my help.
I have spent years helping, advising, educating, and training people about the Internet. From being the "techy one in the family" whose friends and family would call up whenever their computer stopped working, to my early freelance SEO days when I would regularly work for free with start-up businesses and one-man-bands who desperately needed my expertise, but couldn't afford to pay.
I am a big believer in karma and believe what goes around, comes around. We have a big framed poster in our house, and it says: Work Hard & Be Nice to People! And I think that sentiment just about sums it up perfectly.
Over the past week, I have spent about 1.5 days recording videos, I'll likely spend several more whole days over the coming weeks recording videos for all manner of businesses and people – many of whom I've never met or spoken to and probably never will.
Some of these people may become clients once they get an insight into what we do and if that happens that would be welcome of course, but it genuinely isn't the reason why I have offered my time. What is most important to me, is the appreciation from those I am helping. The messages of thanks and the lovely LinkedIn posts as you have seen in this article. Here is another one I received shortly after sending the completed video review over.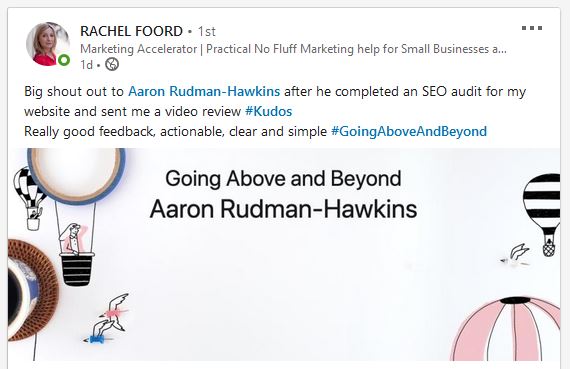 Money or any amount of "advertising budget" cannot buy you the kind of respect, appreciation, and admiration you get among your business peers when you give your best away for free.
Of course, all those lovely posts on LinkedIn and all these people I am helping – I'm sure for some I'll be top-of-mind the next time they are asked "hey, do you know anyone really good at SEO?" and this is how business works…
This kind of selfless approach is how I have built The Evergreen Agency into Oxfordshire's second largest specialist SEO & PPC agency over the past 7 years. We are now the biggest (and best) in Oxford, which I think of as our home-patch and we have big aspirations for growth in the years ahead.
One thing is for sure, we will continue to give and help as much as we can in all sorts of ways as we know the favour is returned many times over. After all, it is as much about who you know, as it is what you know.
Just remember: Work Hard & Be Nice to People!