We analysed 168 'successful' digital PR campaigns and here is what we found
Digital PR has become the 'Instagram' of the SEO/digital marketing world. All too often it's being used for vanity purposes to say: "hey we've been featured in x and y" and to be honest… more often than not, it's complete and utter BS.
Digital PR has been built up to be the all-conquering, business-transforming thing every business needs to do and that is definitely not the case. Digital PR is just another way to promote your business, it's one cog in the SEO machine that has many many parts and this fact is being lost in the noise of digital PR of late.
In this article we're going to look at the following;
Examples of digital PR hype vs reality
Analysing 168 'successful digital PR campaigns
The data from one of our own digital PR campaigns that went viral
Key findings from our analysis and monitoring
Before we get into all of that, here are a few things we are seeing in the industry, which of these do you recognise?
Almost every SEO/digital marketing agency has re-named their outreach/link building activities to 'digital PR' as it sounds sexier let's face it (we've done this ourselves!)
Almost every agency is now selling some form of 'digital PR' to their existing and new clients, which in reality is much the same as what they did before i.e. link building and outreach, just changed in name to digital PR and with potentially more of a media focus over bloggers and website owners.
Almost every PR specialist, whether employed or looking for work, has started to weave 'digital' prominently into their experience and CV as it's what every agency wants and where the traditional PR industry is headed
Almost every digital marketing recruiter has become a digital PR specialist recruiter overnight
Almost every client is now super-interested in media coverage when a few months ago they didn't even think about it
Almost every business has decided they want national coverage, they do not care about the ROI on it or if it is even right for their target market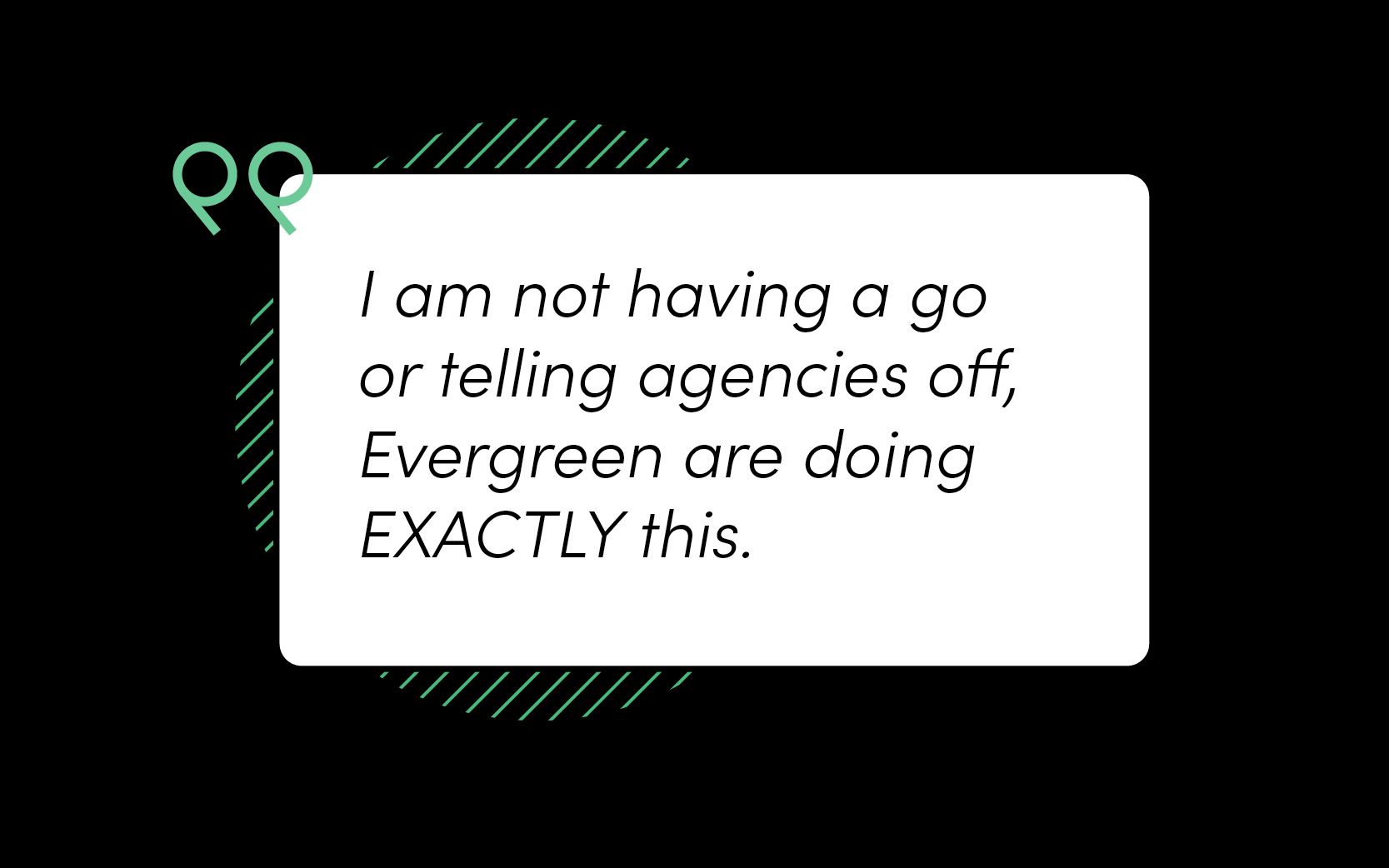 Now, before we go any further, hands up, here at Evergreen we are 100% one of the agencies I'm talking about, we have invested in digital PR, built a team and now getting lots of coverage and links for our clients across national, regional and industry-specific titles.
I'm NOT having a go at any agency doing this, not least ourselves as digital PR does have a very important part to play in the SEO and digital marketing world; links matter. I'm investing 6-figures every year in staff alone for our ever-expanding digital PR team so far from it for me to criticise.
However, there is a very important lesson for every agency owner to identify and for every business owner to be aware of and it is all the hype there is everywhere right now.
Digital PR alone is nowhere near good enough and agencies as well as business owners should focus on what really matters; the £££, enquiries and leads – not the vanity coverage.

Examples of digital PR hype vs reality:
Almost every time you see anyone saying they have secured HUNDREDS of links (which Twitter is notoriously bad for in the industry; only shouting about the big and viral campaigns and blurring what is success) it will almost certainly be dozens of individual pieces of coverage PLUS lots of syndication. Which, while welcome, isn't half as valuable as individual, independent links – understanding the difference and being mindful of it is the key. Also the number of links is often neither here nor there, what is far more important is the number of referring domains
Most digital PR campaigns (not all) will link to the homepage or new campaign landing page of a website, and while this is valuable, generally it's far better for a business/client to have links going into a specific product, category or service page. Achieving this through media relations is often much harder to do, although not impossible.
Most links from top tier publications will be branded (and many are no follow) so clients with a very specific product or service to promote will not only struggle to get the link to their specific page(s), but often it's hard to get anything more descriptive than the [brand name] as the anchor text.
This is the latest 'fad' in digital marketing
To those of us that have been in the online marketing space for a long time, we see this as a bit of a trend or dare I say 'fad' of sorts…
The explosion of digital PR reminds me of a time around 12 years ago (circa 2008) when 'SEO' was the new and sexy thing. SEO agencies were popping up all over the place and when you went onto job boards you were starting to see 'SEO' jobs again and again.
As with most trends, it started in London but quickly spread across the UK as small independent 'specialist' agencies began to realise that SEO was becoming a skillset and job in its own right – up to this point the SEO stuff was either done by the web developer or a spammer in their mum's basement who ran PBN's (private blog networks) and knew how to spin content (remember those days?).
Digital PR is sexy
Digital PR is now seen as the 'sexy' part of digital marketing and understandably so. What is going to turn a client or prospect's head more? Saying:
"Hey, we've identified some crawl issues and have found duplication and on-page errors that need correcting"
Or
"Hey, great news – we've just secured coverage and had your brand featured in these top-tier press titles"
I know which of those will get most of our clients more excited and it's definitely the latter, rightly or wrongly.
The social media world we all live in, gives us the ability also to make digital PR more fun and some agencies do this particularly well. Naming no names, but there are a few agencies that spring to mind that put a great deal of effort into shouting about their digital PR results and coverage gained – with no real focus or detail on the REAL value that campaign may or may not have added to their client's business long term or in terms of what matters to them  i.e. £££, enquiries and leads.
Again, Evergreen do exactly this so I'm not calling out others for anything we don't do, in fact here is one such post from me doing exactly this, highlighting the great digital PR work we had done and the coverage gained.
There is nothing wrong with this and we'll continue to do it for sure, but we are always entirely mindful of the real impact all this digital PR noise is having on a client's ROI and I'm not so sure businesses think of this when they see the bright lights of all the sexy-noise being created in the media.

Over the past 9 months we have been keeping tabs on dozens of high authority publications and tracking the performance of hundreds of digital PR campaigns run by UK based agencies.
For full transparency, we started doing this as we wanted to see what our competition was doing, we wanted to know what was working, and crucially what wasn't, so as an agency we were as educated as we could be during the time when we were building and growing our own digital PR offering – as the saying goes, keep your friends close and your competition closer!
As we started recording, tracking and monitoring the performance of dozens of campaigns, we started to see some trends emerging and a real mismatch between apparent reported success and real tangible business success.
Often campaigns that were marketed (by their respective agencies) as being the most successful had in fact sent very little referral traffic and minimal increases in visibility. At best some were seeing a spike in brand awareness before a drop back to 'normal'.
The data from one of our own "viral" digital PR campaigns is a great example of this
One of our digital PR campaigns went viral over the summer, achieving over 200 links (around 150 syndicated, 50 unique). A great success on the surface of it, but that only tells half of the story.
This is said client's traffic graph showing the huge increase in clicks over a few days. Now don't get me wrong, this client made a lot of additional sales during those days, but the more important bit is to look at the drop right back to where it was straight after in the SEO metrics, it's actually slightly down on the time before the digital PR campaign.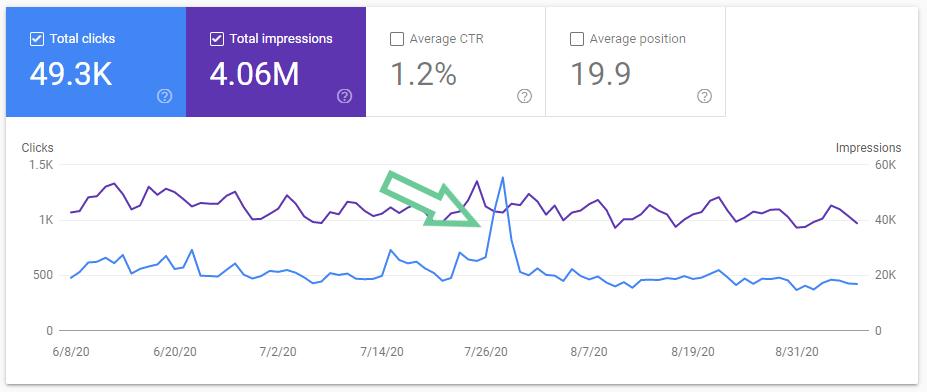 The purple line, which is their visibility is flat lining throughout the two months, meaning all that digital PR noise had very little impact on the client's overall visibility or ROI for this specific area of their business. This is what you don't see or hear about when agencies are shouting from the rooftops about their latest successful digital PR campaign.
Fortunately for this client, our digital PR campaign was one of several promotional angles being taken and while this was great for brand awareness, we also had a resource/link page campaign live.
We secured this client more than a dozen additional business partners via introductions over the summer, all of whom have linked (super relevant, niche links) and also did some broken link building – all of these links were going to the specific pages we want to rank and increase visibility for as these are 'sales pages'.
The client's visibility overall is improving nicely, and their SEO campaign is flying, in fact their sales are actually tracking at +173% year on year.
Back to our analysis of 168 digital PR campaigns
The campaigns we have monitored and tracked are across a wide variety of industries and there is no exact science to the trends we've monitored or data analysed. We have used a variety of tools and decided on one single control on which we base our tracking; data pulled from Ahrefs and SEMRush.
Common industries where you'll find a lot of digital PR activity:
Business and Finance
Computing and Telecoms
Entertainment and Arts
Environment and Nature
Media and Marketing
Food and Drink
Public Sector and Legal
Automotive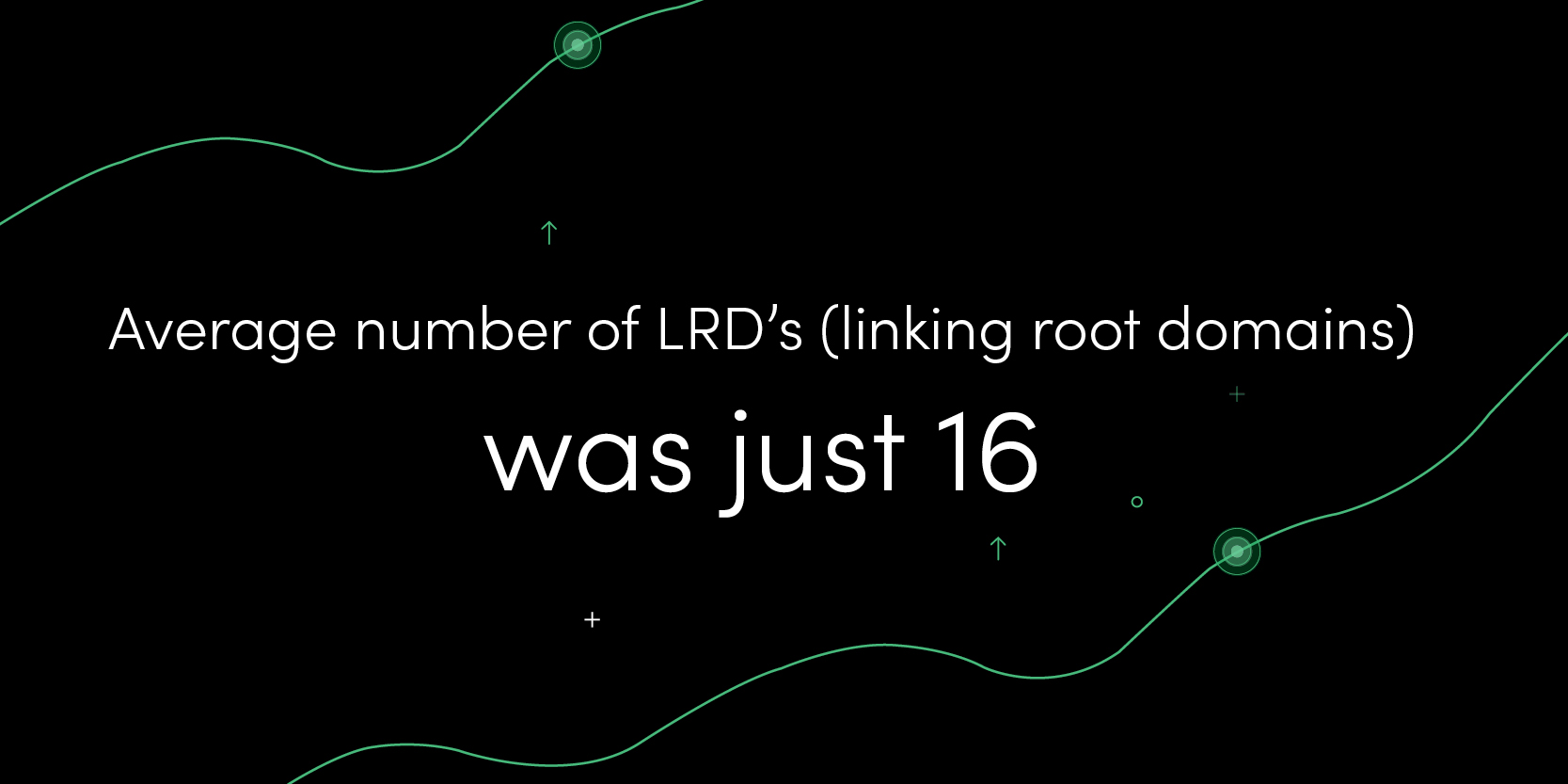 Of the 168 digital PR campaigns we ran through our tracking tools (and remember all of these were championed by their respective agencies as being roaring successes), the average number of LRD's (linking root domains) was just 16. If we counted links, the number would be much higher of course, but as far as Google (and other search engines) are concerned, they count LRD's first and foremost, so this is what we looked at.
When we looked at the follow vs nofollow split – remembering that last year Google said nofollow was evolving so as to improve their understanding of link attribution – we saw approximately a 2/3 to 1/3 split on the links being 'follow links'.
The total number of links we tracked and analysed was:
8,558 follow links
3,964 nofollow links
I am sure you would agree with me that increasing organic traffic and visibility would be top of the list for outcomes you would want and expect from a successful digital PR campaign? I know our clients do and rightly so.
Across the 168 campaigns we tracked, Ahrefs' filtering and tracking showed minimal organic search traffic is flowing through these digital PR campaigns. The average number of visits according to the Ahrefs data (which admittedly is purely an indicator and not an exact science) was just 40 visits per month on average.
To give some context to this, the same traffic indicator for the homepage of these same 168 websites was 30,000 average.
Basically, from this you could take it to mean that most digital PR campaigns directly, are generating very little increased organic searches into those campaigns (to caveat once more, fully appreciate the purpose of most digital PR campaigns is to gain links and brand awareness, not to directly send traffic – the problem of course is that most businesses and marketers don't realise this and think that a successful digital PR will mean an influx of more traffic – often it doesn't).
That was probably the biggest takeaway for me… that much like with our own experiences, so much of the noise around digital PR is having very little impact on SEO directly with just the campaign itself; proving that PRs need to look at reactive, niche link-building and relevant publications rather than focusing on "going viral".
Rarely were these 'successful' campaigns increasing visibility for anything other than branded terms. Similarly, rarely were they generating more than a handful of unique referring domains.

Other interesting takeaways from our digital PR analysis
A massive 146 of the 168 successful digital PR campaigns we tracked and analysed could be perceived as positive stories, and just 22 could be perceived as negative stories. So you could ascertain from this that a positive campaign is far more likely to be picked up and gain traction that a negative one.

We also categorised each of the campaigns into a type and this is what we recorded, interesting how many are still using a combination of great content plus a visual aid in the form of an infographic. It goes to prove you don't always have to overcomplicate a campaign to get digital PR success (and links).
Animated interactive = 5
Blog articles/guides = 34
Infographic + content = 77
Interactive app = 33
Interactive map = 6
Other = 13
The cold hard truth of digital PR
I love digital PR. I'm heavily invested in it and have built a fantastic team who love what they do and they are VERY good at it. However digital PR alone is nowhere near enough.
While the results can be exciting to see when you get a story or client that gets picked up by the national press or a campaign that goes viral – it's always worth remembering the limitations that digital PR has.
Digital PR will rarely result in links to a product or service page (of course they are exceptions)
Digital PR links will often be branded
Digital PR campaigns will often result in mentions but no links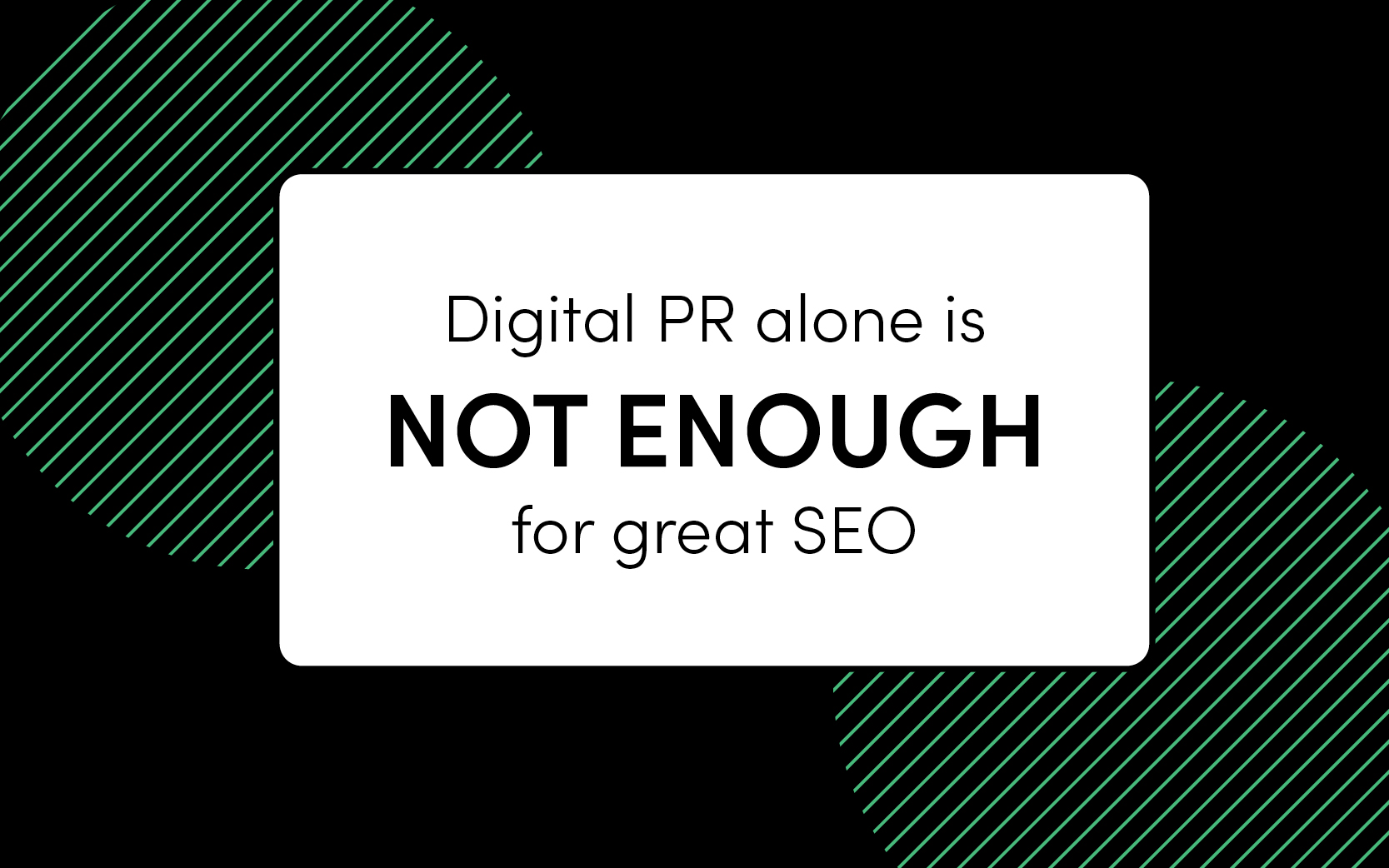 The sweet spot for digital PR is to combine with the more traditional link building and outreach tactics where you're dealing with website owners, bloggers and webmasters.
Never underestimate the power to be gained from activities like;
Resource and link page building
Citation and reputation management
Broken link building
Competitor profiling and analysis
High quality, relevant blogging
Mining for new partner, supplier and customer websites
Sponsoring and partnership with local businesses, organisations and charities
So, to end this white-paper I will say to those of you in digital PR, enjoy this time as the SEO industry evolves fast and what is 'sexy' today is the 'norm' tomorrow.
For those agencies either doing digital PR or thinking of doubling down, do it, but not at the cost of other promotional methods. Link building and outreach are NOT dirty words.
And for marketing managers and business owners, go for that vanity coverage, get those features but don't count on them alone to drive the ROI for your organisations as it'll be a very rare case when it does.
Like with most things in marketing, a mix of strategies and approaches is best. Digital PR is a fantastic next step forward for our industry and it has a very important role to play, but not at the cost of other SEO outreach practices and techniques.
Great digital PR success is like buying a new top of the range car – your dream car. You want to show it off and shout about it.
However if you don't put any fuel in it, insure it, tax it and have a destination in mind where you want to go, it begs the question; is it worth having that new car on the drive, if you can't get the most from it?!
If you want to see how we structure our SEO campaigns that do include digital PR then check out our SEO services to discover more.
In the meantime we'll continue to invest in digital PR as part of our promotional activities alongside the more traditional outreach, link building and prospecting that is oh so important and will be for a long time to come.
Thanks for reading 😊