What I learned from my first BIG failure
I started Evergreen in 2013 as a freelancer. I left the agency world as I wanted to work by my own rules and after 2 years I had built a small portfolio of clients and decided to take the leap and start to create an agency, but I got it all completely wrong.
Yesterday I shared a LinkedIn post where I highlighted some of the key differences from my first attempt to grow a 'proper agency' that failed miserably compared to the second attempt, which can be classed as a success in many respects as we're now a 7-figure agency employing more than a dozen people and growing fast.
Let's go back to 2015
Cast your mind back to 2015, the Conservatives had just won a majority in the general election. Jeremy Clarkson has just punched his Top Gear producer and Facebook passed one billion users.
At the same time I was signing a contract for my first little office in Bicester and was convinced this was the start of my journey to building a proper agency.
I spent around £10,000 on computers, desks and office furniture from my personal savings as I was reluctant to take on any loans or investment (I still am, we don't owe anyone a dime).
I put an 'evergreen' picture on the wall depicting trees and advertised my first jobs – 2 x junior SEO roles. I had arrived.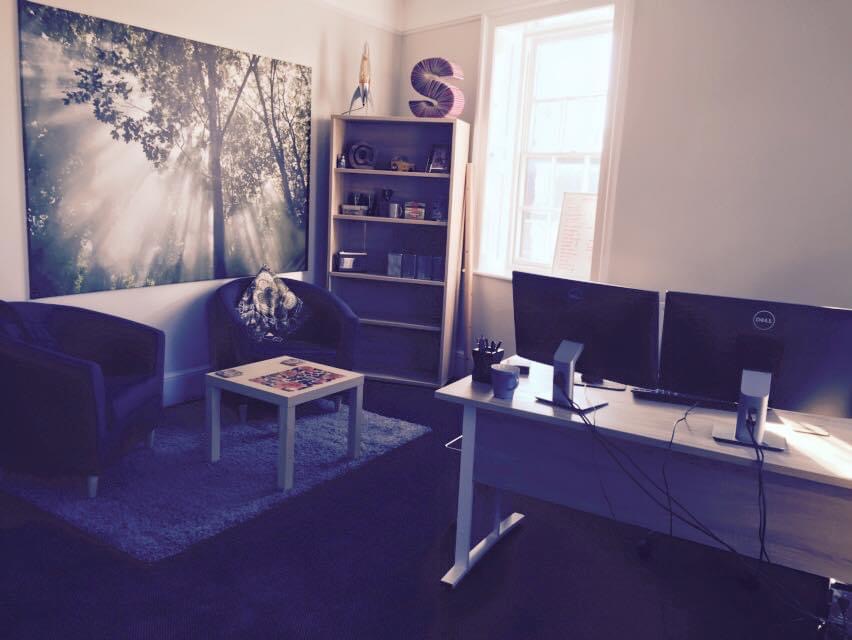 Freelancer to agency owner
Don't underestimate the massive difference there is between the two roles. I definitely did. For years I'd been doing SEO myself. From auditing websites and keyword research to writing content and building links and reporting to clients. I was doing it all and I loved it.
I genuinely hadn't even contemplated the thought that trying to build an agency would potentially change what I would be doing on a daily basis. I just assumed I could find another couple people like me and we'd all come together and do the work between us – almost like mates. Wrong.
Key learning: Really think about what you want to be doing on a daily basis? Building an agency and having a 'proper business' is so far removed from being a freelancer it's unrecognizable and it definitely isn't for most freelancers in my experience. 
Making your first hire
I got this so wrong. I wanted to find an SEO Manager, someone that knew their stuff and could come join me that I could split the work with. I put the job out on the job boards and after 6-8 weeks got impatient not finding anyone, so changed tack – big mistake.
In my wisdom at the time I thought "hang on, for the price of one SEO Manager, I could get two juniors and train them up". Oh how naive that decision was.
Fast forward a couple months and I had two juniors with no experience in my office working beside me. One of them was absolutely fantastic, the other not so much and we parted ways within 3-4 months.
The issue I had and was blindsided by was that now I had all the work to do, plus train someone from the ground up, plus go and win new business to pay for their salary.
Looking back it was such a school-boy error, but it simply hadn't occurred to me until it was too late. Within a couple months of hiring I was hit by the reality of the financial stress I had before me (I didn't have much by way of reserve in the company account and I'd used my personal savings to buy all of the equipment).
Key learning: Really think about who your first hire should be. Map out precisely what they will do and what you will do. Be clear on the experience they need to have and what they'll be doing each day and have at least three months reserves in the bank to pay their salary when they join, so you have the time to get them in and up to speed without having to worry.
What the hell is the plan?
It sounds ridiculous now, but I didn't  have a plan that was defined, I just "wanted a proper agency". I hadn't outlined exactly what I meant by that and it seems so obvious to me now that my first attempt was doomed to fail because I didn't know where I was going.
I guess it's like setting off on a journey with no destination in mind. Madness.
When I got the keys for this first office I thought I'd find another 'Aaron' to come sit next to me and together we'd change the world one small business at a time. Before long I changed and recruited two juniors, quickly letting one go and found myself with a fantastic young lady, but not enough hours to train her, do the work and win the new business to pay for us both.
If I had stopped, questioned what I needed to do and wrote down a clear plan I would not have ended up in this impossible situation and things wouldn't have unraveled as quickly as they did.
Key learning: Define your plan and write it down, then explain it to someone external to your business to see if it makes sense to them. I wish I had written down a 1, 2, and 3 year plan from the outset. It would have no doubt changed, but it would have given me some guidance and made me see that knee-jerk changes would steer me away from my plan and that wouldn't probably not end well.
Once you have say a 12-month plan, break it down into quarters, so 90-day sprints into key objectives for each. This makes a 12-month plan so much more actionable. This is what I did in round 2 in 2018 and still do to this day. Simple but hugely effective.
A 'proper business' needs financial stability
This was a bloody harsh lesson I learned. When you're a freelancer you have minimal overheads. You work in your bedroom or kitchen table and your only expenses are your tools, maybe a little for amenities, the odd Starbucks and any subcontractors you work with. The rest is your own and so it's very easy to manage and rest easy knowing you have money in the bank.
Compare this to having staff, NI contributions, pensions, an office and bills to pay and suddenly you need to get a far deeper understanding of your finances fast otherwise you're f*cked.
I underestimated this the first time around. I used personal savings to buy the equipment for our first office and had maybe £5,000 – £10,000 in the company account at the time by way of a buffer for the business. That sounds a lot, and it's more than enough as a freelancer, but with two staff, plus an office and bills to pay for as well as myself, that was barely a couple months and that reality hit hard very quickly.
You could argue that the easy solution to this would have been to go and get a business loan and of course I could have, but I didn't want to do this. I'm not sure why but borrowing money has never sat well with me, again probably my naivety coming through, but I didn't think I would need it and doubted my chances of securing financial backing anyway. I had no kind of business plan and only freelance accounts that showed what I earned, I took to live on, so it didn't exactly scream a thriving business or exciting proposition at the time.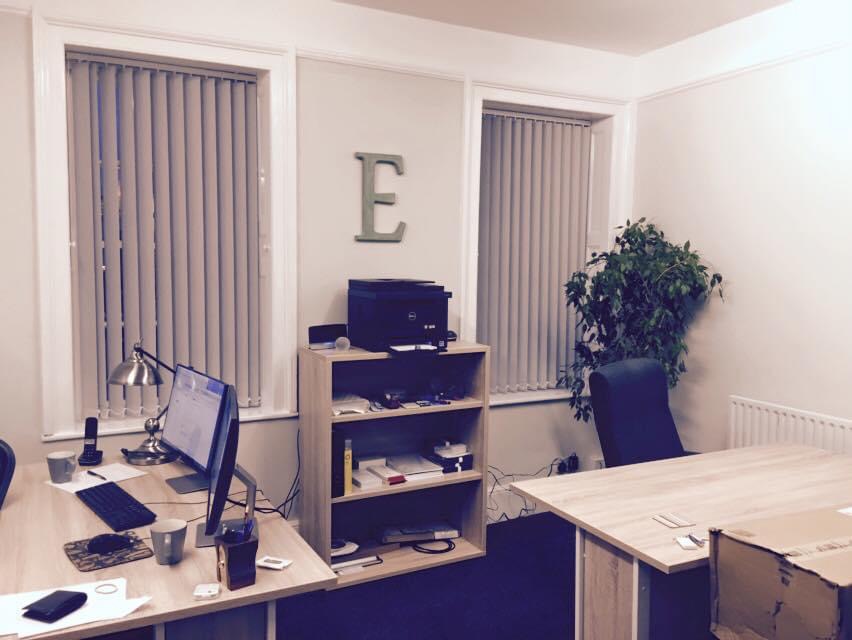 Key learning: Get your finances in order, plan and forecast what you're going to need in order to recruit and build your business. There is nothing wrong with borrowing money or securing investment – the vast majority of businesses do this, I'm just an anomaly as I never wanted to and still haven't to this day.
Understanding your finances gives you a sense of calm that is hard to describe. When you know your numbers you know when it's genuine pressure and you need to turn on new business vs the sleepless nights sweating for no reason because you don't know and fear the worst.
When you compare how I was in 2015 with minimal financial understanding about planning for a 'proper business' to what I did in 2021, by expanding our office, leasing a second unit and spending over £100,000 on office upgrades and complete refurbishments. All planned, forecast and woven into our business plan almost to the penny. 
It's an incredible difference in just a few years and to get there I haven't taken any qualifications, I haven't been taught any of this financial stuff by anyone, I have just read books and given myself the time to understand, think and forecast everything and you can do the same. You don't have to be a mathematician, just use common sense and question anything that doesn't make sense, until it does.
Running a business can be a lonely place
I used to hear people say this and I never really understood what they meant when I was a freelancer. As a freelancer I had my handful of clients and I did my thing. I'd win a new client without trying as I'd get recommended by someone through a friend or mutual contact and it just felt easy.
My 'network' was primarily my peers on social media and other freelancers across various disciplines and that worked for me.
However when I attempted to make the move from freelancer to agency owner, I quickly realised I needed a very different 'network' and I didn't have that in place. Bugger.
What I came to realise that I was missing was people who could refer work to me, people who had connections within the community, people who knew other people I would need to know such as accountants, lawyers and other professionals that you suddenly find yourself thinking about.
I was straight on Google looking for networking groups that I could join and of the many I found only one really stuck out to me. Open Doorz, on their website they described themselves as an Oxfordshire based business networking community. That's what I need.
Open Doorz was/is for established businesses, but I thought I'd chance my luck so got in touch and ended up going out for a coffee with Sonia (Sonia and Cathy are the owners of Open Doorz and two of the loveliest ladies you'll meet).
Long story short they let me join and I'm delighted to say all these years later I'm still a member. I've even received their 'Open Doorz King' crown twice for being the outstanding member of the year among 100+ established businesses. How mad is that?
In 2015 I was the young whipper-snapper who barely snuck in. By 2022 I've been the highest performing and contributing member for two years running (2019 and 2020 – I lost my crown at the end of 2021).
Over the years I've built hundreds of amazing business connections and it's these people who have your back and support, encouraging you that makes all the difference on those days where it's all going wrong.
Key learning: If you ever hope to move from a freelancer to a business owner you need a fantastic network around you, so start making connections and getting to know people now. As the old saying goes 'its all about who you know'. I can 100% confirm this is true, the connections I've made over the past few years have been instrumental in the growth of Evergreen.
Confidence is key
When I was a freelancer I thought I was confident and that is true to a point. You have to have a degree of confidence to leave the comfort and security of PAYE employment and go out on your own. When I think back to 2013 that felt like a huge leap of faith at the time and I had wrongly assumed that confidence I had would carry me through on those first steps to building a proper agency. I was wrong.
You need a very different confidence if you're going to successfully make the transition from freelancer to agency/business owner and I underestimated that no doubt about it.
It's hard to describe where and how you can gain confidence and it certainly isn't from one single thing. I believe you gain confidence from everything I have outlined in this post along with many more elements. It's a combination of knowing your numbers, having a plan, having a support network, knowing how you're going to win new business and knowing the people you have around you have your back.
Key learning: There will always be days that test your resolve, in 2015 I wasn't ready for that – as soon as the going got tough, I wanted to retreat back to my comfort zone, which was my bedroom and life as a freelancer.
Since starting round 2 in 2018 and building what is now a very successful agency I have had many and continue to routinely have days that test my confidence and resolve. It's part of the journey and you have to be ready and willing to accept it. It's bloody hard work building a business, you have to do so many things concurrently, you're plate-spinning 24/7 and taking what feels like the weight of the world on your shoulders and yet you have to keep a smile on your face and be the one leading by example at all times. Even when it's the last thing you feel like doing.
You need a plan for your business, don't worry about a 'business plan'
In every business book I've ever read it's said about the importance of writing a business plan, well I don't mind admitting I've never written a business plan, not in round one or round two. Truthfully I wouldn't have a bloody clue where to start as I never went to Uni, I don't have a Masters Degree in business management.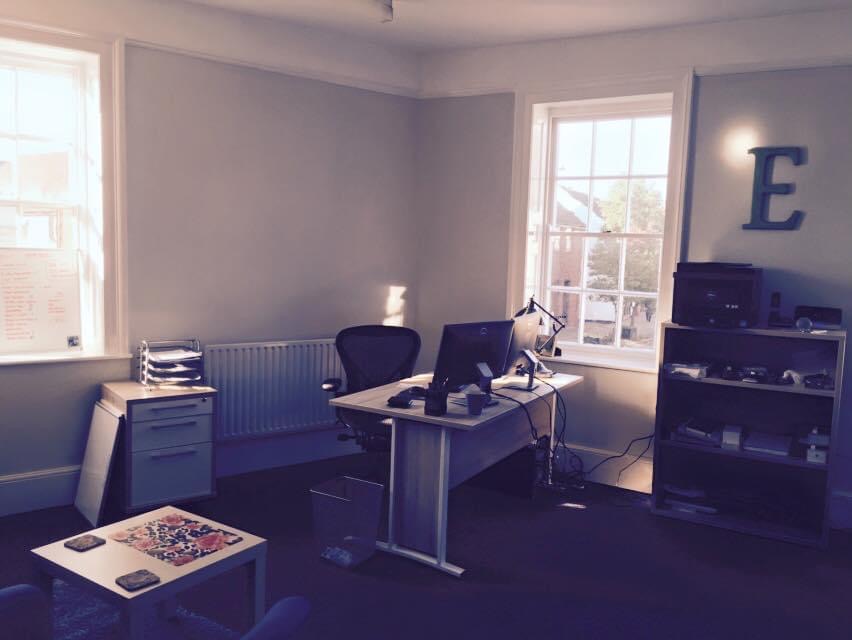 The thought of writing a full business plan intimidated me beyond belief and I know this is true for lots of freelancers. In my experience you don't need a business plan, you just need a plan for your business and I'll explain what I mean by this.
Open up a Word document and write down what you want your business to be.
How many people do you employ?
What services are you offering?
How many clients do you have?
How much are you turning over?
How much profit are you making?
How are you going to pay for everything?
How are you going to win new business?
*these are just a few examples of the things you'll need to think about, most things will depend on your business type
Visualise your business 12 months from now, what does it look like?
Just write it all down and then come back to it after a week and see if you still agree with everything you put in. If yes, break down that 12-month plan into quarterly chunks and there is a plan for your business that is probably as good as you need it in the first instance.
Key learning: I wish I had stopped and taken a minute to think about having a clear plan for my business. This would ensure I thought about finances, recruitment and marketing, business development in 2015 and avoid so many basic mistakes. Having said that, it was great learning and I'm grateful for the entire experience in 2015/16.
People cannot buy from you, if they do not know you
If you know me or have seen my selfies on LinkedIn you'll have a greater appreciation of why I do what I do once you read this section. In 2015 I'd been in the SEO and digital marketing space for 8+ years, 3 of those as a freelancer.
The trouble was that almost no one knew me. I worked from home for my handful of clients, earned a few thousand pounds a month and had a great time doing it. I had no reason to share what I was doing (nothing like what I do now) and so relatively few people knew me. Aaron who?
In 2015-16 when I decided to bring my first recruits onboard and found myself needing to win new business, I realised no one knows me. Suddenly it hit me – how am I going to win new business? Yes I can advertise but as we all know business is so much about who you know and the issue I had is I didn't know anyone, well anyone that mattered.
People can't buy from someone they don't know about and so started my project of building my profile (which is still definitely a work in progress). I began sharing my story on LinkedIn and Facebook and no one cared – there was a time in 2016-17 where only my wife and mum would be liking my posts (absolute truth).
As nice as it is having your mum say "so proud of you son" on every post, it never translated into sales funnily enough.
And so started my fascination and passion for sharing my journey on social media. Over the years we've garnered a little more attention that's for sure and now the likes of LinkedIn generates us £100,000s of new business every year because what I share and how honest I am really resonates with people I guess – well this is what I'm frequently told by people.
I guess this very post is all part of me sharing that same story. There isn't a week that goes by where I don't share a selfie or two on LinkedIn and update you on what we're up to and how things are going. I genuinely love doing it as I'm an open-book and love to share my learnings, mistakes and adventures.
Key learning: However you do it, get your name out there and make as much noise as you can, so people sit up and take notice of you. Some people won't like you, others will love you and that is fine, it's better for people to know of you than never heard of you.
From freelancer to 'proper agency' owner
It took seven years, one failed attempt, £10,000s wasted, a few tears and countless sleepless nights, but I guess you could say I've now fully made the transition from freelancer to agency owner and I have to say I've loved the journey.
I'm 37 (38 in a couple weeks) and now entering the next phase of my life where I plan to take Evergreen to the next level and turn us into a 20+ person agency that will hopefully surpass the £2 million mark in the next couple of years.
Do I have a 'business plan' for how we'll make that happen? Of course I don't, but I have a plan for my business, primarily scribbling on bits of paper and on Sticky Notes on my PC (I don't know what I'd do without that on my screen as a constant prompt of things I need to do).
What I do have is:
Years of experience, past mistakes and learning to guide me on a daily basis
A great team around me of people that are as passionate about Evergreen as I am
A very clear plan in my mind of what we need to do and when, how we'll do every step
A solid financial base on which to build and support the growth of our agency
A great support network around me of experts and professionals who are either professionally or emotionally invested in Evergreen
Absolute confidence that what we're building is a great business that is genuinely changing the lives of the SME and Retail brands we partner with and support with their SEO, PPC and Digital PR requirements
A fantastic reputation (5* rated in fact) for providing digital marketing services across the UK, I have thousands of followers on social media and an entire agency behind me, championing me and this incredible agency we're building together.
In 2021 I got the opportunity to share the story of going from Freelancer to MD at BrightonSEO – an incredible stage for any digital marketer. It was a real honour and I've included a link to my slideshare if you want to see how I wrapped up that journey into 5 key learning.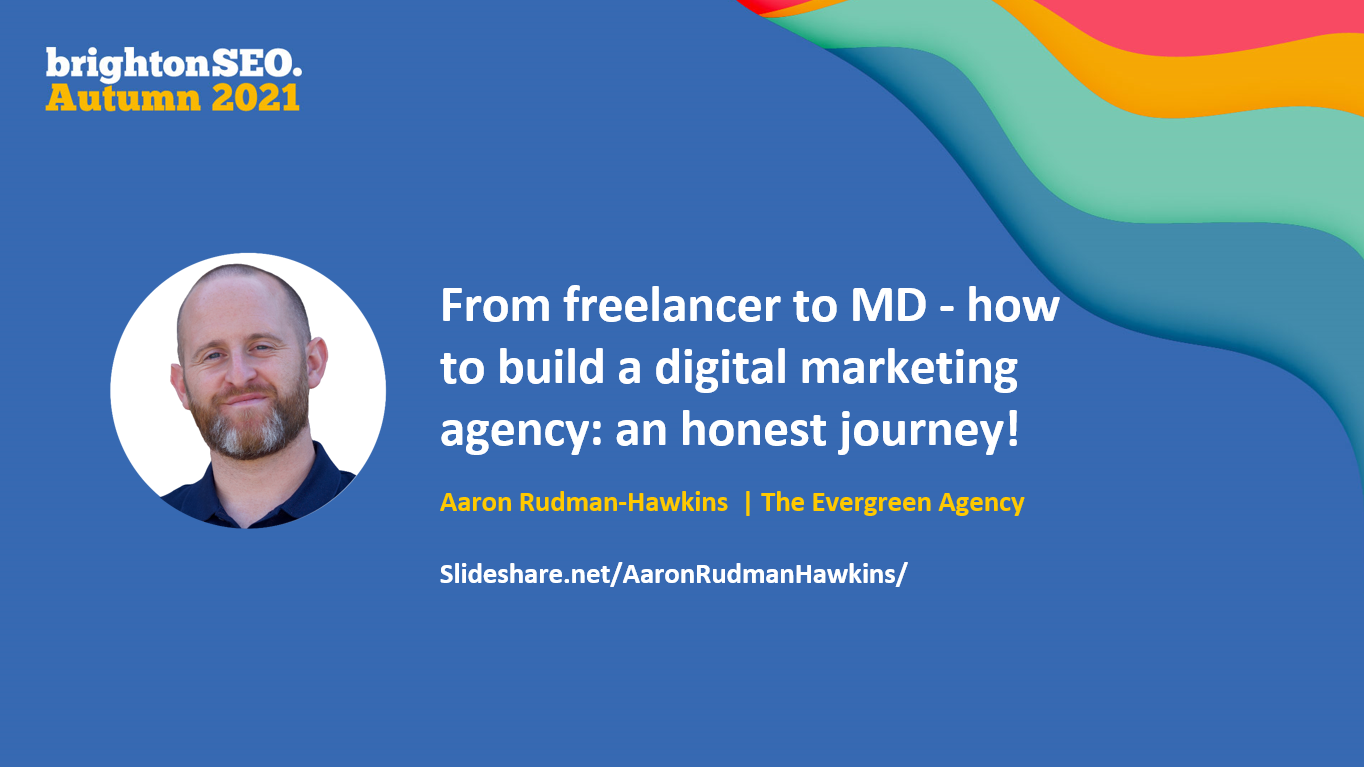 You can see my presentation deck here.
Looking at 2022 and beyond
We have big plans for this upcoming year and I detailed much of it in my first post for The Evergreen Way a couple of weeks ago now.
In a nutshell, we'll continue on this journey together. I'll keep the plan for the business in the front of my mind at all times and will ride the lows and embrace the highs, all with a smile on my face and with a selfie never too far away.
So there you have it. That is a bit of my background, my failed attempt at building a 'proper agency' and some of the lessons learned.
I expect there will be all sorts of people reading this, from those years ahead of me running huge businesses to those just getting started in their careers or first-time freelancers. I'm sure everyone will take different things away from this post and all I'd say is never allow yourself to dwell on your failures for very long.
We all fail, most of us far more often than we care to admit (I had another absolute corker of a failed business attempt, but I'll share that another time) and that is fine, it's about how you react, how you bounce back by learning from it and not making the same mistakes twice.
I wish you every success in your journey, whatever stage you're at and whatever you do – remember to keep smiling, work hard and be nice to people.
Thanks for reading.
Aaron x
P.s Sign up to The Evergreen Way if you haven't already to receive insights like this on a weekly basis.