What I have learnt from local SEO so far
Over the last month or so, I've been knee-deep in local SEO and I thought it would be good to put some of the stuff I've been learning into a blog post to share with you all. In particular, I wanted to touch on the benefits SEO can bring to the hospitality industry.
But a little background on me… hello, I'm Ray 👋 I'm one of the SEO executives here at The Evergreen Agency and I love all things tech and SEO strategy. If you want to learn more about me you can do so here.
Also, feel free to connect with me on Linkedin.
What does local SEO mean?
Local SEO is the process of developing an SEO strategy to increase visibility for a business within an immediate local area.
This includes both local map listings and organic search listings. One of the key takeaways above everything else is the importance of your business' appearance in Google Maps, as the majority of users will head straight to the maps listings when looking for a local business. However, in some situations, local organic listings can be equally as important, and I'll explain why below.
For anyone who is a little lost at what this all means, we've put a list of definitions below:
Google Maps: The results that are generated via Google Maps and are often shown at the top of the results page, as well as on their own tab on Google. These results show a business' Google Business Profile (formerly known as Google Business Profile) and show the location of these businesses on a map based on your location.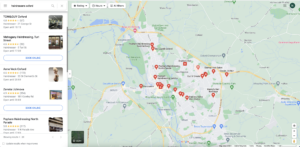 Map Pack: The top three Google Maps listings that appear for a local query, also referred to as the 'snap pack'.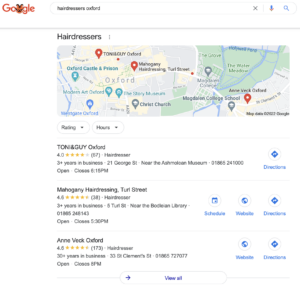 Organic results: The list of websites Google shows you when you search for a query. These often sit below ads, maps and any other SERPs listing.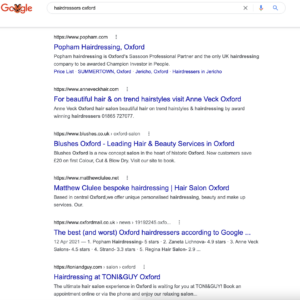 There are several ways to achieve the top spot both organically and in Google Maps for local search terms, and this post will show you how.
The Steps
I want to share everything I have learnt, including the most straightforward way to achieve the number one spot. However, I must warn you that a local SEO strategy varies depending on the business, industry and algorithm updates.
For the hospitality industry, the local SEO element can be one of the most competitive spaces. With booking aggravators and websites to Google's built-in booking software, competing locally can be a struggle.
These are the steps we would always start with to create a solid foundation for your brand's local visibility:
Optimise your Google Business Profile (more on this later)
Update and monitor your directory listings (also referred to as citations)
Boost your reputation by proactively getting good reviews from customers
Optimise your landing pages
Step one: Optimise your Google Business Profile
So, let's start with your Google Business Profile account.
This is definitely the most important part of your local SEO. Why? Because the first thing to pop up in search results when users search for a local term like "hairdressers near me" is the map results as shown above. To rank in Google Maps you need a Google Business Profile account.
It's pretty straightforward to set up, just register on Google and verify your address via a postcard sent to that address and then you're good to go. But wait, you also need to make sure your profile is optimised to stand out from the crowd – Here are some top tips to make sure your Google Business Profile is well-optimised and up to par with Google's standard:
Add your brand logo.
Add a description – let people know who you are and what you do! Be sure to include keywords that reflect what you do and where you do it, as this just reaffirms to Google and potential customers what you're about.
Add some pictures of your team and your location – Photos are a great way to show potential customers where you are, your facilities and your products. They are an excellent trust signal and can be the difference between someone picking your business over a competitor.
Add your products or services – This is a step that so many businesses miss and it's super simple to set up. If you're a service-based business, you should add your key services with a short description of what they are, for an extra boost, include prices and a link to book for ease. If you sell products, add a handful of your top products with links to buy; this will give you a competitive edge over other businesses.
Post an update or offer – Your Google Business Profile is free advertising, so make the most of it and tell users what you have going on in the business. Just like on social media, post something to let your potential customers know what's happening this week/month at your business and if you have any offers or sales on, shout about them!
Step two: Fix your citations
If you're new to local SEO, you're probably asking what on earth are citations?
Simply put, they are the references to your business across the web that tells users (and search engines) who you are and where you are, using what's called your NAP details (Name, Address and Phone number) as confirmation.
Just like the Yellow Pages or the Phone Book, there are online directories that house this information so that users can find you with ease. The listings in these online directories are citations and they hold more value than you'd think!
Think of your NAP listings like flags in the sand, they give search engines the thumbs up that you are actually who you say you are, and your location is where it says it is. Without these, it makes the search engine's job harder which will only work against you.
But how do you get citations right?
Answer: Make every directory listing the same, consistency is key!
Your NAP details must be consistent across every citation on the web. Otherwise, search engines will see each listing as slightly different and therefore as separate businesses which could hinder your attempts to rank well locally.
So, get online and start reviewing your citations!
If you are in the hospitality industry, this is fantastic for building consumer trust by presenting your brand across multiple credible directories. This also gives customers more places to leave you reviews, which further increases trust in your brand.
Top Tip: Save your logins in a spreadsheet because if you ever change any details (move addresses etc.) you will need to log in and change these across each directory. There are tools you can use to help you manage citations such as BrightLocal or Semrush's listing management tool which can help with some of the heavy lifting but if they're out of your budget (or you just like to do things old school), then a spreadsheet is your best bet.
Step three: Boost your reputation
Reputation is incredibly important for any business, especially a business in an industry as competitive as hospitality. Usually, brand reputation is built through word of mouth for most local businesses, but as we all know, reviews can be the decider for many people so it's important to start building your online reputation.
Facebook, Yelp, TripAdvisor and any industry-specific sites that showcase reviews, are all great places to start because search engines still acknowledge these as signals. Equally, always remember that your reputation should be top of mind for your customer perception, not just rankings, so it's never a bad idea to get reviews on other platforms as your customers will still see them.

With that being said, as we're talking specifically about Google Maps, you do need to make sure that you're getting new reviews consistently on your Google Business Profile, as these directly affect your rankings in Google Maps.
To get these, simply head to your Google Business Profile's homepage and share the link to your review form under 'get more reviews':

This will provide you with a code that you can send out to customers, taking them directly to your profile's review page. This way they can share their experiences for other potential customers to see.
Top tip: Keywords in reviews help confirm to Google that you do what you say you do, so if you can, try and encourage your customers to say what treatment/service/product they used in their review.
Reviews are important for any business but in hospitality, these can be essential, so if your customers love what you do, ask them to share their experiences!
Step four: Optimise your landing pages
The page your Google Business Profile links to is important. Oftentimes this will be your homepage, but for some local businesses who have various locations, the link might be to a location page specific to that area. It's important that these pages are well-optimised around the location and give customers what they need to ensure they stay on the site.
Some top tips:
Link to the correct page from your Google Business Profile – Always make sure the correct, most relevant page is linked to your Google Business Profile and make sure it is the secure version of the site (https). Don't link to service pages or product pages from your Google Business Profile to try and sell, as users will just leave.
Make your landing page unique – The temptation when a business has multiple locations and location pages is to copy, paste and repeat the same content across these landing pages and just change the location. Don't do this. This is classed as duplicate content and can hinder your website's authority and rankings. It's also just lazy. Make each landing page specific to that location, use images, include relevant case studies, they're small things that make a big difference.
Include local keywords – Including local keywords on your landing pages is vital. The page needs to say what you do and where you do it, and the only way to communicate this effectively is through relevant, localised keywords.
To learn more about SEO and all of our tips and tricks, sign up for The Evergreen Way newsletter.