Coming up with digital PR ideas that will convert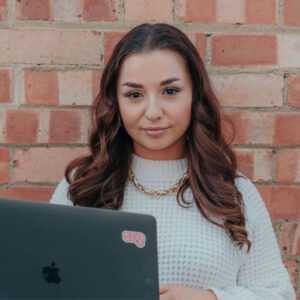 Amber Buonsenso
Amber Buonsenso is an expert in all things promotion and digital PR, building solid media relationships and securing links for many ecommerce brands in some of the top media publications globally.
Read Amber 's bio here
Digital PR is one of the most creative roles in the SEO portfolio and is all about using creativity to generate backlinks. For this reason, it is crucial for digital PRs to come up with ideas that will catch journalists' attention and convert into backlinks.
Developing ideas does not always happen immediately and even the most creative individuals need time and resources to produce phenomenal ideas.
If you're an ecommerce business, looking for tips on how to come up with ideas that will land golden pieces of coverage in the media, here are some methods to spark magical ideas that will convert into results.

Start by analysing your business and the industry to spark ideas with a news hook. Understanding why your products appeal to your customers can help identify points of interest that journalists may like to know about.
Extract keywords relating to your brand or industry to make any connections with the wider audience that could be worked into a digital PR idea.
Answer the Public is a helpful tool for ideation that allows you to enter a word which it matches to related subtopics and search queries.

Are there any trends on the rise that your brand could utilise to generate links? This may be search, shopping or social media trends
Providing expert insights relating to a trend catches journalists' attention and helps land features in their articles, due to the additional, reliable information you're providing on a popular topic they're covering.
Ecommerce brands can identify shopping trends through their sales data, pinpointing any surges in item sales and tracking the popularity of products on the website.
A few tools to find and track emerging trends include:
Pinterest predicts – using their internal data, Pinterest produces a yearly prediction report, which lists the upcoming trends that will take off this year. 80% of all predictions come true according to Pinterest.
Google Trends – Google Trends displays the search data for queries people are searching for, allowing you to identify any trending searches.

Having a bank of different data sources is a great way to spark ideas built around this as part of the methodology. Looking at the different ways to collect data will make you consider how these could work for your business.
New data, organised creatively to create a news hook is the perfect recipe for a fantastic digital PR campaign. Some great data sources include:
Yougov – YouGov is a global data company that publishes free surveys it has conducted.
Statista – Statista is a website which shares survey results and industry studies.
Data.gov.uk – Data.gov is a government-run website which allows you to view open data sets from the UK.
Google Maps – Google Maps contain information on local businesses, driving directions and travel information from around the world.
Spotify – One of the most popular music streaming platforms, Spotify can be used to collect data on the most listened-to music and playlists.
Tiktok – A popular video social media platform that has grown in popularity over recent years and can be used for its hashtag data and video trends.
Instagram – One of the most popular photo-sharing platforms, Instagram can also be used for its hashtag data.

Researching the media helps identify topics that have previously been covered by journalists and any recurring themes you can utilise when the time is right. Researching the media allows you to establish when journalists like to cover topics, this might be seasonal, monthly or annually.
It also helps understand what information journalists rely on brands and external sources for, such as expert comments, surveys and products.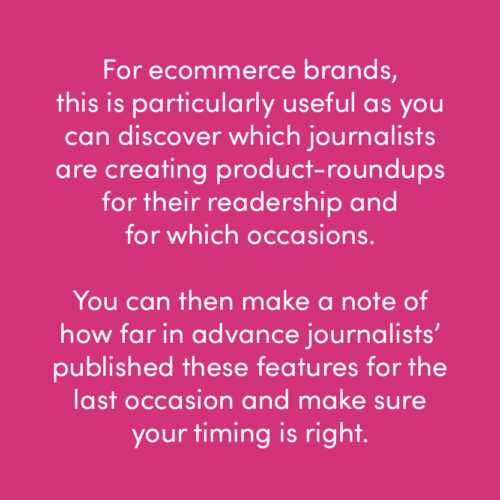 There are many platforms showcasing some of the best digital PR ideas in the industry such as The Grapevine and Digital PR Examples. Looking through successful digital PR campaigns that have already been produced is a great way to spark your own ideas. Using this tactic, you could find a methodology or campaign style that may also work for your business.
Once you've identified great digital PR ideas for your business, it is important to consider whether they have the ability to land links for your business. Some factors to consider to ensure your ideas have the best chances of converting:

Make sure your ideas appeal to the journalist's readership. If your idea isn't relevant to their audience, why would they want to cover it?
Targeting regional publications with information on their county or city, or lifestyle magazines with stats relating to their target demographic, are great examples of ideas that resonate with journalists and the publications that they write for.

There are certain ideas and campaign formats that have been produced many times across the industry, that journalists are starting to become less interested in them.
A recent report conducted by The Grapevine analyses digital PR campaign styles to find out which campaign types are the most popular, which ones are on the decline and which ones perform the best.
Before executing a campaign idea, conduct a simple Google news search to check that the same idea hasn't been covered too many times or recently (within the last 6 months) as this could cause your idea to not take off as journalists will have already covered it.

It is important that your ideas provide journalists with new and exclusive information that they wouldn't be able to source themselves. Journalists want to share interesting and valuable features with their audience, so make sure you're conducting research and sharing new stats or expert information that they wouldn't find elsewhere.
Developing winning digital PR ideas takes time. It is important to remember that great campaigns may not initially generate links, due to additional factors such as timing, influences on the media cycle and other external factors.
You can find out more about our promotion offering at The Evergreen Agency here.
___
👋 We are Evergreen and we grow ecommerce brands.
👉 See our ecommerce case studies.
👉 Discover our story.
👉 Subscribe to our YouTube channel.
👉 Join our weekly newsletter for digital marketing that cut through the noise.