The ecommerce search habits report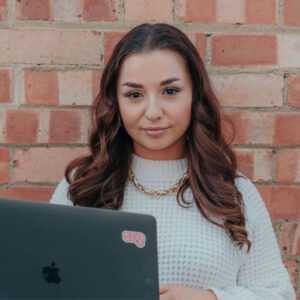 Amber Buonsenso
Amber Buonsenso is an expert in all things promotion and digital PR, building solid media relationships and securing links for many ecommerce brands in some of the top media publications globally.
Read Amber 's bio here
Ever forgotten about a gift? We're all familiar with the panicked rush of last-minute gift-giving. Whether you've run out of time or you're just fresh out of ideas, you're not alone!
Our recent ecommerce report provides a snapshot into typical gift-shopping behaviour when it's crunch-time, analysing consumer behaviour trends during the most popular periods in the ecommerce calendar. Read on for some pretty interesting findings!
To better understand how customers search for products and services online, we decided to analyse consumer shopping habits and search patterns during the most popular periods in the ecommerce calendar.
Using the SEO tool Ahrefs, we collected the average monthly search results for a variety of queries, to identify any notable trends in consumer search behaviour. The findings in this report highlight:
Most popular last-minute gifts
Most popular types of gifts
Most popular next day delivery searches
Most popular brand search for next day delivery
Most popular gifts by industry/sector
In recent years, online shopping has become an increasingly popular method of purchasing goods, especially post-pandemic. According to Insider Intelligence, the global e-commerce market is expected to total $6.3 trillion in 2023.
With a rise in online shopping comes a growing number of ecommerce businesses; in fact, Tami's market report states that there were 580,000 ecommerce enabled websites in the UK in 2022. This means that it is all the more crucial for ecommerce businesses to meet customers' needs in order to compete and our research below reveals some of the main points to consider.
The most popular type of 'last minute gift' shoppers look for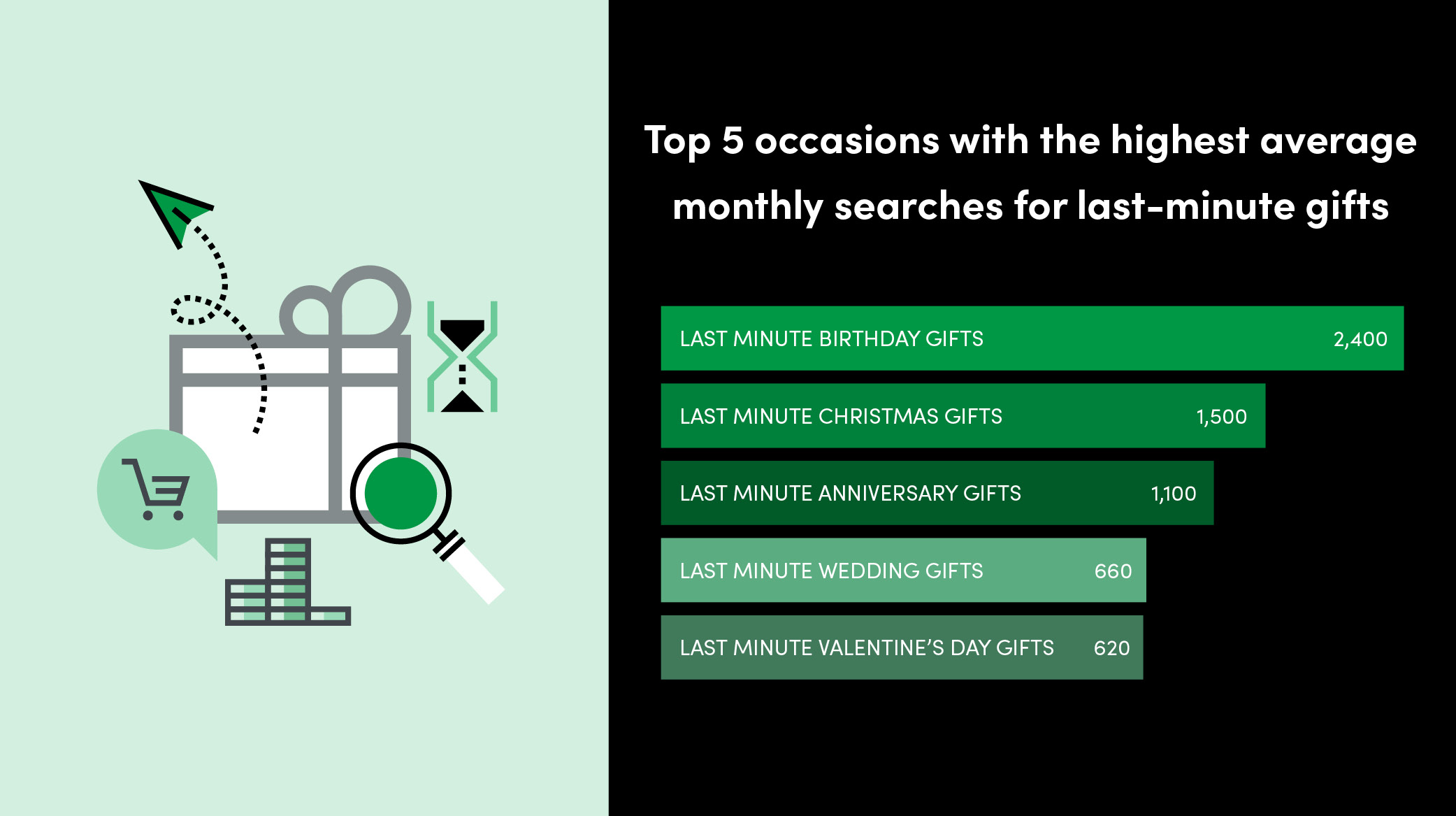 Last minute birthday gifts – 2400 av monthly searches
Last minute Christmas gifts – 1500 av monthly searches
Last minute anniversary gifts – 1100 av monthly searches
When analysing the 'last minute' search queries for popular gift-purchasing occasions, Birthdays are the occasion that most shoppers are leaving until the last minute, with the highest search volume for last-minute purchases. Christmas and Anniversaries closely followed, receiving the second and third-highest last-minute related searches respectively.
For ecommerce brands looking to utilise last-minute shoppers, our digital marketing experts at The Evergreen Agency have provided some tips on achieving this through various disciplines including SEO, Paid Media, content marketing and promotion:
Amber Buonsenso, Senior Promotion Strategist:
"If your brand is in a position to cater for last-minute shoppers, share this with shopping and consumer writers at national and industry publications relevant to your business. Regularly, journalists compile 'last minute gift guides' for many popular occasions throughout the year, so this is the perfect place to get your products featured and shout about your express delivery options for those last-minute shoppers."
Olivia Ashley Sparks, SEO Strategist:
"When targeting last-minute shoppers, ensure that the checkout process is as smooth as possible. This stage in the buyer's journey is where the customer will either affirm their decision or start to second-guess themselves, a few tactics to apply when trying to ease the customer's anxiety are:
Make sure there is an easy way back to the product detail page
Customer-friendly return policy
Clarity on pricing/savings
Clear and flexible fulfilment options (ship to pick up point or ship to home)
Relevant cross-sells"
Set up an abandoned cart program where a logged customer gets an email if they have left a product in the cart for a certain period of time."
Ben Hodgson, SEO Strategist:
"Last-minute shoppers may need more help finding suitable items than someone who has thought about and planned what they will buy. Therefore, providing key product information at a glance will be helpful in providing an overview of the product and its suitability.
Consider product 'quick views' and on-hover popups to display information quickly and easily.
Provide helpful features such as search suggestions, "people also buy", trending products, and collections specifically for last-minute shoppers.
Optimise your product category pages to display a good number of products at a time – make sure components are not oversized and the text is suitably sized."
Maren Svensen, Paid Media Strategist:
"Configure your delivery settings in Google Merchant Centre to easily provide last-minute shoppers with accurate delivery information. For example, if you provide Next Day Delivery as an option, configure the shipping attribute in Google Merchant Centre to clearly reflect this which will be useful information for last-minute shoppers.
In addition to Google Merchant Centre, utilise Google Ads to provide delivery-related information, or any other information that will be useful for last-minute shoppers, within the ad headlines, descriptions, and assets such as call out extensions and structured snippets."
Josie Palmer, Content Manager:
"If your target audience is regularly looking for last-minute gifts, ideas and inspiration, create content that solves this issue for them. Dedicate some of your blog content to focus on 'last minute gift ideas' to make it easy as possible for shoppers to find what they need. Create product-heavy, shoppable blog content with plenty of gift ideas and suitable product suggestions. Make sure your content is robustly optimised for 'last-minute' search terms – this will greatly improve the likelihood of ranking in search results."
The types of gifts that shoppers are searching for the most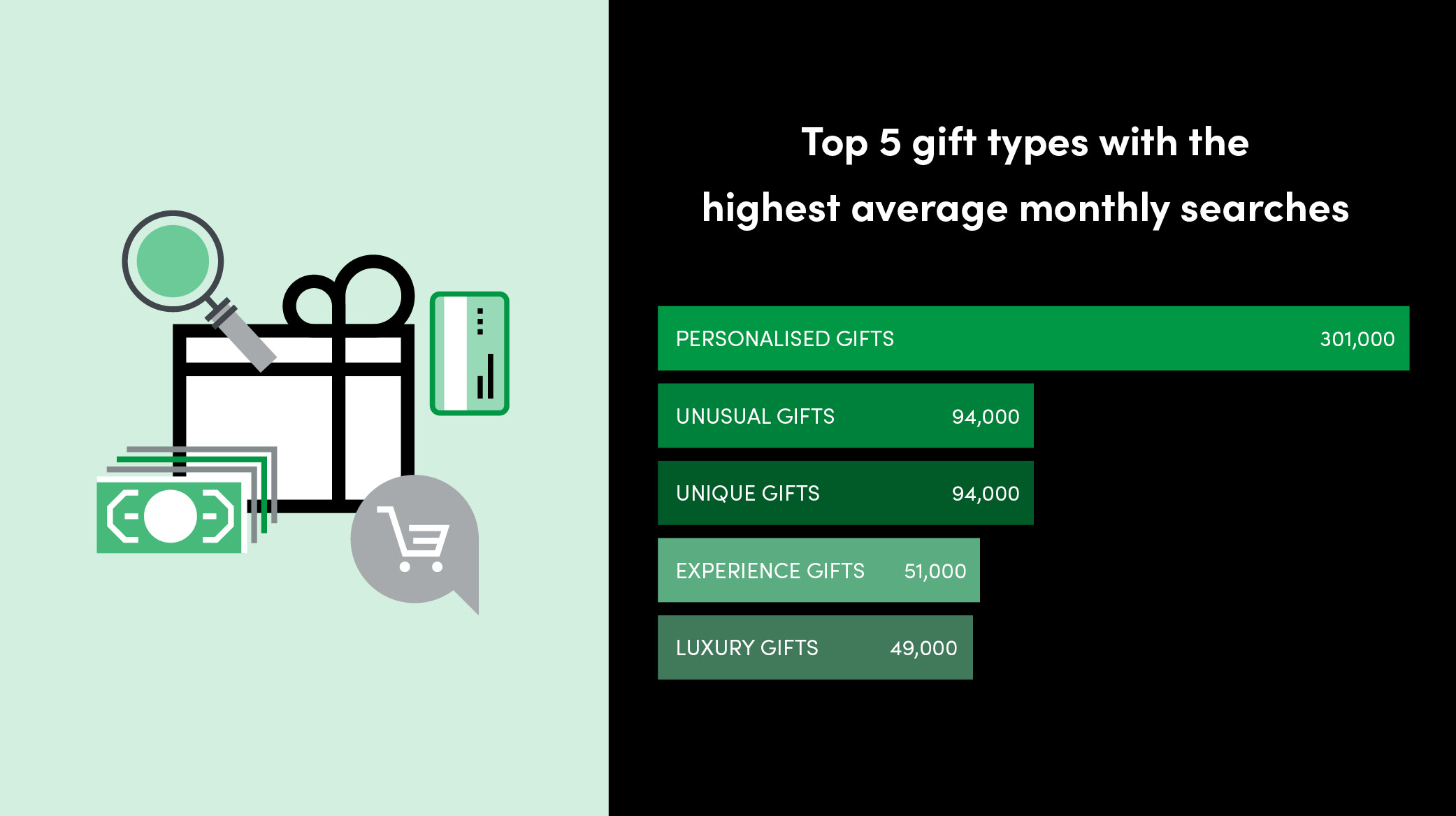 Personalised gifts – 301,000 av monthly searches
Unusual gifts – 94,000 av monthly searches
Unique gifts – 94,000 av monthly searches
We also wanted to explore the types of gifts that shoppers are looking for the most online, and we can reveal that personalised gifts are the most popular request. Receiving an impressive 301,000 average monthly, 'personalised gifts' came out on top by a significant amount. The next most popular gift-type related searches were 'unusual gifts' and 'Unique gifts' with both queries receiving 94,000 searches monthly.
Here's what our digital marketing experts have to say about effectively marketing products to meet popular gift-type demand:
Amber Buonsenso, Senior Promotion Strategist:
"There are many niche publications out there that will always be on the lookout for gifts and products that fit certain categories, such as luxury. Browse the internet and media databases to find publications and writers that cover luxury product round-ups, gift guides and reviews and pitch your best-suited products to them."
Olivia Ashley Sparks, SEO Strategist:
"When catering your site for gift buyers, having a dedicated section on your site for different types of gifts will provide an easy option for shoppers who don't know what they are looking for.
Shopping for someone else is rarely easy, having a dedicated gift section the more likely you'll be to convert new customers who are shopping for birthdays, anniversaries, or special occasions. Adding a gift-wrapping option within this section of the site will make the recipient feel more special and increase your average order size. "
Josie Palmer, Content Manager:
"Build out your shopper profiles and niche down as much as possible – this helps ensure the shopping experience is as pain-free and personal as possible. Just because an online shopper is looking for a last minute gift, it doesn't mean that the shopping experience should be any different!"
The most frequently searched items for next-day delivery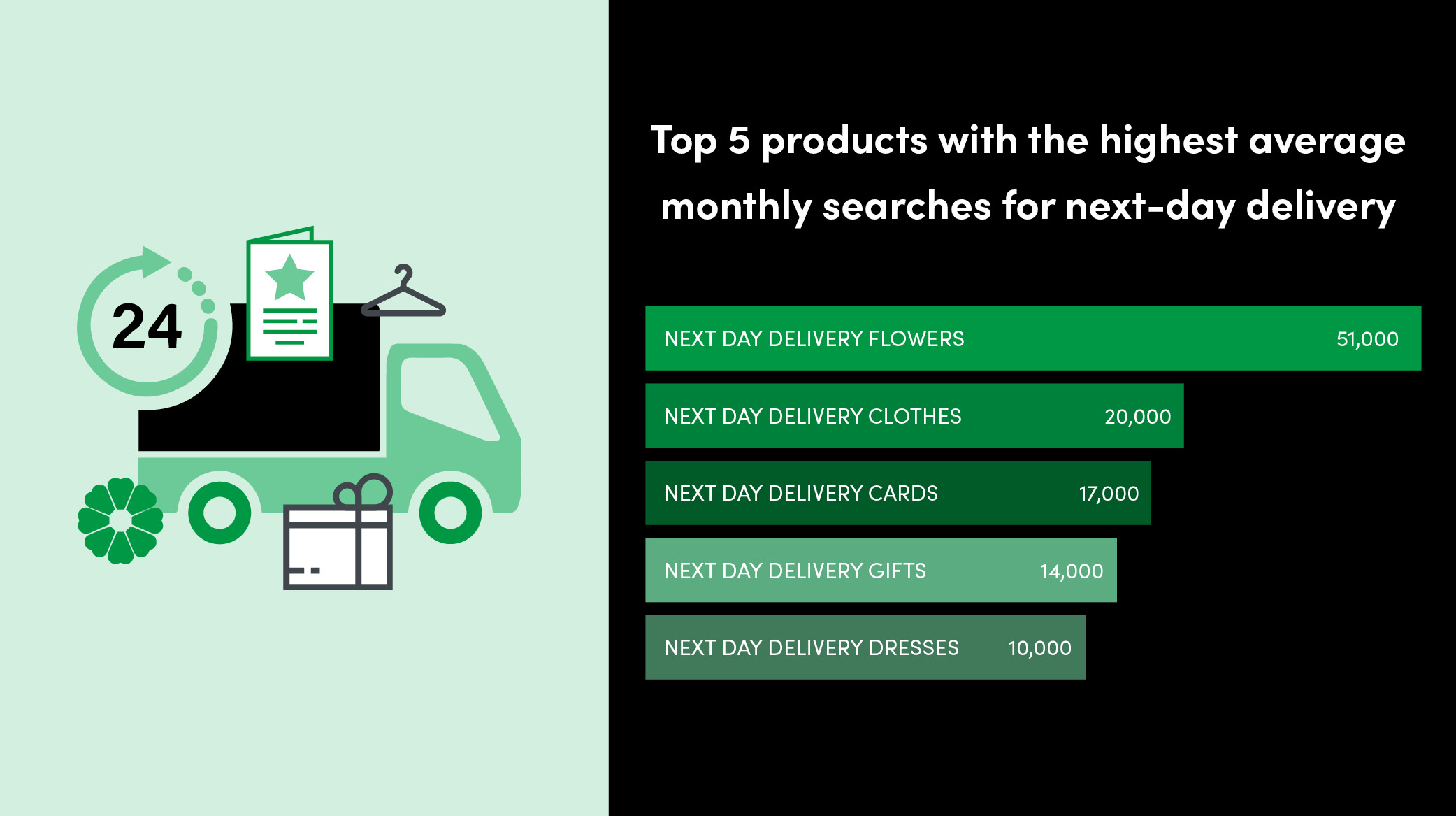 Next day delivery flowers – 51,000 av monthly searches
Next day delivery clothes – 20,000 av monthly searches
Next day delivery cards – 17,000 av monthly searches
A major factor that has enabled ecommerce brands to better compete with physical stores is the option of selecting express shipping or next-day delivery at checkout. Visiting a physical store once had the great advantage of receiving your purchase instantly. However, with retail giants such as Amazon having the capability of quickly delivering items, even within the same day, online shopping has evolved to be highly convenient with quick delivery turnaround times.
For this reason, we decided to delve into the items that people rely on next-day delivery for the most, with flowers taking the top spot at 51,000 average monthly searches online. With the rise in services such as letterbox flowers, it is no surprise this item comes in first place, allowing customers to quickly send their loved ones a surprise gift from the comfort of their own homes. Next-day delivery clothes and next-day delivery cards were the second and third most popular searches for items with a quick turnaround time. This may also be due to popular retailers that sell these products offering faster delivery times and later cut-off times for express delivery.
Here's what our digital marketing experts have to say about effectively marketing products to meet the next-day delivery demand from consumers:
Ben Hodgson, SEO Strategist:
"Conduct keyword research to find out what consumers are searching for and identify ways in which you meet this demand. Group or identify items eligible for next-day delivery for a good user experience, avoiding disappointment at checkout if an item is not eligible.
Make next-day delivery items a focal point of your site, utilising innovative and modern web components to showcase products. Always use structured data to make product information available to be used in rich snippets and Google Shopping."
Josie Palmer, Content Manager:
"Create a robust next-day delivery FAQ that's easy to find on your website, and create helpful buying guides that focus on next-day shoppable items. Topical content like this greatly eases the buying process, and makes it as easy as possible for shoppers to find the perfect gift."
Most popular branded search terms for next-day delivery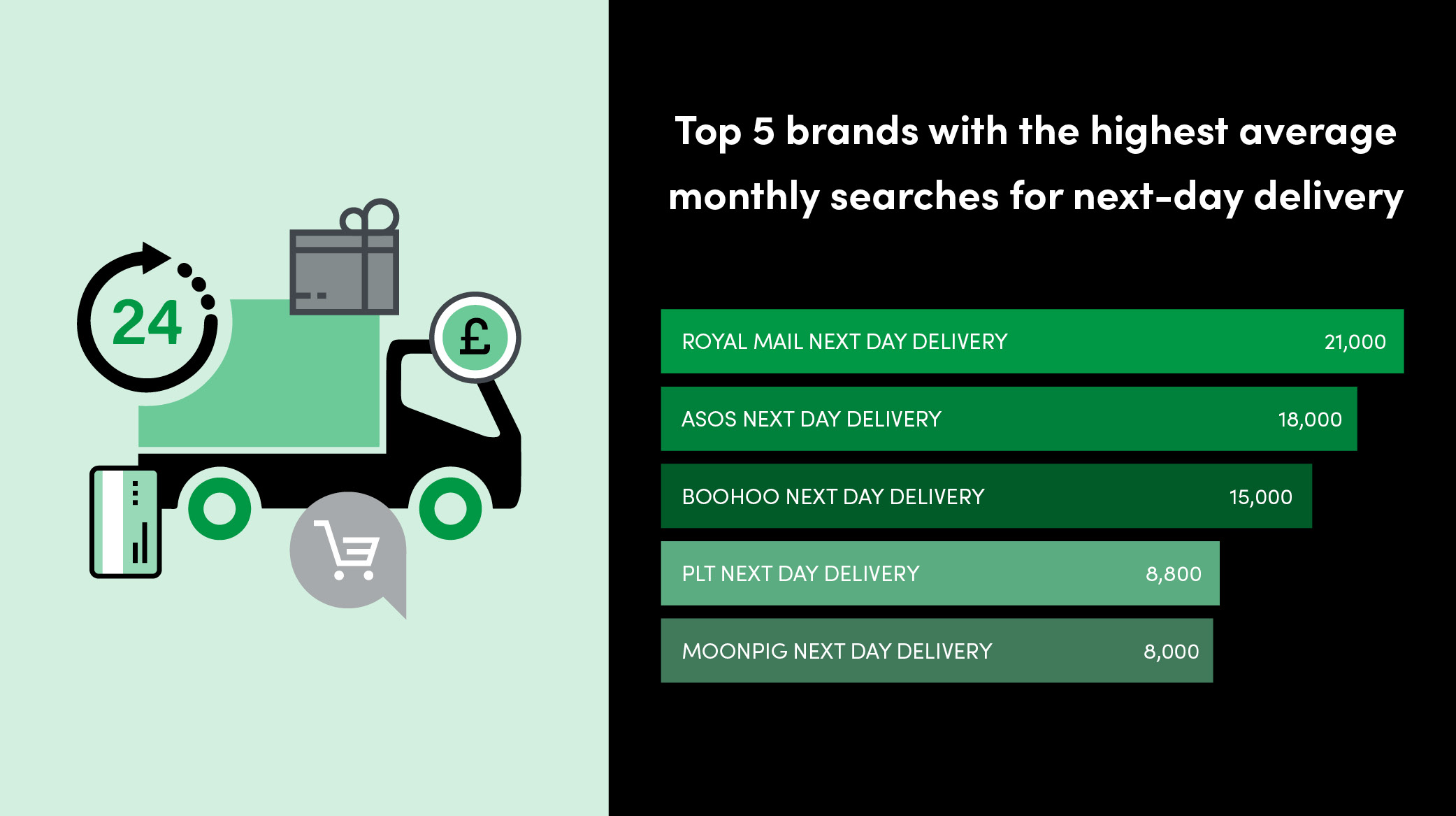 Royal Mail next day delivery – 21,000 av monthly searches
ASOS next day delivery – 18,000 av monthly searches
Boohoo next day delivery – 15,000 av monthly searches
After discovering the products that people want the most on next-day delivery, we were then intrigued to know which brands they are turning to the most for this service. Whether this is due to the reliability of the delivery, the price point of the retailer, or the products on offer, we have found the top 5 retailers people are turning to for next-day delivery based on Google search volume.
The UK's popular delivery and postage service, Royal Mail, was the most searched brand for next-day delivery services, receiving 21,000 average monthly searches. This was followed by two well-known fast-fashion businesses that regularly advertise their next-day delivery service: ASOS and Boohoo. Interestingly, consumers have searched the most for a direct delivery provider, with Royal Mail receiving the highest number of searches for this topic.
The most searched-for gifts by industry
We also explored which industries are most in demand when it comes to shopping for gifts. Home gifts are in demand and received the most average monthly searches, 37,000, closely followed by food gifts which were searched 35,000 times on average.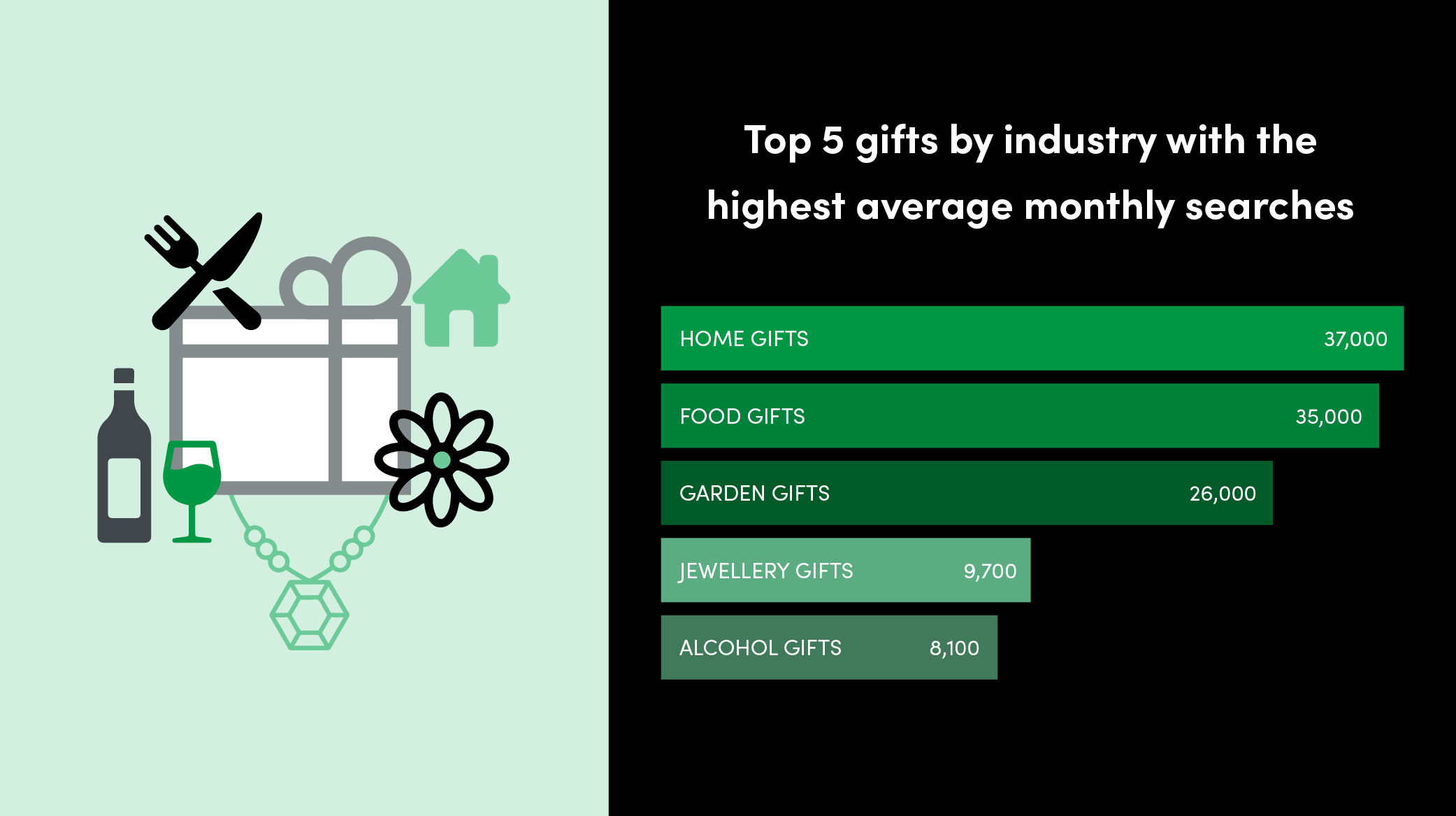 Home gifts – 37,000 av monthly searches
Food gifts – 35,000 av monthly searches
Garden gifts – 26,000 av monthly searches
Here's what our digital marketing experts have to say about making your products stand out within your industry using an effective digital marketing strategy:
Amber Buonsenso, Senior Promotion Strategist:
"If you operate within one of the industries above, there is a high demand for your products from consumers who want to gift items from this sector throughout the year. This presents many opportunities when promoting your products but also means that the competition may be high, so make sure you send out press releases for new product launches to product writers in your niche. Launching unique or limited edition products, for example, will put you at an advantage when pitching to the press and they will be more inclined to include new and exciting products in industry-specific gift guides."
Ben Hodgson, SEO Strategist:
"Being in a high-demand industry means there is fierce competition for ranking highly in the SERPs.
Building authority online will help you better perform in search results. Google focuses on E-E-A-T: Expertise, Experience, Authority and Trustworthiness. By showcasing your knowledge within the sector for relevant search terms and questions, Google will acknowledge you as an industry expert and reward your site.
Consider how you can answer key questions and provide helpful information to visitors. Buying guides, comparisons and curated "best of" lists with product information are good ways of providing information."
Olivia Ashley Sparks, SEO Strategist:
"Whether you work within one or all of the industries above, having an option within your site for gift cards is great for those who are confused about what to buy.
A gift card also greatly reduces the chances that the item bought will be returned, having an option to sell to the buyer directly and include a personalized message for the recipient or offering digital gift cards on your site with a gift card extension is a great option to increase a good UX."
Sean Cousins, Senior Paid Media Strategist:
"Making your products stand out from competition in a highly competitive industry is vital. Three important aspects of ecommerce shopping adverts are:
Image Testing – It's important to test images in order to make your products stand out from the competition. If you have images that capture the eye more than the standard stock product image, it is well worth testing to see if this improves clickthrough rates.
Product Price – Use the price competitiveness report in Google Merchant Centre to see where your products' prices stand within the industry. This primarily applies to products with GTINs as this is the attribute that Google bases price competition on.
Product Title: Experiment with different orders of keywords in the title attribute. For example, what happens if you put the colour of the product further down the title compared to having it listed at the beginning of the title."
Josie Palmer, Content Manager:
"Utilise existing product performance data to guide your decisions. This will help you to prioritise certain gifts or content topics that promise the best chance of return. Niche down and build out the blog content for that particular area. This will give you the best chance of ranking in SERPs for search terms relating to that product sector"
Downloadable ecommerce calendar 
By leveraging your own customer data and prioritising a user-first, data-led approach,  ecommerce brands can give themselves that much-needed edge that sets your brand apart from the competition.
We've created a super-helpful ecommerce calendar that features all of the key dates in the calendar year that ecommerce brands can capitalise on. For example, last-minute Mother's Day gifts or next day delivery Black Friday products. Download your free copy here to maximise your campaigns and target your audience the right way, at the right time.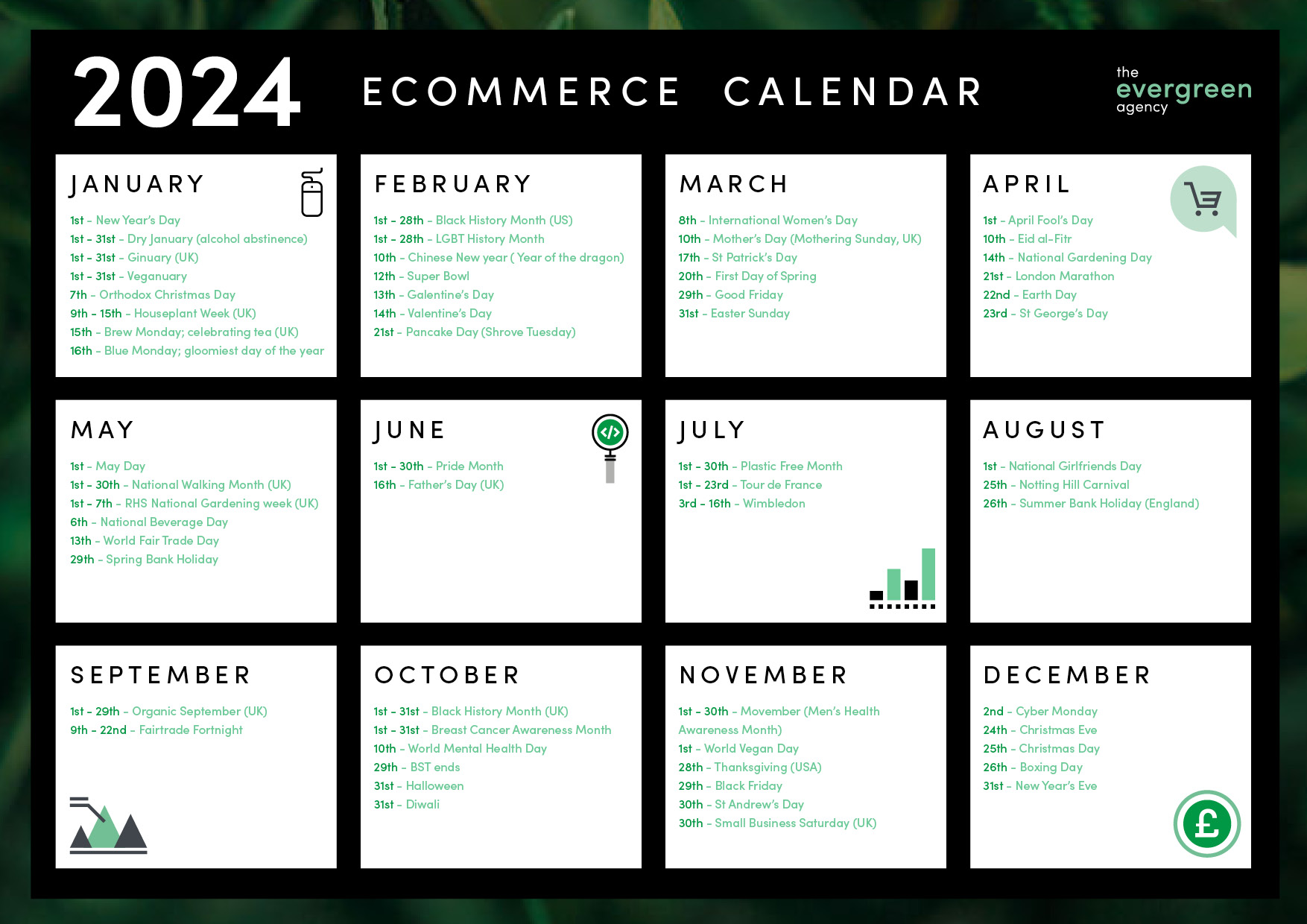 The above data collected by The Evergreen Agency provides insightful information to ecommerce businesses on users' behaviour online and how they can meet their needs. Understanding consumer search intent is a vital part of developing an effective SEO strategy for ecommerce brands. To find out more about how we can help scale your ecommerce brand, get in touch.
Methodology:
To find the most popular search trends for the various topics above, we used the keyword explorer tool in Ahrefs which highlighted the most popular searches for each topic (last minute, next day delivery etc.) we then took the top 10 searches based on the highest average monthly search volume over the last 12 months to reveal the top results in each category. The findings above are based on the most up-to-date data, collected from Ahrefs in July 2023.
___
👋 We are Evergreen and we grow ecommerce brands.
👉 See our ecommerce case studies.
👉 Discover our story.
👉 Subscribe to our YouTube channel.
👉 Join our weekly newsletter for digital marketing that cut through the noise.