How we approach digital PR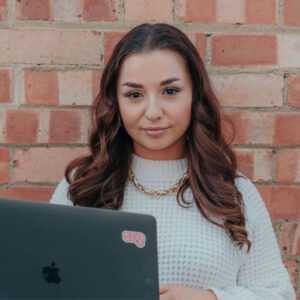 Amber Buonsenso
Amber Buonsenso is an expert in all things promotion and digital PR, building solid media relationships and securing links for many ecommerce brands in some of the top media publications globally.
Read Amber 's bio here
In recent years, the term digital PR has become well-known in the digital marketing industry as it continues to grow in popularity as a go-to method of promotion.

Digital PR is the combination of traditional PR and modern SEO link building. Its purpose is to generate relevant and highly authoritative links for brands from online news outlets, in order to boost brand awareness, website traffic and search engine rankings.
According to The Digital Marketing Institute, it is: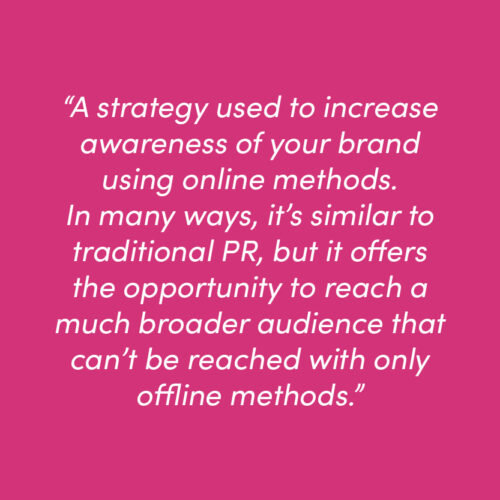 Digital PR is all about creating and identifying interesting ideas that have a news hook and crafting engaging pitches to send to journalists sharing these ideas. In exchange, the ideal scenario is that the journalists will share this with their audience and credit the source (your brand) with a mention and link to the website.
Backlinks are seen as a vote of confidence to Google, so the more high-quality links a business has generated from digital PR activity, the bigger impact it will have on a business's website authority. For this reason, digital PR is a crucial part of the wider SEO strategy, as links are one of the three main pillars of a great website.
Digital PR can work for any size business and is a powerful way to expose your brand's name, expertise and products to a wider audience. It is beneficial for ecommerce businesses, due to the large community of shopping and consumer journalists, always looking for products to share with their readership.
Digital PR is effective in targeting potential and returning customers organically, by understanding the media they consume online and ensuring your brand is present in this space.

It drives relevant links to your website – Digital PR that is done properly will always have a huge amount of relevance to your brand, meaning the links secured will be highly relevant too.
Helps improve your website's search rankings -The links secured from digital PR help to improve your website's authority, which in time will result in your business appearing higher in search rankings.
Increases website traffic – When journalists include your digital PR idea in their articles and link back to your website, this directs readers to your website, increasing traffic.
Increases brand awareness – Successful digital PR campaigns get people talking. It pushes your business out there for people to notice your brand name and ultimately remember it over time.
Increases sales – For ecommerce businesses, digital PR allows you to pitch your products for inclusion in the shopping section of news websites. This in turn drives traffic and directs people straight to your product pages, with a high possibility that they will make a purchase.
Another method to gain the attention of your target audience – Featuring in leading news publications and magazines that your audience will likely be reading is another way to put yourself in front of your target demographic.
It will help grow your business – Digital PR will help to increase your sales and revenue which in time will allow your business to grow.

With the digital PR industry booming right now, we see various approaches rising and declining in popularity, as new methods emerge and what were once popular tactics become less effective.
Digital PR is all about analysing the media landscape and understanding what journalists need, so that we can provide them with all of the information and resources they are looking for and reap the benefits in return.
Like many SEO and digital PR agencies, we at The Evergreen Agency have our own approach to promotion and digital PR that focuses on the following:
Relevance
It is so important that the ideas you are pushing out to the press are highly relevant to your business, so we will only pitch concepts with a strong and direct link to your brand.
Digital PR goes further than a link or brand mention online. Features secured through digital PR should be able to stay relevant to your brand for years to come.
Google also needs to establish an understanding of your business, and backlinks pointing to your website can help with this, so long as they are related to your industry or product/service.
If you can't look at a digital PR campaign and know instantly which type of business is behind the idea, it isn't relevant enough!
Using a combination of pitching techniques and idea angles
Those that work in the digital PR industry will understand that you cannot control the features you secure online, you can only try your best to engage journalists and hope they cover your idea pitch.
This means that it is important to have various angles and ideas to pitch, in case an idea doesn't take off, which is a possibility.
At the Evergreen Agency, we analyse every business individually, exploring its brand, industry and product offering to determine various angles we can go down from a digital PR perspective.
Can the brand provide exclusive, informative expert commentary to journalists?
Do they have products that shopping and consumer writers would be interested in?
Do we have the ideas, data sources and approval from this business to launch a full-scale digital PR 'campaign'?
If so we will factor all of the above into their strategy to achieve the goals we have set for your brand.
There isn't a one shoe fits all approach when it comes to digital PR, as every business is unique, so we use our time effectively by having multiple streams of digital PR ideas and techniques. This eliminates the restriction of relying on one idea and means we have the freedom to try multiple methods that will generate links and brand awareness.
We believe that putting a time frame on creativity, or trying to scale it, doesn't lead to the best outcomes. This is why, when we have good ideas, we execute them, and when we don't, we have other angles to focus on in the meantime.
Targeting a mix of niche, and high-quality publications
Building a variety of great backlinks for business is a priority for us and this means targeting not only the top national news publications but also more niche, relevant websites such as blogs and magazines, depending on the industry.
We analyse your current backlink profile initially, to establish the current state of your backlink profile and understand the types of links you need more of to create a diverse backlink profile, whether this is national, regional or industry-specific.
Create long-lasting relationships with journalists to put your brand front of mind
Securing backlinks and brand mentions is the main purpose of digital PR. However, another important reason to nail your ideas, pitches and journalist targeting is so that great, long-lasting relationships can flourish between those pitching your brand and journalists.
Strong relationships can be made with journalists by targeting them with only the most relevant pitches they want to see.
Research them thoroughly to understand the topics they cover and the types of material they are looking for, to ensure they will be appreciative of receiving your pitch. This will encourage journalists to remember your brand and reach out for information in the future.
We only target the most relevant journalists. We do not mass pitch where relevancy is compromised, as this can jeopardise good relationships with journalists and can place your brand in a bad light.
Quality over quantity
A higher number of links doesn't always mean good links. We prefer to focus on the quality of the links we are generating through our PR efforts rather than fixating on the number of them we have received.
This is why we don't set link targets or promise a certain number of links to be generated per month or quarter for your business.
Yes, we have rough estimates and set ambitious goals we aim to reach for the businesses we work with, but with the media forever changing many external factors we can't always control, the number of links is not the only way to determine a digital PR idea a success. Therefore we don't feel that sharing link targets is necessary.
If you would like to find out more about our promotion and PR offering at The Evergreen Agency, do get in touch.
___
👋 We are Evergreen and we grow ecommerce brands.
👉 See our ecommerce case studies.
👉 Discover our story.
👉 Subscribe to our YouTube channel.
👉 Join our weekly newsletter for digital marketing that cut through the noise.