How to audit, research and plan an SEO strategy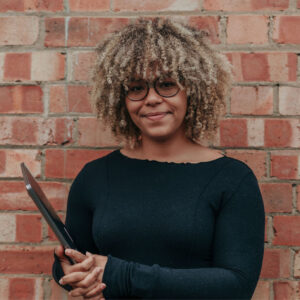 Naomi Francis-Parker
Naomi is Evergreen's Head of SEO and oversees the organic side of the agency. She is incredibly well versed in the core disciplines of digital marketing including content marketing, promotion and the technical side of SEO.
Read Naomi's bio here
SEO, the slow-burn discipline that sets the foundation and future proofs a brand's success for years to come. If you're an ambitious ecommerce business, it's likely you already have a strategy in place for this, but ask yourself, is it really providing the value you need?
Is it generating the revenue you want?
Are you competing with the industry leaders?
Is it supporting your customer marketing funnel at every level?
If you hesitated, then keep reading.
We've provided an easy-to-follow, five-step action plan for how to audit, research and plan an SEO strategy for your business:
Step 1) – Understand where your website is today
Step 2) – Benchmark against the competition
Step 3) – Conduct a technical review to determine your website's performance
Step 4) – Keyword research and primary pages
Step 5) – Determine what is most needed
Follow the steps below and reap the rewards for years to come.

As an ambitious ecommerce brand, you should already have a good idea of where your business is today and how it is performing. However, to research and plan your SEO strategy, you'll need to take things one step further.
Now, for context before we go any further, let's look at the difference between digital marketing and SEO, as this is often misunderstood. We like to keep things simple, so:
Digital Marketing – The phrase 'digital marketing' means different things to different people. For us, it encompasses everything online for your business and is a way of describing everything you are doing digitally.
This includes your organic marketing (SEO), your paid advertising (Paid Media) and any other channels you may be utilising.
SEO – this is just one part (albeit a very important part) of your digital marketing. SEO stands for Search Engine Optimisation and is a form of search marketing that is focused on getting your website ranking highly on a search engine's results page (Google being the primary one) for keywords and phrases that relate to your products and services.
For many ecommerce businesses, the traffic from SEO (organic traffic) will account for at least a third of their sales. It's a hugely important marketing channel and therefore, requires a five-star strategy in order to help scale your brand over future years.
To gain a deeper understanding of where you are today, you're going to need to get into some data or get someone like Evergreen to do it for you.
Key things you'll need to understand are:
Traffic and visibility:
Which assets attract the most traffic and drive the most visibility?
Which areas of your website drive the most traffic and visibility?
How much traffic does your blog currently generate for your website?
Keywords:
Which keywords do you rank on page one of Google for?
Which keywords do you rank in the top three search results for?
Which keywords do you rank on pages two and three for?
What is the search volume for these terms?
Which pages on your website do these keywords relate to?
Sales:
What are your most popular products, both recently and historically?
Which products are you the most visible online for?
Which products are you the least visible for?
To get the answers to these questions and more, you are going to need to utilise Google Analytics and Google Search Console, both of which are free to use. For more information about what these tools do, read our post on the must-have digital marketing tools, where we discuss them in greater detail.
The key to establishing a clear and actionable SEO strategy is knowing how your website is performing at a granular level.
All search engines, including but not limited to Google will look at your website on a page-by-page basis. This means that search engines can potentially love one page, while completely ignoring another.
This is why getting a clear understanding of which pages add value vs which pages don't add value (from a search engine's perspective), will enable you to make better decisions when planning your SEO priorities.

Now you're equipped with a deeper understanding of your own website's performance, you should turn your attention to your competitors, asking the same questions and seeing what you can find.
An agency acting on your behalf will have a wealth of expertise, experience and knowledge, as well as access to a myriad of tools. Agencies utilise their skills to identify almost everything you could want to know about not only your website but your key competitors, too.
However, it is possible to do this research on your own, which we'll touch on below.
Here are some of the easy ways you can benchmark your website against your competitors.
Navigate their website(s) – It sounds obvious but this is something that many businesses often overlook. One of the best ways you can find out what the competition is doing is by having a look around their websites to get a sense of how they stack up against your own.
The key things to consider are:
Does their website look like it's being reviewed and updated regularly?
Does their website have a blog? If so, how frequently do they post new content?
Do they have any assets on their website (infographics, videos, downloads)? If so, what are they?
Do they seem to add value to their target customers? If so, how?
Is their website easy to use and navigate both on desktop and mobile?
Do they have any features on their website that makes them stand out?
Are their product pages providing more information than yours? If so, how?
Search for them on Google – Another great source of information that's free is Google (or any search engine). You can look up your competitors, their products and their blog posts to find as much information about them as possible.
Key considerations when looking for competitors on Google:
Which of your competitors are beating you in the rankings for your key product terms?
Which of your competitors are beating you in the rankings for more general terms?
Which of your competitors are beating you in the rankings for information-based terms with content?
Which topics are your competitors consistently writing about?
Which of your competitors (if any) have 'featured snippets' and feature in the 'related searches' the 'people also ask' areas of the search results pages?
Asking yourself these questions will enable you to gain a better understanding of which competitors are currently outperforming you online and therefore which of your competitors' content Google prefers over yours.
You can then take this information further and look at these competitors more closely to figure out what they're doing and what you need to do with your website to improve your ranking in the search results.

This is where it gets technical. There's no getting away from it, unfortunately, as in order to plan an SEO strategy effectively, you will need to do some of the technical stuff and you'll need to ensure this is done correctly to avoid missing any key findings.
Some of the key things you will need to audit are:
Website speed
Website speed is one of the most important areas when it comes to assessing your website's technical performance. Everyone wants a website to load quickly and Google has placed increasing importance on site speed, which is why it's one of the top ranking factors. There are lots of free tools you can use to test your website's speed:
Navigation and user experience
How easy is your website to use on both mobile and desktop?
Is your main menu clearly laid out and structured?
Can you easily and quickly access everything you want to?
Can users search your site easily?
Can you find the contact information for your company easily?
These are just some of the questions you'll need to consider when it comes to navigation and user experience.
We could write an entire guide on this and it's a whole topic in itself, so our best advice would be to take the time to use your website across devices as if you were your target customer. Experience how the website works, identify any issues or things you wouldn't like as a customer and then work with your developers to get them fixed.
Core Web Vitals
Google has many technical considerations that factor into its algorithm which ultimately decide where your website will rank in the search results vs your competitors. One of the more complicated factors is Core Web Vitals.
In short, Core Web Vitals measures the user experience of your website by considering the following metrics:
Largest Contentful Paint (LCP) – This measures the time it takes from when a page starts loading to when the largest element on that page finishes loading. A low LCP means this element loads quickly, a high LCP means this element loads slowly which will hamper the user experience.
First Input Delay (FID) – This measures the time from when a user first interacts with a page to when the browser is able to respond to that interaction. As with LCP, a low FID means the delay is minimal (less than 100ms) and a high FID means there is a long delay (over 300ms) which will again hamper the user experience.
Cumulative Layout Shift (CLS) – This measures unexpected layout shifts that occur within the viewport (the visible part of the page) during the entire time a user is on the page. The measurement is provided in a score, with a low score (less than 0.1) meaning there is little to no layout shift and a high score (over 0.25) meaning there are big layout shifts that would disrupt the user's experience on that page.
You can get an overview of your website's Core Web Vitals in Google Search Console and each section rates URLs as either poor, needs improvement or good depending on their score.
Unless you have technical SEO or web development expertise, you are unlikely to know how to fix any issues you find, but knowing how many URLs you have in each of these categories will equip you with the information you need to take to an agency to fix.
CMS optimisation
There are various Content Management Systems (CMS) out there that can host your ecommerce website very successfully. Some of the most commonly used are:
Regardless of the CMS you use, your website is likely to have its limitations and need refinements to ensure it is fully optimised and technically in the best shape it can be.
Some of the things you'll need to be mindful of and ask your developers (or whoever is hosting/managing the website for you) about are:
Canonicalisation – this refers to how duplicate pages and content on your website are handled. It is a common issue for websites and each CMS has a different way of handling it, so familiarising yourself and ensuring this isn't an issue for your website is important.
On-page optimisation – each page on your website should have the on-page basics in place such as:
A descriptive page title – the title of the page that appears in blue in the search results
A descriptive meta description – those two lines of text you see beneath the URL in the search results
Correct use of heading tags – commonly referred to as H tags (H1, H2, H3 and so on)
The amount of header (H) tags that appear on a page is important. Header tags help search engines understand the context and structure of a page, thus making it easier to determine what the page is about.
Top tip: There should only be one H1 which will be your main heading. Use H2s and H3s to further structure your page. The easiest way to think about these is to imagine them as subheadings and further subheadings that expand on a point.
A typical H tag structure may look like this:
H1: Article title
H2: What is…
H2: Advantages of…
H3: Advantage #1
H3: Advantage #2
H3: Advantage #3
H2: Disadvantages of…
H3: Disadvantage #1
H3: Disadvantage #2
H3: Disadvantage #3
And so forth.
How and where you add these important on-page elements to each page on your website will depend on the CMS you are using, but it should be straightforward enough and it's good housekeeping to ensure these basics are in place for good optimisation.
Internal linking
Do not underestimate the importance of adding internal links to your website's pages. Natural linking opportunities will present themselves from your blog content, which can link to your product pages and vice versa.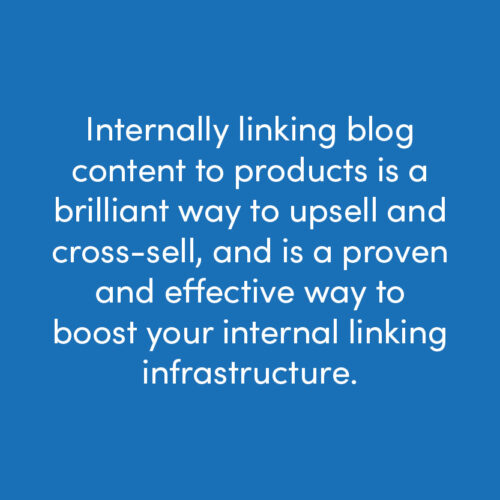 Make the most of these opportunities and ensure that contextual links from blog content to your key product pages are in place. Aim to make these as natural as possible, only inserting links where relevant. Doing this assists search engines as they crawl through your website and understand the topics and structure of your content.
You can also ensure that your internal linking architecture is weighted towards your most important products. This will require a little more planning and visual mapping (ideal for those who love a spreadsheet and have some spare time on their hands).
The above pointers highlight the main considerations of a technical website review. Although this list does not cover every technical consideration out there, an awareness of the above will ensure you're on top of any technical tasks that need your attention, and that your website is as good as the competition technically.

Keywords are one of the first things that most people think of when they think about SEO and for good reason. Every SEO strategy should be built around keywords in one form or another, but we often see brands over-complicate this relatively straightforward step.
The consensus when it comes to keyword research seems to be…
"We need to map every keyword, variant and synonym that we could possibly rank for"
At Evergreen, we do our keyword research very differently because we like to keep things simple. Before we even think about keywords, we think about primary pages.
What are primary pages?
Every business will have key products they want to prioritise and gain visibility for. Listing these in clearly defined sections will make it far easier to identify which pages are the most important to your business. These pages are what we refer to as your primary pages.
If you're not sure where to begin, try using your website's navigation as a guide when mapping this out.
We recommend starting with no more than five to 10 primary pages (sections) that reflect exactly what your brand has to offer. On the back of that, you'll then need to research and find up to six to eight keywords that accurately describe what that page is about.
You do not need every page on your website to rank on page one of Google, and the earlier you realise this, the better. It will allow you to be realistic in your approach to what's achievable with your website.
Keyword research
With your primary pages compiled, you will need to do some keyword research. This can be broken down into easy steps.
To get started, ask yourself the following questions:
What keywords make the most sense for this page?
What keywords are competitors using on their pages to describe their products?
Which relevant keywords are competitors ranking for?
Which relevant keywords is your website already ranking for?
If you wish, you'll be able to benefit from helpful tools to get specific data around search volume and keyword competitiveness. The most common tools used are Google Search Console and Google Keyword Planner.
Google Search Console – You can analyse your data and look at both the page and query level to determine the most relevant keywords for your website. Be mindful though that the instances of impressions and clicks you have received in a time frame only go as far back as 16 months.
Google Keyword Planner – You can use the Google Ad platform to check the search volumes, anticipated CPC (cost-per-click) and numerous other keyword metrics if you wish to gain insights on what Google suggests. However, we would encourage you to take these insights and predictions with a pinch of salt as they are estimates and rarely accurate.
Map your keywords to your primary pages
Once you have your list of keywords and mapped them to the relevant primary page(s), you should end up with something like this:
Primary page URL –
Target keyword
Target keyword
Target keyword
Target keyword
Target keyword
Primary page URL –
Target keyword
Target keyword
Target keyword
Target keyword
Target keyword
Ensure that all your keywords are descriptive and accurately represent the product you've mapped them to. Try not to overthink it; a good keyword strategy simply matches the keywords on the page to the product it is trying to sell.

We can simplify how you should prioritise and plan your SEO strategy into three words:
Understanding what is needed from each of these three core components will help you prioritise and plan your SEO strategy and execution.
Here's an overview of the key things to consider:
Tech – Having worked through the seven technical steps we laid out earlier, you should now have a good sense of how technically sound your website is and if it has any big issues you need to address.
If you do, these should be prioritised above everything else; Google is an algorithm and needs a robust and reliable technical foundation on which to then build. If the basics aren't in place, nothing else will be as impactful.
Content – Once your website is healthy technically, the website content should be your biggest priority. Think of your content marketing strategy as the fuel for the car that is SEO. Without content, you're not going anywhere!
Without great content (evergreen content, which you can learn more about in our helpful Evergreen content guide), Google has no reason to put your website at the top of its search results. The simple reason is that your website does not provide valuable information for users.
A good website will have a detailed 'about' page, testimonials/ reviews and a blog. These are foundational fundamentals that most competitors will have.
Your competitors will similarly offer plenty of products, which will often overlap with the products that you offer. While this is all very well and good, if this is the only content you are offering your customers, then there is nothing to distinguish you from the competition.
This is where your content strategy will play a key role. Once your website is healthy technically, your content should be your biggest priority.
Links – Think of a link to your website as a vote of confidence, a signal to Google that your website is legitimate and has real value to offer in whatever context.
Relevant and authoritative links are a vital ranking component for ecommerce businesses and with the right promotional approach, can be an incredible asset for both increasing website traffic and building brand awareness.
Here at Evergreen, we have a unique promotion approach that allows us to acquire valuable links for our clients, as part of their SEO strategy. For more information about our promotion approach, check out our guide here.
So there it is, your SEO strategy simplified into five steps.
For more SEO tips, make sure to check out our blog and sign up for our newsletter!
___
👋 We are Evergreen and we grow ecommerce brands.
👉 See our ecommerce case studies.
👉 Discover our story.
👉 Subscribe to our YouTube channel.
👉 Join our weekly newsletter for digital marketing that cut through the noise.