Shop window vs information resource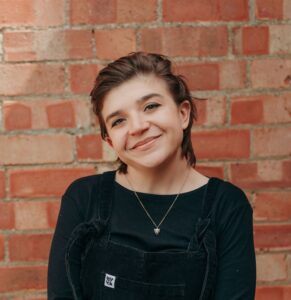 Josie Palmer
Josie Palmer is our Content Manager here at Evergreen. With a unique way with words, Josie's imagination, creativity, and passion for writing helps brands boost their online content to take it to new heights.
Read Josie's bio here
Here's the thing – your ecommerce website can and should be so much more than a digital shop window.
Your primary goal may be to showcase and sell products online, but the way in which you do this lies in what you actually offer to your target customers. Offering valuable, informational content for your target audience, is one of the best ways to boost your online visibility, traffic, profits, and more.
At Evergreen, we call this the "Information Resource" approach, and it's a crucial element in our strategy for ecommerce brands looking to grow and get an edge over competitors.

If you're taking the shop-window approach to ecommerce, your focus will most likely be on the products you sell and the brand you are promoting. Visitors may find an "About us" page, reviews, and even a blog with testimonials or case studies, but the number one purpose a shop window site holds for visitors is – well, to shop!
If the only draw to your ecommerce site for potential users is your specific brand and your products, your ecommerce site will continue to underperform in visibility and traffic. This is the case for one major reason: Google doesn't care about your business.
What's so wrong with shop-window ecommerce?
Search engines, like Google and Bing, have a simple, primary goal: to provide answers to users' questions. Unfortunately, this is fundamentally at odds with what most businesses want – to sell more of their products and increase their brand awareness.
The Google corporate mission statement is to "organise the world's information and make it universally accessible and useful." With the way search engines are evolving, and with the rise in AI, Google is smarter than ever and strictly policing this philosophy.
It's important to recognise that Google isn't interested in helping your business grow or succeed.
If brands want to boost online visibility, they need to cooperate and align themselves with Google's mission statement, provide quality information to their target audience, and offer it in a more accessible and useful way than their competitors.
"Google doesn't care about your business, and Google isn't interested in helping you sell more products. You must deserve to rank!"
– Evergreen MD, Aaron Rudman-Hawkins.

The Information Resource approach to SEO is all about centring your content strategy around user intent. Aim to transform your website into a valuable destination for your target audience, and answer the questions they are asking.
To be a truly competitive ecommerce brand that deserves to rank in SERPs, your website should go far beyond showcasing products. It needs to offer super-relevant, super-informative information about the products you offer, presented in an engaging format that helps users, understand, identify and find the best solution to their needs.
By putting the user's needs first, answering niche questions and evidencing your genuine expertise, your content will naturally reinforce your brand as a trusted go-to.
To deserve a higher rank on the SERPs, give Google what it wants – expertise, knowledge, and genuine value. This approach will encourage more trust between search users and garner organic authority to position you as a leading online destination, and – crucially – will make you worthy to rank.

Transforming your ecommerce site into an information resource will drastically influence how both target audience and search engines interact with  your brand.
Sharing your knowledge and insight into the products that users are researching will demonstrate to both search engines and potential customers that your brand provides a user-first experience with genuinely helpful content.
"Everyone has a blog these days. Everyone is creating content, long-form content, video content, and content that they can repurpose and re-leverage across multiple channels. In order for your ecommerce brand to compete, your website needs to have all this and more – genuinely becoming the best possible resource for your industry and sector."
– Evergreen MD, Aaron Rudman-Hawkins.
When users find your website helpful, they are more likely to engage with your content, share it with others, and return to your website in the future. It keeps your brand top of mind when users decide to make a purchase, and over time, will see you prove yourself as rank-worthy to search engines.

In today's world, customers have access to a wealth of information. As a result, they approach buying decisions carefully, considering guidance and products from multiple sources.
By offering the most accessible and helpful resources in your niche, you immediately enhance their buying experience and allow them to shape their interactions with your brand. This can be implemented long before the purchase decision, and nurture a loyal customer base who return to your site to make purchases with confidence and assurance that you are the best brand to buy from.

With millions of ecommerce websites vying for attention, a website that primarily consists of product pages isn't going to cut it. While many ecommerce websites offer similar products, the informative content you create will set you apart. It allows you to highlight your industry knowledge, unique perspectives, and the added value you bring to your customers.

Transforming your ecommerce website into an information resource is all about adding genuine value. In order to determine the best ways to achieve this, you must:
Identify the pain points of your target audience – Identify your customers' pain points and the questions they commonly have. Tailor your content to address these concerns, offering valuable solutions and practical advice. By doing so, you position yourself as a trusted resource that understands and meets your customers' needs.
Delve into topic research vs keyword research – Instead of focusing on specific keywords or phrases that users are searching with, identify the subjects that are relevant to your target audience and create content that provides helpful and informative insights on those topics.
"Go onto your website and look at how much of your content is genuinely about value and not about your brand. How much is genuinely about addressing the pain point of the customer which ties back to your product?"
– Evergreen MD, Aaron Rudman-Hawkins.

Remember, the informational content you are creating is aimed at customers at the higher end of the funnel. At this stage of the buyer journey, customers are nowhere near ready to part with their money. Therefore, you need to readjust your thinking to align with top-of-funnel thought processes.
You can do this by creating:
Product buyer guides – These guides should be comprehensive and detailed. They should cover everything from key product features and benefits, usage instructions and insider tips.
How-to or resource guides – Informative how-to guides for niche pain points are a great way to hone in on popular subtopics or FAQs. Offer workable practical solutions and ensure customers understand the next steps to take to increase the chances of conversion.
Pillar pieces – Research and implement best-of-the-web guides for users that act as 'pillars' to support your content offering. These comprehensive resources will greatly increase your website's reach and naturally create internal linking opportunities. They also make it easy for users – and search engines- to navigate relevant content and products organically and easily.
Create evergreen content – Evergreen content refers to content that offers a lifetime value by providing information that is consistently relevant and valuable to the user. Always aim to prioritise content of this nature, as it stands the test of time and greatly reduces the need to spend time and resources updating your content streams. You can read more about how to create evergreen content here.
While it's important to showcase your products and have enticing category and product pages, integrating a highly valuable and informative blog is a proven best practise to take your brand to new heights.
So, strike that perfect balance and watch your ecommerce business flourish!
For more digital marketing advice, check out our Ecommerce Hub for expert insights and industry knowledge. Curious about what we do and how we do it? Get in touch with us and see how we can help you grow your ecommerce brand.
___
👋 We are Evergreen and we grow ecommerce brands.
👉 See our ecommerce case studies.
👉 Discover our story.
👉 Subscribe to our YouTube channel.
👉 Join our weekly newsletter for digital marketing that cut through the noise.