Speaking on the biggest SEO stage in Europe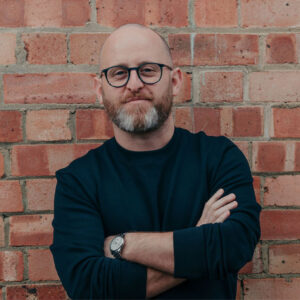 Aaron Rudman-Hawkins
Aaron Rudman-Hawkins is a dynamic digital marketing expert and a driving force behind The Evergreen Agency's success. With a passion for technology and a deep understanding of the ever-evolving digital landscape, Aaron has become a trusted name in the industry.
Read Aaron's bio here
On Friday 8th April I fulfilled a long-time ambition of mine which was to speak on the main stage at BrightonSEO. Over the years, I've watched countless experts and those I have looked up to grace the main stage of Europe's largest SEO conference to share their expertise and experience.
Well, now it was my turn, and I loved every single second of it. I had 20 minutes, the entire stage to myself and an audience of some 3,000 attendees waiting on my every word – I won't lie, I was in my element.
Me backstage about to go on and a tiny bit nervous if I'm honest: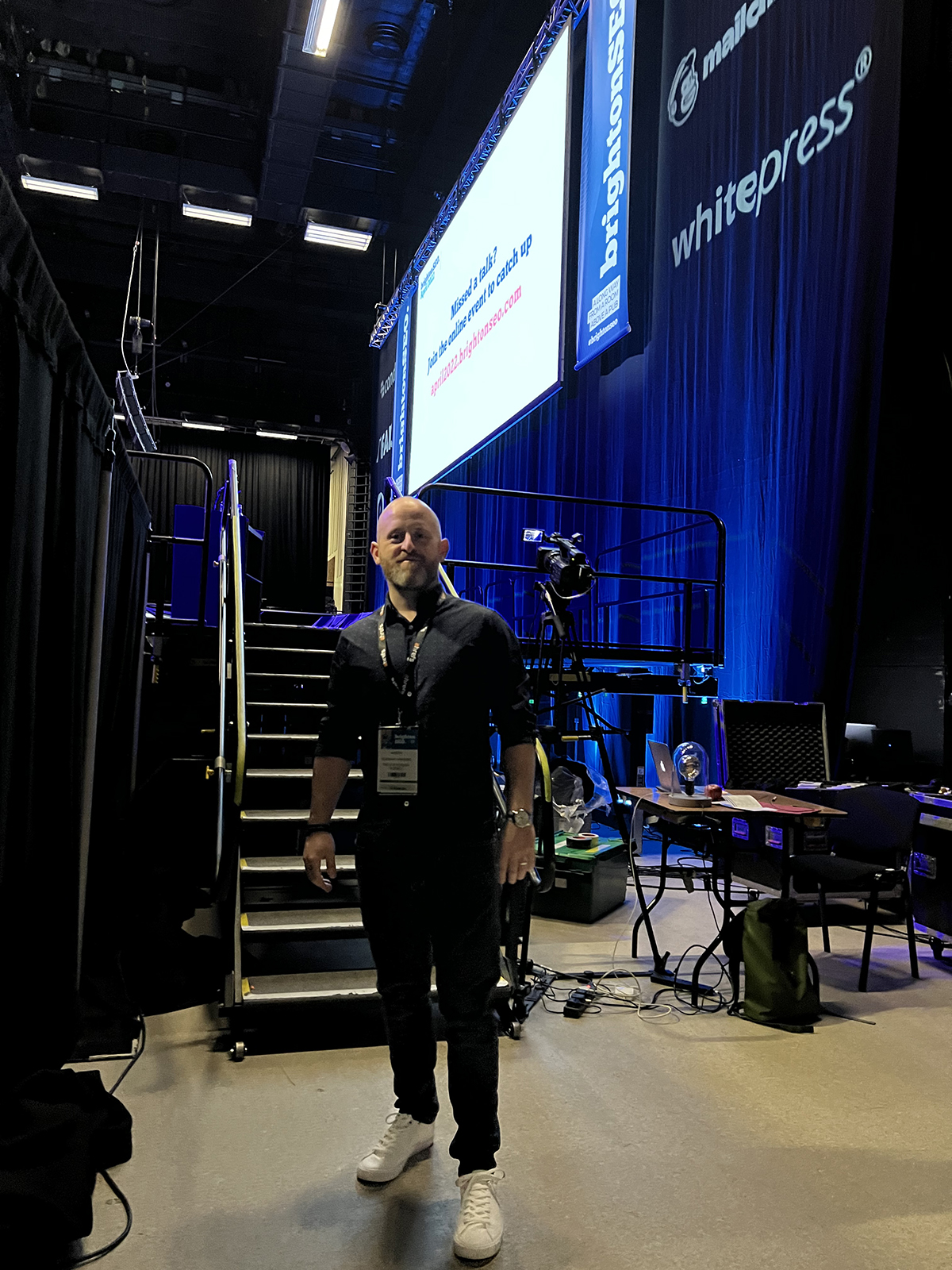 When thinking about topic ideas to pitch all those months ago, I had so many options and things I could have spoken about and shared my expertise and experience around, and while I toyed with several different ideas, I kept coming back to one topic time and time again: links.
I've been building (acquiring) links for my clients for well over 15 years now and in just about every way you can imagine. From those first illustrious directories right through to having an entire Promotion team within Evergreen in more recent years – as well as everything in between.
The uncomfortable truth about link building and what you can do about it
That is what I named my presentation as I knew it would resonate with lots of those attending BrightonSEO this year. How did I know that? Well, I know how much of a struggle link building is and not just for us here at Evergreen, but in the industry, and yet no one is talking about it – so I decided I wanted to try and do something about that.
History of link building – I started my presentation by giving a brief history of link building from the late 90s through to today. I could tell from the young faces in the audience that much of what I was saying about the early 2000s was at a time when they were in primary school or better yet, some were not even born.
Google evolved – I went on to look at how Google evolved significantly throughout the 2000s, and in 2012 first introduced its 'Penguin' update, which changed link building forever.
Digital PR – By 2014-2015, link building was starting to be approached with a PR state of mind and by that, I mean SEO and digital agencies were realising that link building tactics of years gone by were not working and they needed a new technique. Digital PR was it – at least for the early adopters.
The reality today – My talk then went on to outline what the reality looks like for many SEOs and digital marketers today. Talking entirely from my own experience in running Evergreen and that of my team, I outlined the harsh realities we have found in trying to do outreach, digital PR campaigns and all manner of other link building tactics with varying levels of success.
It's a lottery – Digital PR, outreach, in fact, any kind of link building these days is a complete lottery that we have no control over (well, not unless you're controlling the sites as part of a network or similar, in which case, tread carefully my friends as Google will find out eventually). That is the uncomfortable truth about link building today.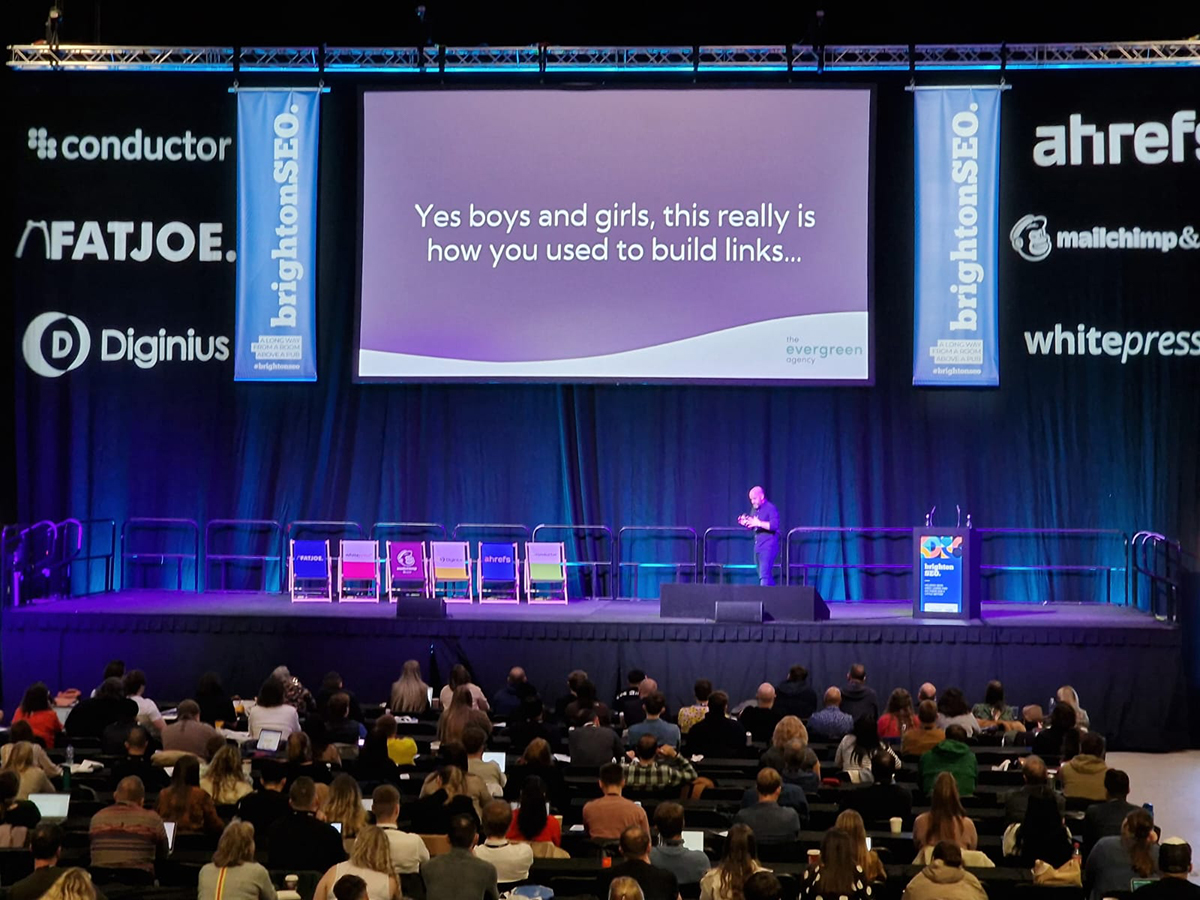 Google doesn't want us to 'build' links anyway – I reminded the audience of Google's stance on link building and that it doesn't want any agency to actively go out and try to build links. Instead, it prefers they acquire links organically through editorial votes given in the form of links based on the quality and relevance of content.
We did some research in 2021 – Prior to even knowing I might be up on the main stage at BrightonSEO talking about links, we did some research at the start of 2021 around links for our clients. We needed to understand what the 'link reality' was for our clients and their competitors, as we knew links were incredibly hard to acquire and so had to get a measure of the numbers, quality and relevance we were targeting. The results surprised us, and I shared those findings with the audience.
We doubled down on our content-first approach – At Evergreen, we have always had a content-first approach to how we work with our clients, believing their website must 'deserve to rank highly' by providing the best-on-the-web content for its target customers. It's a simple, yet incredibly powerful way to approach your SEO and content marketing – just create 'evergreen content' consistently. In 2021, we decided to significantly reduce the time and resources spent on Digital PR and outreach and dedicate far more towards content marketing strategy, research, planning and execution, and it's paid dividends for our clients in recent months.
The results speak for themselves – I shared a handful of client examples showing their Google Search Console accounts and the uplift in impressions/clicks with a content-over-links strategy in recent months.
Find out what your 'link reality' is – My parting gift and advice to the audience before I left the stage was to go and find out what the 'link reality' was for their clients, as I wanted to try and reassure everyone watching that link building is BLOODY HARD these days. I know so many agencies, individuals, freelancers and those working client-side struggling with this on a daily basis and so I wanted to say to them you are not alone, we're all feeling the pain!!
Let's take a selfie – There was no way I was leaving the biggest stage of my life without trying to take one massive selfie and, despite the purple lights glowing off my head, I think I managed a pretty good one. It's certainly my biggest to date (and I got most of the 3,000-audience doing their best jazz hands).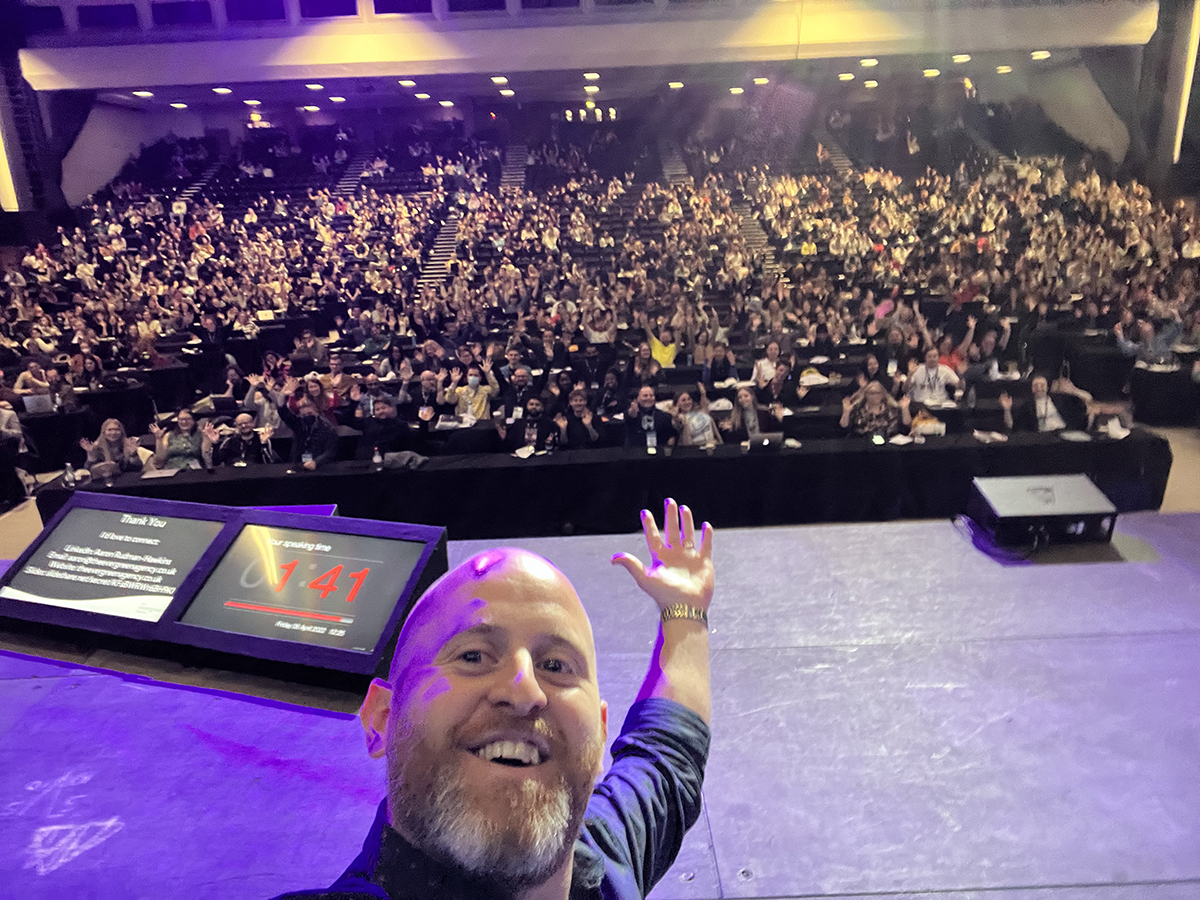 The reaction
As I walked off the stage absolutely buzzing, I could feel my phone vibrating constantly and I didn't know whether that was just the adrenalin running through my legs, or maybe my mum phoning me to say how proud she was – in fact, it was neither of those things.
It was seemingly half of the SEO industry messaging me, WhatsApp'ing me, sending me LinkedIn messages and tagging me on Instagram as well as Twitter (I'm not even on Instagram or Twitter, so somewhat ironic, although my agency is and that is what was being tagged). They were all saying the same thing – Finally, someone said it!
Below is a screenshot of one of the many messages I received on LinkedIn that perfectly illustrates how much my talk resonated with so many in our industry, and I received dozens of similar messages within minutes of walking off of the main stage.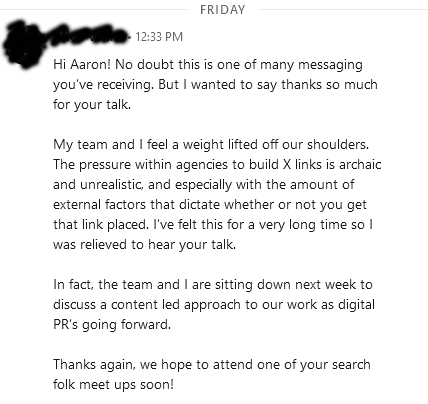 The BrightonSEO audience is known to be supportive in its nature, it's a very nurturing environment where every opinion matters and where you can have your say and be heard. It's a conference that welcomes a wide and diverse range of speakers with varying opinions, experiences and observations, and that is what I and so many others love about this conference each year.
But it seemed to be something more than that – people were messaging me constantly saying how much they could relate to what I had shared. They loved how honest and open I had been and explained their own reality of link building and how difficult they were finding it, but assumed it was just them and everyone else was 'crushing it' when that isn't the case.
The overriding sentiment from all of the messages, comments, feedback received, and conversations had with numerous agencies, freelancers and businesses in the days since I was up on stage can be summed up in the below bullet points.
So, for anyone struggling to build links, anyone who just cannot seem to catch a break and feels downbeat that they just cannot get 'links' to work for them, their agency, their business or their client, remember you are not alone. You are experiencing the uncomfortable truth about link building, it's just no one has been brave enough to say it – well, not until now anyway.
The 7 link building realities:
Link building is incredibly hard to do well and with any kind of regularity/consistency
Link targets are a recipe for disaster and will likely send you down a path of dodgy links which won't help you or your client
The heyday of Digital PR has passed, whether you like it or not
Digital PR is a complete lottery and one you have no control over
You don't need half as many links as you think to rank content and pages (from our experiments anyway)
Most links that are secured regularly are low quality and low value
The high value, high authority links are secured randomly and rarely (and not half as often as you might think)
To conclude this post, I am going to encourage you to follow our lead and adopt a content-over-links strategy, as well as find out what the 'link reality' is for your client and always remember Google's mission statement –
"to organise the world's information and make it universally accessible and useful."
Nowhere in there does it say:
"thou shall do endless bloody outreach to try and build links"
You can access my slides and read through my entire presentation here – enjoy!
Thanks, Aaron
___
👋 We are Evergreen and we grow ecommerce brands.
👉 See our ecommerce case studies.
👉 Discover our story.
👉 Subscribe to our YouTube channel.
👉 Join our weekly newsletter for digital marketing that cut through the noise.