To pitch or not to pitch over the Christmas break?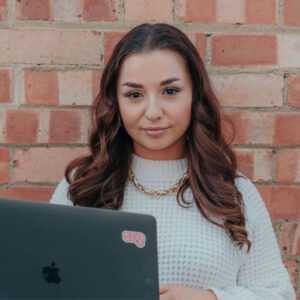 Amber Buonsenso
Amber Buonsenso is an expert in all things promotion and digital PR, building solid media relationships and securing links for many ecommerce brands in some of the top media publications globally.
Read Amber 's bio here
This month in Promotion and PR… To pitch or not to pitch over the Christmas break?
For many, November is when people start to think about Christmas but for Digital PRs, Christmas has been on our minds for many months and now is the time that we start to see all of our ideas and campaign preparation come to life!
This month I wanted to touch on a topic that is on many digital PR's minds as we near the end of the year which is how to prepare for the new year and in particular, to pitch or not to pitch over the Christmas break.
We are lucky enough to have a great selection of outreach tools in our industry, allowing us to send pitches to journalists even when we are not technically working, so if we have a good idea for journalists who are on the desk between Christmas and New Years, should we pitch it during this time?
Every year this question is asked and over the past few years, we have always pitched stories we think would make great news over the Christmas break and early into the new year and sent these to the new desks.
I wanted to see what the general consensus was this year in the industry, so I put this question out to digital PR Twitter (or X should I say) and got some great feedback. The responses were almost split, with 53.5% of people who voted saying that they do pitch over the Christmas break and 46.5% saying that they don't!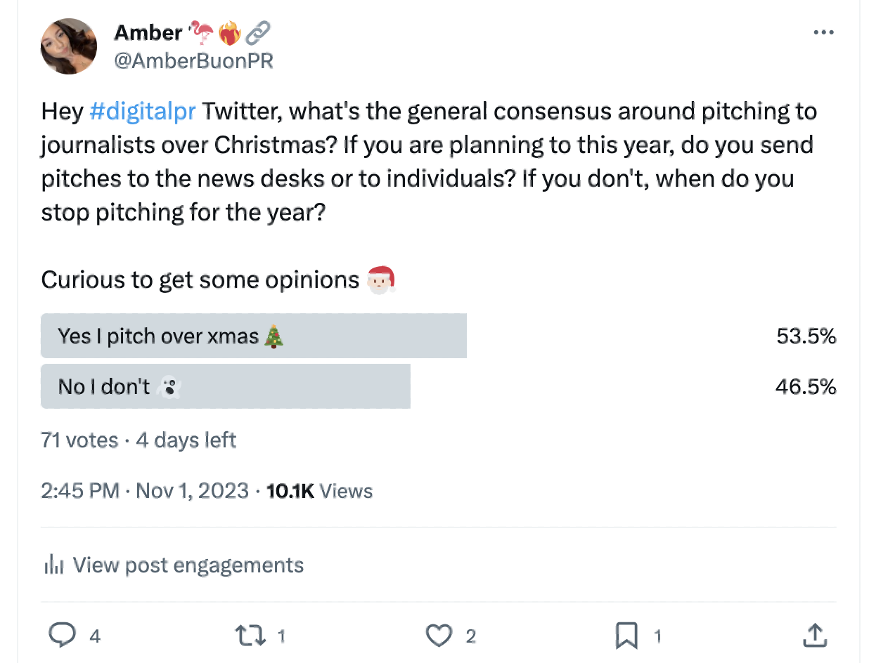 I also received some fantastic feedback from Surena Chande, who is a freelance journalist, previously working for the Daily Mirror, Daily Star, Metro and Evening Standard. Surena stressed the importance of sending pitches over the Christmas period as it is a time when journalists need stories more than ever.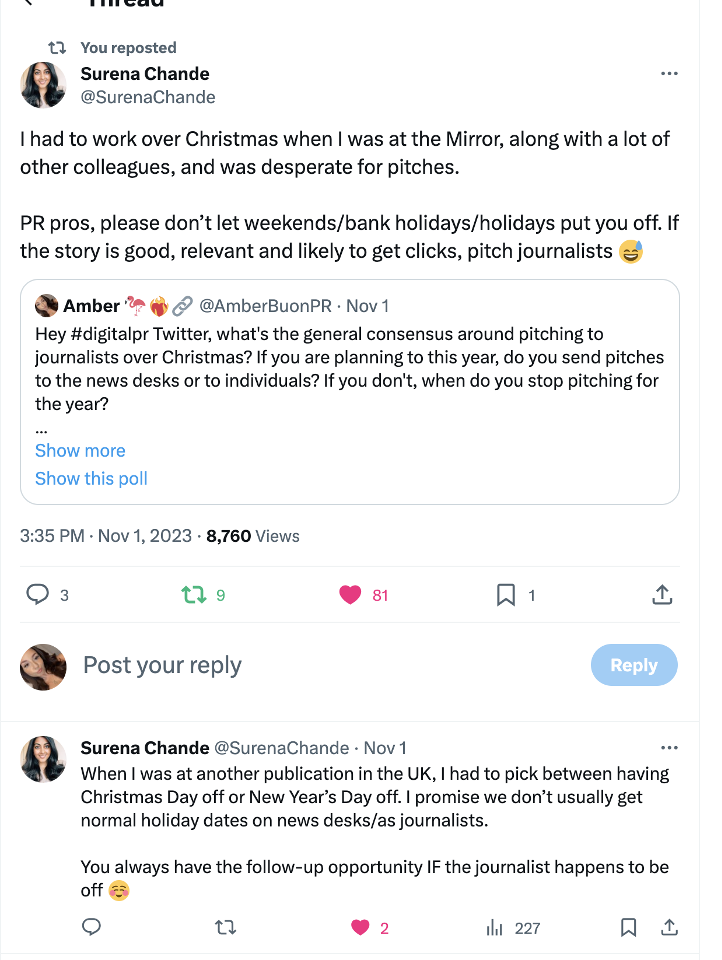 Some other responses to my question from PR professionals and journalists were: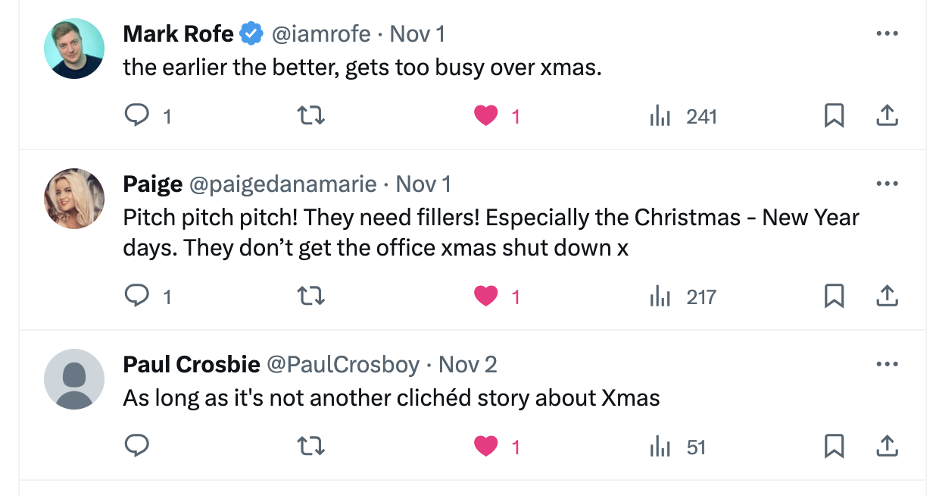 If you haven't considered pitching over Christmas, there's still time to fit in an ideation session and come up with some great ideas that could result in being greeted with some lovely links in January! December typically calms down on the reactive PR front with fewer Response Source and HARO requests coming through, so it is worthwhile scheduling pitches to go out during this time.
Other ways to prepare your digital PR departments for a strong start in the new year are to utilise quiet times to update awareness day calendars, start ideating for new year campaigns and update media lists.
This wouldn't be an industry insight piece if I didn't share some of the fantastic work I've seen from the industry recently, so I wanted to leave you with my favourite campaigns this month, as well as some of the links our promotion and PR team at Evergreen have secured recently.
Favourite links from this month:
Ideal Home – What is a rain chain: This link secured for our client in the garden irrigation space is a great example of how industry knowledge can be so helpful to journalists. This journalist in particular was looking for expert knowledge on rain chains, which our client was able to provide, and as a result, landed us a feature in IdealHome.
Woman and Home – Victoria Beckham's trending sofa: Many people will be aware of the new Beckham documentary which was released on Netflix last month and we noticed a niche aspect from the series that viewers were going crazy for. Whilst the documentary was about David Beckham, people were obsessed with the green velvet sofa featured in their home and searches were spiking as a result. We immediately got our furniture client to comment on this style of sofa and provide product details and alternatives for those looking to purchase something similar, which secured coverage in multiple home and interior publications.
Country Living – Changing robe roundup: Product inclusion for ecommerce brands is GOLD, so we were delighted to get our outdoor clothing and surfwear brand featured in Country Living's changing robe roundup from a recent product pitch.
Recent digital PR campaigns I'm loving:
B&Q: B&Q ran a Halloween-themed campaign, offering top tips to fix up spooky issues around the home
B&Q have nailed (no pun intended) Halloween-themed campaigns with this one, creating a concept which is current but also incredibly relevant to their brand.
M&S: Christmas Colin is here! M&S launch their Christmas colin the caterpillar range
I love it when big brands understand their authority over consumers and release seasonal and limited edition versions of their best-sellers like M&S has done here! Collin has become a bit of an icon over recent years with many brands trying to replicate the legend (not taking sides here!), so a Christmas colin has caught the attention of many shopping writers at national publications!
Transport Focus: Best and Worst motorway service stations in the UK
I love a campaign that gains attention due to its level of relatability! Most people, whether you drive or not, will have been to their fair share of service stations and this campaign has surveyed 30000 people and 120 motorway service stations to find the best and worst of them.
That's it for this month, let's catch up in December!
___
👋 I'm Amber, connect with me on LinkedIn.
I'm the Promotion & PR Manager of Evergreen, a digital marketing agency that specialises in growing ecommerce & retail brands.
👉 See our ecommerce case studies.
👉 Discover our story.
👉 Subscribe to our YouTube channel.
👉 Join our weekly newsletter for digital marketing that cut through the noise.