Working with AI as a creative: What does it mean?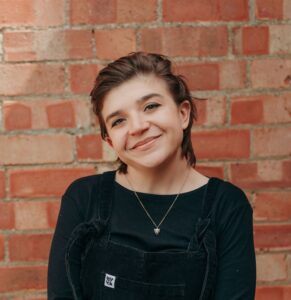 Josie Palmer
Josie Palmer is our Content Manager here at Evergreen. With a unique way with words, Josie's imagination, creativity, and passion for writing helps brands boost their online content to take it to new heights.
Read Josie's bio here
This month in Content Marketing…
Working with AI as a creative: What does it mean?
I'm a creative. It's time to address the AI elephant in the room.
As a creative, I used to see 'AI' as a sparkly new toy you didn't ask for that you don't want to play with. I already like my toys, thank you very much, I don't need this fancy new one. No matter how many times I say this, it's not going anywhere. It's lurking in the corner, waiting to be played with.
This week, I thought I'd share some insights about how we creatives can reframe how we think about AI.
This week, G7 have agreed to International Guiding Principles on Artificial Intelligence (AI), including a voluntary Code of Conduct for AI developers. In other news, we're going to have to get used to it. whether we like it or not, AI is here to stay.
I'm a writer, first and foremost, so AI tools such as Chat GPT are a biggun. As a creative, it's caused something of a moral conundrum. Like many other creatives, the sheer speed, accessibility and capabilities of AI tools such as Chat GPT have literally blown my mind. For industries like ours at Evergreen, its impact cannot be underestimated.
So – what does it mean for us creatives? We're romantic at heart! We value human connections! Writing from within! A year or so back, my mind was made up. All I could think was:
"What are we meant to do with this scary tool that seemingly 'does our job for us'?"
Before you decide to grab your coat and head out the door, the best thing you can do, (based on my own personal journey) is reframe it. Take a step back, and look at the facts to understand what's really going on.
The truth is… AI tools such ChatGPT or Perplexity AI don't actually know anything.
The tools have no knowledge, as such. Rather, it's an algorithm. Chat GPT is a generative AI-powered tool, pre-trained to produce new information based on all the information that's come before it. That is to say, every piece of information ever shared on the internet.
So, even though it produces reams of copy and forms structured sentences at unquantifiable speed, don't forget that under all the impressive words, it is a generative tool that's – basically – putting words in front of one another based purely on the data available.
Google's Helpful Content Update was recently updated, with guidance on machine-generated content. It used to say:
"Google Search's helpful content system generates a signal used by our automated ranking systems to better ensure people see original, helpful content written by people, for people, in search results."
It now says:
"Google Search's helpful content system generates a signal used by our automated ranking systems to better ensure people see original, helpful content created for people in search results."
Let's look into this further.
Original, helpful content created for people.
Although this lessens restrictions on machine-generated content, what this update does tell us is:
Google still prioritises and favours content that creates a human connection.
AI generative tools have speed, and vast amounts of data to play with, but what they don't have, and will never have, is human nuance. Emotion, experience, humour, flow — this 'human touch' isn't a tangible thing, but it's our greatest asset, and one that can't be replicated, no matter how impressive these tools are.
By making room for AI at the table, we can work with it, not against it. We can use it to quicken labourative tasks. We can use it to identify key pieces of information with ease. We can use it to summarise, help with ideation, editing and proofing, and gather information with far more speed and scope. (This handy article from Marcus Miller at Search Engine Journal summarises this quite nicely.) In other words, it gives our creative brains a break so we can spend more quality time on the more important things.
I'll leave you with a handy acronym. It's called CRAFT, a great technique I found in a Search Engine Journal article written by Julie McCoy. (You can read it here).
C: Cut the fluff.
R: Review, edit, optimise.
A: Add images, visuals, and media.
F: Fact-check.
T: Trust-build with personal story, tone, and links.
I love this – I love that it's called CRAFT, for one thing (I do love a good crafting session). More importantly, it's a helpful and friendly reminder for us creatives that, as we leverage and implement AI's capabilities into our day-to-day workflow, our artistry, flair and irreplaceable human capabilities will still be at the head of the table.
That's it for this month, let's catch up in December!
___
👋 I'm Josie, connect with me on LinkedIn.
I'm the Content Marketing Manager of Evergreen, a digital marketing agency that specialises in growing ecommerce & retail brands.
👉 See our ecommerce case studies.
👉 Discover our story.
👉 Subscribe to our YouTube channel.
👉 Join our weekly newsletter for digital marketing that cut through the noise.