Honest feedback from our clients (that we'll raise a glass to!)
Over the summer we had several really lovely gestures from our clients arrive either at our doorstep or in our inboxes and they really demonstrate the strong bond we have with our clients.
I asked if they minded me sharing their feedback with you on the blog and they said "sure", so here is just a little insight into what our clients say and think about partnering with Evergreen.
A WhatsApp from Tom out of the blue
First up we have Tom from The Cocktail Service and now The Cocktail Society. He sent this video to me on WhatsApp out of the blue a few weeks back and was such a lovely surprise to receive and very much appreciated – thanks Tom for allowing me to share this buddy.
When I mentioned to Tom I was going to share this post I asked for a testimonial to accompany his video and he added the following comments.
"As a company hit pretty hard by the pandemic (being a drinks agency focused on events) we needed to react quickly and look to alternative revenue streams. Not only did we manage to pivot effectively, we actually thrived with a digital first approach, delivering online masterclasses for over 8,000 students as well as launching an e-commerce cocktail brand.
Without the expertise of Aaron, Naomi and the Evergreen team this would not have been possible. Their work  on maintaining our online visibility and refocusing our strategy quickly meant we achieved Google rankings of 1-3 for over 15 of our new target keywords. This in turn meant an almost instant revenue source for us and helped ease the considerable burden that the pandemic had put on the company.
As ever a massive thanks to EA for all the work you do for us."
Jack from Applebee's Fish is loving our PPC
A few weeks later we had Jack from Applebee's Fish ping over a video to say thanks as his fish restaurant was seeing a huge uptick in bookings thanks to our super-targeted PPC campaign for him as we came out of lockdown. Again a really lovely gesture and very much appreciated. This made Stan, our PPC Manager's day when it came in.
Similarly to Tom, I asked Jack if he minded me sharing his very kind video publicly (especially because I think he is in his bedroom ha) and he said was very happy to. He also gave a short testimonial on his ongoing partnership with Evergreen.
"A big thank you to Aaron and the Evergreen team for helping us through this pandemic, and allowing us to come out the other side shining."
A magnum of champagne arrived out of the blue from Luca
Then most recently, on the day of our office launch in fact I arrived at the office to find a huge bottle of champagne on my desk with a lovely note from Luca at The Live in Care Company saying:
"Since we started working with The Evergreen Agency we have made significant strides on both our paid and unpaid search. This has been instrumental in achieving our growth aims and I look forward the next stage and what we can achieve together."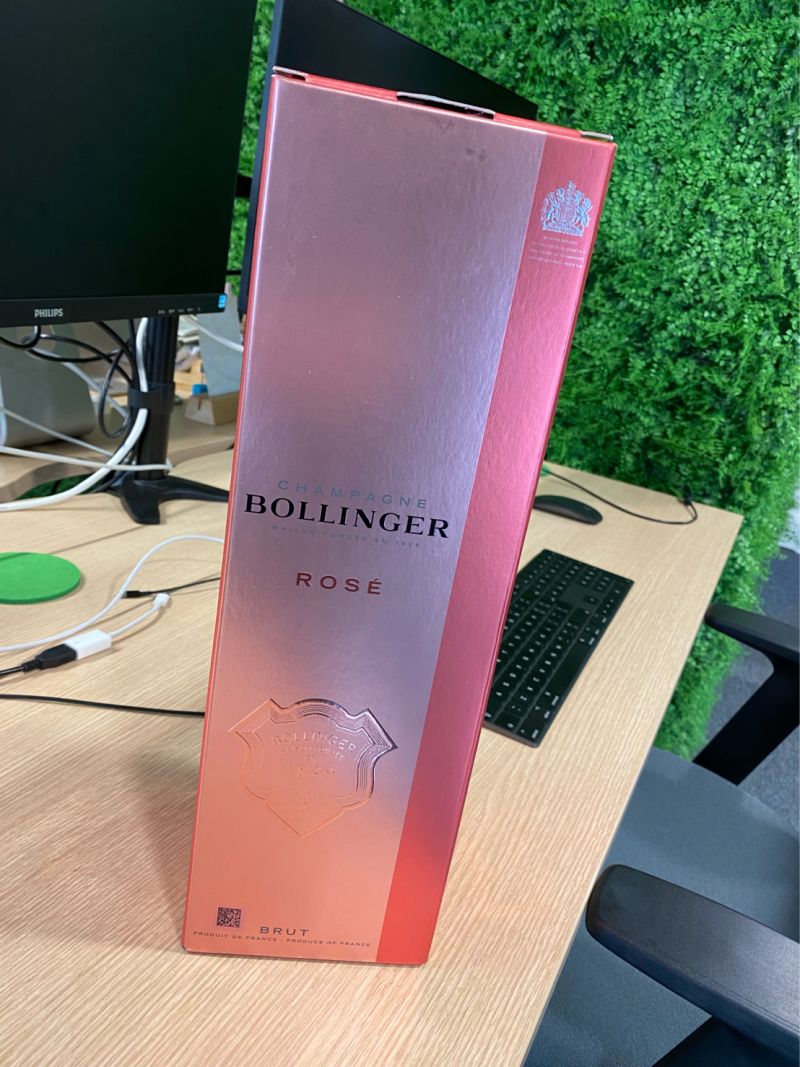 We really encourage our clients to give us feedback here at Evergreen, so we know that we're doing a good job and genuinely adding huge value to their businesses (we also encourage them to send us champagne but it doesn't happen as frequently as we would like, I won't lie 😉).
In building Evergreen over the past few years we have really encouraged our clients to be our biggest advocates and I take these unprompted and very kind gestures to mean we must be doing something right.
So, if you need a digital marketing partner to help your business grow then get in touch. We have two full digital marketing solutions available, one for service-based businesses and one for e-commerce businesses.