The Grand Theatre Blackpool
Putting on a show with a 286% increase in ticket sales
Hospitality & Leisure, Ecommerce
Updated for 2023: Blackpool Grand Theatre first contacted Evergreen in early 2020, with a simple desire to increase the number of website users and bookings online. We were tasked with improving and building on their existing website's visibility and authority as a leader in the Blackpool entertainment sector.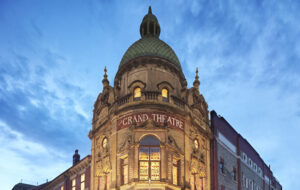 The Problem
Despite its established industry, local, and national presence and reputation, Blackpool Grand Theatre – like all retail and hospitality businesses – took a dent during the Covid-19 pandemic. When they partnered with us, we were determined not to dwell on the events of the year. We did however, need to get people excited about going back to the theatre and let people know that it was safely open for business again to attract a wave of visitors and bookings.
The Solution
To capture the audience (no pun intended!), and educate them on shows and safety measures, we provided Blackpool Grand Theatre with the full Evergreen approach; an encompassing range of SEO, Promotion, Paid Media and Content Marketing services.
On a PPC front, we created a paid media strategy that we knew would tap into the theatre's target market. We ran dedicated display campaigns – and a YouTube campaign – to let people know they can go back with confidence as well as display for individual shows.
Our SEO team audited, researched and planned the best strategy to ensure the theatre's future online growth and success. It was important for search to keep the website up to date, and the content reflective of concerns and search queries so customers' questions were answered.
As a trust-building exercise too, we ran a 'Future of Theatre' promotion campaign to build trust and brand profile in the press on what the return to theatres may look like and how safe they will be.
We absolutely love working with Evergreen, they have helped us through an incredibly tough 18 months and I do not know what we would have done without their support. We highly recommend The Evergreen Agency for your digital marketing requirements.
Andrew Howard, Marketing Manager, The Grand Theatre Blackpool
The Outcome
Blackpool Grand Theatre is thriving post-lockdown with more than 750,000+ website visitors year-to-date (Jan – Aug 2022), this is a 142% increase compared to 2021. Revenue via ticket sales has also seen a dramatic increase thanks to increased visibility and demand for theatre shows with a 286% increase in sales recorded 2022 vs 2021 year to date.
On a PPC results front, the theatre has experienced a huge increase in demand in recent months, with a 168% increase in ticket sales, which can be attributed to paid clicks.
For 2023, our mission is to sustain and grow these results further than ever before! By focusing on the technical foundations of the website, we hope to encourage even more theatre lovers to visit the Blackpool Grand, building on what is already an incredible come back post Covid-19.
Fancy learning more about how we could take your ecommerce business to the next level? Get in touch today.

750,000
+

286
%

327
%