Making movements locally with a 91% increase in organic traffic
As a London-based sports injury clinic with two clinics in central London and another in Hampstead, Ultra Sports Clinic came to Evergreen with a wish to improve the number of clinic bookings received via their website. They asked, and we provided!
The Problem
Operating within an incredibly competitive market, the client was struggling to develop their online success. We identified two key issues holding them back:
Firstly, the client's Google Business Profile wasn't visible for any of their key services in London. Secondly, none of their clinic location pages were optimised or contained any local keywords, nor was there any way for users to make a booking beyond phoning the clinic directly, despite having an online booking system.
We needed to tackle these issues right away to ensure the client started getting back on track and getting in front of the right audience.
The Solution
With London being such a competitive space for our client, we knew our strategy needed to blow all competitors out the water.
Our SEO team worked strategically, optimising each of their business profiles to be consistent with branding, alongside updating all their directory listings. We encouraged the client to post frequently on each profile, creating a posting schedule that aligned with our content marketing plan to ensure updates were added regularly. To support the client moving forward, we also implemented an actionable review process that the client could use to secure regular reviews, something they lacked massively in comparison to competitors.
When it came to the client's website location pages, alongside a complete redesign and content overhaul, we conducted hyper-localised keyword research for each clinic, making sure the pages were targeted and optimised for keywords that were realistic in such a competitive space. With an additional, interactive location map and a brand new booking form for users to book directly, the team boosted this client's visibility to a whole new level.
The Outcome
Ultra Sports Clinic is now operating as a key competitor within the London physiotherapy industry. Organic traffic for the whole site year on year has increased from 3,991 users to 7,613 users (91%) with online bookings from organic traffic having increased from 166 to 542 (227%).
In addition to this, we have managed to get this client ranking in the Google Map Packs for their primary keywords: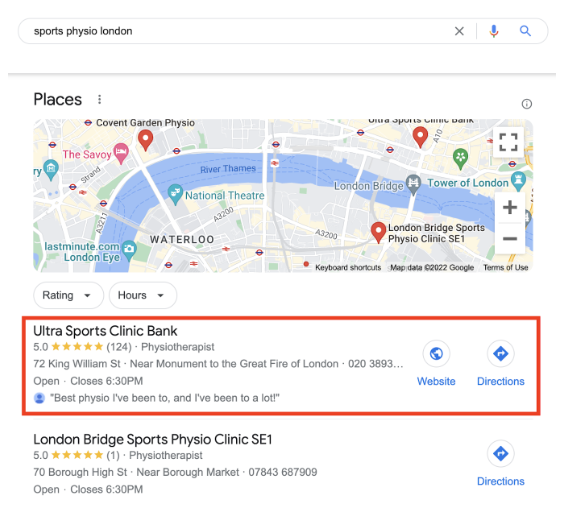 This success story is a shining example of how powerful SEO can be for businesses operating within a competitive market. Through the implementation of a comprehensive Local SEO strategy, we have boosted a business's online visibility to new heights, building the perfect foundations for future growth.

227%

91%
Increase in organic traffic

1300+
Overall bookings year to date